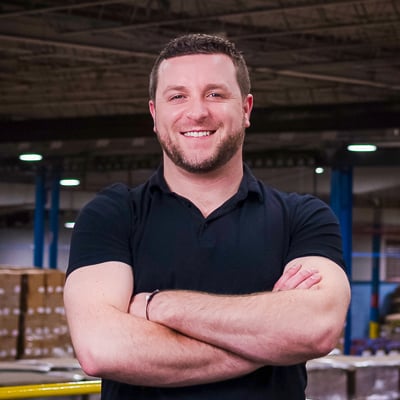 Do You Hand Wrap Your Pallets? Reasons This Could Be A Costly Practice
Equipment | Packaging Materials | Technical Service and Support | Supply Chain Services/ Contract Packaging | Plant Performance | Investment
Hand-Wrapping Pallets VS. Pallet Wrapping Equipment
Do you have a pallet wrapper or are you currently using your trusty employees to take care of the dizzying task of wrapping for you? There are many different reasons why you should and shouldn't look into having a pallet wrapper handy for your shipments.It all starts with your output. Lets Break it down:
How many pallets do you have going out a day?
Depending on your current level of output you are either benefiting your business and giving your employees a slight bout of the dizzies or hurting your business and throwing your workers into pre-gag motion sickness. If you have several pallets you are wrapping every day and you have your employees running in circles for them to be shipped safely, there's your sign!
Are you CERTAIN your team is consistent?
You have some great workers in the shipping area I'm sure. You appreciate them and they appreciate you. BUT, could they be costing you extra money without realizing it? Think about running around a pallet, making sure you have just enough stretch wrap at every point to keep your load balanced, stretching the wrap just enough to maximize the life of the roll and keeping everything together. Its a lot of work and almost impossible to be as accurate as pallet wrapping equipment, consistently. There's your sign!
Cost coupled with consistency
Piggybacking on the last note, you have that excellent worker that is making sure those pallets go on the trucks, off to your customer and making it there all in one piece. With an automated pallet wrapping machine you can be certain you have a consistent wrap, layering at the EXACT spot necesarry and stretching the wrap perfectly to maximize your cost reduction and keeping your material costs at a low, all the time. Its very difficult to pull this off being a human! You can literally save thousands with a pallet wrapping machine and the ROI could be under a year!
Ease of Setup
If you do find that you would benefit from automated equipment, you can expect a recommended factory or vendor installation by our team so you can maintain the warranty. We set up and train you how to use the new equipment as well. Your new equipment can be up and running in just a few hours! If you have a lot of shipments needing a wrap before heading out, you can have one of these ready to go the day you receive it with your new automated or semi-automated equipment!
Do you have the space available in your facility to accommodate? Some of the machines are very large and will need space for the equipment itself and for loading. There is the option of loading with a forklift and with a hand-jack so keep this in mind. Measure out the space you currently have your team wrapping versus the equipment footprint before taking the dive! If you don't have the space, we can find it.
Not sure if you need one? Take these ideas and weigh your options, don't get yourself wrapped up in overspending!
Photo credit: <a href="https://www.flickr.com/photos/79818573@N04/8169421459/">free photos & art</a> / <a href="http://foter.com/">Foter</a> / <a href="http://creativecommons.org/licenses/by/2.0/">CC BY</a>
About David Roberge
Part of the outstanding Industrial Packaging team. I'm lucky to hang out with some of the most knowledgeable folks in the packaging industry. I feel even luckier to be able to share our knowledge with you. I love learning about our readers and helping them grow their brand through unique, flexible package design from the birth of the product idea, through the supply chain, and to the launch and placement on the shelf or at the consumer's door.