5 steps to a more efficient package design process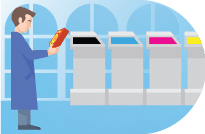 Finding ways to become more efficient in your production can be time consuming, so we've gathered 5 actionable tips to start optimizing your packaging for efficiency.

Insights include:
What's most important decision when redesigning or developing a new package?
What's the most important tool in your packaging belt right now that can drive greater efficiencies today?
What aspects should you take into consideration regarding your product when desiging a new package?