Equipment | Investment | Packaging Materials | Plant Performance
Materials have an important role in the proper functionality and efficiency of your equipment. Choosing the right materials for your packaging machinery involves several dynamics and research into each of them. From shrink film gauges to temperature restrictions and stretch percentages, material choice is an important dynamic of packaging machinery purchasing. Which materials are right for your application? How can you be sure you are running the right substrate? In the article below, we will explore the close relationship of materials and machinery on your packaging line.
Equipment | Investment | Plant Performance
Whether you are buying your very first packaging machine or getting ready to replace an old piece of equipment, opting for a used or refurbished machine can save you big bucks. That is, if done correctly. When deciding on purchasing a new machine versus a refurbished one, what questions should you ask yourself? What are the pros and cons of each option? Who should you buy used or refurbished machinery from? These are only a few of the important questions we will be reviewing below.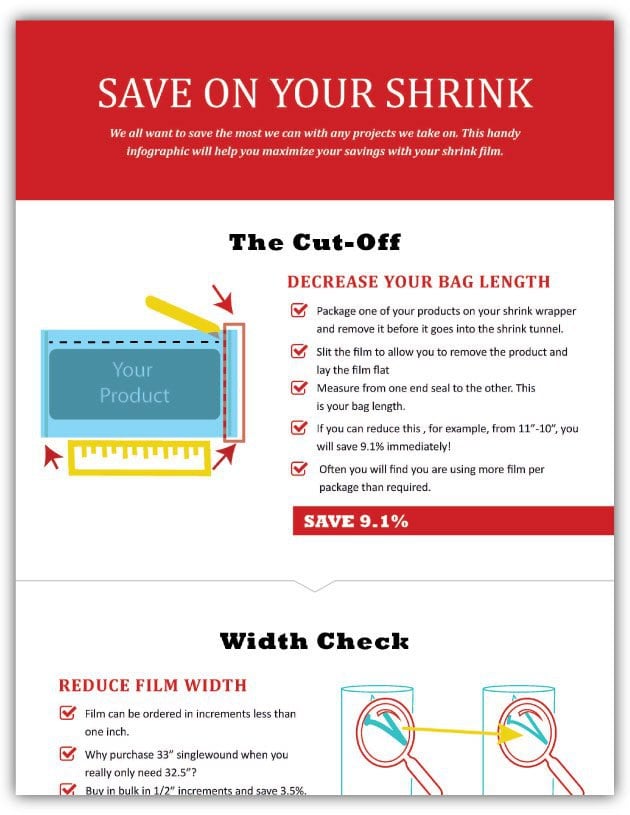 Shrink Film Cheat Sheet
We all want to save the most we can with any projects we take on. This handy infographic will help you maximize your savings with your shrink film. Get it for free when you subscribe to our blog.
Environment | Packaging Materials | The Business of Packaging
As concerns about plastic and its negative effects on the environment meet a fever pitch, companies all over the world are looking for sustainable and earth-friendly alternatives. As the great pacific garbage patch continues to grow, now more than ever, interest in bio-polymers and products made from recycled plastics are on the rise. But, are they really viable options yet? In the article below, we will look at the technology behind recycled shrink films while asking the tough questions about their viability as a packaging material in 2019 and beyond.
Investment | Packaging Design | Packaging Materials | Shipping Protection | Warehousing
When choosing a material to package your products for shipping, there are many options. While corrugated boxes remain a popular choice, those in the know are forgoing this antiquated method for the less costly options of shrink and/or stretch films. With a significantly lower carbon footprint, these films also result in less of an environmental impact. So what does shrink and stretch film have to offer that corrugated boxes do not? What benefits do stretch and shrink wrap have to offer in regards to sustainability? I invite you to discover the answers to these questions and more, in the article below...
Environment | Food Packaging | Packaging Design | Packaging Materials | Packaging Psychology | The Business of Packaging
Luxury packaging is a specialized market within the packaging industry. While it is only a small part compared to the industry as a whole, its environmental impact is heavy. The luxury packaging market has proven to be a highly profitable niche market within the world of packaging, however, at what cost to our planet earth? What exactly is luxury packaging, and who is the target demographic for it?
When thinking about purchasing a new piece of packaging equipment, it is important to start with safety first. Packaging machinery is heavy duty professional equipment. As such, ensuring that your employees are well trained on the machinery starts with a solid understanding of how to run the equipment safely. But when it comes to safety in regards to packaging machinery, where do you start?