Equipment | Plant Performance | The Business of Packaging
Collaborative robots can do many things — from autonomous robots that can work together with human beings in an office space, to industrial co-bots having protective guards in place. Industrial co-bots are very complicated machines that will work with human beings to improve processes and streamline production. These co-bots support a human operator in a conjoined working environment. What are these 'co-bots' and what can they do for your packaging line? Furthermore, where are they heading in the future? Find out here:
Equipment | Packaging Materials
Companies are always looking for ways to save money and reduce costs. Often times the dynamics of your packaging line go ignored. You may be wondering, how can you reduce costs in regards to your company's packaging dynamics and what if any, are the true benefits of such an endeavor?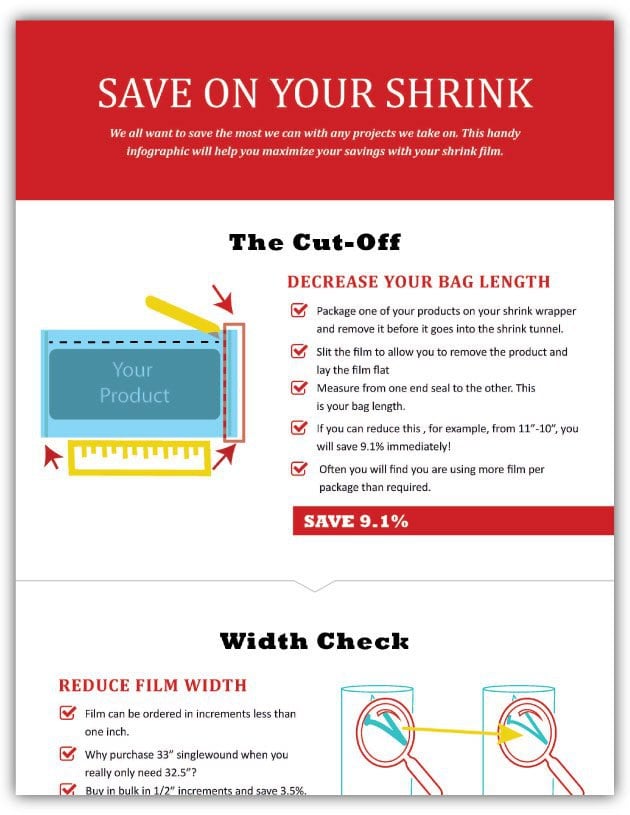 Shrink Film Cheat Sheet
We all want to save the most we can with any projects we take on. This handy infographic will help you maximize your savings with your shrink film. Get it for free when you subscribe to our blog.
Packaging Design | Packaging Materials | Packaging Psychology | Shipping Protection | The Business of Packaging
Carded packaging is a type of packaging which includes three subcategories. Skin, blister, and clamshell packaging supplies are widely used across the world, but what are differences between these three items? From fishing supplies to hardware, from pharmaceuticals to arts and crafts, the applications for these packaging types are virtually endless, but each of them has their own subtle differences and uses.
Packaging Design | Packaging Materials | Packaging Psychology | The Business of Packaging
In the entertainment world, virtual reality is very popular. When it comes to business, augmented reality is where it's at. AR allows people to interact with digital media in real time without having to wear a headset. It has many potential applications in marketing, advertising, education, and engineering.
Packaging Materials | Packaging Psychology | The Business of Packaging
With demand for industrial packaging supplies steadily growing year after year by 2.9%, we expect the industry to be around $980 billion by 2022. What dynamics have lead to this growth you may ask?
Equipment | Packaging Design | The Business of Packaging
Thermal printing applications span a wide range of opportunities for companies looking to improve their packaging supplies. Thermal printers are an excellent choice for their portability, speed, and capabilities to create high quality, vibrant labels that are both sturdy and visually appealing. These modern thermal printers can produce color labels and flexible packaging, without ink, toner or ribbons. How is this possible, you may wonder?