Equipment | Food Packaging | Packaging Materials | Plant Performance | Technical Service and Support | The Business of Packaging
Shrink wrapping is an easy process that only requires two things: the right kind of plastic wrap and heat. With just a roll of shrink wrap and a heating source, you can waterproof, weatherproof and tamper proof just about anything you have. Since there is no restriction on size to shrink wrap items, you have a way to protect even your bulkiest of items. But even this great packaging solution has a few potential hiccups.
Investment | Packaging Materials
The three main wraps used in shrink packaging material for protecting and securing products for the retail and shipping environments are polyvinyl chloride (PVC), polyethylene (PE), and polyolefin (POF). Each have different capabilities and characteristics that make them suitable for specific applications. What are the main differences between these types of shrink wrap? Which is the best choice for your packaging needs? Read on to find out!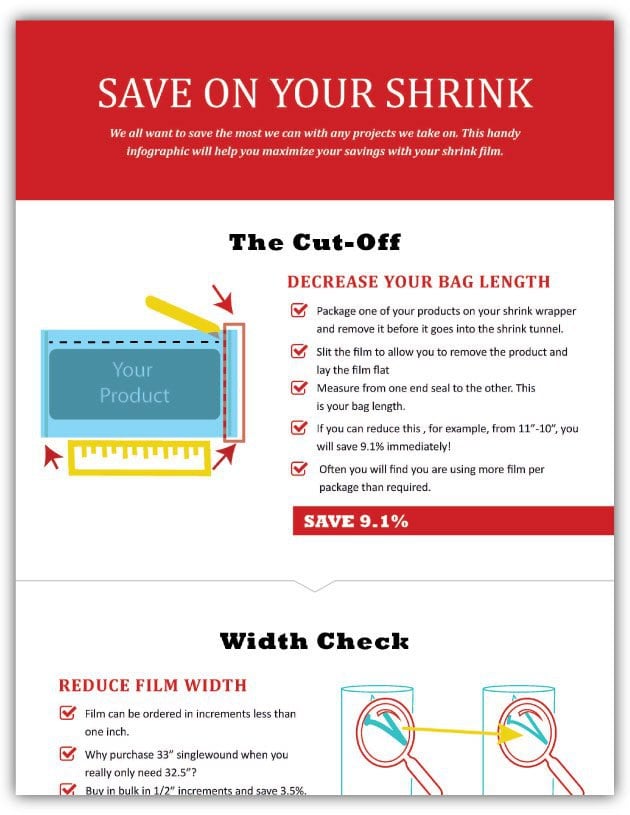 Shrink Film Cheat Sheet
We all want to save the most we can with any projects we take on. This handy infographic will help you maximize your savings with your shrink film. Get it for free when you subscribe to our blog.
Equipment | Investment | Packaging Materials | Packaging Psychology
When you are in a position to consider buying packaging machinery and related materials, there are questions that you should ask yourself and your team before making a capital investment. Packaging machinery and materials are not a "one size fits all". By asking the questions below, you will be armed with the knowledge needed to make an educated decision.
Food Packaging | Packaging Design | Packaging Materials | The Business of Packaging
Modified Atmosphere Packaging (or MAP) is the manipulation of the atmosphere inside of a packaged food (IE: beef, pork, chicken, fish). The goal of the process being to increase the shelf life of the product contained within. MAP improves the shelf life and freshness of many foods. These include cheese, meats, fish and other perishable food items. These foods are commonly packaged with oxygen, which is removed via MAP. What other benefits does MAP offer to the discerning consumer? What are the pros and cons? Read on to find out!
Equipment | Plant Performance | The Business of Packaging
Collaborative robots can do many things — from autonomous robots that can work together with human beings in an office space, to industrial co-bots having protective guards in place. Industrial co-bots are very complicated machines that will work with human beings to improve processes and streamline production. These co-bots support a human operator in a conjoined working environment. What are these 'co-bots' and what can they do for your packaging line? Furthermore, where are they heading in the future? Find out here:
Equipment | Packaging Materials
Companies are always looking for ways to save money and reduce costs. Often times the dynamics of your packaging line go ignored. You may be wondering, how can you reduce costs in regards to your company's packaging dynamics and what if any, are the true benefits of such an endeavor?