Environment | Packaging Design | Packaging Materials
Regardless of whether you are a seasoned veteran of product packaging or a start-up getting ready to package your very first product, finding the appropriate packaging for your products is an essential aspect of your business. Today, there are thousands of packaging materials to choose from. You have rigid packaging, flexible packaging, and specialized options in between. There are countless packaging supplies to consider. You will likely have more than a few reasons for looking into using shrink film to packaged your products. From cost savings to environmental concerns, there are many reasons why you would want to choose shrink film over the myriad of other packaging materials available. Industrial Packaging has sold hundreds of thousands of rolls of shrink film over our multiple decades in the packaging industry. We've coached thousands of happy customers on how to select the right type of shrink film for their packaging needs. And while it may seem like a simple process to buy rolls of shrink film, the truth is, there is a lot to consider before choosing shrink film as your product's packaging material. This article will help you understand why you would (and why you would not) want to package your products in shrink film. First we'll dive into three primary considerations that you need to be thinking about when it comes to using shrink film. Then we'll talk about the pros and cons and where it's best to buy this material.
Equipment | Investment | The Business of Packaging
When you buy packaging machinery, it can be tempting to try and buy the machinery with the lowest price tag. But, this kind of practice can often lead to spending more money. How is this possible? Four words. Total cost of ownership. The TCO (or total cost of ownership) is the full price you pay for a piece of machinery. This price includes all the associated costs. For example things like materials, parts, and labor all affect the total cost you'll pay. A more affordable machine that has unforeseen extra costs can be more expensive in the end. Having helped many clients buy packaging machinery, Industrial packaging is uniquely situated to assist you in buying the right machine for your products and packaging line. In this article, we will teach you how to calculate the total cost of ownership so that you can compare these costs directly - versus just the sticker pricing. This will prepare you to make the best buying decision that you can.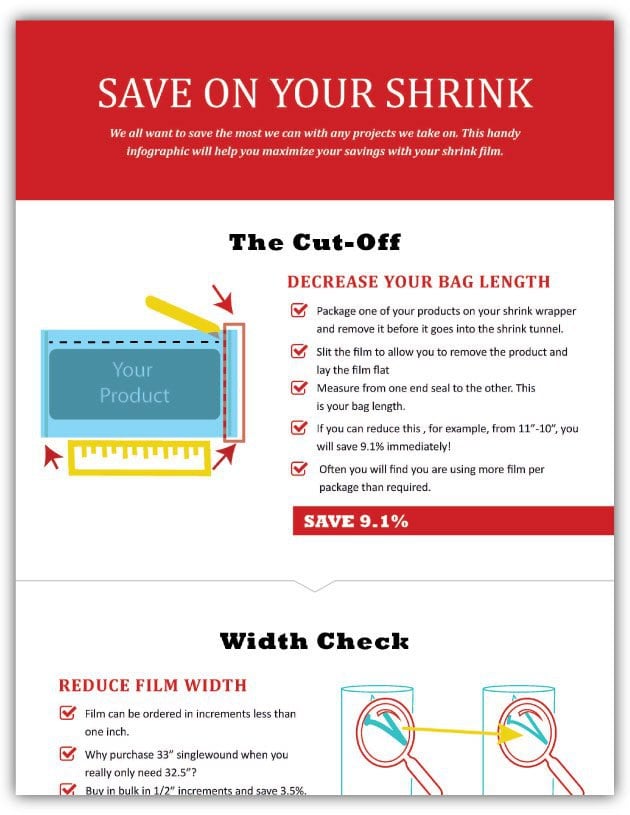 Shrink Film Cheat Sheet
We all want to save the most we can with any projects we take on. This handy infographic will help you maximize your savings with your shrink film. Get it for free when you subscribe to our blog.
Equipment | Technical Service and Support
If you have recently purchased any new packaging machinery, then you are or will be in the process of implementing a training program to ensure that your equipment operators are properly trained on your new machinery. My guess is, you probably think about the necessity of this training for packaging machinery from one perspective: Safety. And while that is certainly one of the most important KPI's to track and consider when training your equipment operators, it is most certainly not the only important element of these training protocols. While there are many reasons that you will want to procure quality training for packaging machinery, two important items are often overlooked: sustainability and overall success rates. A lack of training or the implementation of poor training can lead not only to serious safety concerns but also wasted time, money, materials, and parts. And, even if you do not suffer from these effects stemming from improper training, it is likely that the impact will result in slower production times, material and machinery issues, and other costly mistakes. All of which could have been avoided with the proper training in place. Industrial Packaging has provided countless hours of quality training to thousands of companies and by extension, thousands of packaging machinery operators. As such, we can provide you with a deeper understanding of the true value within quality training protocols and applications. In this article, we will be discussing the importance of high-quality training in relation to sustainability and a well-optimized, efficient, and quality packaging line.
If you are shrink wrapping products, chances are, you currently have or will be purchasing a shrink wrap sealer. As a machine that commonly sits in a packaging line prior to the heat tunnel, it is a required element for properly shrink wrapping your products. Unless of course, you are wrapping a smaller number of products and are choosing to instead employ a heat gun (OK) or a hair dryer (please don't). If this is the case, this article will only be of use to you if you plan to expand production and upgrade to using a heat tunnel. Suppose you happen to be in the first situation and are, in fact, in need of a sealer of some type or another. In that case, you're in the right place. Having helped countless clients purchase, install, and optimize the full spectrum of shrink-wrapping related machinery and materials, Industrial Packaging can help you to choose the right sealer for your specific product packaging applications. This article will review the most common types of sealers and explore their related materials, applications, and uses. By the end of this article, you should have a solid understanding of the different types of sealers and which you should continue doing research on.
So, you have found yourself in the position of purchasing shrink film for your business. Perhaps you are fresh out of college and are beginning your career in the purchasing department or you are a veteran purchasing manager who has been tasked with buying shrink film for the first time. Either way, you have quickly discovered that buying shrink film is not as simple as going to an e-com store, choosing a roll of film, and clicking "buy". Or, if you did that, you have now perhaps come to the realization that you purchased the wrong type of film for your machinery. Maybe the film you chose works but isn't the right gauge and you can see that you are wasting dollars with each product packaged. Then again, perhaps you choose a film that does not possess the right heat resistance and you now have a melted mess on your products and inside your heat tunnel. Regardless of the issues that have brought you here, it's very clear to you that you must answer several questions prior to ordering shrink film for your business. Knowing what to ask will help you ensure that you are in fact buying the correct film for your packaging needs. At Industrial Packaging, we have helped thousands of businesses over the course of multiple decades choose the best type, size, gauge, and formulation of shrink film for their packaging needs. When new customers come to us, we walk them through the questions they should ask and make sure they know how to best optimize their packaging lines.
Environment | Packaging Design | Packaging Materials
Various trends in the realm of packaging are expected to be hot-button topics in the new year. One of these topics is sustainable, recyclable, and environmentally friendly packaging materials. There has been a growing demand from consumers worldwide for companies to seriously consider the shift from single-use plastics to what many consider to be more environmentally friendly materials. But, as many consumers are slowly finding out, what is actually "environmentally friendly" and what is not can often be confused. This is the result of various forms of green-washing and carefully crafted corporate marketing materials. So, how do you know this article itself is not in fact a green-washing attempt? Well, for one thing, we are going to show you how compostable packaging materials can be properly implemented. We will show you how they can be earth-friendly alternatives while also providing other sustainable packaging options for those you who are unable compost properly. In the end, you can decide for yourself. One of these future potential packaging materials is compostable items such as biodegradable shrink films, biodegradable flexible pouches, and various other types of bio-plastic materials, which are often made at least in part, from plants. This article will help you identify when compostable packaging materials may make sense for you and those situations in which traditional packaging materials are the more environmentally-friendly choice.