Environment | Packaging Design | Packaging Materials | The Business of Packaging
As the tumultuous and dare I say downright disruptive year of 2020 winds to a close, the packaging industry is looking at some very interesting trends as we head towards the new year. While there are some hot-button trends that remain from 2020 as we head into the first quarter of 2021 (such as sustainability and environmentally minded packaging materials), there are some huge new packaging opportunities that have come out of the pandemic. For example, the video game industry is experiencing a meteoric expansion of growth as gamers have spent more time at home playing video games and many new gamers are just beginning to experiment with the joy of gaming to pass the time while in quarantine or semi-mandated stay at home orders. More gaming = more opportunities for video game packaging applications. Then, we have the ever-growing expansion of eCommerce purchasing. Purchasing online was already steadily rising prior to the arrival of this pandemic. But it has only grown exponentially more than expected as a byproduct of the virus. Food packaging (particularly frozen food packaging) has also seen a massive growth spurt. More consumers are buying larger quantities of groceries either in person or via online driven delivery services. It's a lot to keep up with. In this article, we will take a deep dive into the top packaging trends for 2021 so that you are set up to succeed in the new year.
Equipment | Fulfillment | The Business of Packaging
On the day of installing a pallet wrapper in your warehouse, a lot is going on. Old machinery needs to be shut down, decommissioned, and removed from your warehouse. At the same time, the new equipment must be delivered, set-up, and installed. Having helped thousands of companies purchase and install new pallet wrappers, Industrial Packaging is able to ensure that even the most complicated installations go smoothly and without error. In this article, we will break down everything you should expect and be prepared for when the day of installation of your new pallet wrapper arrives.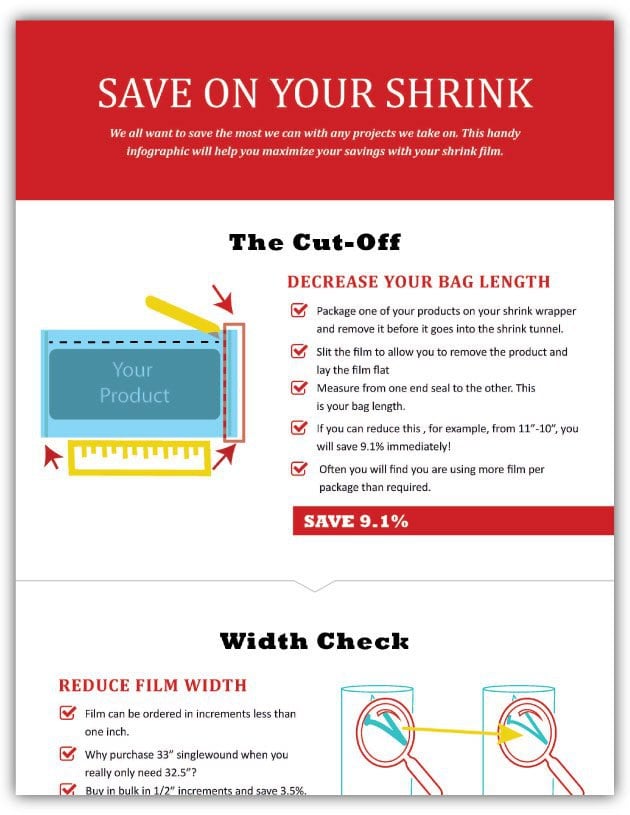 Shrink Film Cheat Sheet
We all want to save the most we can with any projects we take on. This handy infographic will help you maximize your savings with your shrink film. Get it for free when you subscribe to our blog.
This article is a guest blog post from our friends over at iGAM. iGAM is the leading online marketplace for used industrial robots, robot parts and robotics equipment. They specialize in providing affordable products that meet the demands of your business and enjoy working with their customers to deliver the results they expect. Glossaries help manufacturers and consumers stay informed about new technology and processes. Have you ever found yourself reading industrial manuals or industry news, and you don't know what equipment is being discussed? Industrial manufacturing is a complex market filled with equipment and processes that can be confusing to consumers. Even for manufacturers, new terms and products pop up, making it difficult to stay informed. That's why iGAM has created an ever-growing glossary so you can stay sharp on all things industrial manufacturing and automation. Check it out on our Glossary page and read more about the glossary below!
Environment | Packaging Materials
Up until 2020, many supermarkets and other corporate entities were making it a point to phase out single-use plastics such as bags, cups, and straws. After the arrival of the corona virus, however, many of these institutions backpedaled on these decisions. They once again opted for single-use plastics as they had been proven to be safer options in the battle against COVID. Eventually, this pandemic will be over. And when that day comes, you can be sure that the environmental movement will be going full swing once again. We will likely see consumers once again demanding earth-friendly plastic alternatives to help protect the environment. Lately, we at Industrial Packaging have been getting questions about the various types of shrink films and their more environmentally friendly alternatives. Most recently, we received a rather interesting question from a prospect: Regarding shrink film, which is best for me? Recyclable OR Biodegradable? The honest answer to this question is, it depends! We will answer this questions based upon actual applications. This is case sensitive for each customer based upon their budget, their monthly volume of film used, and a few other different variables. In this article, we explore this question in-depth and help you understand which type of shrink film mentioned above is right for your unique packaging needs and business requirements.
The Business of Packaging | Working At Industrial Packaging
We don't know anyone who doesn't want to grow in their personal and professional life. That is why we offer various ways for our employees to grow and prosper. Growing keeps us happy with ourselves, gives us confidence, and makes us proud of our achievements. Industrial Packaging believes in supporting our employees with their personal and professional growth goals. Here are the top 6 ways that we inspire our employee's personal and professional growth.
Equipment | Food Packaging | Investment | Packaging Design
Many food producers are looking for ways to package their food products for various applications such as frozen food, grab-n-go, and pre-made meals. The demand for these types of packaging had been growing steadily for a while. However, with the arrival of COVID19, the market has only skyrocketed. This is because many supermarkets, restaurants, country stores, and other producers and sellers of food products are offering more and more pre-packaged foods. If you have been to the supermarket recently, chances are you have seen a few changes to staples of the shopping experience. For example, most serve-yourself salad bars are no longer "serve yourself". In their place, you will find pre-packaged salads in plastic containers. More and more single items of produce are being shrink-wrapped to prevent the virus from touching the food inside. Many food sellers are now shifting to selling pre-made meals that are then frozen or packaged in film-covered trays. People like you are turning to the idea of purchasing food packaging machinery and packaging their food items themselves, rather than outsourcing the process to contract packaging companies who will do the work for them. This allows you to fully control the process, machinery, materials and every other aspect of the food packaging process. It also allows you to personally ensure the safety of the food items you are selling to your clients. But how much does a food packaging machine cost? What are the different kinds of food packaging machines available? Which one should you buy? Does it make sense for your business? If you are like many other companies, you have a ton of questions. With decades in the food packaging industry, we have been able to help large food manufacturing companies package their food items. As such, we are able to help you choose the right equipment for your food packaging needs and answer any questions that you may have. We're here to help you understand just how much of an investment you'd need to make to start packaging your own food. This article will detail the price, functionality, proper applications, and other valuable information to help you decide if a food packaging machine is right for you.