Equipment | Food Packaging | Packaging Materials | Plant Performance | Technical Service and Support | The Business of Packaging
Shrink wrapping is an easy process that only requires two things: the right kind of plastic wrap and heat. With just a roll of shrink wrap and a heating source, you can waterproof, weatherproof and tamper proof just about anything you have. Since there is no restriction on size to shrink wrap items, you have a way to protect even your bulkiest of items. But even this great packaging solution has a few potential hiccups.
Equipment | Investment | Packaging Materials | Packaging Psychology
When you are in a position to consider buying packaging machinery and related materials, there are questions that you should ask yourself and your team before making a capital investment. Packaging machinery and materials are not a "one size fits all". By asking the questions below, you will be armed with the knowledge needed to make an educated decision.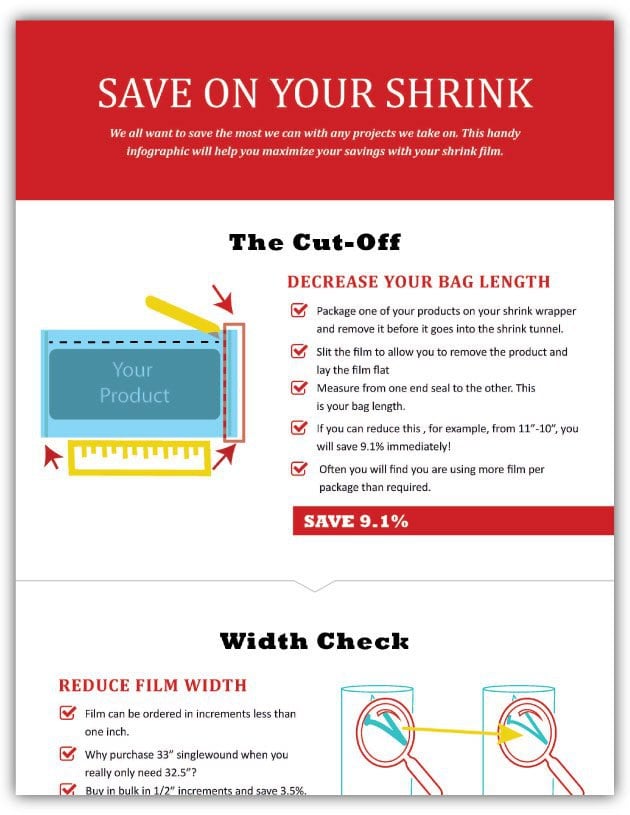 Shrink Film Cheat Sheet
We all want to save the most we can with any projects we take on. This handy infographic will help you maximize your savings with your shrink film. Get it for free when you subscribe to our blog.
Equipment | Plant Performance | The Business of Packaging
Collaborative robots can do many things — from autonomous robots that can work together with human beings in an office space, to industrial co-bots having protective guards in place. Industrial co-bots are very complicated machines that will work with human beings to improve processes and streamline production. These co-bots support a human operator in a conjoined working environment. What are these 'co-bots' and what can they do for your packaging line? Furthermore, where are they heading in the future? Find out here:
Equipment | Packaging Materials
Companies are always looking for ways to save money and reduce costs. Often times the dynamics of your packaging line go ignored. You may be wondering, how can you reduce costs in regards to your company's packaging dynamics and what if any, are the true benefits of such an endeavor?
Equipment | Packaging Design | The Business of Packaging
Thermal printing applications span a wide range of opportunities for companies looking to improve their packaging supplies. Thermal printers are an excellent choice for their portability, speed, and capabilities to create high quality, vibrant labels that are both sturdy and visually appealing. These modern thermal printers can produce color labels and flexible packaging, without ink, toner or ribbons. How is this possible, you may wonder?
Environment | Equipment | Investment | Packaging Design | Packaging Materials | Packaging Psychology | Plant Performance | The Business of Packaging
Given the entire purpose of packaging, the idea of "zero waste" may seem counter-intuitive. How can you package anything without inevitably causing some leftover waste? Turns out, zero waste packaging is being hotly discussed in the manufacturing space, with many companies committing to reducing or eliminating waste — and many consumers actively seeking these options. To break it down, zero waste packaging takes things one step further than sustainable packaging. If this is new to you, read on to learn all about this trend, what it involves, and how it could affect your operations.