Equipment | Packaging Materials | Technical Service and Support
You may own the very best packaging machinery. You may even be running the highest quality materials on those machines. However, if you do not have excellent service for machinery repair and materials sourcing, you will end up with unwanted downtime. There are many variables to consider when running a top-notch packaging line: cost of goods, electrical supply, gasses, and air needs, space requirements, and the list goes on and on. One of the essential elements of a professional and successful packaging line is your access to outstanding service. As a machinery and materials service provider with thousands of happy customers, Industrial Packaging knows just how important service is to a world-class packaging line. In this article, we will discuss the importance of service and why at the end of the day, service is KING!
Equipment | Plant Performance | Shipping Protection
Are you purchasing machinery or materials for your packaging line? Feeling a bit of pressure to cut costs or save as much money as possible while also keeping a smooth running line? Chances are, you've always been focused on reducing costs whenever possible. But in today's world, with so many businesses coming out of long periods of downtime, cutting costs is a top concern for practically everyone. There's extra pressure from upper management to figure out how to save your company money. You probably ask yourself on a daily basis, How can I cut costs today? We know that the responsibilities of purchasing personnel today are stressful. Here at Industrial Packaging, we've worked with purchasing departments for decades to optimize their packaging lines and save money. That is why, in this article, we are going to give you a few helpful cost-saving tips. Specifically, if you're running a Lantech stretch wrapper, we are going to help you save between 20-50% on stretch wrapping film costs! Want to see proof of this in action? Review this case study we created based on our own experience!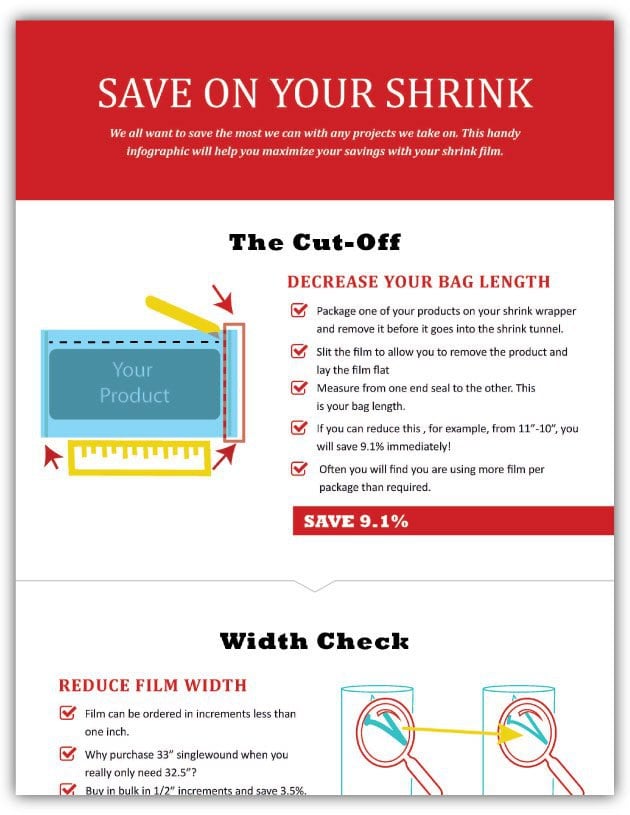 Shrink Film Cheat Sheet
We all want to save the most we can with any projects we take on. This handy infographic will help you maximize your savings with your shrink film. Get it for free when you subscribe to our blog.
If you are thinking about adding an L bar sealer to your packaging line, one of the big considerations is price. How much of your budget should you set aside for this machine? The large variations in price will bring up other questions as well. Should you get a manual or automatic sealer? Should you get an entry-level device or a state-of-the-art professional-grade machine? As a machinery vendor who has been selling L sealers for many years, we understand the various questions that arise during the buyer's journey for L bar sealers. In this article, we will take a look at the price differences regarding L sealers. From entry-level machines to fully automatic workhorses. We will thoroughly dissect the most important factors when preparing to buy an L sealer. It should be noted that pricing varies based on the manufacturer.
Equipment | Packaging Materials | Packaging Psychology | Plant Performance | The Business of Packaging
So, you've looked into your local packaging suppliers, and you're unsure if they can support you based on your needs. But you are also worried that working with a distributor across the country will be a headache due to shipping distance and lack of immediate response. When it comes to choosing a vendor for packaging supplies, distributors are often selected because of their dynamic portfolio of product offerings in the packaging industry and their ability to provide large quantities of supplies. Unlike manufacturers, distributors are not beholden to only one or two brands of materials and machinery. As such, they can help you to choose the machinery and materials that are indeed the best solution for your needs. And while it is usually advised to choose a distributor local to your geographical location, there are benefits to working with one across North America. While we tout the benefits of local companies a lot, there are some times when you might not want to use one. In the article below, we will discuss the reasons you may want to work with a distributor across the country, rather than a local supplier.
Equipment | Packaging Materials | Plant Performance | Technical Service and Support
In 2020, there are countless vendors from which you can order packaging machinery. Likewise, there are thousands of options for purchasing materials. When buying materials and machinery, you may ask yourself; why not buy both from the same company? What are the pros and cons of doing this? Here at Industrial Packaging we have been selling packaging machinery and materials for many years. During that time we have learned a lot about the benefits of buying materials and machinery from the same vendor. We value our customers and only want them buying the materials and machinery that's best suited for them. And in some situations that means our customers don't buy everything from us, and that's OK. In this article, we will review the pros and cons of buying your packaging machinery and materials from the same company.
Equipment | Packaging Materials | Packaging Psychology
The short answer to this question is yes. Technically, the heat produced by most hair dryers can shrink plastic film. Specifically, polyvinyl chloride or polyolefin. Now, is it a good idea? That is a whole other can of worms. Here at Industrial Packaging, we have been helping people shrink plastic film for over 65 years. In the article below, we will dig deeper into one of the stranger questions we have received in regards to shrink film and discuss more appropriate ways to accomplish the same goal.