Equipment | Fulfillment | Plant Performance | Warehousing
Stretch wrap is one of the most commonly used packaging materials across the globe. Hundreds of thousands of companies stretch wrap millions of pallets of product every day. While many companies rely on physical labor from human employees, shrink wrapping machines are a staple in high production packaging lines and even smaller companies who want the cost savings and related benefits of using a stretch wrapper. That being said, what are the benefits of using a stretch wrapper? Who is a good fit for a stretch wrapping machine? Which type of machine is best for your company? Follow me into the article below and we will stretch your knowledge to its maximum capacity.
Equipment | Investment | Technical Service and Support | The Business of Packaging
Companies who have been in business for decades often find themselves as the owners of outdated and borderline dysfunctional packaging equipment. These older machines are less efficient and often produce more problems than they do quality packaged products. When your machines begin to age, what should you do with them? Should you just replace them or consider refurbishing? What are the problems associated with old machinery and what can you do about them? In the article below we will discuss these topics at length.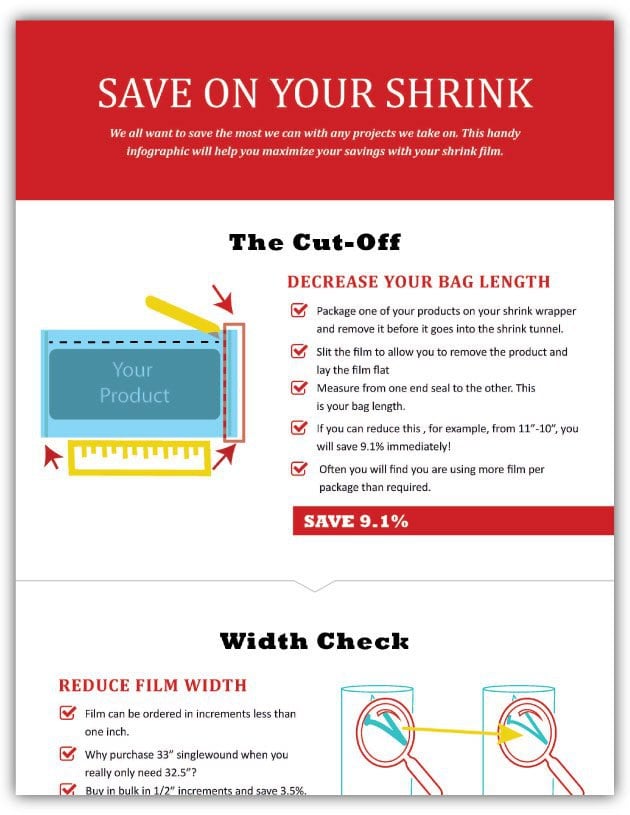 Shrink Film Cheat Sheet
We all want to save the most we can with any projects we take on. This handy infographic will help you maximize your savings with your shrink film. Get it for free when you subscribe to our blog.
Equipment | Fulfillment | Investment | Plant Performance | Technical Service and Support | Warehousing
When building a new packaging line or updating a line that has been packaging products for decades, measuring KPIs (Key Performance Indicators) is an extremely important exercise. In the article below, we will take a look at the top 10 KPIs to track and discuss those which we deem most important for your packaging line.
Equipment | Packaging Psychology | Plant Performance | Technical Service and Support
Sooo... You have just purchased a brand new collection of packaging machinery and you are ready to get your line pumping out products at top speed and high efficiency. But wait, did you remember to acquire some form of preventative maintenance or at least find a vendor for packaging machinery repair? If not, who should you choose? Should you hire a full time maintenance technician or contract a 3rd party? Which is a better choice for your business? What are the related costs? In today's article we will reveal the answers to these questions and provide expert advice on packaging machinery service and repair options.
Environment | Equipment | Investment | Packaging Design | Packaging Materials | Packaging Psychology
You may be familiar with shrink film, but are you familiar with printed shrink film? While shrink film is a great material to package your products with, adding print directly to your packaging film takes things to the next level! What are the differences between printed and non-printed shrink film? What are the pros, cons and applications that printed shrink film can best be used for? Is it a good fit for your packaging line and your products? Let's figure this out together.
Equipment | Investment | Packaging Materials | Plant Performance
Materials have an important role in the proper functionality and efficiency of your equipment. Choosing the right materials for your packaging machinery involves several dynamics and research into each of them. From shrink film gauges to temperature restrictions and stretch percentages, material choice is an important dynamic of packaging machinery purchasing. Which materials are right for your application? How can you be sure you are running the right substrate? In the article below, we will explore the close relationship of materials and machinery on your packaging line.