So, you upgraded from a manual L-Sealer to a side seal machine. You're excited that you can now start keeping up with every order that's coming in for your new product. But, before you start packaging your products with your new equipment, you have to make sure that you set up the machinery properly first. There are multiple steps that must be followed in order to set up your machinery correctly so that it runs the way you want it to. By following each step in this guide, you will be able to optimize your new sealer in a way that will ensure that it runs smoothly, efficiently and correctly. Having helped thousands of clients set up their sealers in the past, Industrial Packaging is able to help guide you through the process of setting up your new equipment and optimizing it for the best packaging possible. In this article, we'll walk you through a step-by-step process for setting up a new sealer. We will also offer additional steps and tips to ensure that your machine runs well from the moment you turn it on.
If you like it, you should of put a ring stretch wrapper on it. Is that how the song goes? No? Well, all things considered, perhaps a ring stretch wrapper would make a better gift. At least, to your packaging line employees anyway. When it comes to wrapping items such as sheet goods (like plywood), roll goods (like carpet), windows, doors, furniture, and motors (among other things), a ring stretch wrapper is the envy of any packaging line. Ring stretch wrappers, also known as ring wrappers or LAN wrappers, are unique animals for the packaging applications for specialized or even oddly shaped items. In fact, if I had to guess, I am willing to bet that you probably found this article by google searching for a tool that would be good for packaging one or more of the items listed above. Or maybe something similar to those items. Maybe you are researching ring stretch wrappers because you are already considering buying one. Maybe you are just learning about ring stretch wrappers after looking online for the best packaging machinery for your products. Either way, you will most likely have a lot of questions about these machines before you go buying one (or at least, you should). Having helped thousands of people buy the right stretch wrapper for their needs, the team here at Industrial Packaging is uniquely positioned to help guide you through understanding these machines. In the article below, you'll discover information about ring stretch wrappers as well as their common uses and applications.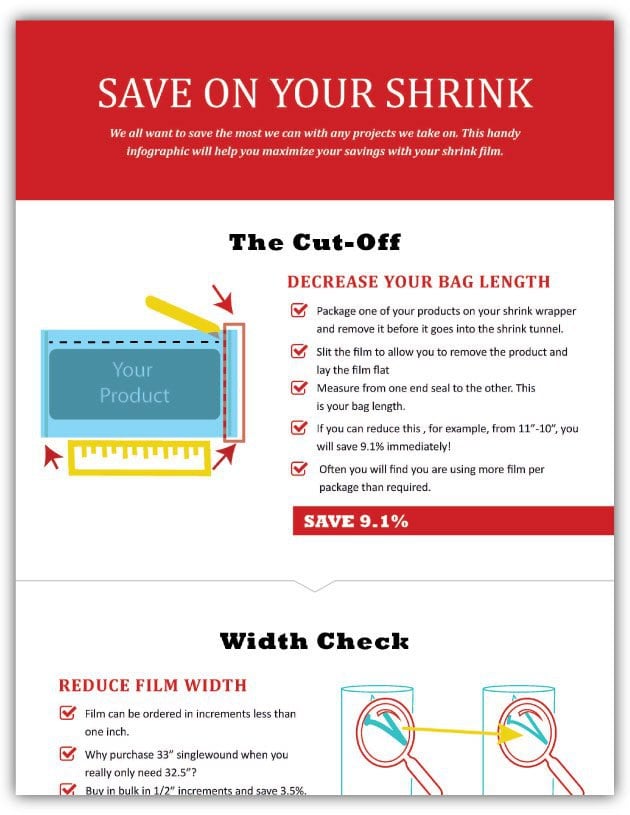 Shrink Film Cheat Sheet
We all want to save the most we can with any projects we take on. This handy infographic will help you maximize your savings with your shrink film. Get it for free when you subscribe to our blog.
Perhaps you just bought a brand new stretch wrapper. Or, maybe you are currently shopping for one. Either way, my guess is, your company has asked you to evaluate the machine for its safety review. Even if it costs more, making the correct purchase will undoubtedly be less expensive than a workman compensation claim. Not only that, but a safe machine can save you a lot of time and money as well. There are a few safety hazards that you should be aware of when operating a stretch wrapping machine. From tripping hazards to inadequate load containment, there are several types of dangers that, when approached with care, can be avoided through the proper safety measures. Having sold thousands of stretch wrappers over the years, we at Industrial Packaging have been on-site for more than a few stretch wrapper installations and subsequent training operations. We know these machines inside and out. Most importantly, we know how to safely operate these machines. This article will explore some of the common safety hazards that go hand in hand with a stretch wrapping machine to help you understand how to negate and avoid injury by implementing the proper safety protocols.
So you have decided to buy some packaging machinery. You have done your homework and sent out an RFP to at least three vendors. You have reviewed each of the proposals, met with a representative from each vendor, and negotiated with them. You're finally at the point where you have chosen a vendor to buy from. You have the exact make and models that you want and have the additional options for each piece of machinery chosen. You are ready to cut a check or finance the equipment. So, you are now prepared to take the plunge and buy the machinery, plan your installation days, and move forward with the closing of the sale, right? Wrong. While you've done a monumental amount of work to get to this point and applied your due diligence, there is one thing that you are lacking. What exactly is this one item you have failed to consider as you stand on the precipice of this significant purchase for your company? Questions. Questions, that when answered correctly, could very well save you thousands of dollars and, in some cases, perhaps more. Industrial Packaging has been helping countless clients for decades in the process of not only buying the right packaging machinery and materials for their needs today, but also those needs of the future. A future that all too often comes with unexpected events, complex product changes, black swan events, and a host of other often unforeseen changes and challenges. This article will help you identify a list of questions that are often not even considered until it is too late. With this information added to your research, you will be fully and thoroughly prepared to make the correct buying decision. One of which will ensure your ability to evolve with the changes that the future will almost certainly bring.
Equipment | Fulfillment | The Business of Packaging
On the day of installing a pallet wrapper in your warehouse, a lot is going on. Old machinery needs to be shut down, decommissioned, and removed from your warehouse. At the same time, the new equipment must be delivered, set-up, and installed. Having helped thousands of companies purchase and install new pallet wrappers, Industrial Packaging is able to ensure that even the most complicated installations go smoothly and without error. In this article, we will break down everything you should expect and be prepared for when the day of installation of your new pallet wrapper arrives.
This article is a guest blog post from our friends over at iGAM. iGAM is the leading online marketplace for used industrial robots, robot parts and robotics equipment. They specialize in providing affordable products that meet the demands of your business and enjoy working with their customers to deliver the results they expect. Glossaries help manufacturers and consumers stay informed about new technology and processes. Have you ever found yourself reading industrial manuals or industry news, and you don't know what equipment is being discussed? Industrial manufacturing is a complex market filled with equipment and processes that can be confusing to consumers. Even for manufacturers, new terms and products pop up, making it difficult to stay informed. That's why iGAM has created an ever-growing glossary so you can stay sharp on all things industrial manufacturing and automation. Check it out on our Glossary page and read more about the glossary below!