For many companies, the shrink tunnel is a staple of their packaging line. From unitizing multi-packs and reducing one's carbon footprint, shrink tunnels and shrink film are an excellent choice for packaging many items. But how much does a shrink tunnel actually cost? Is there a way to find this information without digging through websites or bringing a sales professional into a meeting? In the article below, we will provide pricing for two shrink tunnels and the associated options in order to help you simplify the process of getting pricing for this type of equipment.
Stretch wrappers (AKA pallet wrappers) are extremely common packaging machines found throughout millions of companies. They are used to properly package pallets of products for shipping around the globe. Through the proper load containment and the utilization of the correct type of stretch wrap, a good stretch wrapper can maximize the speed of your packaging line, save you money, improve the safety of your packaging and streamline the process of speed to market for your products. But how much does a stretch wrapper cost? In the article below, we will look at two different models made for different applications and answer this question in easily digestible terms.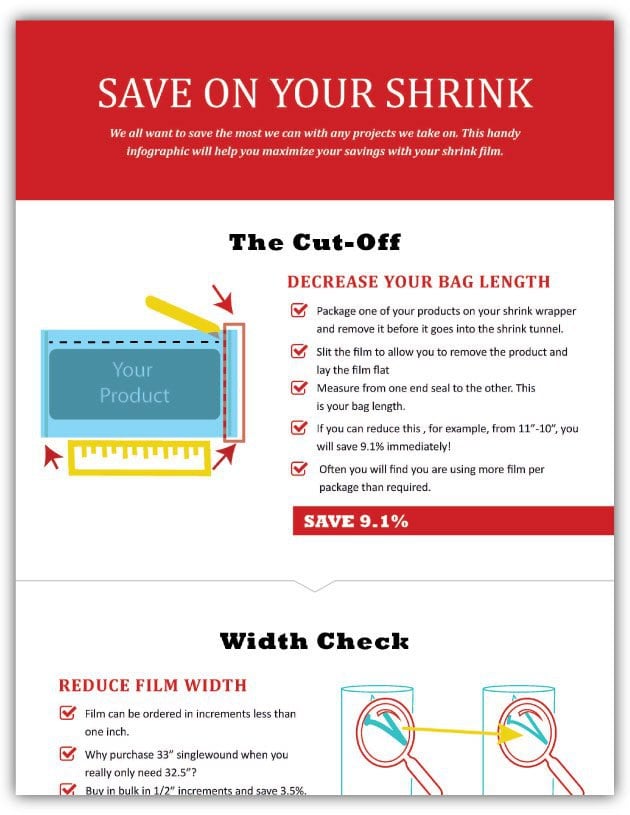 Shrink Film Cheat Sheet
We all want to save the most we can with any projects we take on. This handy infographic will help you maximize your savings with your shrink film. Get it for free when you subscribe to our blog.
Environment | Equipment | Food Packaging | Packaging Design | Packaging Materials
Here at Industrial Packaging, we pride ourselves on many things, but "greatness" is perhaps one of the most important. Taking a back seat only to safety, greatness is a word that embodies everything we do. We try to invoke greatness in customer service, sales, marketing, community service, charity, education and environmental pursuits. In the article below, we will explore our most read blog posts of 2019. Those blog posts which embody... Greatness.
Equipment | Packaging Materials | Warehousing
When it comes to the cost associated with your packaging line, many dynamics hinge upon the size of your production. Depending on how many products you run a day, what (if any) machinery you are utilizing and the number of employees you have, costs vary greatly from one type of production to the next. In the article below, we will take a look at the differences between large and small productions and the costs associated with each.
Environment | Equipment | Packaging Materials | Warehousing
When it comes shrink film, temperature restrictions in extreme conditions is an important dynamic to consider. From the temperature that you run your products through the heat tunnel, to atmospheric conditions for your transportation vehicles, temperature matters. In the article below we will explore the role of temperature in relation to shrink film and how it reacts to packaging machinery.
Equipment | Fulfillment | Plant Performance | Warehousing
Stretch wrap is one of the most commonly used packaging materials across the globe. Hundreds of thousands of companies stretch wrap millions of pallets of product every day. While many companies rely on physical labor from human employees, shrink wrapping machines are a staple in high production packaging lines and even smaller companies who want the cost savings and related benefits of using a stretch wrapper. That being said, what are the benefits of using a stretch wrapper? Who is a good fit for a stretch wrapping machine? Which type of machine is best for your company? Follow me into the article below and we will stretch your knowledge to its maximum capacity.