Equipment | Investment | Packaging Design | Packaging Materials
As the days slowly creep towards October, the humid air of summer begins to fall into the shaded paths of memory that only an Indian summer can remedy. Mornings and nightfall share the brisk cold air that calls to the trees as they start to ignite with the colors of fall. Bright oranges, reds, and yellows begin to peek out from the edges of hardwoods, and you can often catch the scent of a campfire on the air throughout the day. Once again, pumpkin spice reigns supreme on the lips of many a passerby, and apples suddenly seem to be present in more than a few dessert offerings. Indeed, autumn has arrived, and if you are like me, you savor every sweet second of cold air, tree lines ablaze with fiery color, and the toasted notes of campfire smoke enticing the senses to reminisce. Now, if you work in the firewood industry, my guess is you are equally, if not even more excited than I am. During this time of year, many people begin to purchase firewood. Some do this for the occasional campfire aesthetic, while many place their cord-wood orders in preparation for a long winter. When bundling firewood for the former application, there are several ways to go about this process. When it comes to bundling firewood, you generally have three options. Stretch film, shrink film or strapping. Each of these are viable and appropriate ways to package firewood for consumers. Industrial Packaging has been bundling products with stretch film, shrink film and strapping materials for ages. We have learned a thing or two about bundling firewood during our many years in the packaging industry. This article will explore these firewood packaging processes and materials and help you decide which type of material and machinery is right for your firewood packaging business.
If you are entering the market for a shrink tunnel, you will find yourself with a big variety of different types of machinery. Some machines work with steam. Others use hot air. Every kind of shrink tunnel is designed to work for specific applications. Using the wrong shrink tunnel for the incorrect application can lead to various unwanted problems such as waste, downtime, costly repairs, and potentially, injury. When shopping for a shrink tunnel, you're going to have many questions about the equipment. At the end of the day, you just need to know which type of shrink tunnel is right for your products. Luckily for you, it is a fairly easy process to identify the best machine for your needs after you have done a little homework! Industrial Packaging has been working with shrink tunnels for generations. During that time, we have become experts on the various makes and models of shrink tunnels, what makes them tick, how to keep them running smoothly and how to repair them with ease when they eventually break down. With the information in this article, you will be able to choose the right machinery for your shrink tunnel applications and product packaging needs.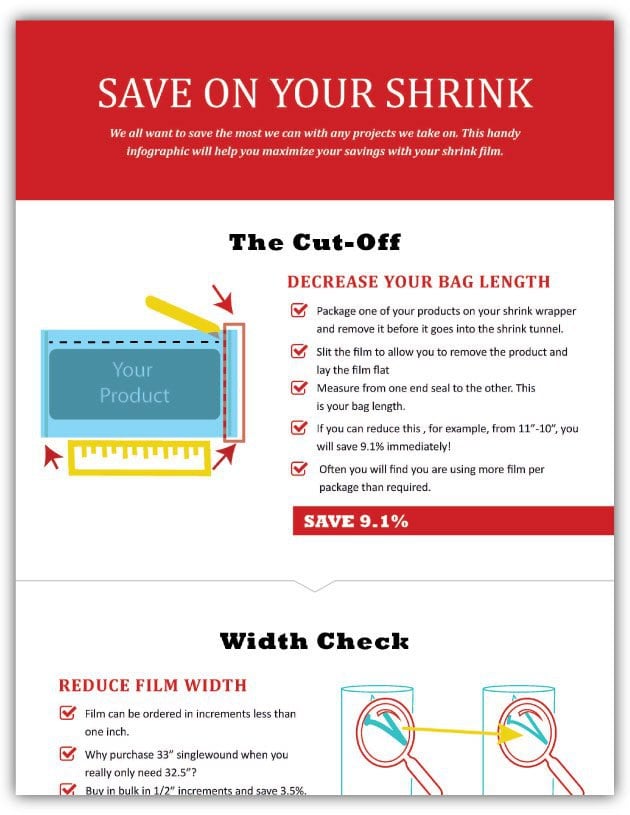 Shrink Film Cheat Sheet
We all want to save the most we can with any projects we take on. This handy infographic will help you maximize your savings with your shrink film. Get it for free when you subscribe to our blog.
Equipment | Investment | Plant Performance
So you have come here because you have decided to buy a stretch wrapper. You are not sure if you should buy a pneumatic model or an electric model. You do not want to buy any additional components that you do not need, so you are researching these two options to make the right choice. Industrial Packaging has been selling stretch wrappers for many years. We can educate you on which type of stretch wrapper makes the most sense for your business. In this article, we are going to compare pneumatic stretch wrappers to electric stretch wrappers and help you to choose the machine that is right for your business.
Equipment | Packaging Psychology | Technical Service and Support
When you think about downtime, I bet a few things come to mind. Lost productivity, your workforce is standing around, scrap packaging materials or finished goods, and missing deadlines you have agreed to meet. And while all those are true, there are a few more negative side-effects that carry as much, if not more, weight when it comes to downtime. One of our top priorities is making sure our customers can avoid unexpected downtime on their packaging lines. At Industrial Packaging, we "eat out own dog food" and maintain regularly scheduled maintenance on our packaging machinery. By doing so, we can maintain the supply line for our customers, and we help them do the same in their facilities. We know what it takes to succeed, and we know how to combat unwanted downtime. In the article below, we will explore the real cost of downtime and explain why you will want to be sure to negate it.
You have been researching sealers for a few months now and you have decided that you would like to purchase one. You have educated yourself on the cost and the expected ROI of purchasing a sealer. You have studied the differences between buying VS leasing your new sealer and have found the option that is right for your company. If you haven't already done these things, we'd recommend you doing so. You spoke with a repair technician and are working out all of the necessary details of a preventive maintenance program to make sure that your machinery will run well, minimizing downtime. You have your key performance indicators set up in regard to your sealer's operation and you have made it a point to ensure that your machine operators are trained on all safety protocols. This project has cost you a lot of time, effort, and money to get to this point. You are ready to actually buy a machine now. You have selected a vendor to purchase materials, service, and repair from and are 100% prepared to take the next step. But, you have one more question that needs answering. Should you buy an electric sealer or a pneumatic model? You are unsure about the difference between these machines and you need to be absolutely confident that you are making the right decision for your business. You need a machine that will get the job done quickly and efficiently, however, you also must ensure that you are getting a machine that does not have unwarranted additional costs. So, you are not exactly sure how to move forward. Well, we have some great news! You have found your way to this article and you are looking for an answer to your final question. And luckily for you, we have it! Industrial Packaging has been selling sealers for a very long time and we are a thought leader in our industry. As such, we are going to assist you in choosing the perfect machine for your needs. In this article, we will compare electric sealers to pneumatic sealers and help you in the last steps of choosing the best piece of equipment for your packaging line.
Are you looking for pricing information on a strapping machine? Not sure where to start or which brand to buy? Maybe you have been tasked to purchase one of these machines but don't know a lot about them other than your responsibility to source one for your company. We have sold quite a few strapping machines over the years here at Industrial Packaging. We pride ourselves on helping people understand the cost of packaging machinery and finding the right machine for their needs. Generally speaking, strapping machinery costs can range from as low as $500 for handheld equipment to well over $24,000 for fully-automated machines. Exact pricing depends on the manufacturer and the type of machinery, and this range can differ from brand to brand. This article will provide information about the cost of strapping machinery and what factors impact their cost. We will help you better understand what you'll pay for the type of machine that is right for you.