Equipment | Investment | Plant Performance
If you buy shrink packaging machinery or upgrade older equipment, your mind probably goes to one of two places. Shrink tunnels or sealers. Those are the two pieces of shrink packaging machinery that come to mind for most buyers. This is a common starting point when beginning the buying process for shrink packaging machinery. But, there is another important element to consider, conveyors. As for which type of conveyor is right for your packaging line, well, that all depends on various factors, the size, weight, and shape of your products will all play a part in determining this. The Industrial Packaging crew has been working with shrink packaging machinery for generations. Along the way, we have learned a lot about shrink machinery. And conveyors are no exception to the rule. This article will explore the different types of conveyors currently available. We will discuss the applications for this type of packaging equipment.
Equipment | Packaging Materials
So, you have been tasked with purchasing shrink film for your company's packaging needs. You went to Google, searched for shrink film and you found two common types of this material. Single-wound shrink film and centerfold shrink film. Now what? Which type of shrink film is right for your products? Is one or the other more appropriate for your packaging line? If so, how do you identify which type of shrink film is right for you? Sure, you could just order a roll of each and test them on your products. Or, you could roll the dice on one or the other and hope it works out. But, wouldn't you rather choose the correct shrink film for your products? Then you will have to understand the differences between these packaging materials. Industrial Packaging has been selling shrink films for decades while providing our customers with quality information to make proper buying decisions. When it comes to your shrink film needs, you will be able to find the resources you need to source your films here. In this article, we will help you to figure out if single-wound or centerfold shrink film is right for you.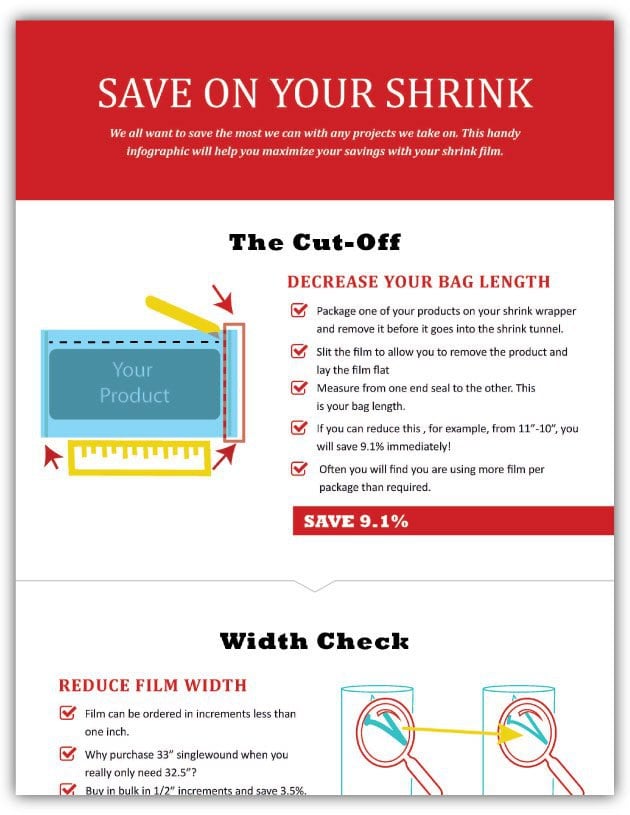 Shrink Film Cheat Sheet
We all want to save the most we can with any projects we take on. This handy infographic will help you maximize your savings with your shrink film. Get it for free when you subscribe to our blog.
Equipment | Packaging Materials
So, you are sitting at your desk. The final quotes from the potential vendors you have sent an RFP to are staring you in the face. One of them has the best price. One of them has superior service options. And yet another option has benefits the other two do not. You are expected to make a decision within the next few days. You have everything you need to proceed with a purchase. But, you are nervous. It's not because you are lacking any information that you need. You know in your heart which brand makes the most sense based on the quotes before you. The only problem is, you have not seen these machines run your product. You really don't know how your product will fare with any of this equipment. Sure, the video demonstrations all looked great. One of them even featured a product similar to yours. However, you still have not seen this process in action for your own products. And so, you wonder. Should you get a test run from these vendors? Do they even offer that as an option? I get it. I'd be stressed too. That being said, just relax. There is good news! Industrial Packaging can test your products on the type of machinery that you are buying. After that, you will know if your products are a good fit for this type of packaging or not. While we can't speak for the other vendors you are considering, we can promise you that Industrial Packaging can get your products tested on the type of machinery that you are buying. After that, you will know if your products are a good fit for this type of packaging machinery or not. In this article, we will discuss how to go about getting a test run of your products.
Equipment | Investment | Technical Service and Support
So, you are thinking of buying some new shrink packaging machinery? And, you are doing all the required research beforehand. Perhaps you have actually been to this blog before. Or, maybe you have read about spare parts kits elsewhere, and your journey has brought you here as a result. These kits are an additional item when purchasing a machine that many buyers do not consider. In many cases, buyers might not even know that such a kit is an option. However, forgoing this additional option can be costly. Are you buying a new shrink wrap packaging machine? If you do not buy a kit, you are setting yourself up for a host of serious problems. Most notably, short or extended periods of unexpected downtime. Downtime equates to lost dollars, time, and productivity. Downtime is the bane of any company attempting to be efficient, optimized, and zoned into success. Any instance of downtime is the most unwelcome guest for any company. Especially companies trying to run a world-class packaging line. Industrial Packaging has been offering these kits as an option for our shrink wrap machine buyers over the years. We always suggest buying at least one kit for all our packaging machinery clients. This article will explore why you should buy one or more kits for your shrink wrap systems. We will explain why they are a requirement for packaging machinery purchases. For instance, say your machine goes down. And, you have no parts on hand. How long will you have to wait to get the replacement parts? In this case, a spare parts kit increases the likelihood that you will not have severe downtime. The spare parts that a vendor has determined necessary should be on hand. This is due to the frequency at which parts need to be replaced. It should be noted, no major or severe downtime is going to be alleviated by a kit. That is of course unless it contains the parts that need to be replaced. Ask your vendor which parts they feel should be included in the kit.
Equipment | Investment | The Business of Packaging
When you buy packaging machinery, it can be tempting to try and buy the machinery with the lowest price tag. But, this kind of practice can often lead to spending more money. How is this possible? Four words. Total cost of ownership. The TCO (or total cost of ownership) is the full price you pay for a piece of machinery. This price includes all the associated costs. For example things like materials, parts, and labor all affect the total cost you'll pay. A more affordable machine that has unforeseen extra costs can be more expensive in the end. Having helped many clients buy packaging machinery, Industrial packaging is uniquely situated to assist you in buying the right machine for your products and packaging line. In this article, we will teach you how to calculate the total cost of ownership so that you can compare these costs directly - versus just the sticker pricing. This will prepare you to make the best buying decision that you can.
Equipment | Technical Service and Support
If you have recently purchased any new packaging machinery, then you are or will be in the process of implementing a training program to ensure that your equipment operators are properly trained on your new machinery. My guess is, you probably think about the necessity of this training for packaging machinery from one perspective: Safety. And while that is certainly one of the most important KPI's to track and consider when training your equipment operators, it is most certainly not the only important element of these training protocols. While there are many reasons that you will want to procure quality training for packaging machinery, two important items are often overlooked: sustainability and overall success rates. A lack of training or the implementation of poor training can lead not only to serious safety concerns but also wasted time, money, materials, and parts. And, even if you do not suffer from these effects stemming from improper training, it is likely that the impact will result in slower production times, material and machinery issues, and other costly mistakes. All of which could have been avoided with the proper training in place. Industrial Packaging has provided countless hours of quality training to thousands of companies and by extension, thousands of packaging machinery operators. As such, we can provide you with a deeper understanding of the true value within quality training protocols and applications. In this article, we will be discussing the importance of high-quality training in relation to sustainability and a well-optimized, efficient, and quality packaging line.