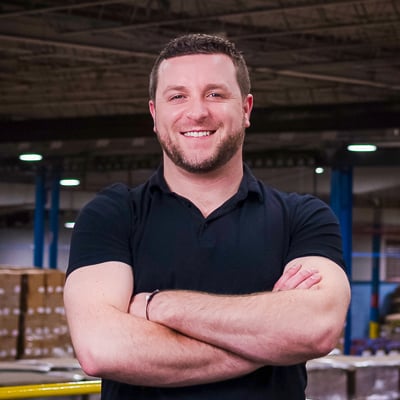 Upgrading To A Semi-Automatic Stretch Wrapper
Equipment | Packaging Materials | Plant Performance | Investment
Saving on labor and film, with 80% ROI in just over a year?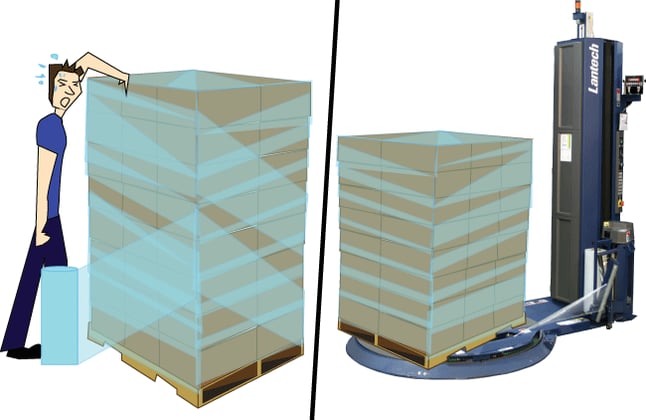 In many cases, modifying your packaging line with automation will significantly improve many important issues on your plant floor, from throughput to cost and labor reduction. If you are hand-wrapping pallets, for instance, a simple upgrade to a semi-automatic pallet wrapper can show an 80% ROI in just under 16 months! Here is an example of just how much and how fast you can positively impact your packaging line with automation:
Wacky Widgets, Inc., Co. (a farse company based on a real customer experience) was palletizing their products manually with stretch wrap. With a clear opportunity to reduce costs, they decided to look into automating the process a little bit.
Here are the results they achieved by upgrading from manual hand-wrapping to a Lantech Semi-Automatic XT Pallet wrapper:
Labor Reduction:
On average, it was taking their employees four minutes to wrap each pallet. With the upgrade to a Semi-Automatic XT, this was reduced by half to two minutes per pallet.
Labor Cost Reduction:
Wacky Widgets, Inc., Co. was utilizing two workers, each hand-wrapping roughly 125 pallets per week , 50 weeks per year, at $10/hr. With the time reduced by half to wrap a pallet to 2 minutes, they were saving eight hours in labor per week! This reduced their labor spend over one year by $4,166.67!
Film usage Reduction:
The products they were palletizing fit on the average pallet size of 40"x48" with no overhang, and stacked up to about 64" tall. With the upgrade to the XT, the film was now able to pre-stretch 200%. Before this, they were getting a rough, inconsistent 20% pre-stretch from their workers. Along with a consistent amount of film being used, they were able to reduce film usage dramatically by about 80' per load!
Film Cost Reduction:
With a film cost of $.0076 per foot ($45.46/ 6000' roll) , wrapping 250 pallets per week with a consistent wrap on each pallet, they saved an additional $7,663.33 annually in stretch film costs.
The cost of the wrapper Wacky Widgets selected was $15,550 at the time of purchase. The investment created an annual savings totaling $11,830.00! The machine paid for itself in just over a year.
If you want to know more about what kind of savings and ROI you could see with an upgrade to your packaging line like the one outlined above, talk to our Packaging Pro's today!
About David Roberge
Part of the outstanding Industrial Packaging team. I'm lucky to hang out with some of the most knowledgeable folks in the packaging industry. I feel even luckier to be able to share our knowledge with you. I love learning about our readers and helping them grow their brand through unique, flexible package design from the birth of the product idea, through the supply chain, and to the launch and placement on the shelf or at the consumer's door.