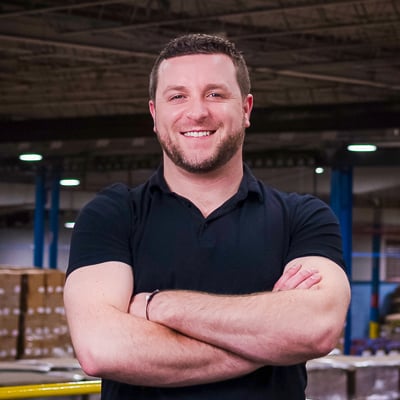 Reduce Sticking Pallets with One-Sided Cling Stretch Wrap
Has your shipping/receiving department run into problems with your pallets sticking to one another, tearing the film before it leaves the doc? Or worse– tearing during transit, causing re-wraps and unreliable load containment or damaged loads before arriving at their final destination?
The cause of these shipping mayhems is the stretch film you are using to ship your pallets. Stretch film manufacturers add a variety of compounds to the stretch film in order to deliver the desired performance characteristics as well as to make it easy to process the film in machines or for the workers wrapping the pallets. The resulting "stickiness" of the wrap is called cling.
---
Using an automated pallet wrapper? Are you utilizing the proper load containment for maximum load stability and lowest film usage? Work with our team to optimize your pallet wrapper!
---
So what can you do to solve for these cling-related shipping issues? One way is to start wrapping your pallets with one-sided cling stretch wrap.
You Can Choose the Way Your Stretch Wrap Clings
One-sided cling wrap works by only applying those compounds to the inner side of the wrap. Some one-sided wrap also puts a slip additive to the other side, making pallets slide past one another effortlessly.
Especially if your product overhangs the pallet, you can easily remedy many of these issues by requesting your next stretch order with a one-sided cling. This will allow you to wrap your films with the cling on the inside facing the load, with zero cling on the outside of the pallet. Your separate pallets will easily slide against one another without causing damage to the load OR the film.
The cores on some of the stretch films we supply are printed with arrows facing one direction for easy user operation when loading onto a wrapper, letting them know which side the cling will face.
Not only will this save you money on re-wrapping damaged pallets, but your product will also be safer, and your staff will have plenty of extra time to deal with more important shipping matters.
Reduce Shipping Damage with ONE-SIDED Cling
Moving beyond the possibilities of one-sided cling, there are other stretch options. You can opt for differential cling, where you have more cling added to one side of the film and less on the other. There are also non-cling options for when you are shipping light products, like PET bottles.
Still not sure which type of stretch wrap cling you need for your product? If you want better options and higher quality load containment, talk to our Certified Service Technicians today!
About David Roberge
Part of the outstanding Industrial Packaging team. I'm lucky to hang out with some of the most knowledgeable folks in the packaging industry. I feel even luckier to be able to share our knowledge with you. I love learning about our readers and helping them grow their brand through unique, flexible package design from the birth of the product idea, through the supply chain, and to the launch and placement on the shelf or at the consumer's door.