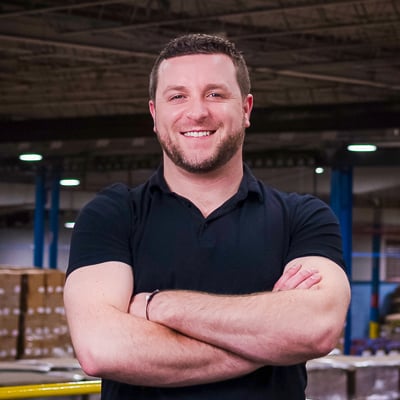 Reduce Sticking Pallets With One-Sided Cling Stretch Wrap
Suppose you are having problems with pallets sticking together, causing tearing, and compromising your pallet's load containment. In that case, one-side cling stretch wrap may be for you.
Like you, many companies use stretch wrap to safely contain, secure and palletize their products for shipping and transportation.
Millions of stretch-wrapped loads can be found in warehouses throughout the country. And people often choose stretch wrap for their wrapping needs as it is a material that allows for the safe transportation and storage of their products.
However, stretch-wrapped loads often will get stuck to each other when pallets are transported or stored in close quarters.
This often leads to stretch film tearing, which can cause lopsided loads, collapsed loads, and other unwanted headaches.
And these headaches may result in safety issues that can compromise the well-being of your customers.
Thankfully, you can avoid these issues using one-sided cling stretch wrap. In today's article, we will explore one-sided cling stretch wrap and explain how this material can eliminate unwanted headaches and keep your palleted products safely contained.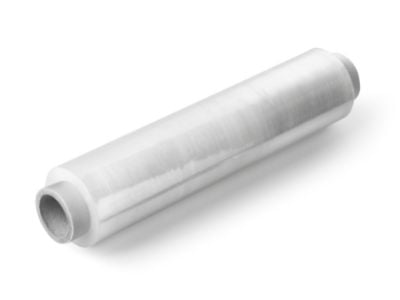 What Is One-Sided Cling Stretch Wrap?
One-sided cling stretch wrap is a type of stretch film that only has cling on one side of the film. The other side of the film is not tacky.
Loads that are wrapped with one-sided cling stretch wrap will not stick to each other during transportation and storage.
---
Want to learn more about stretch wrap?
---
How Does One-Sided Cling Stretch Wrap Work?

One-sided cling stretch wrap works by only applying the compounds that create stretch film's stickiness to the inner side of the wrap. Some one-sided wrap also puts a slip additive to the other side, making pallets slide past one another effortlessly.
If your product overhangs the pallet, you can easily remedy many of these issues by requesting a one-sided cling stretch film for your next stretch wrap order.
This will allow you to wrap your films with the cling on the inside facing the load, with zero cling on the outside of the pallet. Your separate pallets will easily slide against one another without causing damage to the load or the film.
The cores on some of the stretch films we supply are printed with arrows facing one direction for easy user operation when loading onto a wrapper, letting them know which side the cling will face.
Not only will this save you money on re-wrapping damaged pallets, but your product will also be safer, and your staff will have plenty of extra time to deal with more critical shipping matters.
Reduce Shipping Damage with One-Sided Cling Stretch Wrap
Moving beyond the possibilities of one-sided cling, there are other stretch options. You can opt for differential cling, where you have more cling added to one side of the film and less on the other. There are also non-cling options for when you are shipping light products, like PET bottles.
Are You Interested In Purchasing One-Sided Cling Stretch Wrap?
If, after reading this article, you are interested in purchasing one-sided cling stretch wrap to help prevent sticking pallets and tearing stretch wrap, we can assist you in sourcing this material.
If you want one-sided cling stretch wrap, please contact one of our packaging experts. They will be able to help you select the proper one-sided cling stretch wrap for all of your product palletizing needs.
About David Roberge
I am grateful for my 9 years as part of the outstanding Industrial Packaging team. I was able to hang out with some of the most knowledgeable folks in the packaging industry. I feel even luckier that I was able to share that knowledge with you. I love learning, hiking, and growing people and teams both personally and professionally, and helping companies grow better.