Equipment | Investment | Plant Performance
If you are currently running a successful in-house packaging line, chances are you take some pride in this. You are running quality equipment and materials, have highly trained operators, and are diligently tracking your KPIs. You refuse to use contract packaging services and will never be outsourcing your packaging because you know you can produce better packaging solutions yourself. You are part of a company that is proud to package its product in-house. You have a flawless product line and you prefer to package your products on your own. You properly manage your own primary packaging, general packaging, filling machines, packaging machines, and various other types of packaging equipment and processes. You have a long-term plan to package-specific products at a level of quality your competitors cannot match. Maybe you've even implemented a regular preventative maintenance program and rarely experience any extended periods of downtime. You are keeping track of your monthly goals, consistently collecting data, and have detailed reports to keep track of your performance. Your boss and your boss's boss are happy with the progress you are continually making and tell you to keep up the excellent work! First of all, if this describes you, I would like to congratulate you on your diligence, focus, hard work, and dedication to ensuring that your line runs safely, efficiently, and at a high level of production. Next, I would like to make a suggestion. Bring in a packaging expert to analyze your packaging line to see where improvements can be made. WHAT!? I can practically hear you yell at your computer screen. Why on earth would I suggest such a thing to you? I mean, after all, you run a tight ship! No one in your industry has a superior line to you. This article will show you several benefits that an analysis of your in-house packaging line could have to help you run a better, faster, and less costly production.
Equipment | Investment | Plant Performance
If you buy shrink packaging machinery or upgrade older equipment, your mind probably goes to one of two places. Shrink tunnels or sealers. Those are the two pieces of shrink packaging machinery that come to mind for most buyers. This is a common starting point when beginning the buying process for shrink packaging machinery. But, there is another important element to consider, conveyors. As for which type of conveyor is right for your packaging line, well, that all depends on various factors, the size, weight, and shape of your products will all play a part in determining this. The Industrial Packaging crew has been working with shrink packaging machinery for generations. Along the way, we have learned a lot about shrink machinery. And conveyors are no exception to the rule. This article will explore the different types of conveyors currently available. We will discuss the applications for this type of packaging equipment.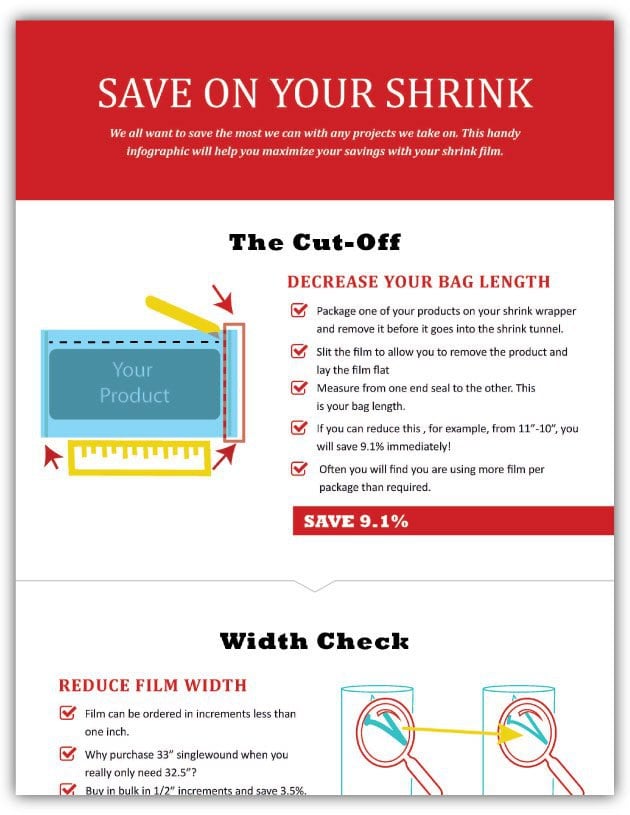 Shrink Film Cheat Sheet
We all want to save the most we can with any projects we take on. This handy infographic will help you maximize your savings with your shrink film. Get it for free when you subscribe to our blog.
Fulfillment | Investment | The Business of Packaging
So, you are beginning the journey of seeking out a contract packaging company because you're considering outsourcing your supply chain needs. In this situation, it is normal to have a lot of questions about the process. But, for most people, the number one question is, how much does it cost? This is a very good question. However, most businesses are hoping to get a universal ballpark figure right off the bat. That's totally understandable - you want to have this information to figure out if this is something you can afford. You want to know if the cost justifies the investment. Many buyers go to the internet and punch in some variant of that question. They hope that the information will be front and center. After clicking through a host of articles on Google, many buyers get frustrated. Most of the articles and other content you'll find does not usually have this information. The reason for this is because the answer is extremely case sensitive. The cost for contract packaging is going to be very different from one company to the next. The reason for this is because your costs relate to your labor force, packaging machinery, packaging materials, warehousing space, logistics, and the other variables that change from one company to the next. The total cost for a contract packaging agreement for you, is not going to look anything like the one that is appropriate for your competitors. Unless of course, all the variables above are nearly identical for each company, of which, they rarely are. With all of that in mind, it is important to understand one thing. There is an answer to your question and it can be provided by a contract packaging company. But, they will need to analyze your unique requirements to produce a close approximation of the total cost. Industrial Packaging has done this kind of analytical research for countless companies. We can do this for your company as well if contract packaging ends up becoming the best option for your company. In this article, we will explain the elements that go into calculating an estimate for contract packaging. We will explore the different elements we need to analyze before we can answer the question, how much does it cost?
Equipment | Investment | Technical Service and Support
So, you are thinking of buying some new shrink packaging machinery? And, you are doing all the required research beforehand. Perhaps you have actually been to this blog before. Or, maybe you have read about spare parts kits elsewhere, and your journey has brought you here as a result. These kits are an additional item when purchasing a machine that many buyers do not consider. In many cases, buyers might not even know that such a kit is an option. However, forgoing this additional option can be costly. Are you buying a new shrink wrap packaging machine? If you do not buy a kit, you are setting yourself up for a host of serious problems. Most notably, short or extended periods of unexpected downtime. Downtime equates to lost dollars, time, and productivity. Downtime is the bane of any company attempting to be efficient, optimized, and zoned into success. Any instance of downtime is the most unwelcome guest for any company. Especially companies trying to run a world-class packaging line. Industrial Packaging has been offering these kits as an option for our shrink wrap machine buyers over the years. We always suggest buying at least one kit for all our packaging machinery clients. This article will explore why you should buy one or more kits for your shrink wrap systems. We will explain why they are a requirement for packaging machinery purchases. For instance, say your machine goes down. And, you have no parts on hand. How long will you have to wait to get the replacement parts? In this case, a spare parts kit increases the likelihood that you will not have severe downtime. The spare parts that a vendor has determined necessary should be on hand. This is due to the frequency at which parts need to be replaced. It should be noted, no major or severe downtime is going to be alleviated by a kit. That is of course unless it contains the parts that need to be replaced. Ask your vendor which parts they feel should be included in the kit.
Equipment | Investment | The Business of Packaging
When you buy packaging machinery, it can be tempting to try and buy the machinery with the lowest price tag. But, this kind of practice can often lead to spending more money. How is this possible? Four words. Total cost of ownership. The TCO (or total cost of ownership) is the full price you pay for a piece of machinery. This price includes all the associated costs. For example things like materials, parts, and labor all affect the total cost you'll pay. A more affordable machine that has unforeseen extra costs can be more expensive in the end. Having helped many clients buy packaging machinery, Industrial packaging is uniquely situated to assist you in buying the right machine for your products and packaging line. In this article, we will teach you how to calculate the total cost of ownership so that you can compare these costs directly - versus just the sticker pricing. This will prepare you to make the best buying decision that you can.
Are you shrink wrapping products? Then, chances are, you currently have or will be purchasing a shrink wrap sealer. Shrink wrappers play a part prior to a heat tunnel on your packaging. They are a required element for properly shrink wrapping your products. Unless of course, you are wrapping a smaller number of products. If that is true, then you are likely using a heat gun instead (OK) or a hairdryer (please don't). In that case, this article will only be of use to you if you plan to expand production and upgrade to using a heat tunnel. Suppose you happen to be in the first situation and are, in fact, in need of a sealer of some type or another. Then you're in the right place. Industrial Packaging has helped countless clients purchase, install, and optimize their sealers. And, we can help you choose the right sealer. This article will review the most common types of sealers. And, we will explore their related materials, applications, and uses. By the end of this article, you should have a solid understanding of the different types of sealers. Then, you will be one step closer to choosing the right machine.