Environment | Investment | Packaging Design | Packaging Materials
When it comes to choosing packaging for your products, you have a lot of options. So many that it might be overwhelming to find the perfect packaging. Two broad packaging categories that you will find are flexible packaging and rigid packaging. But, what exactly are the differences between these types of packaging materials? Some of the main differences include environmental impact, sustainability, cost, and other various items of consideration. At Industrial Packaging, we pride ourselves on being an educator in the flexible packaging supplies that we offer. However, we want to be clear that for some products rigid packaging is a better choice. There are also plenty of applications where flexible packaging is the superior choice of the two. In this article, we will compare the pros and cons of flexible and rigid packaging and help you to understand which is a better choice for your specific packaging needs.
If you are thinking about adding an L bar sealer to your packaging line, one of the big considerations is price. How much of your budget should you set aside for this machine? The large variations in price will bring up other questions as well. Should you get a manual or automatic sealer? Should you get an entry-level device or a state-of-the-art professional-grade machine? As a machinery vendor who has been selling L sealers for many years, we understand the various questions that arise during the buyer's journey for L bar sealers. In this article, we will take a look at the price differences regarding L sealers. From entry-level machines to fully automatic workhorses. We will thoroughly dissect the most important factors when preparing to buy an L sealer. It should be noted that pricing varies based on the manufacturer.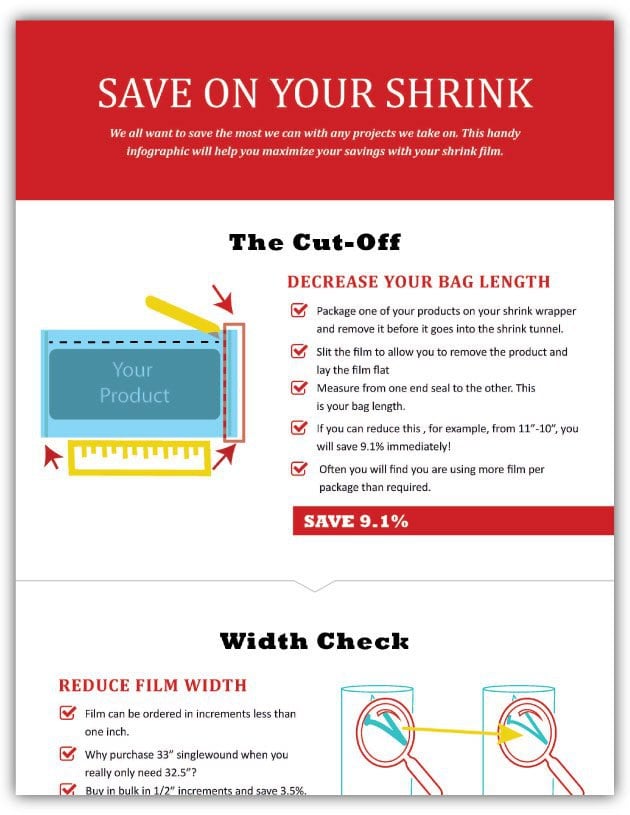 Shrink Film Cheat Sheet
We all want to save the most we can with any projects we take on. This handy infographic will help you maximize your savings with your shrink film. Get it for free when you subscribe to our blog.
Investment | Packaging Materials | The Business of Packaging
When looking for a place to buy shrink wrap film, you may be tempted to go on-line. And while websites like Amazon and Alibaba are common vendors to buy shrink wrap film from, you as a consumer have so many other options! These on-line vendors are part of a natural way that consumers shop, but understanding all of your options has many benefits. Maybe you need the highest quality shrink wrap film, or the best price, or the most options to choose from. In any of these cases, you're actually better off comparing different vendors to these accessible on-line avenues like Amazon and Alibaba. As a packaging distributor, Industrial Packaging has some unique capabilities in the packaging industry. That being said, we may or may not be the best choice for your particular shrink film needs. In the article below, we will outline the various options available to you for purchasing shrink film so that you can make an educated buying decision.
Investment | Packaging Materials | The Business of Packaging
While shrink film is one of the most common packaging materials in the world, it is not always a good fit for specific products. Trying to force it to work in certain applications can lead to various problems headaches, and sometimes, safety issues. After decades in the industry, we here at Industrial Packaging know which applications are and are not correct for shrink film. In the article below, we will review several applications where shrink film is NOT a good fit. Shrink film is one of our highest grossing products, but we're not trying to sell any of our products to customers who don't need them. By learning more about the problems with shrink film, or when you shouldn't use it, you'll be able to make a well-informed decision about what packaging products are right for you. In the article below, we will review several issues that would make shrink film a bad fit for certain applications.
Investment | Packaging Materials | The Business of Packaging
Have you ever wondered how much a roll of shrink wrap film costs? When pricing shrink wrap film, there are many dynamics which affect the cost of the film. The price of a roll of shrink wrap film is calculated based upon the width, length, gauge, and type of shrink wrap film you want to employ. Generally speaking, a (centerfold) roll of clear shrink wrap film costs (on average) between $100-$150. You can review this example to better understand how to calculate the cost of shrink wrap: 12" CF x 45 ga. X $8.50 PIW = $102.00. CF = Centerfold. GA = Gauge. PIW = Per inch of width. The thicker the gauge, the higher the price per roll. Also, while this equation does not include these items, it is important to know the following terms: SW = Single wound. DL = Double length rolls. While it may seem slightly complicated, pricing shrink film to fit your exact needs is a case sensitive endeavor. The price you pay for a roll of film changes based on the dynamics mentioned above. In this article, we will discuss the various elements of pricing shrink wrap film and help you to choose the right option for your products.
Environment | Investment | Packaging Design | Packaging Materials
When you are searching for a material to package your products in, there are countless options available. Today, both flexible packaging supplies like stand up pouches and traditional materials like glass are very popular. When choosing between flexible packaging (plastic) and glass, there are various pros and cons to each. Here at Industrial Packaging, we have been selling flexible packaging supplies for over 60 years. We know exactly which applications are right for flexible packaging supplies and are honest about those which are not. When it comes down to it, there are certain applications that are best for plastics and those which are better suited for glass. We will be comparing variations of each material, looking at the pros and cons. This article should provide insight into which option is the right choice for your packaging needs.