One problem a customer of ours was having recently was that their demand exceeded what we were able to produce on our production lines as they stood. The client is a snack food company, and we were having trouble keeping up with demand for packaging and distributing their products. The clients volume was already up over 20% for the year, so how would we be able to deliver? This may be a problem you have to face at some point in your business. To succeed and provide for your customer, there are some key areas to review to achieve the desired results. Here are four of the ways you can satisfy your customer demand with a cohesive, company-wide hands-on project.
Many headwinds are currently challenging all facets of manufacturing. The current pandemic has forced many workplace changes, including the physical facility, limited available workforce, and new regulatory requirements. How can businesses learn to deal with these challenges and yet still seek and accept new business opportunities? We believe that this path starts with taking care of the people providing the service for these new business ventures. With over 65 years in business and thousands upon thousands of happy clients, we have a proven track record of success in dealing with challenges as they arise and meeting them head on with the ability to turn them into opportunities for growth. In this article, we will explain how we helped to build quality teams of happy people who, in turn, allow for the ability for Industrial Packaging to grow better.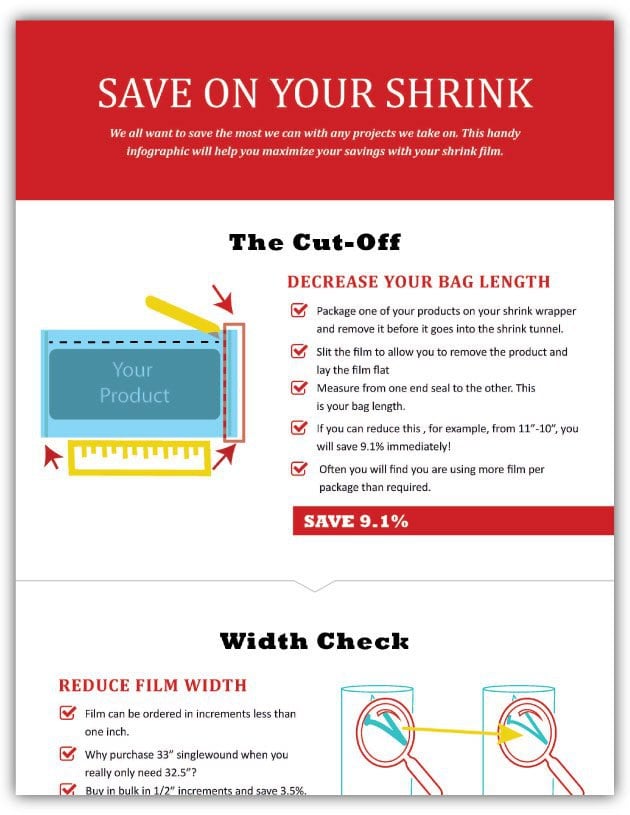 Shrink Film Cheat Sheet
We all want to save the most we can with any projects we take on. This handy infographic will help you maximize your savings with your shrink film. Get it for free when you subscribe to our blog.
Equipment | Investment | Plant Performance
So you have come here because you have decided to buy a stretch wrapper. You are not sure if you should buy a pneumatic model or an electric model. You do not want to buy any additional components that you do not need, so you are researching these two options to make the right choice. Industrial Packaging has been selling stretch wrappers for many years. We can educate you on which type of stretch wrapper makes the most sense for your business. In this article, we are going to compare pneumatic stretch wrappers to electric stretch wrappers and help you to choose the machine that is right for your business.
Fulfillment | Plant Performance | Supply Chain Services/ Contract Packaging
One question that we are often asked by managers from other companies is, "How do I know when it's time to look for help or outsource some of my supply chain"? Sometimes these questions are from a start-up company that has been operating out of their basement. Other times the question comes from a large company that is toying with the idea of a large expansion. As a specialist in supply chain dynamics, Industrial Packaging is uniquely positioned to help you understand when and why you should work with a third party to run your supply chain. Even if you do not choose us as your third-party supply chain vendor, we can help you to understand the protocols for this process. In this article, we will give you advice on how to approach this project.
Equipment | Investment | Plant Performance
If you are currently running a successful packaging line, chances are you take some pride in this. You are running quality equipment and materials, have highly trained operators, and are diligently tracking your KPIs. Maybe you've even implemented a regular preventative maintenance program and rarely experience any extended periods of downtime. You are keeping track of your monthly goals, consistently collect data, and have detailed reports to keep track of your performance. Your boss and boss's boss are happy with the progress you are continually making and continuously tell you to keep up the excellent work! First of all, if this describes you, I would like to congratulate you on diligence, focus, hard work, and dedication to ensuring that your packaging line runs safely, efficiently, and at a high level of production. Next, I would like to make a suggestion. Bring in a packaging expert to analyze your packaging line to see where improvements can be made. WHAT!? I can practically hear you yell at your computer screen. Why on earth would I suggest such a thing to YOU?? I mean, after all, you run a tight ship! No one in your industry has a superior packaging line to you. Where does Industrial Packaging get off recommending such a thing to someone of your talent and skill?* *OR MAYBE, you are saying, well actually, yes, we could stand to make some improvements around here and well, what exactly would you suggest? If that is the case, then, by all means, skip the rest of this intro and dig deeper down into the meat of this post! Let me start by saying, I get it. I understand, and I, for one, would react the same way. I mean, why would you need someone to analyze your work to find ways to improve it when you are already doing that? The truth is that getting a different perspective from another human being, one that is highly trained exclusively on packaging machinery and materials (Industrial Packaging collectively waves at you here) can show you things that you simply may not be able to see from your vantage point. Third-party packaging experts can help you uncover various places for improvement that can save you money (sometimes A LOT of money). This article will show you how an analysis of your packaging line can help you run a better, faster, and less costly production.
Equipment | Plant Performance | Warehousing
The United States, and the world at large, continue the complicated battle against the invisible enemy that is COVID-19. One thing has become glaringly obvious. This is not a war that will be fought with traditional machinery and weapons. Doctors are rushing to develop a vaccine while political parties attempt to figure out the complicated puzzle of helping the public adapt to a very uncomfortable "new normal." Meanwhile, businesses and the corporate world are fighting their own battles against this virus. Today many companies are working together to figure out ways to make working conditions for their employees as close to "normal" as possible. Companies are implementing stringent protocols that are focused on the health, safety, and well-being of their employees. When it comes to large warehouses with packaging lines, this can be extremely complicated. Usually, at these facilities, there are hundreds of people working on large packaging lines working shoulder to shoulder. Our team at Industrial Packaging has gone to great lengths to create a unique approach to combating COVID while prioritizing the safety and health of our people and customers. With a strict set of protocols based on cutting edge information from the CDC, the WHO, and other experts, we have made it a point to focus on safety first. But many companies are struggling with their approach to this continuing pandemic. Some are struggling to find ways to prevent their employees from contracting the virus or stopping the spread. There is however a secret a weapon in the war against the virus, and it is one that was developed before COVID began rearing its ugly head. And when it comes to your warehouse and your packaging lines, that weapon is automation. Fully automated packaging lines have recently been implemented more frequently due to several benefits. These reasons have historically revolved around cost savings, key performance indicators, and the streamlining and optimization of production. However, today the biggest motivation for automating your packaging line is something else entirely. Putting a bold and extreme focus on protecting the health and safety of your people.