Equipment | Investment | Plant Performance
If you are currently running a successful in-house packaging line, chances are you take some pride in this. You are running quality equipment and materials, have highly trained operators, and are diligently tracking your KPIs. You refuse to use contract packaging services and will never be outsourcing your packaging because you know you can produce better packaging solutions yourself. You are part of a company that is proud to package its product in-house. You have a flawless product line and you prefer to package your products on your own. You properly manage your own primary packaging, general packaging, filling machines, packaging machines, and various other types of packaging equipment and processes. You have a long-term plan to package-specific products at a level of quality your competitors cannot match. Maybe you've even implemented a regular preventative maintenance program and rarely experience any extended periods of downtime. You are keeping track of your monthly goals, consistently collecting data, and have detailed reports to keep track of your performance. Your boss and your boss's boss are happy with the progress you are continually making and tell you to keep up the excellent work! First of all, if this describes you, I would like to congratulate you on your diligence, focus, hard work, and dedication to ensuring that your line runs safely, efficiently, and at a high level of production. Next, I would like to make a suggestion. Bring in a packaging expert to analyze your packaging line to see where improvements can be made. WHAT!? I can practically hear you yell at your computer screen. Why on earth would I suggest such a thing to you? I mean, after all, you run a tight ship! No one in your industry has a superior line to you. This article will show you several benefits that an analysis of your in-house packaging line could have to help you run a better, faster, and less costly production.
Equipment | Investment | Plant Performance
If you buy shrink packaging machinery or upgrade older equipment, your mind probably goes to one of two places. Shrink tunnels or sealers. Those are the two pieces of shrink packaging machinery that come to mind for most buyers. This is a common starting point when beginning the buying process for shrink packaging machinery. But, there is another important element to consider, conveyors. As for which type of conveyor is right for your packaging line, well, that all depends on various factors, the size, weight, and shape of your products will all play a part in determining this. The Industrial Packaging crew has been working with shrink packaging machinery for generations. Along the way, we have learned a lot about shrink machinery. And conveyors are no exception to the rule. This article will explore the different types of conveyors currently available. We will discuss the applications for this type of packaging equipment.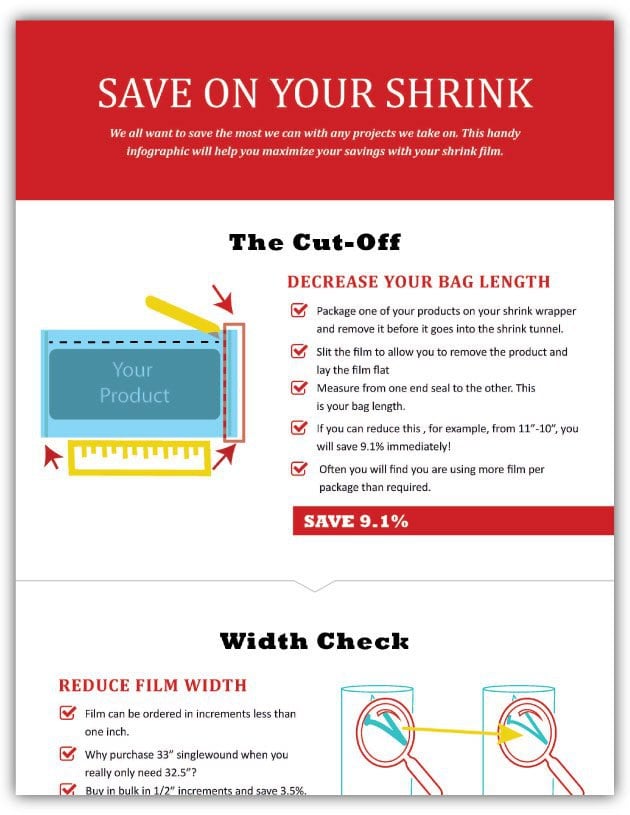 Shrink Film Cheat Sheet
We all want to save the most we can with any projects we take on. This handy infographic will help you maximize your savings with your shrink film. Get it for free when you subscribe to our blog.
Fulfillment | Plant Performance | Technical Service and Support
You are probably wondering, if Industrial Packaging is simply managing the supply chain and packaging line elements of our client's business, can't we do that anywhere in the country? Well, yes. We could do that. But, for us at Industrial Packaging, we think that it is best for us to deliver an excellent experience for a small amount of people versus a mediocre experience for a much larger audience. Another thing that was glaringly obvious to us about our geographical region was that there is about thirty billion dollars worth of contract packaging business going on in our own backyard. That is one very good reason to stick to servicing this area of the United States. But, it is not the only reason why we have chosen to stick to the Northeast. Providing our world-class packaging supplies and service to this area just makes sense. In this article, we aim to explain why we have limited ourselves to this geographical area. By reading this article, you should have a good idea if you are a good fit for Industrial Packaging as a contract packaging client or not.
Do you spend a ton of time counting your inventory and still don't feel confident you have the right numbers? Do you have extensive product downtime due to inventory being received with the wrong product code, date code, or item totals? Does your shipping department cut orders due to not being able to find a product on the floor? If you answered yes to any one of these questions, you could benefit from creating an inventory team in your organization. Here at Industrial Packaging, we were experiencing all 3 of the issues above. By creating an inventory team, we've leveraged our inventory software system to manage our inventory. In this article, we'll share some secrets to success in forming and running an inventory team that will save you a lot of hassle, reduce wasted time and money, and streamlines your inventory processes.
One problem a customer of ours was having recently was that their demand exceeded what we were able to produce on our production lines as they stood. The client is a snack food company, and we were having trouble keeping up with demand for packaging and distributing their products. The clients volume was already up over 20% for the year, so how would we be able to deliver? This may be a problem you have to face at some point in your business. To succeed and provide for your customer, there are some key areas to review to achieve the desired results. Here are four of the ways you can satisfy your customer demand with a cohesive, company-wide hands-on project.
Many headwinds are currently challenging all facets of manufacturing. The current pandemic has forced many workplace changes, including the physical facility, limited available workforce, and new regulatory requirements. How can businesses learn to deal with these challenges and yet still seek and accept new business opportunities? We believe that this path starts with taking care of the people providing the service for these new business ventures. With over 65 years in business and thousands upon thousands of happy clients, we have a proven track record of success in dealing with challenges as they arise and meeting them head on with the ability to turn them into opportunities for growth. In this article, we will explain how we helped to build quality teams of happy people who, in turn, allow for the ability for Industrial Packaging to grow better.