Equipment | Investment | Plant Performance
So you have come here because you have decided to buy a stretch wrapper. You are not sure if you should buy a pneumatic model or an electric model. You do not want to buy any additional components that you do not need, so you are researching these two options to make the right choice. Industrial Packaging has been selling stretch wrappers for many years. We can educate you on which type of stretch wrapper makes the most sense for your business. In this article, we are going to compare pneumatic stretch wrappers to electric stretch wrappers and help you to choose the machine that is right for your business.
Fulfillment | Plant Performance | Supply Chain Services/ Contract Packaging
One question that we are often asked by managers from other companies is, "How do I know when it's time to look for help or outsource some of my supply chain"? Sometimes these questions are from a start-up company that has been operating out of their basement. Other times the question comes from a large company that is toying with the idea of a large expansion. As a specialist in supply chain dynamics, Industrial Packaging is uniquely positioned to help you understand when and why you should work with a third party to run your supply chain. Even if you do not choose us as your third-party supply chain vendor, we can help you to understand the protocols for this process. In this article, we will give you advice on how to approach this project.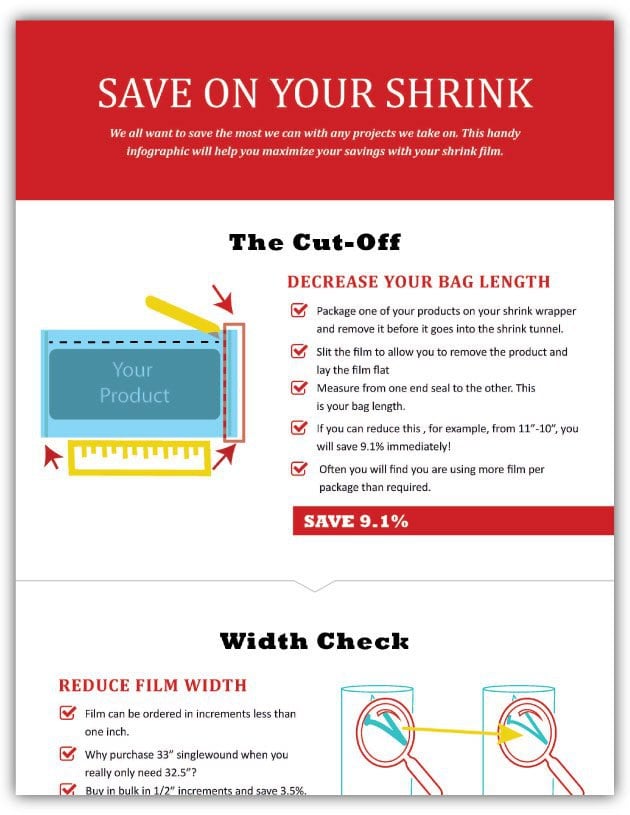 Shrink Film Cheat Sheet
We all want to save the most we can with any projects we take on. This handy infographic will help you maximize your savings with your shrink film. Get it for free when you subscribe to our blog.
Equipment | Plant Performance | Warehousing
The United States, and the world at large, continue the complicated battle against the invisible enemy that is COVID-19. One thing has become glaringly obvious. This is not a war that will be fought with traditional machinery and weapons. Doctors are rushing to develop a vaccine while political parties attempt to figure out the complicated puzzle of helping the public adapt to a very uncomfortable "new normal." Meanwhile, businesses and the corporate world are fighting their own battles against this virus. Today many companies are working together to figure out ways to make working conditions for their employees as close to "normal" as possible. Companies are implementing stringent protocols that are focused on the health, safety, and well-being of their employees. When it comes to large warehouses with packaging lines, this can be extremely complicated. Usually, at these facilities, there are hundreds of people working on large packaging lines working shoulder to shoulder. Our team at Industrial Packaging has gone to great lengths to create a unique approach to combating COVID while prioritizing the safety and health of our people and customers. With a strict set of protocols based on cutting edge information from the CDC, the WHO, and other experts, we have made it a point to focus on safety first. But many companies are struggling with their approach to this continuing pandemic. Some are struggling to find ways to prevent their employees from contracting the virus or stopping the spread. There is however a secret a weapon in the war against the virus, and it is one that was developed before COVID began rearing its ugly head. And when it comes to your warehouse and your packaging lines, that weapon is automation. Fully automated packaging lines have recently been implemented more frequently due to several benefits. These reasons have historically revolved around cost savings, key performance indicators, and the streamlining and optimization of production. However, today the biggest motivation for automating your packaging line is something else entirely. Putting a bold and extreme focus on protecting the health and safety of your people.
Equipment | Plant Performance | Shipping Protection
Are you purchasing machinery or materials for your packaging line? Feeling a bit of pressure to cut costs or save as much money as possible while also keeping a smooth running line? Chances are, you've always been focused on reducing costs whenever possible. But in today's world, with so many businesses coming out of long periods of downtime, cutting costs is a top concern for practically everyone. There's extra pressure from upper management to figure out how to save your company money. You probably ask yourself on a daily basis, How can I cut costs today? We know that the responsibilities of purchasing personnel today are stressful. Here at Industrial Packaging, we've worked with purchasing departments for decades to optimize their packaging lines and save money. That is why, in this article, we are going to give you a few helpful cost-saving tips. Specifically, if you're running a Lantech stretch wrapper, we are going to help you save between 20-50% on stretch wrapping film costs! Want to see proof of this in action? Review this case study we created based on our own experience!
Equipment | Packaging Materials | Packaging Psychology | Plant Performance | The Business of Packaging
So, you've looked into your local packaging suppliers, and you're unsure if they can support you based on your needs. But you are also worried that working with a distributor across the country will be a headache due to shipping distance and lack of immediate response. When it comes to choosing a vendor for packaging supplies, distributors are often selected because of their dynamic portfolio of product offerings in the packaging industry and their ability to provide large quantities of supplies. Unlike manufacturers, distributors are not beholden to only one or two brands of materials and machinery. As such, they can help you to choose the machinery and materials that are indeed the best solution for your needs. And while it is usually advised to choose a distributor local to your geographical location, there are benefits to working with one across North America. While we tout the benefits of local companies a lot, there are some times when you might not want to use one. In the article below, we will discuss the reasons you may want to work with a distributor across the country, rather than a local supplier.
Environment | Fulfillment | Packaging Materials | Plant Performance
Perhaps now, more than ever, it is an excellent idea to buy American made shrink film. With the current disruption of the supply chain in China and the lower quality films coming from some European countries, now is the time to buy high quality American made shrink film. It is important to buy high quality shrink film to ensure your line runs efficiently, quickly and without downtime due to issues with lower quality films. Buying shrink film from foreign countries while the supply chain is seeing such disruption can result in weeks of delays in receiving your order. Here at Industrial Packaging, we have been selling shrink film for almost 70 years. During that time we have developed decades of expertise on shrink film formulations and applications. In today's article, we will discuss the top 5 reasons to buy American made shrink film.