So, you upgraded from a manual L-Sealer to a side seal machine. You're excited that you can now start keeping up with every order that's coming in for your new product. But, before you start packaging your products with your new equipment, you have to make sure that you set up the machinery properly first. There are multiple steps that must be followed in order to set up your machinery correctly so that it runs the way you want it to. By following each step in this guide, you will be able to optimize your new sealer in a way that will ensure that it runs smoothly, efficiently and correctly. Having helped thousands of clients set up their sealers in the past, Industrial Packaging is able to help guide you through the process of setting up your new equipment and optimizing it for the best packaging possible. In this article, we'll walk you through a step-by-step process for setting up a new sealer. We will also offer additional steps and tips to ensure that your machine runs well from the moment you turn it on.
Food Packaging | Packaging Materials
Most of the time, food packaging applications are driven by capitalist endeavors and by profits. However, that is the last thing that comes to mind when reading this heart-warming tale. Recently, the Eastfield Mall's employees took it upon themselves to package meal kits for families in need. The Mall's crew got to work packaging hundreds of meal kits for local family's who were struggling to put food on the table. The meal kits were packaged in cardboard boxes and stacked on pallets prior to being delivered to the Eastfield Mall where the Mall's employees worked hard to pack the trunks of folks finding it hard to make ends meet. With each kit featuring over thirty pounds of food filled with items such as fruits, veggies, milk, eggs, and meat, the Eastfield Mall was able to provide 1,000 family's with the much needed provisions. In this article, we will explore this thanksgiving miracle of food packaging made manifest by the kindness of others in a time where help is needed more than ever.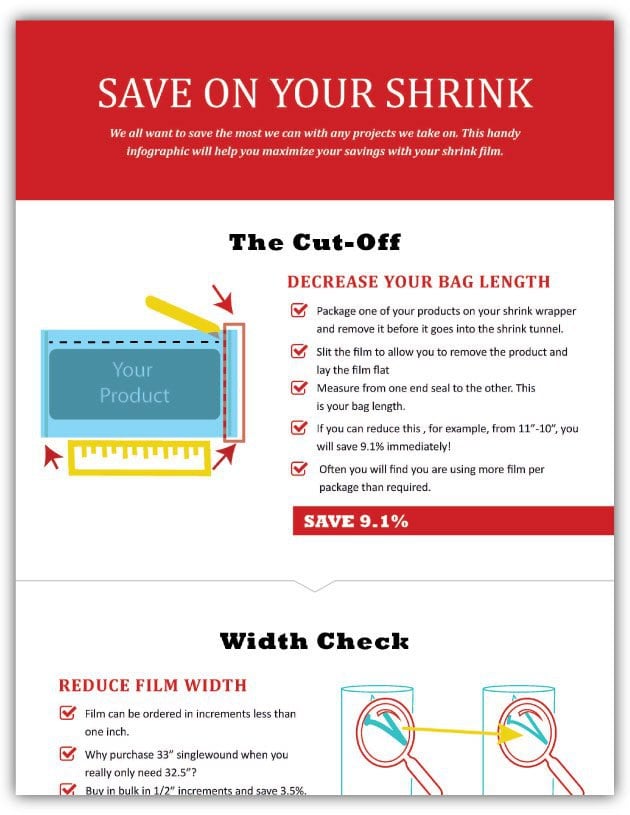 Shrink Film Cheat Sheet
We all want to save the most we can with any projects we take on. This handy infographic will help you maximize your savings with your shrink film. Get it for free when you subscribe to our blog.
Environment | Packaging Materials
When it comes to packaging materials, plastic is so common. It is found in practically every packaging application you could possibly imagine. There are literally billions of tons of plastic in our world today. There are even millions of pounds of new plastic being produced every year! And while some companies such as Coca-Cola have stood their ground in defense of using plastic, many companies are being told by their customers that plastic needs to be phased out to make way for more environmentally friendly options. You are probably here because you are researching plastic packaging alternatives. Maybe you are the owner of a new start-up, or perhaps you have been in business for decades and are trying to meet the environmental demands of your consumer base. Regardless of what factors set your search in motion, you know that you need to find potential replacements for plastic packaging. With over 60 years in the packaging industry, Industrial Packaging has seen thousands of different types of materials come and go. We've helped countless businesses optimize their packaging design when making the transition to environmentally friendly alternative packaging materials. In this article, we will take a look at a few different varieties of sustainable, recyclable, and environmentally friendly plastic packaging alternatives that are sure to draw the attention of your customers and prospects alike!
Packaging Design | Packaging Materials
Have you ever bought a product, only to get home and find that opening the packaging is not only complicated, it is darn near impossible? Well, you are not alone! Wrap rage is a common reaction experienced by millions of people after buying a new product to enjoy only to find that the packaging is overly complicated to remove. At the end of the day, the customer ultimately ends up with a flustered sense of agitation. It is a surprisingly common phenomena despite the fact that many people have called upon companies to stop packaging their products in hard to remove materials. And yet, many companies continue to package their products in complicated packaging supplies that require scissors or more robust tools to open the package. In a world where the unboxing experience is considered a "make or break" element of the customer experience, this should not be the status quo. However, it is an on-going problem for many consumers to this day. With over 60 years in the packaging industry, we have plenty of experience helping companies optimize their packaging design process to protect and preserve their product, to entice the eyes of buyers, and yes, even to help negate wrap rage.
If you like it, you should of put a ring stretch wrapper on it. Is that how the song goes? No? Well, all things considered, perhaps a ring stretch wrapper would make a better gift. At least, to your packaging line employees anyway. When it comes to wrapping items such as sheet goods (like plywood), roll goods (like carpet), windows, doors, furniture, and motors (among other things), a ring stretch wrapper is the envy of any packaging line. Ring stretch wrappers, also known as ring wrappers or LAN wrappers, are unique animals for the packaging applications for specialized or even oddly shaped items. In fact, if I had to guess, I am willing to bet that you probably found this article by google searching for a tool that would be good for packaging one or more of the items listed above. Or maybe something similar to those items. Maybe you are researching ring stretch wrappers because you are already considering buying one. Maybe you are just learning about ring stretch wrappers after looking online for the best packaging machinery for your products. Either way, you will most likely have a lot of questions about these machines before you go buying one (or at least, you should). Having helped thousands of people buy the right stretch wrapper for their needs, the team here at Industrial Packaging is uniquely positioned to help guide you through understanding these machines. In the article below, you'll discover information about ring stretch wrappers as well as their common uses and applications.
So you have decided to buy some packaging machinery. You have done your homework and sent out an RFP to at least three vendors. You have reviewed each of the proposals, met with a representative from each vendor, and negotiated with them. You're finally at the point where you have chosen a vendor to buy from. You have the exact make and models that you want and have the additional options for each piece of machinery chosen. You are ready to cut a check or finance the equipment. So, you are now prepared to take the plunge and buy the machinery, plan your installation days, and move forward with the closing of the sale, right? Wrong. While you've done a monumental amount of work to get to this point and applied your due diligence, there is one thing that you are lacking. What exactly is this one item you have failed to consider as you stand on the precipice of this significant purchase for your company? Questions. Questions, that when answered correctly, could very well save you thousands of dollars and, in some cases, perhaps more. Industrial Packaging has been helping countless clients for decades in the process of not only buying the right packaging machinery and materials for their needs today, but also those needs of the future. A future that all too often comes with unexpected events, complex product changes, black swan events, and a host of other often unforeseen changes and challenges. This article will help you identify a list of questions that are often not even considered until it is too late. With this information added to your research, you will be fully and thoroughly prepared to make the correct buying decision. One of which will ensure your ability to evolve with the changes that the future will almost certainly bring.