Equipment | Investment | Packaging Design | Packaging Materials
As the days slowly creep towards October, the humid air of summer begins to fall into the shaded paths of memory that only an Indian summer can remedy. Mornings and nightfall share the brisk cold air that calls to the trees as they start to ignite with the colors of fall. Bright oranges, reds, and yellows begin to peek out from the edges of hardwoods, and you can often catch the scent of a campfire on the air throughout the day. Once again, pumpkin spice reigns supreme on the lips of many a passerby, and apples suddenly seem to be present in more than a few dessert offerings. Indeed, autumn has arrived, and if you are like me, you savor every sweet second of cold air, tree lines ablaze with fiery color, and the toasted notes of campfire smoke enticing the senses to reminisce. Now, if you work in the firewood industry, my guess is you are equally, if not even more excited than I am. During this time of year, many people begin to purchase firewood. Some do this for the occasional campfire aesthetic, while many place their cord-wood orders in preparation for a long winter. When bundling firewood for the former application, there are several ways to go about this process. When it comes to bundling firewood, you generally have three options. Stretch film, shrink film or strapping. Each of these are viable and appropriate ways to package firewood for consumers. Industrial Packaging has been bundling products with stretch film, shrink film and strapping materials for ages. We have learned a thing or two about bundling firewood during our many years in the packaging industry. This article will explore these firewood packaging processes and materials and help you decide which type of material and machinery is right for your firewood packaging business.
If you are entering the market for a shrink tunnel, you will find yourself with a big variety of different types of machinery. Some machines work with steam. Others use hot air. Every kind of shrink tunnel is designed to work for specific applications. Using the wrong shrink tunnel for the incorrect application can lead to various unwanted problems such as waste, downtime, costly repairs, and potentially, injury. When shopping for a shrink tunnel, you're going to have many questions about the equipment. At the end of the day, you just need to know which type of shrink tunnel is right for your products. Luckily for you, it is a fairly easy process to identify the best machine for your needs after you have done a little homework! Industrial Packaging has been working with shrink tunnels for generations. During that time, we have become experts on the various makes and models of shrink tunnels, what makes them tick, how to keep them running smoothly and how to repair them with ease when they eventually break down. With the information in this article, you will be able to choose the right machinery for your shrink tunnel applications and product packaging needs.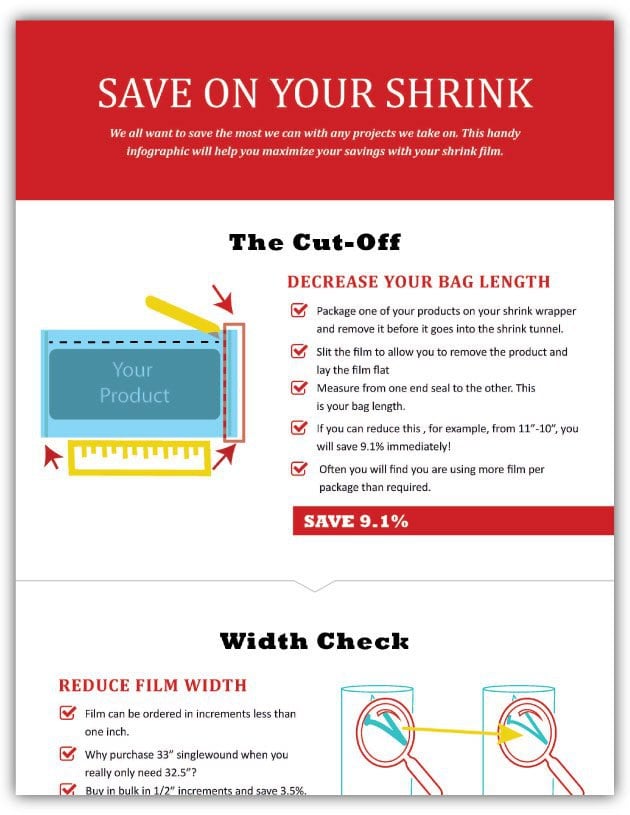 Shrink Film Cheat Sheet
We all want to save the most we can with any projects we take on. This handy infographic will help you maximize your savings with your shrink film. Get it for free when you subscribe to our blog.
Investment | Packaging Materials | The Business of Packaging
Are you feeling a little stressed out with the buying process lately?, with the continued complications coming from the presence of COVID, the global supply chain is experiencing new problems it has not experienced before. And while COVID will eventually end, the effects upon the supply chain will almost certainly be replicated in the event of other pandemics as time goes on. There was a time that purchasing foreign films made sense from a cost-savings perspective as many foreign films are often cheaper (and at times of lower quality). But, with the complications brought upon the world via COVID, the availability, delivery times, lead times, and other related parts of the process are being disrupted by the virus. Are you currently waiting for an order of shrink film from a foreign country? Have you received it yet? Do you think it will arrive on time? Wondering if you should purchase American made films instead? Maybe you are trying to figure out which option will ultimately cost less? If you are a purchasing professional or buyer, the issues the world is facing with the global supply chain is probably something you are dealing with on a daily basis. Chances are, you are continually attempting to buy the best possible product for the lowest possible price. While buying foreign films was once an option for cutting costs, choosing to do so in the age of COVID may result in late deliveries, higher prices, and low availability. Industrial Packaging has been actively engaged in buying, selling, and running shrink film not only on our lines but also for our clients. We sell both domestic and foreign films, but usually end up recommending domestic films due to price, quality and lead times. However, we know there are times when using a foreign film might make sense for your business. Our storied history of supply chain experience allows us to provide you with unparalleled insight and information regarding best practices for buying shrink film. In this article, we will discuss buying domestic shrink film vs. foreign/imported shrink film. We will take a look at several key considerations when choosing between domestic and foreign shrink films. When you are finished, you will have a good understanding of which one is a better purchase right now.
Packaging Design | Packaging Materials | The Business of Packaging
When launching a product as a new startup business, there is a lot to consider. Many steps must be taken to get your product designed, created, and ready to send to the market. You are most likely at the beginning stage of getting your products ready for packaging. Chances are, you have been doing research online, which is how you stumbled across this article. You probably feel some level of worry, stress or uncertainty about choosing packaging for your products as you have not done this before. Some of the questions you are asking your self probably resemble these: What material should I choose for my packaging? What equipment do I need for my packaging? How much will my packaging materials cost? How much will my packaging machinery cost? Most likely, you are looking for guidance on launching a new product and trying to understand the appropriate packaging protocols. Industrial Packaging has been helping companies package their products and get them to market in a timely fashion for over 65 years. In that time, we have become thought leaders on this subject. In this article, we will help you to understand what needs to be done when developing packaging for new products for your startup.
Investment | Packaging Design | Packaging Materials
Determining the yield of your shrink film can help you optimize your film choices to help you run an efficient packaging line on which you will be able to squeeze every last ounce of value from. However, if you are reading this article, you are probably trying to figure out how to determine the yield of your shrink film. With that being said, you probably have a few questions about yield including: When do you need to determine the yield? You will likely have to be able to show the metric of yield in reports regarding waste reduction or other financial KPIs which will be effected by yield. Being able to show this data quickly will help you to shorten and simplify the buying process. Is it commonly difficult to calculate yield? If you are not a fan of doing math, calculating your yield can be frustrating. We will help you to do it with ease. Is calculating yield a common metric to calculate? Many companies over look this valuable metric, but others do not. Understanding your yield will help you to make better purchasing decisions and help you to reduce costs and waste. Does choosing the wrong film yield lead to wasted dollars? Yes! This is not something you want to get wrong. With the correct yield in hand, you will be able to choose the right film for your packaging needs and also choose the film which you will be able to get the most value out of. Industrial Packaging has been selling shrink film for generations. We are going to help you understand how to determine the yield of each type of film so that you can choose the right film for your unique packaging applications.
Are you looking for information on gas flushing? Interested in how it works and if it is right for your food packaging applications? Perhaps you are a long-established food packaging organization or a restaurant startup looking to enter food distribution through supermarkets. Either way, you have come to the right place. Gas flushing is a process used in a type of food packaging called modified atmosphere packaging. It is used to alter the inside of a special type of pouch that is used to package certain types of foods. When it comes to preserving food, modified atmosphere packaging has become rather popular as a food packaging process. The use of modified atmosphere packaging helps to keep food fresher and more aesthetically pleasing for extended periods. If you found your way here, you're probably researching gas flushing for pouches. You're planning on packaging some type of food product in a pouch and are curious if gas flushing pouches might be right for your products. You're not sure if the investment required for gas flushing makes sense for you. Industrial Packaging has been helping clients in the food industry for many years. We have helped hundreds of companies understand the process, machinery, and materials involved in applications of modified atmosphere packaging such as gas flushing pouches. In this article, we will give you a rundown of everything you need to know about gas flushing. You'll learn how gas flushing for pouches works, what is required to do it, and what types of food are most commonly packaged in gas flushed pouches. By the end of this article, you'll be able to determine if gas flushing is the right call for your packaging line.