When thinking about purchasing a new piece of packaging equipment, it is important to start with safety first. Packaging machinery is heavy duty professional equipment. As such, ensuring that your employees are well trained on the machinery starts with a solid understanding of how to run the equipment safely. But when it comes to safety in regards to packaging machinery, where do you start?
Equipment | Investment | Packaging Psychology | The Business of Packaging
When you are planning on buying new machinery for your packaging line, there are several questions you should ask yourself. Where should you consider buying from? Is buying from a distributor or the manufacturer of the machinery a better choice? What are the differences between the two options? Which is the right choice for your business? Read on to find out!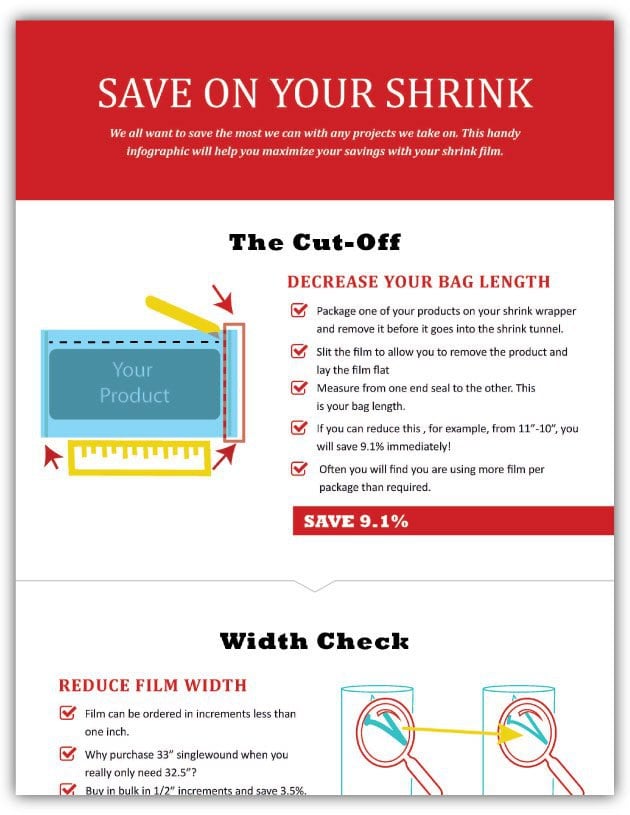 Shrink Film Cheat Sheet
We all want to save the most we can with any projects we take on. This handy infographic will help you maximize your savings with your shrink film. Get it for free when you subscribe to our blog.
Air Pillows | Packaging Design | Packaging Materials | Packaging Psychology | Shipping Protection | The Business of Packaging
In the age of Amazon, we are seeing more packages being delivered than ever before. With a few clicks of the mouse or a few taps on your phone you can get pretty much anything you want delivered to your door. However, an unfortunate byproduct of these modern times and innovations is package theft. There is an ever growing epidemic of packages being stolen from people's doorsteps as packages are often left unattended. How can we stop this trend? Read on to learn how one engineer from NASA took justice into his own hands.
Equipment | Investment | Packaging Materials | Packaging Psychology
When you are in a position to consider buying packaging machinery and related materials, there are questions that you should ask yourself and your team before making a capital investment. Packaging machinery and materials are not a "one size fits all". By asking the questions below, you will be armed with the knowledge needed to make an educated decision.
Food Packaging | Packaging Design | Packaging Materials | The Business of Packaging
Modified Atmosphere Packaging (or MAP) is the manipulation of the atmosphere inside of a packaged food (IE: beef, pork, chicken, fish). The goal of the process being to increase the shelf life of the product contained within. MAP improves the shelf life and freshness of many foods. These include cheese, meats, fish and other perishable food items. These foods are commonly packaged with oxygen, which is removed via MAP. What other benefits does MAP offer to the discerning consumer? What are the pros and cons? Read on to find out!
Equipment | Plant Performance | The Business of Packaging
Collaborative robots can do many things — from autonomous robots that can work together with human beings in an office space, to industrial co-bots having protective guards in place. Industrial co-bots are very complicated machines that will work with human beings to improve processes and streamline production. These co-bots support a human operator in a conjoined working environment. What are these 'co-bots' and what can they do for your packaging line? Furthermore, where are they heading in the future? Find out here: