Environment | Packaging Design | Packaging Materials | Packaging Psychology
Printed shrink film is fast becoming a popular marketing material. With eye-catching full color graphics, strength, tight shrink and use in packaging applications negating the need for labels, it is becoming a common material on packaging lines across the globe. While there are various benefits to this particular substrate, there is another often less known type of printed shrink available today. Light gauge printed shrink film with thickness as low as 30 gauge has all the benefits of printed shrink, but with a lower gauge and price tag. Why choose printed shrink film? In the article below we will delve into this fantastic material and its many benefits.
Plant Performance | The Business of Packaging | Warehousing
When your business expands or is required to move its physical location from one geographical area to another, it is no little task. This is especially true when moving your packaging department. Managing the breakdown, transportation and install of packaging machinery can be a complicated task. Below we will review a set of best practices for moving your packaging line that will result in a smooth transition from one location to the next.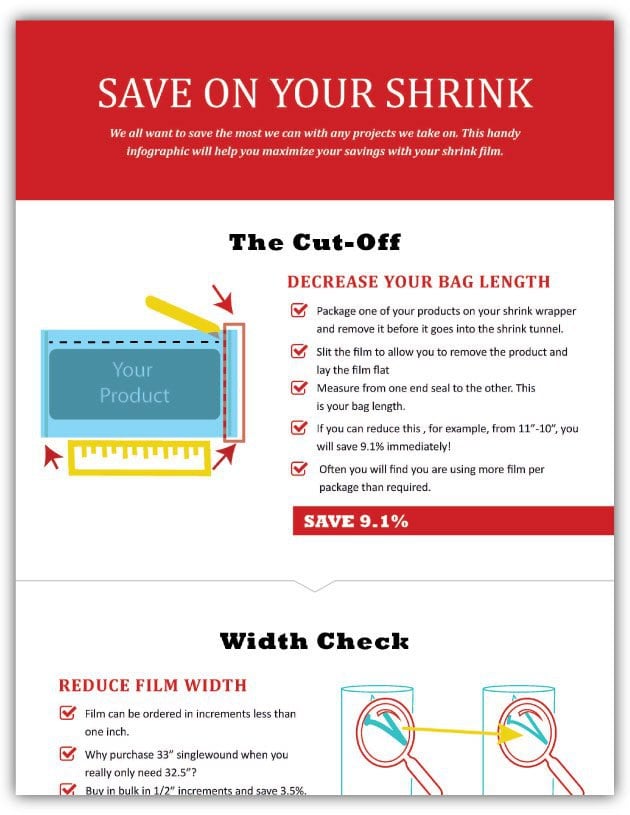 Shrink Film Cheat Sheet
We all want to save the most we can with any projects we take on. This handy infographic will help you maximize your savings with your shrink film. Get it for free when you subscribe to our blog.
Environment | Packaging Materials | The Business of Packaging
There is perhaps no other word that invokes the concept of "cringe worthy" for the environmentally concerned citizen than "plastic". Plastics have become an epidemic to the sea, often collecting in literal islands of trash in our oceans, sometimes stretching far as the eye can see. When it comes to shrink film, these concerns are no different, but are they truly warranted? Below, we will take look at the environmental benefits of packaging plastics and explore their potential in recycling.
Packaging Design | Packaging Materials | Packaging Psychology | Plant Performance
Stretch wrapping is one of the most common tools for unitizing products for transport. However, just because a pallet is wrapped and looks good to the naked eye, does not mean it is wrapped well, efficiently or most importantly... SAFELY. When the proper stretch wrapping is negated, problems can arise during shipping. Depending on the severity of the problem, your business may end up with a bruised reputation and potential safety failures. Below, we will explore the various types of stretch film so that you can make an educated decision on which is best for your particular applications and needs.
Equipment | Fulfillment | Plant Performance | Warehousing
Stretch wrap is one of the most commonly used packaging materials across the globe. Hundreds of thousands of companies stretch wrap millions of pallets of product every day. While many companies rely on physical labor from human employees, shrink wrapping machines are a staple in high production packaging lines and even smaller companies who want the cost savings and related benefits of using a stretch wrapper. That being said, what are the benefits of using a stretch wrapper? Who is a good fit for a stretch wrapping machine? Which type of machine is best for your company? Follow me into the article below and we will stretch your knowledge to its maximum capacity.
Food Packaging | Packaging Materials | Packaging Psychology | The Business of Packaging
When it comes to shrink film, we get a lot of questions from prospects, clients and curious production managers. While there is a sea of questions flowing from the world to our doorstep, we get several of them over and over and over and... well, you get the point! In this article we are going to answer the seven most common questions about shrink film.