Equipment | Investment | Technical Service and Support | The Business of Packaging
Companies who have been in business for decades often find themselves as the owners of outdated and borderline dysfunctional packaging equipment. These older machines are less efficient and often produce more problems than they do quality packaged products. When your machines begin to age, what should you do with them? Should you just replace them or consider refurbishing? What are the problems associated with old machinery and what can you do about them? In the article below we will discuss these topics at length.
Equipment | Fulfillment | Investment | Plant Performance | Technical Service and Support | Warehousing
When building a new packaging line or updating a line that has been packaging products for decades, measuring KPIs (Key Performance Indicators) is an extremely important exercise. In the article below, we will take a look at the top 10 KPIs to track and discuss those which we deem most important for your packaging line.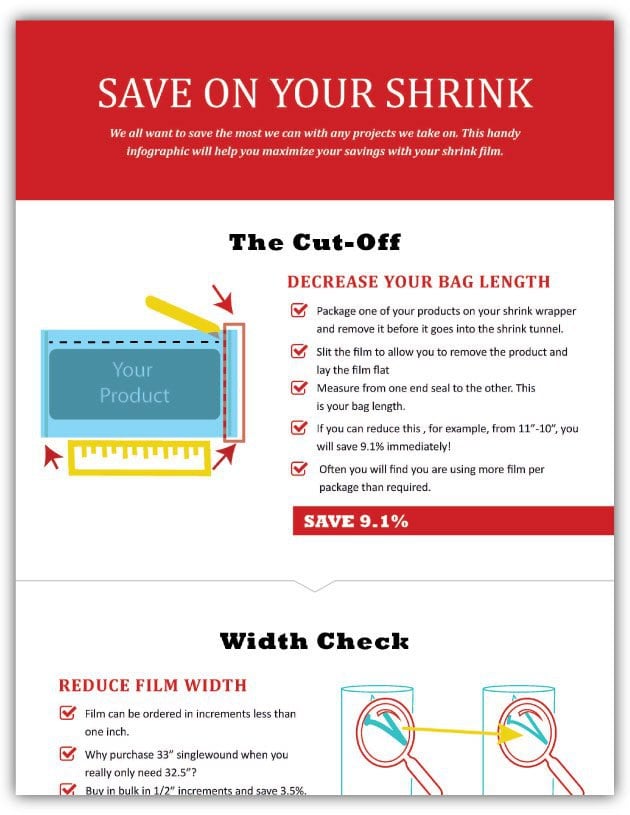 Shrink Film Cheat Sheet
We all want to save the most we can with any projects we take on. This handy infographic will help you maximize your savings with your shrink film. Get it for free when you subscribe to our blog.
Equipment | Packaging Psychology | Plant Performance | Technical Service and Support
Sooo... You have just purchased a brand new collection of packaging machinery and you are ready to get your line pumping out products at top speed and high efficiency. But wait, did you remember to acquire some form of preventative maintenance or at least find a vendor for packaging machinery repair? If not, who should you choose? Should you hire a full time maintenance technician or contract a 3rd party? Which is a better choice for your business? What are the related costs? In today's article we will reveal the answers to these questions and provide expert advice on packaging machinery service and repair options.
Equipment | Plant Performance | Technical Service and Support
Your packaging line is one of the most important parts of your production line. This is where you protect your product and where the visual display for your product line in the market place comes to life. The packaging machines that comprise your line need to be kept in good repair if you want to have a successful production. Having a plan for regular preventive maintenance (PM) should be a requirement in your plan for many reasons. Here are a few of the top reasons that preventative maintenance (PM) is important for your packaging machinery:
Equipment | Food Packaging | Packaging Materials | Plant Performance | Technical Service and Support | The Business of Packaging
Shrink wrapping is an easy process that only requires two things: the right kind of plastic wrap and heat. With just a roll of shrink wrap and a heating source, you can waterproof, weatherproof and tamper proof just about anything you have. Since there is no restriction on size to shrink wrap items, you have a way to protect even your bulkiest of items. But even this great packaging solution has a few potential hiccups.
Environment | Equipment | Food Packaging | Packaging Materials | Plant Performance | Shipping Protection | Technical Service and Support | The Business of Packaging
Minimizing excess stretch film usage is important for reducing waste, saving money, and keeping your operation as efficient as possible. While stretch film is an invaluable product, the less you use while properly securing your loads, the better for your bottom line. Load containment is one of the most important factors in this process. The term refers to the different forces that work in unison to hold your pallets together. Proper load containment secures your product so it can travel and arrive intact. Here's everything you need to know about making load containment your secret weapon: