Fulfillment | Plant Performance | Technical Service and Support
You are probably wondering, if Industrial Packaging is simply managing the supply chain and packaging line elements of our client's business, can't we do that anywhere in the country? Well, yes. We could do that. But, for us at Industrial Packaging, we think that it is best for us to deliver an excellent experience for a small amount of people versus a mediocre experience for a much larger audience. Another thing that was glaringly obvious to us about our geographical region was that there is about thirty billion dollars worth of contract packaging business going on in our own backyard. That is one very good reason to stick to servicing this area of the United States. But, it is not the only reason why we have chosen to stick to the Northeast. Providing our world-class packaging supplies and service to this area just makes sense. In this article, we aim to explain why we have limited ourselves to this geographical area. By reading this article, you should have a good idea if you are a good fit for Industrial Packaging as a contract packaging client or not.
Equipment | Investment | Technical Service and Support
So, you are thinking of buying some new shrink packaging machinery? And, you are doing all the required research beforehand. Perhaps you have actually been to this blog before. Or, maybe you have read about spare parts kits elsewhere, and your journey has brought you here as a result. These kits are an additional item when purchasing a machine that many buyers do not consider. In many cases, buyers might not even know that such a kit is an option. However, forgoing this additional option can be costly. Are you buying a new shrink wrap packaging machine? If you do not buy a kit, you are setting yourself up for a host of serious problems. Most notably, short or extended periods of unexpected downtime. Downtime equates to lost dollars, time, and productivity. Downtime is the bane of any company attempting to be efficient, optimized, and zoned into success. Any instance of downtime is the most unwelcome guest for any company. Especially companies trying to run a world-class packaging line. Industrial Packaging has been offering these kits as an option for our shrink wrap machine buyers over the years. We always suggest buying at least one kit for all our packaging machinery clients. This article will explore why you should buy one or more kits for your shrink wrap systems. We will explain why they are a requirement for packaging machinery purchases. For instance, say your machine goes down. And, you have no parts on hand. How long will you have to wait to get the replacement parts? In this case, a spare parts kit increases the likelihood that you will not have severe downtime. The spare parts that a vendor has determined necessary should be on hand. This is due to the frequency at which parts need to be replaced. It should be noted, no major or severe downtime is going to be alleviated by a kit. That is of course unless it contains the parts that need to be replaced. Ask your vendor which parts they feel should be included in the kit.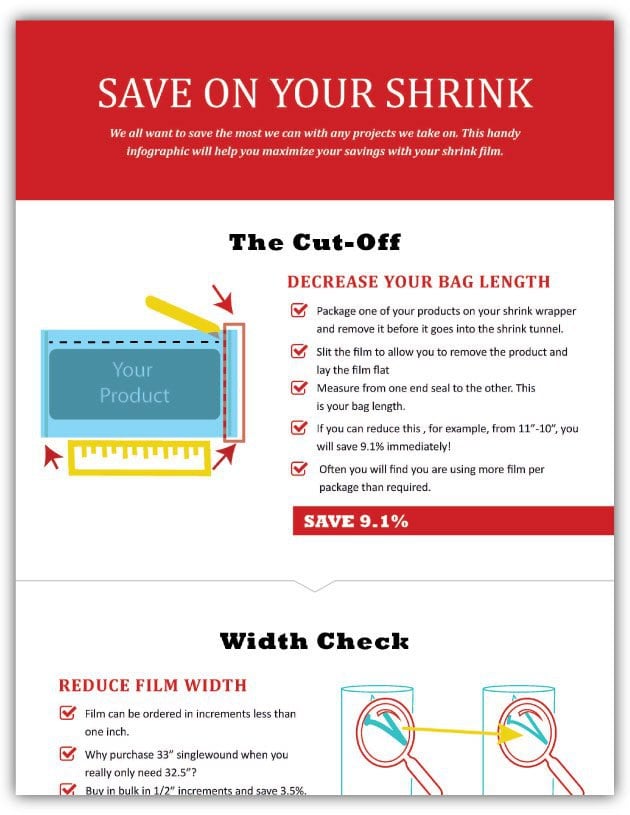 Shrink Film Cheat Sheet
We all want to save the most we can with any projects we take on. This handy infographic will help you maximize your savings with your shrink film. Get it for free when you subscribe to our blog.
Equipment | Technical Service and Support
If you have recently purchased any new packaging machinery, then you are or will be in the process of implementing a training program to ensure that your equipment operators are properly trained on your new machinery. My guess is, you probably think about the necessity of this training for packaging machinery from one perspective: Safety. And while that is certainly one of the most important KPI's to track and consider when training your equipment operators, it is most certainly not the only important element of these training protocols. While there are many reasons that you will want to procure quality training for packaging machinery, two important items are often overlooked: sustainability and overall success rates. A lack of training or the implementation of poor training can lead not only to serious safety concerns but also wasted time, money, materials, and parts. And, even if you do not suffer from these effects stemming from improper training, it is likely that the impact will result in slower production times, material and machinery issues, and other costly mistakes. All of which could have been avoided with the proper training in place. Industrial Packaging has provided countless hours of quality training to thousands of companies and by extension, thousands of packaging machinery operators. As such, we can provide you with a deeper understanding of the true value within quality training protocols and applications. In this article, we will be discussing the importance of high-quality training in relation to sustainability and a well-optimized, efficient, and quality packaging line.
Equipment | Packaging Psychology | Technical Service and Support
When you think about downtime, I bet a few things come to mind. Lost productivity, your workforce is standing around, scrap packaging materials or finished goods, and missing deadlines you have agreed to meet. And while all those are true, there are a few more negative side-effects that carry as much, if not more, weight when it comes to downtime. One of our top priorities is making sure our customers can avoid unexpected downtime on their packaging lines. At Industrial Packaging, we "eat our own dog food" and maintain regularly scheduled maintenance on our packaging machinery. By doing so, we can maintain the supply line for our customers, and we help them do the same in their facilities. We know what it takes to succeed, and we know how to combat unwanted downtime. In the article below, we will explore the real cost of downtime and explain why you will want to be sure to negate it.
Equipment | Packaging Materials | Technical Service and Support
You may own the very best packaging machinery. You may even be running the highest quality materials on those machines. However, if you do not have excellent service for machinery repair and materials sourcing, you will end up with unwanted downtime. There are many variables to consider when running a top-notch packaging line: cost of goods, electrical supply, gasses, and air needs, space requirements, and the list goes on and on. One of the essential elements of a professional and successful packaging line is your access to outstanding service. As a machinery and materials service provider with thousands of happy customers, Industrial Packaging knows just how important service is to a world-class packaging line. In this article, we will discuss the importance of service and why at the end of the day, service is KING!
Packaging Materials | Technical Service and Support
If you want to run shrink film on your packaging line, you need to understand a wide array of technical terms. From gloss and haze to tensile and elongation, there is a host of technical data that requires understanding. With decades of experience with shrink film, we here at Industrial Packaging know the material inside and out. In today's article, we will explore the various terms used when interpreting technical data on shrink film. With the information in this post, you will be able to run shrink film on your packaging line with ease and know how to properly optimize your machinery and materials.