Equipment | Packaging Design | The Business of Packaging
Thermal printing applications span a wide range of opportunities for companies looking to improve their packaging supplies. Thermal printers are an excellent choice for their portability, speed, and capabilities to create high quality, vibrant labels that are both sturdy and visually appealing. These modern thermal printers can produce color labels and flexible packaging, without ink, toner or ribbons. How is this possible, you may wonder?
Packaging Design | Packaging Materials
Tamper evident packaging is a stalwart of safety and awareness in the packaging industry. Not only does tamper evident packaging feature strong materials that keep the products inside safe, they also alert consumers to the reality of contamination or foul play. Before we get started though, what exactly is tamper evident Packaging? Here is the definition from the Food and Drug Administration: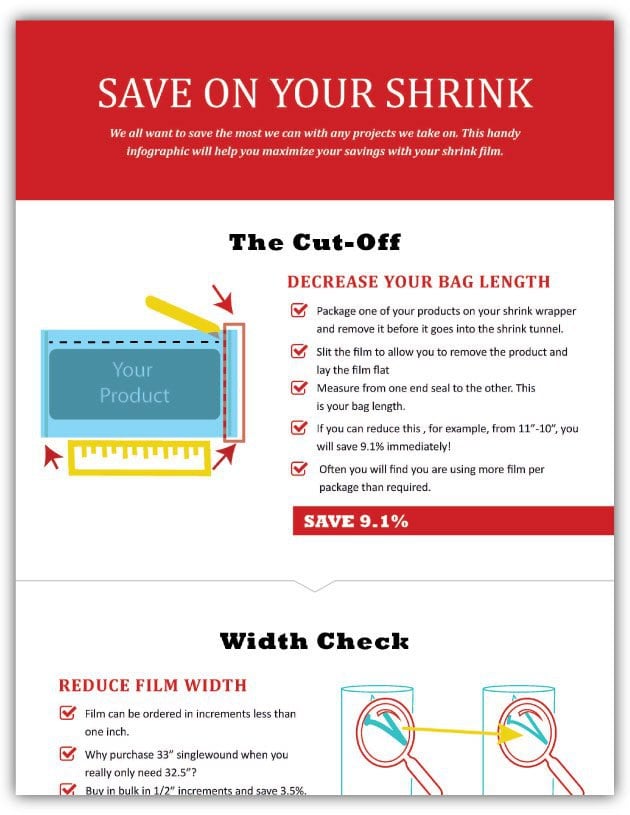 Shrink Film Cheat Sheet
We all want to save the most we can with any projects we take on. This handy infographic will help you maximize your savings with your shrink film. Get it for free when you subscribe to our blog.
Environment | Packaging Design | Packaging Materials
Back in February, the packaging world collectively turned its head towards the announcement of LOOP, a revolutionary and potentially disruptive paradigm shift in the way major brands provide high-quality packaging while simultaneously putting recycling and waste reduction front and center. What is LOOP exactly? Loop is essentially a new approach to the by-gone days of the milkman's business model. From LOOP's website: "Loop is a circular shopping platform that transforms the packaging of your everyday essentials from single-use disposable to durable, feature-packed designs. Not so long ago, the milkman delivered reusable bottles and later picked them up to be refilled. Loop is the milkman reimagined - honoring our past from a modern perspective." In place of the milkman, you will find your local UPS delivery driver dropping off products from various companies (including but not limited to Procter & Gamble, Unilever, Nestlé, PepsiCo, Mars Petcare, etc.) and then returning to pick up your used packaging and sending it back to LOOP where it will be cleaned, refilled and resold once again.
Environment | Equipment | Investment | Packaging Design | Packaging Materials | Packaging Psychology | Plant Performance | The Business of Packaging
Given the entire purpose of packaging, the idea of "zero waste" may seem counter-intuitive. How can you package anything without inevitably causing some leftover waste? Turns out, zero waste packaging is being hotly discussed in the manufacturing space, with many companies committing to reducing or eliminating waste — and many consumers actively seeking these options. To break it down, zero waste packaging takes things one step further than sustainable packaging. If this is new to you, read on to learn all about this trend, what it involves, and how it could affect your operations.
Equipment | Food Packaging | Investment | Packaging Design | Packaging Materials | Packaging Psychology | Plant Performance | The Business of Packaging
Packaging trends pop up pretty quickly, and even when you have your finger on the pulse of the industry, there are always innovative new ways to present your items that you may not have considered. One of the most convenient, flexible, and trending new options are stand up pouches. They've been around for decades, but with the public's growing interest in efficiency and waste reduction, they're rapidly growing in popularity. Basically, stand up pouches are soft sided containers that stand up on their own, unsupported. They usually have a resealable zipper, track, and/or spout, and can carry solid, liquid, or powdered items.
Equipment | Fulfillment | Investment | Packaging Design | Packaging Materials | Packaging Psychology | Plant Performance | Shipping Protection | The Business of Packaging | Warehousing
One of the hottest new trends to hit the packaging world is the introduction of opaque packaging films, particularly for e-commerce businesses that ship a diverse array of items to consumers all over the world. Opaque packaging films are new films that eliminate the need for traditional corrugated boxes and fillers. With this innovation, the machinery wraps items as they are, cutting out bulky packages. And because the film is opaque, what's inside remains private. This new type of film cuts down on waste, reduces costs, maintains privacy, takes up less space, improves overall efficiency, and upgrades the consumer experience.