Packaging Design | Packaging Materials | Packaging Psychology | The Business of Packaging
The future is here. Everyday, millions of people walk around with high powered tiny computers with glowing LCD screens in their pockets. We use these devices to catch a ride, buy food, prepay for movie tickets, find deals on everything under the sun and learn new things about our world. As this technology continues to evolve, we will see more and more packaging that we can interact with digitally. And while digital packaging is still a relatively new phenomenon, it will soon be prevalent everywhere. What is digital packaging exactly? Join me in the article below and we will explore this new exciting chapter in the history of the packaging industry.
Food Packaging | Packaging Design
Back in 2016, the FDA released a new set of requirements for nutrition and ingredient labeling for food products in the USA. Companies manufacturing food products that make $10 million or more in annual sales are required to have the new labeling in place no later than January 1, 2020. Companies that manufacture food products that are making less than $10 million dollars per year are to meet the same requirement by January 1, 2021. So what has changed in food labeling per the FDA? How do these changes effect companies and consumers? In the article below, we will review the changes to the classic nutritional labeling we have all come to recognize over the years and ponder what these changes mean.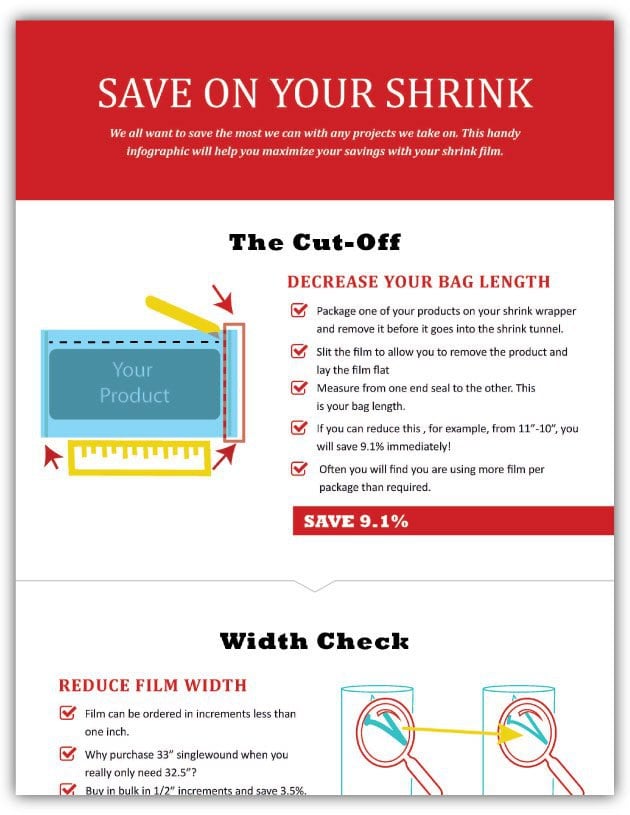 Shrink Film Cheat Sheet
We all want to save the most we can with any projects we take on. This handy infographic will help you maximize your savings with your shrink film. Get it for free when you subscribe to our blog.
Environment | Packaging Design | Packaging Materials | Plant Performance
Running registered printed shrink film isn't as easy as putting the roll of film on your machine and pressing a button. There are many factors to consider. Package appearance, speed, the layout of artwork and graphic design elements, the capabilities of the machines you are running, the specific colors, and air evacuation are all important aspects that demand your attention. In the article below, we will explore the dynamics of running printed shrink film and we will help you to better understand the various elements of the process.
Environment | Fulfillment | Packaging Design | Packaging Materials | Packaging Psychology | Shipping Protection
Packaging for e-commerce is nothing new. However, there are some significant changes coming down the line for e-com packaging materials, protocols and related dynamics. As we head into 2020, any and all companies doing e-com business must be aware of the demands of the consumer. But what changes are ahead for e-com packaging? How is the circular economy effecting e-com packaging materials and processes? What are consumers expecting from the unboxing experience? How are environmental concerns shaping the realm of e-com packaging? In the article below we will take a look at the top 3 concerns of e-com packaging in 2020 and how this dynamic is changing as we move into the new year.
Environment | Packaging Design | Packaging Materials | Packaging Psychology
While many companies attempt to procure packaging that screams "attention here" as they grasp at the peripheral vision of consumers with loud colors and bold typography, there is a growing trend of the opposite approach that will rise to prominence in 2020. Minimalist packaging is at once simple and elegant. In direct opposition to several other popular packaging trends coming to the forefront of the industry as we flow into the new year, minimalism strikes a balance between environmental concerns and the chic aesthetic of overt simplicity. In the article below, we will explore the appeal of "less" in modern packaging supplies.
Packaging Design | Packaging Materials | Packaging Psychology
One of the hot trends in the realm of packaging which will continue rising in popularity throughout the coming year is vintage packaging. Hearkening back to the bygone days of old, vintage packaging supplies tug at the heartstrings of millions of people, often regardless of age. What exactly is driving this trend? Why is it that as we literally head into the future that vintage packaging is making such a stir? In the article below, we will delve into the curious rise of vintage style as we dive headfirst into 2020.