Packaging Design | Packaging Materials
Have you ever bought a product, only to get home and find that opening the packaging is not only complicated, it is darn near impossible? Well, you are not alone! Wrap rage is a common reaction experienced by millions of people after buying a new product to enjoy only to find that the packaging is overly complicated to remove. At the end of the day, the customer ultimately ends up with a flustered sense of agitation. It is a surprisingly common phenomena despite the fact that many people have called upon companies to stop packaging their products in hard to remove materials. And yet, many companies continue to package their products in complicated packaging supplies that require scissors or more robust tools to open the package. In a world where the unboxing experience is considered a "make or break" element of the customer experience, this should not be the status quo. However, it is an on-going problem for many consumers to this day. With over 60 years in the packaging industry, we have plenty of experience helping companies optimize their packaging design process to protect and preserve their product, to entice the eyes of buyers, and yes, even to help negate wrap rage.
Environment | Packaging Design | Packaging Materials | The Business of Packaging
As the tumultuous and dare I say downright disruptive year of 2020 winds to a close, the packaging industry is looking at some very interesting trends as we head towards the new year. While there are some hot-button trends that remain from 2020 as we head into the first quarter of 2021 (such as sustainability and environmentally minded packaging materials), there are some huge new packaging opportunities that have come out of the pandemic. For example, the video game industry is experiencing a meteoric expansion of growth as gamers have spent more time at home playing video games and many new gamers are just beginning to experiment with the joy of gaming to pass the time while in quarantine or semi-mandated stay at home orders. More gaming = more opportunities for video game packaging applications. Then, we have the ever-growing expansion of eCommerce purchasing. Purchasing online was already steadily rising prior to the arrival of this pandemic. But it has only grown exponentially more than expected as a byproduct of the virus. Food packaging (particularly frozen food packaging) has also seen a massive growth spurt. More consumers are buying larger quantities of groceries either in person or via online driven delivery services. It's a lot to keep up with. In this article, we will take a deep dive into the top packaging trends for 2021 so that you are set up to succeed in the new year.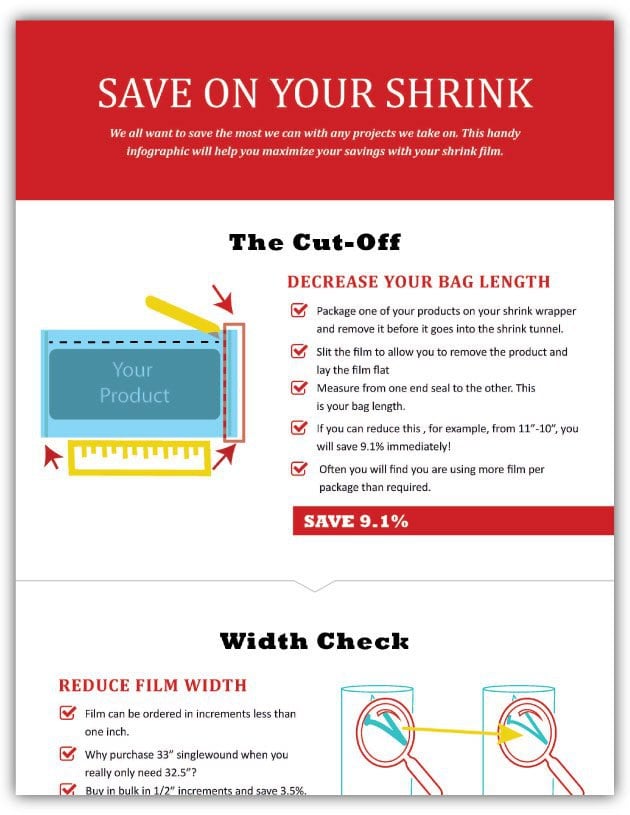 Shrink Film Cheat Sheet
We all want to save the most we can with any projects we take on. This handy infographic will help you maximize your savings with your shrink film. Get it for free when you subscribe to our blog.
Equipment | Food Packaging | Investment | Packaging Design
Many food producers are looking for ways to package their food products for various applications such as frozen food, grab-n-go, and pre-made meals. The demand for these types of packaging had been growing steadily for a while. However, with the arrival of COVID19, the market has only skyrocketed. This is because many supermarkets, restaurants, country stores, and other producers and sellers of food products are offering more and more pre-packaged foods. If you have been to the supermarket recently, chances are you have seen a few changes to staples of the shopping experience. For example, most serve-yourself salad bars are no longer "serve yourself". In their place, you will find pre-packaged salads in plastic containers. More and more single items of produce are being shrink-wrapped to prevent the virus from touching the food inside. Many food sellers are now shifting to selling pre-made meals that are then frozen or packaged in film-covered trays. People like you are turning to the idea of purchasing food packaging machinery and packaging their food items themselves, rather than outsourcing the process to contract packaging companies who will do the work for them. This allows you to fully control the process, machinery, materials and every other aspect of the food packaging process. It also allows you to personally ensure the safety of the food items you are selling to your clients. But how much does a food packaging machine cost? What are the different kinds of food packaging machines available? Which one should you buy? Does it make sense for your business? If you are like many other companies, you have a ton of questions. With decades in the food packaging industry, we have been able to help large food manufacturing companies package their food items. As such, we are able to help you choose the right equipment for your food packaging needs and answer any questions that you may have. We're here to help you understand just how much of an investment you'd need to make to start packaging your own food. This article will detail the price, functionality, proper applications, and other valuable information to help you decide if a food packaging machine is right for you.
Packaging Design | Packaging Materials
When first entering into the world of packaging for your products, there are many items to consider and educate yourself about. One of the essential things to consider during this time is packaging materials. When you are looking to package a product, you need to decide which type of material you will package your products in. But what material should you choose? Plastic, metal, cardboard, paperboard, foil, shrink film, bio-plastics, boxes, clamshells, or something else? When diving into the vast realm of packaging materials, one of the first things you need to understand is what's available to you. Once you have explored your options, then you can choose the best material(s) for your packaging needs. In order to do this, you need to understand which materials are appropriate for your applications. Well, as luck would have it, Industrial Packaging has been selling, running, and consulting on packaging materials for generations. We know the realm of packaging materials inside and out. We can help you identify the packaging materials that are currently available and which one is right for you and your products. This article will show you the most popular types of packaging materials currently on the market. We will help you understand each option so that you can make an educated decision on which material would be best suited for your product's packaging. Each type of material mentioned below is linked to a more in-depth article that offers a deeper exploration of that particular type of material. We're going to dive into each of the different types of packaging materials below. Each section will detail what the packaging material is made out of and when it's best to use. Below you will find a list of different types of packaging materials. Each material will be explored in regard to what they are made out of. Each offering will also have information about the materials appropriate applications.
Equipment | Investment | Packaging Design | Packaging Materials
As the days slowly creep towards October, the humid air of summer begins to fall into the shaded paths of memory that only an Indian summer can remedy. Mornings and nightfall share the brisk cold air that calls to the trees as they start to ignite with the colors of fall. Bright oranges, reds, and yellows begin to peek out from the edges of hardwoods, and you can often catch the scent of a campfire on the air throughout the day. Once again, pumpkin spice reigns supreme on the lips of many a passerby, and apples suddenly seem to be present in more than a few dessert offerings. Indeed, autumn has arrived, and if you are like me, you savor every sweet second of cold air, tree lines ablaze with fiery color, and the toasted notes of campfire smoke enticing the senses to reminisce. Now, if you work in the firewood industry, my guess is you are equally, if not even more excited than I am. During this time of year, many people begin to purchase firewood. Some do this for the occasional campfire aesthetic, while many place their cord-wood orders in preparation for a long winter. When bundling firewood for the former application, there are several ways to go about this process. When it comes to bundling firewood, you generally have three options. Stretch film, shrink film or strapping. Each of these are viable and appropriate ways to package firewood for consumers. Industrial Packaging has been bundling products with stretch film, shrink film and strapping materials for ages. We have learned a thing or two about bundling firewood during our many years in the packaging industry. This article will explore these firewood packaging processes and materials and help you decide which type of material and machinery is right for your firewood packaging business.
Packaging Design | Packaging Materials | The Business of Packaging
When launching a product as a new startup business, there is a lot to consider. Many steps must be taken to get your product designed, created, and ready to send to the market. You are most likely at the beginning stage of getting your products ready for packaging. Chances are, you have been doing research online, which is how you stumbled across this article. You probably feel some level of worry, stress or uncertainty about choosing packaging for your products as you have not done this before. Some of the questions you are asking your self probably resemble these: What material should I choose for my packaging? What equipment do I need for my packaging? How much will my packaging materials cost? How much will my packaging machinery cost? Most likely, you are looking for guidance on launching a new product and trying to understand the appropriate packaging protocols. Industrial Packaging has been helping companies package their products and get them to market in a timely fashion for over 65 years. In that time, we have become thought leaders on this subject. In this article, we will help you to understand what needs to be done when developing packaging for new products for your startup.