Equipment | Packaging Psychology | Technical Service and Support
When you think about downtime, I bet a few things come to mind. Lost productivity, your workforce is standing around, scrap packaging materials or finished goods, and missing deadlines you have agreed to meet. And while all those are true, there are a few more negative side-effects that carry as much, if not more, weight when it comes to downtime. One of our top priorities is making sure our customers can avoid unexpected downtime on their packaging lines. At Industrial Packaging, we "eat our own dog food" and maintain regularly scheduled maintenance on our packaging machinery. By doing so, we can maintain the supply line for our customers, and we help them do the same in their facilities. We know what it takes to succeed, and we know how to combat unwanted downtime. In the article below, we will explore the real cost of downtime and explain why you will want to be sure to negate it.
Environment | Packaging Design | Packaging Psychology
In our modern world, people are buying products from online retailers more and more every day. This is a trend that is going to skyrocket with each passing day. This means that people aren't interacting with your company, a salesperson, or your brand like they used to. Today, the unboxing of a product is often the first experience a consumer will have with your company, brand, and products. If you fail to make an excellent first impression when someone opens your product, you run the risk of losing the customer's future business. Industrial Packaging has been helping companies properly package their products for multiple decades. During that time, we have watched the evolution of the unboxing experience and we know the importance of this process. In the article below, we will discuss the top 5 ways to ensure an excellent unboxing experience that will "wow" your customers and help them to fall in love with your brand.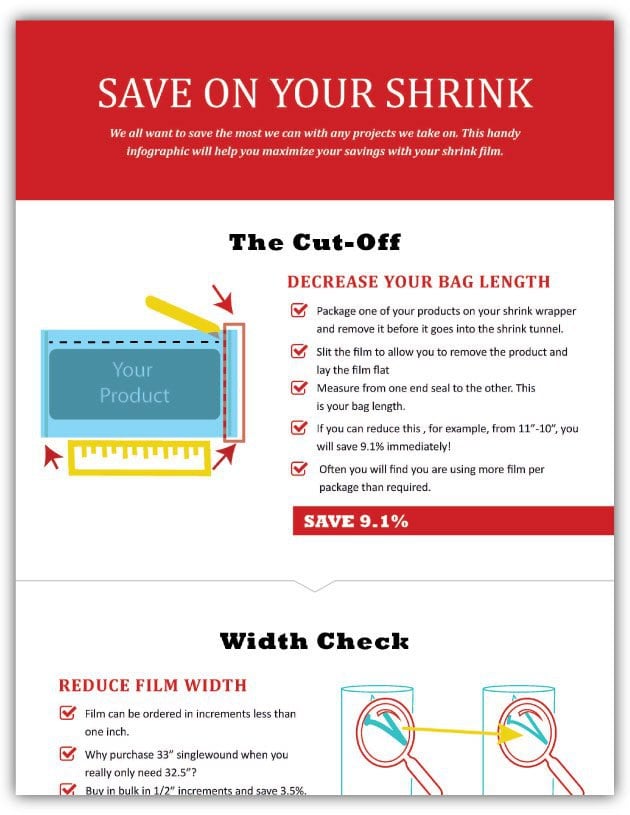 Shrink Film Cheat Sheet
We all want to save the most we can with any projects we take on. This handy infographic will help you maximize your savings with your shrink film. Get it for free when you subscribe to our blog.
Equipment | Packaging Materials | Packaging Psychology | Plant Performance | The Business of Packaging
So, you've looked into your local packaging suppliers, and you're unsure if they can support you based on your needs. But you are also worried that working with a distributor across the country will be a headache due to shipping distance and lack of immediate response. When it comes to choosing a vendor for packaging supplies, distributors are often selected because of their dynamic portfolio of product offerings in the packaging industry and their ability to provide large quantities of supplies. Unlike manufacturers, distributors are not beholden to only one or two brands of materials and machinery. As such, they can help you to choose the machinery and materials that are indeed the best solution for your needs. And while it is usually advised to choose a distributor local to your geographical location, there are benefits to working with one across North America. While we tout the benefits of local companies a lot, there are some times when you might not want to use one. In the article below, we will discuss the reasons you may want to work with a distributor across the country, rather than a local supplier.
Packaging Materials | Packaging Psychology | Technical Service and Support | The Business of Packaging
There is an old saying here at Industrial Packaging and that is "shrink film is shrink film". This means despite marketing gimmicks by any given manufacturer, when all is said and done, shrink film is shrink film. The materials quality and cost is going to be pretty much the same (give or take a bit) across the board. If this is the case, why should you choose one vendor over another? In the article below, we will discuss the important elements of a materials vendor to consider when choosing a vendor.
Packaging Materials | Packaging Psychology | The Business of Packaging
Have you ever considered that the packaging of your product could create an emotional relationship with your customers? What about helping your customers have fun? Gamification pulls customers into interactive experiences with a product's packaging that often results in a more engaged relationship with a brand and it's products. But what exactly is gamification? How does it work? What applications does gamification have in the realm of packaging? In this article we will take a look at some examples of gamification, provide a solid definition of the practice and offer enlightenment on the use of gamification in modern packaging.
Equipment | Packaging Materials | Packaging Psychology
The short answer to this question is yes. Technically, the heat produced by most hair dryers can shrink plastic film. Specifically, polyvinyl chloride or polyolefin. Now, is it a good idea? That is a whole other can of worms. Here at Industrial Packaging, we have been helping people shrink plastic film for over 65 years. In the article below, we will dig deeper into one of the stranger questions we have received in regards to shrink film and discuss more appropriate ways to accomplish the same goal.