Packaging Design | Packaging Materials | Packaging Psychology | The Business of Packaging
The future is here. Everyday, millions of people walk around with high powered tiny computers with glowing LCD screens in their pockets. We use these devices to catch a ride, buy food, prepay for movie tickets, find deals on everything under the sun and learn new things about our world. As this technology continues to evolve, we will see more and more packaging that we can interact with digitally. And while digital packaging is still a relatively new phenomenon, it will soon be prevalent everywhere. What is digital packaging exactly? Join me in the article below and we will explore this new exciting chapter in the history of the packaging industry.
Environment | Fulfillment | Packaging Design | Packaging Materials | Packaging Psychology | Shipping Protection
Packaging for e-commerce is nothing new. However, there are some significant changes coming down the line for e-com packaging materials, protocols and related dynamics. As we head into 2020, any and all companies doing e-com business must be aware of the demands of the consumer. But what changes are ahead for e-com packaging? How is the circular economy effecting e-com packaging materials and processes? What are consumers expecting from the unboxing experience? How are environmental concerns shaping the realm of e-com packaging? In the article below we will take a look at the top 3 concerns of e-com packaging in 2020 and how this dynamic is changing as we move into the new year.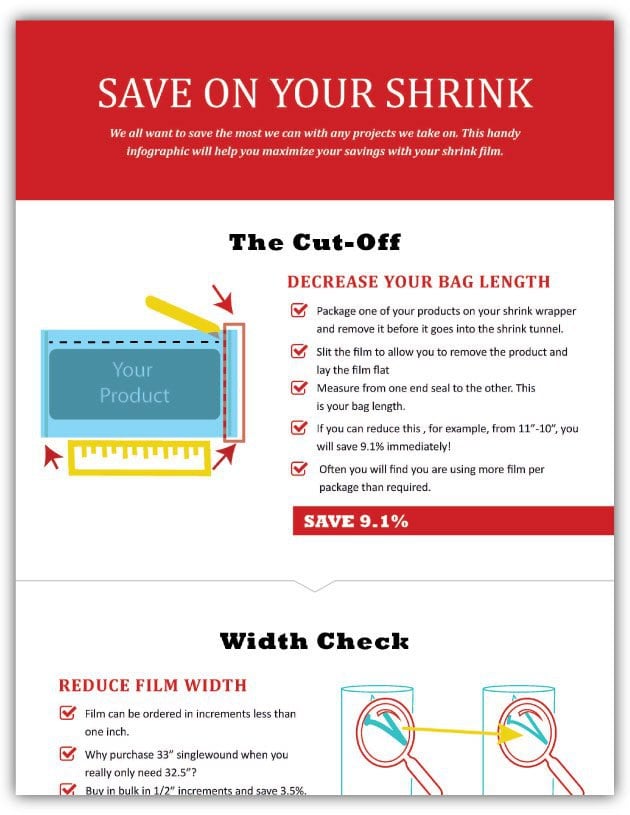 Shrink Film Cheat Sheet
We all want to save the most we can with any projects we take on. This handy infographic will help you maximize your savings with your shrink film. Get it for free when you subscribe to our blog.
Environment | Packaging Design | Packaging Materials | Packaging Psychology
While many companies attempt to procure packaging that screams "attention here" as they grasp at the peripheral vision of consumers with loud colors and bold typography, there is a growing trend of the opposite approach that will rise to prominence in 2020. Minimalist packaging is at once simple and elegant. In direct opposition to several other popular packaging trends coming to the forefront of the industry as we flow into the new year, minimalism strikes a balance between environmental concerns and the chic aesthetic of overt simplicity. In the article below, we will explore the appeal of "less" in modern packaging supplies.
Packaging Design | Packaging Materials | Packaging Psychology
One of the hot trends in the realm of packaging which will continue rising in popularity throughout the coming year is vintage packaging. Hearkening back to the bygone days of old, vintage packaging supplies tug at the heartstrings of millions of people, often regardless of age. What exactly is driving this trend? Why is it that as we literally head into the future that vintage packaging is making such a stir? In the article below, we will delve into the curious rise of vintage style as we dive headfirst into 2020.
Environment | Packaging Design | Packaging Materials | Packaging Psychology | The Business of Packaging
As we have discussed here in the past, shrink film is currently one of the most environmentally friendly packaging supplies in the world. And while many people seem to be turning away from plastics due to their environmental concerns, the science of the situation regarding plastic often does not align with peoples emotions towards the material. Despite the fact that plastics generally have the lowest carbon footprint of any packaging supply, companies around the globe are slowly opting to turn away from plastics to heavier materials like glass, metal and cardboard. However, all of these materials have significantly higher carbon footprints than plastic. In this article we will discuss traditional shrink films as well as their new bio-based versions and alternatives and why they are the better choice when considering sustainability and environmental impact.
Environment | Packaging Design | Packaging Materials | Packaging Psychology
Printed shrink film is fast becoming a popular marketing material. With eye-catching full color graphics, strength, tight shrink and use in packaging applications negating the need for labels, it is becoming a common material on packaging lines across the globe. While there are various benefits to this particular substrate, there is another often less known type of printed shrink available today. Light gauge printed shrink film with thickness as low as 30 gauge has all the benefits of printed shrink, but with a lower gauge and price tag. Why choose printed shrink film? In the article below we will delve into this fantastic material and its many benefits.