Food Packaging | Packaging Materials | Shipping Protection | Warehousing
You know that strapping can be used to bundle products together, reinforce cartons, and to secure items to pallets for shipment. These strapping materials come in a variety of options, but how do you know which is best for your application? Your options can be filtered down into three primary categories: polypropylene(PP), polyester(PET), and steel. Strapping materials are used primarily for bundling products together and securing pallet loads during transport and storage. When used for palletizing, it is often complemented with the additional security of stretch wrap. Being a market leader in supplying strapping materials to companies of all sizes, we've been able to help many brands overcome the challenges of securing your products from shipment to shelf. You might find yourself with a lot of questions when trying to find the best strapping material for you. Which type of strapping material is ideal for your application, and how does it function? What is the difference between virgin and recycled strapping? Find out how these materials work and which will be the best fit to optimize the security and unitizing of your products..
Food Packaging | Packaging Design | Packaging Materials
Are you frustrated with not being able to understand the differences between skin packaging and blister packaging? Don't worry, it happens to a lot of people. Maybe you're a purchasing agent needing to make the right decision on packaging materials. Maybe you're a small business owner getting ready to launch a new food product. Regardless of where you're at in this process, we're going to help you choose the right packaging for your products. While blister packaging and skin packaging share some similarities in aesthetics and materials, they are best suited for different applications. Skin packaging is commonly used to package fish (such as smoked salmon fillets). Blister packs are more likely to house the fishing lure used to catch the fish! Industrial Packaging has been selling blister packaging and skin packaging for many years. We talk to people on a daily basis who are searching for the right type of packaging and we help guide them to make the best decision for their business. In this article, we will explore the differences between skin packs and blister packs and take a look at the appropriate applications for each type of packaging.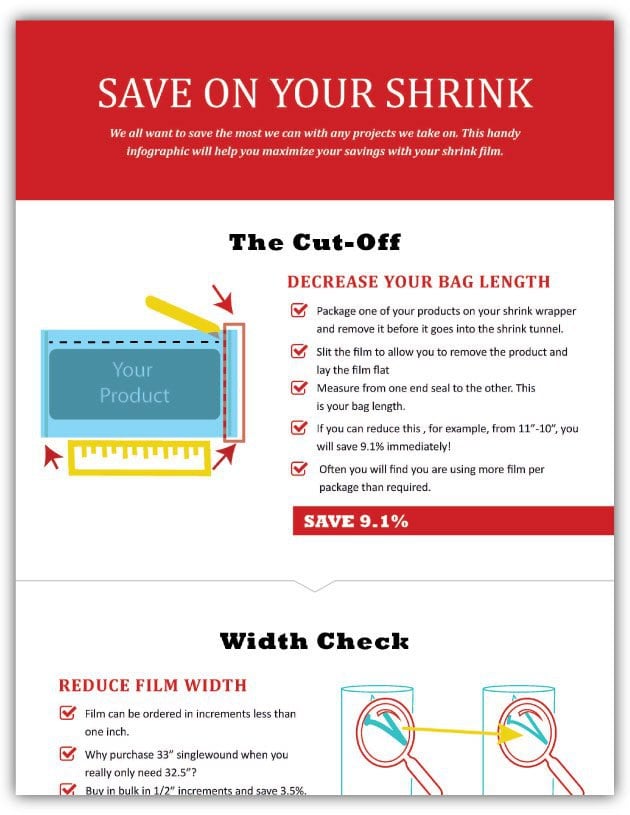 Shrink Film Cheat Sheet
We all want to save the most we can with any projects we take on. This handy infographic will help you maximize your savings with your shrink film. Get it for free when you subscribe to our blog.
Food Packaging | Packaging Materials | Shipping Protection
So, you are looking for a type of film, but you are confused about which type you actually need. While it is not uncommon to confuse stretch film with shrink film, they are not the same material. Stretch film and shrink film are made for very different applications and using one in the wrong application could lead to serious problems. After such a long time in the packaging industry, Industrial Packaging often gets questions about shrink film and stretch film. One of the more common questions about these materials that we receive is: "What is the difference between shrink film and stretch film?" One of these films can be used in a heat tunnel to package products. Doing that with the other could result in a fire. It is important to know the differences between these two materials when trying to source one or the other. In this article, we will explore the differences between both types of film and explain the appropriate applications for each.
Food Packaging | Packaging Design | Packaging Materials
In the wide world of carded packaging, surlyn film is a bit of a rock star. Surlyn film is used primarily in skin packaging applications, which means the film forms around the product and onto a carded substrate such as cardboard or paperboard during the packaging process. It is also used in shrink applications that don't require a backing board. Surlyn seals in products for freshness and eliminates product movement within, often used with trays rather than a backing board for fresh foods, like fish. Here at Industrial Packaging, we have been selling surlyn and skin packaging products for decades. During this time, we learned the best practices for its use in several types of applications. So, what is surlyn film, and how is it used? See where it is an excellent fit for different types of products, from food to car parts, and where it isn't the ideal packaging option. And learn about how to source it for your next packaging project.
Food Packaging | Packaging Design | Packaging Materials
When it comes to MAP or modified atmosphere packaging, there are some very unique dynamics that you do not find in other types of packaging supplies and processes. These elements include specialized equipment, various gasses and metering tools to ensure the right balance of gas. In the article below, we will teach all of the elements required for producing modified atmosphere packaging for your products. Over the last 20 years, we've worked with many clients to set them up to properly produce MAP. Our goal with this article is to help you understand what you need to produce modified atmosphere packaging on your own. Required elements for MAP include gas, machinery and testing equipment.
Environment | Food Packaging | Packaging Design | Packaging Materials
Backup a year and the idea of shrink-wrapping single items of produce such as one orange, apple, or squash may seem laughable. Heading into the end of 2019, the environmental movement was on an absolute tear in pushing companies to abandon single-use plastic, soft plastics, and other plastic items such as shrink films. Fast forward to today, and all that has changed. With the onset of COVID19, reusable bags, cups, containers, and films are fast being abandoned. In their place, single-use plastic alternatives are being used to help combat the spread of the virus. Discover the pros and cons of using shrink film to wrap individual pieces of produce as a form of protective packaging in the age of the coronavirus.