Food Packaging | Supply Chain Services/ Contract Packaging
Industrial Packaging Is The First Packaging Company In The World To Be Pandemic Prepared Certified By AIB International! In addition to the above's most exciting news, we are also the first company in the United States to achieve this certification! When the COVID pandemic hit the USA, we, like many companies, were not ready for the brave new world that had begun to rear its head. With that being said, we wasted no time in the process of adapting to the challenges before us. Our supply chain team, headed by then General Manager and our current Vice President Jarrod DiZazzo, worked quickly to implement the recommended guidelines brought forth by the CDC and the WHO. From the implementation of thermometers and thermal imaging technology to advanced social distancing and sanitization practices, the Industrial Packaging team worked tirelessly to meet the demands of a most unexpected global emergency. With protection being the forefront in our mission of "Protecting People, Products, and Brands throughout the Supply Chain", we had to act quickly while also being extremely careful to ensure that the safety of our customers and employees was at the heart of our efforts. That is why we are extremely excited to announce this huge achievement!
Food Packaging | Packaging Materials
Most of the time, food packaging applications are driven by capitalist endeavors and by profits. However, that is the last thing that comes to mind when reading this heart-warming tale. Recently, the Eastfield Mall's employees took it upon themselves to package meal kits for families in need. The Mall's crew got to work packaging hundreds of meal kits for local family's who were struggling to put food on the table. The meal kits were packaged in cardboard boxes and stacked on pallets prior to being delivered to the Eastfield Mall where the Mall's employees worked hard to pack the trunks of folks finding it hard to make ends meet. With each kit featuring over thirty pounds of food filled with items such as fruits, veggies, milk, eggs, and meat, the Eastfield Mall was able to provide 1,000 family's with the much needed provisions. In this article, we will explore this thanksgiving miracle of food packaging made manifest by the kindness of others in a time where help is needed more than ever.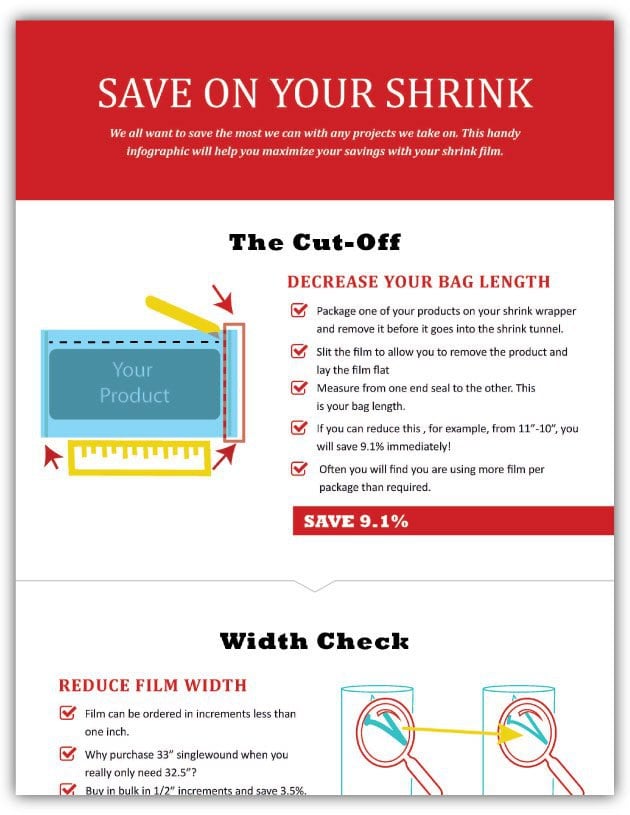 Shrink Film Cheat Sheet
We all want to save the most we can with any projects we take on. This handy infographic will help you maximize your savings with your shrink film. Get it for free when you subscribe to our blog.
Food Packaging | Packaging Materials | The Business of Packaging
There have been many industries hit hard by the pandemic. "Non-essential" businesses of many kinds have had to shut down for weeks, sometimes months on end. And while various different types of businesses have taken a hit during 2020, the restaurant industry was hit particularly hard. Initially, many restaurants were completely shut down. Then various states began staged re-openings across the country. But restrictions and limitations were imposed on the already struggling restaurant industry as it attempted to regain some of the losses that they had accrued. Once back open, most eateries were limited to lower capacities based upon state laws. Even with re-opening opportunities, many dining institutions saw a dramatic decrease in attendance. And while this situation proved quite challenging for this section of the food industry, it was quite another story for others. For example, with many former patrons of restaurants choosing to stay home and cook rather than go out for a night on the town, many supermarkets experienced a massive boost to normal business. Necessities such as food and toiletries in particular flew off store shelves at a rapid pace. And while pre-made or serve-yourself items such as hot-food or salad bars were shut down, pre-packaged foods, particularly frozen foods, ultimately saw a huge boost in sales. This resulted in many supermarkets having to stock up more than usual in an effort to meet the demands of the supply chain. And the story was no different when the pandemic met HEB supermarkets. And while the HEB team was more than happy to work hard to meet the rising demand, they took notice of their fellow food industry professionals in the restaurant scene. And that is when HEB supermarkets stepped up to help out their fellow foodie friends and help them to make ends meet. In this article, we will explore this wonderful story about people helping people and how a kind gesture was able to help some restaurants to stay afloat while they battle COVID.
Equipment | Food Packaging | Investment | Packaging Design
Many food producers are looking for ways to package their food products for various applications such as frozen food, grab-n-go, and pre-made meals. The demand for these types of packaging had been growing steadily for a while. However, with the arrival of COVID19, the market has only skyrocketed. This is because many supermarkets, restaurants, country stores, and other producers and sellers of food products are offering more and more pre-packaged foods. If you have been to the supermarket recently, chances are you have seen a few changes to staples of the shopping experience. For example, most serve-yourself salad bars are no longer "serve yourself". In their place, you will find pre-packaged salads in plastic containers. More and more single items of produce are being shrink-wrapped to prevent the virus from touching the food inside. Many food sellers are now shifting to selling pre-made meals that are then frozen or packaged in film-covered trays. People like you are turning to the idea of purchasing food packaging machinery and packaging their food items themselves, rather than outsourcing the process to contract packaging companies who will do the work for them. This allows you to fully control the process, machinery, materials and every other aspect of the food packaging process. It also allows you to personally ensure the safety of the food items you are selling to your clients. But how much does a food packaging machine cost? What are the different kinds of food packaging machines available? Which one should you buy? Does it make sense for your business? If you are like many other companies, you have a ton of questions. With decades in the food packaging industry, we have been able to help large food manufacturing companies package their food items. As such, we are able to help you choose the right equipment for your food packaging needs and answer any questions that you may have. We're here to help you understand just how much of an investment you'd need to make to start packaging your own food. This article will detail the price, functionality, proper applications, and other valuable information to help you decide if a food packaging machine is right for you.
Food Packaging | Packaging Design | Packaging Materials
As the food packaging industry continues to heat up, many brands are starting to look to ovenable films as packaging solutions. Ovenable films are films that can be used as top seals or bagging for food products. These materials can be placed directly into an oven. The entire package can be cooked to heat the food without removing the food products from the packaging. Chances are you have been shopping around for ovenable food packaging or at least trying to get more information about the different types of ovenable films. Perhaps you are experiencing pain points in relation to using the wrong type of film or packaging for your products and you want to be sure to choose the right material for ovenable foods. When trying to find the right ovenable films, there are a few things you will want to consider: films, heat limitations, cost, and compatibility with your existing packaging machinery. Industrial Packaging has been selling packaging films for many years. We have been at the forefront of knowledge on ovenable films since they first showed up on the market. In this article, we will be exploring the different types of ovenable films currently available and providing you with information about each. By the end of this guide, you will be able to choose the appropriate ovenable film for your food packaging applications.
So, you need to package your food items and you are considering freezing your products. You are aware of the fact that there are multiple types of frozen food packaging, but, you recently heard about IQF or "individually quick frozen" packaging. You want to know what it is, how it works and if it is right for your food packaging applications. Well, fortunately for you, Industrial Packaging has been working with frozen food packaging applications for many years, and, we have all the information about IQF you would possibly want! In the wide world of food packaging, there are many options for preserving foods for extended periods. Everything from traditional and age-old processes such as canning, jarring, and pickling, to salting fish and meats. The preservation of food for storage over extended periods is a classic example of human ingenuity. In the modern world, freezing is perhaps the most popular way to preserve food. When it comes to veggies, not only does freezing preserve the nutritional value of the food, but the flavor is often enhanced by the process (IE: peas and sweet corn). Frozen food gives consumers the ability to keep their chosen goodies for very long periods. When we talk about the cutting edge of technology in frozen food applications, there is perhaps no other greater version of the process than IQF. For those of you who do not know the definition of IQF or "individually quick frozen" here is the meaning to bring you up to speed. IQF is a food freezing tactic that prevents big ice crystals from forming inside of vegetable cells. With IQF, it should be noted that every single piece of produce (literally every pea, corn kernel, etc) is individually frozen to perfection. With IQF, there are no food particles. The result is a final product that is not frozen solid into a brick of ice. Now, there are many different ways to freeze vegetables. Some of these include but are not limited to plate freezing, blast cooling, tunnel freezing, fluid-bed freezing, cryogenics, and dehydro-freezing. As for which method is right for you, well, that depends on the quality you want from your freezing method, depending on factors such as financial limitations and storage dynamics, IQF may or may not be a good choice for your products. This article will take a look at the applications and uses for IQF and help you to decide if it is, in fact, the right form of food freezing for your food packaging needs.