Food Packaging | Packaging Design | Packaging Materials
As the food packaging industry continues to heat up, many brands are starting to look to ovenable films as packaging solutions. Ovenable films are films that can be used as top seals or bagging for food products. These materials can be placed directly into an oven. The entire package can be cooked to heat the food without removing the food products from the packaging. Chances are you have been shopping around for ovenable food packaging or at least trying to get more information about the different types of ovenable films. Perhaps you are experiencing pain points in relation to using the wrong type of film or packaging for your products and you want to be sure to choose the right material for ovenable foods. When trying to find the right ovenable films, there are a few things you will want to consider: films, heat limitations, cost, and compatibility with your existing packaging machinery. Industrial Packaging has been selling packaging films for many years. We have been at the forefront of knowledge on ovenable films since they first showed up on the market. In this article, we will be exploring the different types of ovenable films currently available and providing you with information about each. By the end of this guide, you will be able to choose the appropriate ovenable film for your food packaging applications.
So, you need to package your food items and you are considering freezing your products. You are aware of the fact that there are multiple types of frozen food packaging, but, you recently heard about IQF or "individually quick frozen" packaging. You want to know what it is, how it works and if it is right for your food packaging applications. Well, fortunately for you, Industrial Packaging has been working with frozen food packaging applications for many years, and, we have all the information about IQF you would possibly want! In the wide world of food packaging, there are many options for preserving foods for extended periods. Everything from traditional and age-old processes such as canning, jarring, and pickling, to salting fish and meats. The preservation of food for storage over extended periods is a classic example of human ingenuity. In the modern world, freezing is perhaps the most popular way to preserve food. When it comes to veggies, not only does freezing preserve the nutritional value of the food, but the flavor is often enhanced by the process (IE: peas and sweet corn). Frozen food gives consumers the ability to keep their chosen goodies for very long periods. When we talk about the cutting edge of technology in frozen food applications, there is perhaps no other greater version of the process than IQF. For those of you who do not know the definition of IQF or "individually quick frozen" here is the meaning to bring you up to speed. IQF is a food freezing tactic that prevents big ice crystals from forming inside of vegetable cells. With IQF, it should be noted that every single piece of produce (literally every pea, corn kernel, etc) is individually frozen to perfection. With IQF, there are no food particles. The result is a final product that is not frozen solid into a brick of ice. Now, there are many different ways to freeze vegetables. Some of these include but are not limited to plate freezing, blast cooling, tunnel freezing, fluid-bed freezing, cryogenics, and dehydro-freezing. As for which method is right for you, well, that depends on the quality you want from your freezing method, depending on factors such as financial limitations and storage dynamics, IQF may or may not be a good choice for your products. This article will take a look at the applications and uses for IQF and help you to decide if it is, in fact, the right form of food freezing for your food packaging needs.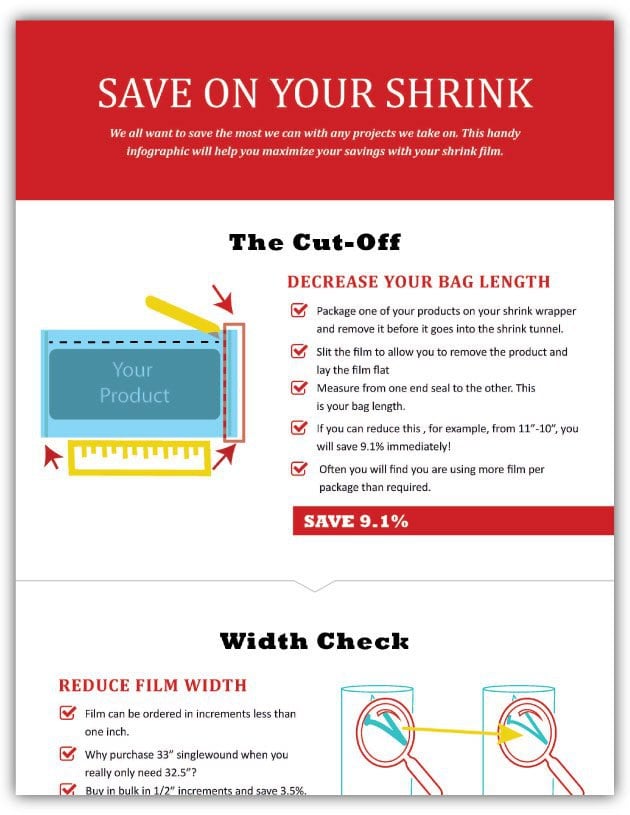 Shrink Film Cheat Sheet
We all want to save the most we can with any projects we take on. This handy infographic will help you maximize your savings with your shrink film. Get it for free when you subscribe to our blog.
Environment | Food Packaging | Packaging Materials
My guess is that you probably run some type of food packaging business. You have diligently been doing research on the various types of packaging that is appropriate for your food to be packaged in. Regardless of what you're packaging, clearly, you're here because you are either considering flexible pouches or paperboard boxes. OR, maybe you're trying to choose between the two. Industrial Packaging has been selling packaging supplies for decades. We have sold both boxes and pouches for the applications for which they are appropriate. You know that you can package your food products in either container. Both would be a viable option that would appropriately contain your items. But, you are hoping to dig deeper down and find out the subtle differences that make one or the other the BEST choice for your specific needs. Well, luckily for you, in this article, we are going to explain the differences as well as the pros and cons of each of these containers and help you to make the right choice for your packaging line!
Food Packaging | Packaging Design | Packaging Materials
In the expansive universe of snack foods, there are many different packages available and used by thousands of snack food companies. Even for a seasoned veteran in the industry, it's clear that there is a vast sea of options for packaging snack foods. It may feel almost impossible to understand every option available to snack food producers today. With a little homework, you can quickly educate yourself on the most popular packaging supplies for snacks in our modern world. From rigid forms of snack food packaging like paperboard tubes and cardboard boxes to alternatives like flexible pouches and shrink bags, there is a diverse abundance of packaging materials. As a snack food packaging specialist, Industrial Packaging knows this niche market inside and out. Some of our largest customers exclusively sell snack foods. We have helped them run high-quality supply chains with ease and consistency for many years. In this article, we will discuss some of the best types of snack food packaging, their applications, and their pros and cons. With this information, you will be able to choose the correct packaging for your snack foods.
Food Packaging | Packaging Materials | Shipping Protection | Warehousing
You know that strapping can be used to bundle products together, reinforce cartons, and to secure items to pallets for shipment. These strapping materials come in a variety of options, but how do you know which is best for your application? Your options can be filtered down into three primary categories: polypropylene(PP), polyester(PET), and steel. Strapping materials are used primarily for bundling products together and securing pallet loads during transport and storage. When used for palletizing, it is often complemented with the additional security of stretch wrap. Being a market leader in supplying strapping materials to companies of all sizes, we've been able to help many brands overcome the challenges of securing your products from shipment to shelf. You might find yourself with a lot of questions when trying to find the best strapping material for you. Which type of strapping material is ideal for your application, and how does it function? What is the difference between virgin and recycled strapping? Find out how these materials work and which will be the best fit to optimize the security and unitizing of your products..
Food Packaging | Packaging Design | Packaging Materials
Are you frustrated with not being able to understand the differences between skin packaging and blister packaging? Don't worry, it happens to a lot of people. Maybe you're a purchasing agent needing to make the right decision on packaging materials. Maybe you're a small business owner getting ready to launch a new food product. Regardless of where you're at in this process, we're going to help you choose the right packaging for your products. While blister packaging and skin packaging share some similarities in aesthetics and materials, they are best suited for different applications. Skin packaging is commonly used to package fish (such as smoked salmon fillets). Blister packs are more likely to house the fishing lure used to catch the fish! Industrial Packaging has been selling blister packaging and skin packaging for many years. We talk to people on a daily basis who are searching for the right type of packaging and we help guide them to make the best decision for their business. In this article, we will explore the differences between skin packs and blister packs and take a look at the appropriate applications for each type of packaging.