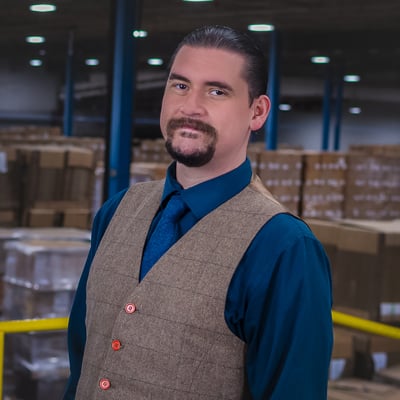 The Top 5 Types Of Seafood Packaging
Clams! Lobster! Haddock! Salmon! Mussels! Geoduck! Oysters! Shrimp! The list goes on and on.
There is a whole universe of seafood to eat. There is an equally large selection of packaging materials to package your succulent fruits of the sea.
As a seafood processing and manufacturing company, you are looking for the appropriate packaging materials to package your products.
But, you don't want just any old packaging materials. You want to give your customers the most beneficial packaging currently on the market.
You have been trying to find the top seafood packaging materials but are not sure where to start. You are looking for this information but have been having trouble finding it.
Well, fortunately for you, today's catch of the day is the top 5 types of seafood packaging!
With multiple generations in the food packaging industry, Industrial Packaging knows the most popular types of seafood packaging currently available.
This article will cover the top 5 types of seafood packaging. After reading this article, you will be able to choose the proper seafood packaging for your business!
What Are The Top 5 Types Of Seafood Packaging?
Believe it or not, clamshells are not in the top 5 types of seafood packaging! And while that is undoubtedly ironic, I think you will agree that the materials presented below are some of your best choices when packaging quality seafood products.
1. Skin Packaging
Skin packs (AKA skin packaging), are a collection of carded packaging materials commonly used to package seafood such as fish fillets. With skin packs, a slim film of transparent plastic covers the seafood product and a paperboard backer is then applied.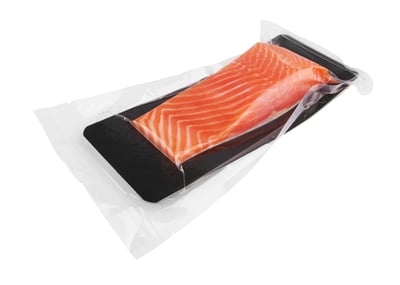 The backer may also feature a heat-sealable coating. The plastic formulation (LDPE, PVC, ionomer, and others) is made soft through the use of heat. It is placed over the product on the backer. Generally speaking, vacuum sealing is often used in tandem with skin packaging to ensure a tight fit, with the film bonding to the heat-seal coating on the paperboard.
Skin packs feature a similar aesthetic and texture to blister packs. One notable difference between these types of packaging is that with skin packs, the plastic covering the product takes the shape of the product rather than being pre-formed before application (as is the case with blister packs).
The most common products sold in skin packs include fish fillets, pork chops, chicken breast, beef fillets, tools, hardware, and various other types of food and consumer goods.
2. Flexible Pouches
Flexible pouches (also known as stand-up pouches) are single-use or resealable bags. Flexible pouches are most commonly made out of foils, various plastic formulations, and sometimes, paper.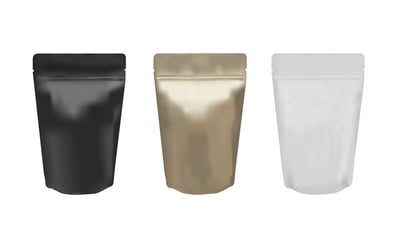 Stand-up pouches are often used in the packaging of frozen seafood (shrimp, lobster claws, clams, mussels, scallops, etc.), snack food, coffee, granola, industrial liquids and powders, and various other consumer goods.
Flexible pouches are trendy today. This is mainly because many of them are resealable, environmentally friendly, and less expensive than many of the other most popular packaging materials.
Flexible pouch's widespread adoption is also linked to the fact that they feature a significantly lower carbon footprint than rigid packaging alternatives. Additionally, they take up much less space in our landfills than many other traditional packaging supplies.
---
Need Help With Food Packaging?
---
3. Polypropylene Strapping Material
Polypropylene (also known simply as "PP") strapping material is one of the most ubiquitous kinds of strapping available on the market today. PP is available in a wide selection of widths, tensile strengths, and core sizes. Your application will dictate which width, strength, and core size is best for your packaging requirements.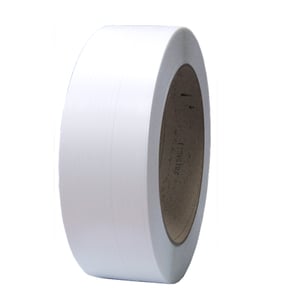 This strapping material may be applied manually with a tensioner (also known as a hand strapper) or via semi or completely automated strapping machinery.
The most common applications for polypropylene strapping include bundling products and securing pallets of food containers including various types of frozen seafood. Other items commonly packaged with strapping include newspapers, mailers, fabrics, hay bails, and appliances.
4. Individually quick frozen (IQF)
Individually quick frozen (or IQF) is the packaging process in which smaller pieces of food are frozen individually before being packaged.
The main advantage of using IQF to produce frozen food is that the time it takes to freeze the product is much less when compared to other freezing techniques.
As with all things, your mileage may vary. Your specific freezing time will depend on the type of IQF machinery you are using and the product you are packaging.
IQF's high-speed freezing capabilities will prevent larger ice crystals in the cells of the packaged product. Large ice crystals will destroy the membrane of the cell at the molecular level.
IQF allows for the product to keep a superior shape, color, scent, and flavor profile after defrosting when compared to other types of freezing processes.
5. Cans
Canning is a long-trusted practice and tradition within the seafood industry. Crab, salmon, tuna, clams, herring, sardines, and many other types of seafood are canned after being processed.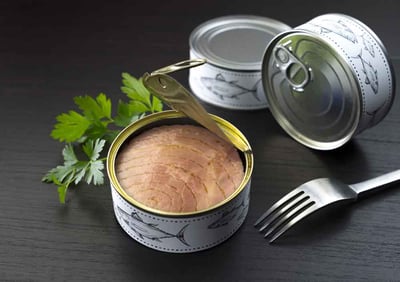 With canning, a metal can (most often made of tin) is sealed with a metal top and then heated to prevent air inside of the can. This process results in the preservation of the food inside the can.
You can store commercially canned seafood, such as tuna fish, for up to five years after the product has been canned and shipped.
While canning has been popular for decades, it is more costly than flexible packaging alternatives such as flexible pouches. And, as metal is one of the heaviest packaging materials today, it boasts one of the highest carbon footprints of the top seafood packaging materials mentioned in this list.
Not Sure Which Type Of Seafood Packaging Is Right For You?
After reading this article, you may have everything you need to choose the best type of seafood packaging materials for your products.
On the other hand, you may not know which type of material mentioned above is the best fit for your unique seafood packaging applications.
Would you like to get some guidance on which type of seafood packaging makes the most sense for your business? Suppose you would like some help in choosing the appropriate seafood packaging materials.
In that case, you will want to click the link below and visit our food packaging section. Here you will learn more about how we can help you package your seafood and source suitable materials for your food packaging requirements.
About Nathan Dube
As the Digital Marketing Specialist at Industrial Packaging, I am honored to create content for such a phenomenal company and work with one of the greatest teams in the Packaging Industry. Whether creating a video, writing blog posts or generating other pieces of content and multimedia, I am always excited to help educate and inspire our prospects and clients to reach their highest potential in regards to their packaging processes and needs.