Fulfillment | Packaging Materials | The Business of Packaging
If you have been tasked with buying shrink film for your company, chances are, you have noticed that prices for many films and plastic packaging supplies have been slowly creeping up since at least September of last year. You may have also noticed that any resin-based plastic packaging supplies are also increasing in price as time goes on. You are probably wondering, what is the cause of these price increases? When can we expect them to stop? Should I stock up on supplies now to save money in the long run? These are but a few of the questions we have been getting from our customers, and we expect to continue receiving such inquiries. To provide some knowledge and peace of mind, we have put this article together to help you better understand what is going on. It is Industrial Packaging's stance that being open and forthright with this information is necessary because it impacts our customers. We believe that we have a requirement to be upfront with any type of news like this in order to maintain the trust we've built with our customers. With the rise of global supply chain disruptions due to customer demand, the plastic resin market is preparing for multiple cost increases as we head into March. Additional price increases for various resin-based plastic packaging supplies are expected to occur over the next few months. This article will provide some insight into the events that have led to these materials' increased prices.
Packaging Design | Packaging Materials
In our digitally connected world, we go through quite a lot of corrugated boxes. Just Amazon alone ships millions of packages to customers all over the world. Do you have empty cardboard boxes sitting unused in your house somewhere? Yeah, me too! You are probably wondering what to do with them, right? I mean, sure you could toss them in the recycling bin and hope that they actually get recycled. But, with contamination issues in single-stream recycling, how do you know if they are really getting recycled? Single stream recycling is the most widespread recycling platform in the USA. For consumers who use it, here is how it works. Consumers are given two bins from their waste management vendor. The vendor drops off one bin for trash and one bin for recycling. All recyclable materials are tossed into the recycling bin. The waste management company picks up the bin and transports the materials. They deliver the materials to a warehouse. In the warehouse, the materials are sorted for recycling. This is where contamination becomes an issue. Any materials that are contaminated with food particles, liquids, or other contaminants are sent to a landfill. Many consumers do not properly clean and dry the materials before putting them in the recycling bin. When this happens, any contaminated materials end up in a landfill. When it comes to contamination issues, you could always just throw these materials in the trash. But, do you really want to do that? Corrugated cardboard that ends up in the landfill takes up a lot of space. It produces tons of methane, which is one of the most destructive greenhouse gasses known today. Wouldn't it be cool if there was something else that you could do with all those empty boxes? Something besides just throwing them away? What if there was a way to reuse the boxes? Perhaps there is another way to recycle them with the assurance that they will be recycled. What if you could turn all those boxes into something useful, or even, a work of art? Are there ways that we can be putting these empty containers to better use? Well, the short answer is YES! From charitable causes like Give Back Box, to artisanal expressions of high art and pop-culture, there are many different things you can do to reuse and recycle all those empty cardboard boxes. With over sixty-five years in the packaging industry, Industrial Packaging is no stranger to corrugated boxes. We know the complications in recycling that comes with this type of packaging. But, we also have some pretty awesome ways for you to repurpose those boxes. We also know about the various sustainable alternatives to corrugated boxes. These can help make your packaging more environmentally friendly. In this article, we will explore some of the charitable and creative ways that you can reduce, reuse, and recycle corrugated boxes. Additionally, we provide an exploration of some of the sustainable alternatives to cardboard boxes.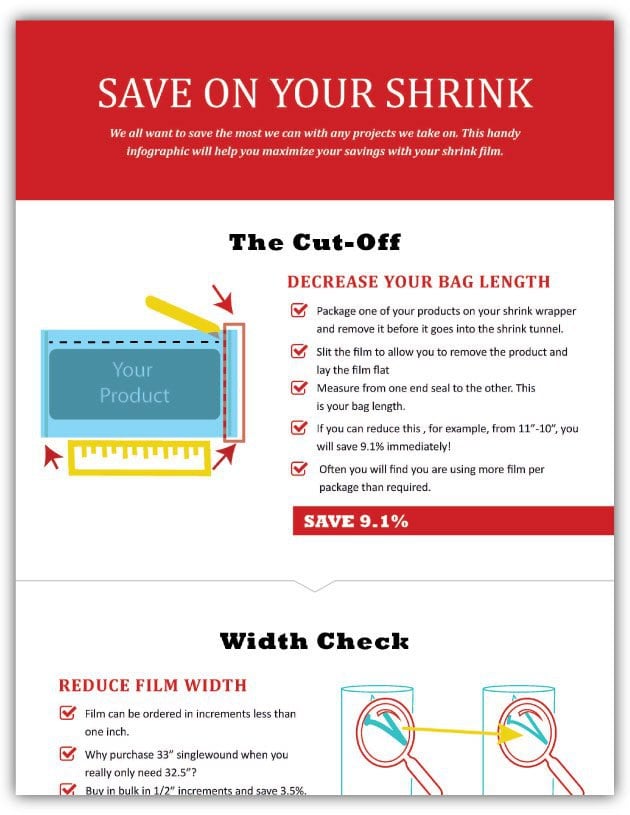 Shrink Film Cheat Sheet
We all want to save the most we can with any projects we take on. This handy infographic will help you maximize your savings with your shrink film. Get it for free when you subscribe to our blog.
Equipment | Packaging Materials
So, you have been tasked with purchasing shrink film for your company's packaging needs. You went to Google, searched for shrink film and you found two common types of this material. Single-wound shrink film and centerfold shrink film. Now what? Which type of shrink film is right for your products? Is one or the other more appropriate for your packaging line? If so, how do you identify which type of shrink film is right for you? Sure, you could just order a roll of each and test them on your products. Or, you could roll the dice on one or the other and hope it works out. But, wouldn't you rather choose the correct shrink film for your products? Then you will have to understand the differences between these packaging materials. Industrial Packaging has been selling shrink films for decades while providing our customers with quality information to make proper buying decisions. When it comes to your shrink film needs, you will be able to find the resources you need to source your films here. In this article, we will help you to figure out if single-wound or centerfold shrink film is right for you.
Equipment | Packaging Materials
So, you are sitting at your desk. The final quotes from the potential vendors you have sent an RFP to are staring you in the face. One of them has the best price. One of them has superior service options. And yet another option has benefits the other two do not. You are expected to make a decision within the next few days. You have everything you need to proceed with a purchase. But, you are nervous. It's not because you are lacking any information that you need. You know in your heart which brand makes the most sense based on the quotes before you. The only problem is, you have not seen these machines run your product. You really don't know how your product will fare with any of this equipment. Sure, the video demonstrations all looked great. One of them even featured a product similar to yours. However, you still have not seen this process in action for your own products. And so, you wonder. Should you get a test run from these vendors? Do they even offer that as an option? I get it. I'd be stressed too. That being said, just relax. There is good news! Industrial Packaging can test your products on the type of machinery that you are buying. After that, you will know if your products are a good fit for this type of packaging or not. While we can't speak for the other vendors you are considering, we can promise you that Industrial Packaging can get your products tested on the type of machinery that you are buying. After that, you will know if your products are a good fit for this type of packaging machinery or not. In this article, we will discuss how to go about getting a test run of your products.
Environment | Packaging Design | Packaging Materials
Are you a seasoned veteran in packaging or a start-up getting ready to package your products? Either way, finding the appropriate packaging for your products, is essential. Today, there are thousands of packaging materials to choose from. You have rigid packaging, flexible packaging, and specialized options in between. There are countless packaging supplies to consider. You will likely have more than a few reasons for looking into using shrink film (also known as shrink wrap). There are many reasons why you would want to choose shrink wrap. Shrink wrap (which is different from stretch film) is commonly chosen over other materials. Industrial Packaging has sold hundreds of thousands of rolls of film. We've coached thousands of happy customers on how to select the right type of film. It may seem like a simple process to buy rolls of shrink wrap. But, there is a lot to consider before choosing shrink wrap as your packaging material. This article will help you understand why you would want to package your products in shrink film. First, we'll dive into three primary considerations. These are things you need to be thinking about when it comes to using shrink wrap. Then, we'll talk about the pros and cons and where it's best to buy this material.
Environment | Packaging Design | Packaging Materials
Various trends in the realm of packaging are expected to be hot-button topics in the new year. One of these topics is sustainable, recyclable, and environmentally friendly packaging materials. There has been a growing demand from consumers worldwide for companies to seriously consider the shift from single-use plastics to what many consider to be more environmentally friendly materials. But, as many consumers are slowly finding out, what is actually "environmentally friendly" and what is not can often be confused. This is the result of various forms of green-washing and carefully crafted corporate marketing materials. So, how do you know this article itself is not in fact a green-washing attempt? Well, for one thing, we are going to show you how compostable packaging materials can be properly implemented. We will show you how they can be earth-friendly alternatives while also providing other sustainable packaging options for those you who are unable compost properly. In the end, you can decide for yourself. One of these future potential packaging materials is compostable items such as biodegradable shrink films, biodegradable flexible pouches, and various other types of bio-plastic materials, which are often made at least in part, from plants. This article will help you identify when compostable packaging materials may make sense for you and those situations in which traditional packaging materials are the more environmentally-friendly choice.