Food Packaging | Packaging Materials
Most of the time, food packaging applications are driven by capitalist endeavors and by profits. However, that is the last thing that comes to mind when reading this heart-warming tale. Recently, the Eastfield Mall's employees took it upon themselves to package meal kits for families in need. The Mall's crew got to work packaging hundreds of meal kits for local family's who were struggling to put food on the table. The meal kits were packaged in cardboard boxes and stacked on pallets prior to being delivered to the Eastfield Mall where the Mall's employees worked hard to pack the trunks of folks finding it hard to make ends meet. With each kit featuring over thirty pounds of food filled with items such as fruits, veggies, milk, eggs, and meat, the Eastfield Mall was able to provide 1,000 family's with the much needed provisions. In this article, we will explore this thanksgiving miracle of food packaging made manifest by the kindness of others in a time where help is needed more than ever.
Environment | Packaging Materials
When it comes to packaging materials, plastic is so common. It is found in practically every packaging application you could possibly imagine. There are literally billions of tons of plastic in our world today. There are even millions of pounds of new plastic being produced every year! And while some companies such as Coca-Cola have stood their ground in defense of using plastic, many companies are being told by their customers that plastic needs to be phased out to make way for more environmentally friendly options. You are probably here because you are researching plastic packaging alternatives. Maybe you are the owner of a new start-up, or perhaps you have been in business for decades and are trying to meet the environmental demands of your consumer base. Regardless of what factors set your search in motion, you know that you need to find potential replacements for plastic packaging. With over 60 years in the packaging industry, Industrial Packaging has seen thousands of different types of materials come and go. We've helped countless businesses optimize their packaging design when making the transition to environmentally friendly alternative packaging materials. In this article, we will take a look at a few different varieties of sustainable, recyclable, and environmentally friendly plastic packaging alternatives that are sure to draw the attention of your customers and prospects alike!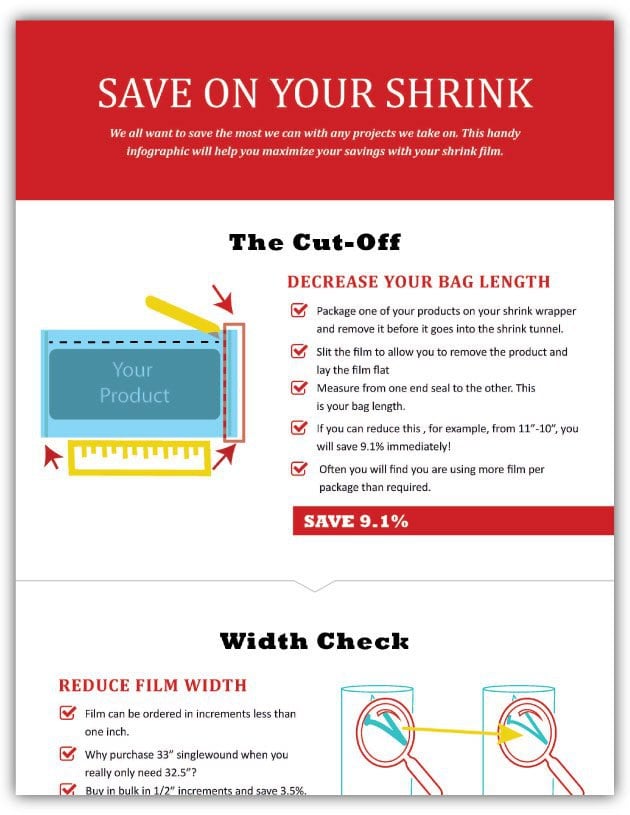 Shrink Film Cheat Sheet
We all want to save the most we can with any projects we take on. This handy infographic will help you maximize your savings with your shrink film. Get it for free when you subscribe to our blog.
Packaging Design | Packaging Materials
Have you ever bought a product, only to get home and find that opening the packaging is not only complicated, it is darn near impossible? Well, you are not alone! Wrap rage is a common reaction experienced by millions of people after buying a new product to enjoy only to find that the packaging is overly complicated to remove. At the end of the day, the customer ultimately ends up with a flustered sense of agitation. It is a surprisingly common phenomena despite the fact that many people have called upon companies to stop packaging their products in hard to remove materials. And yet, many companies continue to package their products in complicated packaging supplies that require scissors or more robust tools to open the package. In a world where the unboxing experience is considered a "make or break" element of the customer experience, this should not be the status quo. However, it is an on-going problem for many consumers to this day. With over 60 years in the packaging industry, we have plenty of experience helping companies optimize their packaging design process to protect and preserve their product, to entice the eyes of buyers, and yes, even to help negate wrap rage.
Food Packaging | Packaging Materials | The Business of Packaging
There have been many industries hit hard by the pandemic. "Non-essential" businesses of many kinds have had to shut down for weeks, sometimes months on end. And while various different types of businesses have taken a hit during 2020, the restaurant industry was hit particularly hard. Initially, many restaurants were completely shut down. Then various states began staged re-openings across the country. But restrictions and limitations were imposed on the already struggling restaurant industry as it attempted to regain some of the losses that they had accrued. Once back open, most eateries were limited to lower capacities based upon state laws. Even with re-opening opportunities, many dining institutions saw a dramatic decrease in attendance. And while this situation proved quite challenging for this section of the food industry, it was quite another story for others. For example, with many former patrons of restaurants choosing to stay home and cook rather than go out for a night on the town, many supermarkets experienced a massive boost to normal business. Necessities such as food and toiletries in particular flew off store shelves at a rapid pace. And while pre-made or serve-yourself items such as hot-food or salad bars were shut down, pre-packaged foods, particularly frozen foods, ultimately saw a huge boost in sales. This resulted in many supermarkets having to stock up more than usual in an effort to meet the demands of the supply chain. And the story was no different when the pandemic met HEB supermarkets. And while the HEB team was more than happy to work hard to meet the rising demand, they took notice of their fellow food industry professionals in the restaurant scene. And that is when HEB supermarkets stepped up to help out their fellow foodie friends and help them to make ends meet. In this article, we will explore this wonderful story about people helping people and how a kind gesture was able to help some restaurants to stay afloat while they battle COVID.
If your business has a packaging line or a shipping department, you probably go through a lot of stretch wrap (also known as stretch film). If you are starting a new business and are preparing to build out your packaging line and a shipping department, you will be using stretch film when you are up and running. One of the most common questions we get from start-up businesses, and even some seasoned veterans is, what is the difference between hand stretch film and machine stretch wrap? If you are using exclusively human labor for stretch wrapping, you will need to use hand stretch wrap. If, on the other hand, you want to automate or semi-automate the process, you will need to run some form of stretch wrapper, which requires machine stretch film. Industrial Packaging has helped thousands of clients identify the appropriate type of stretch film for their packaging and palletizing needs. This article will explore the differences between hand stretch film and machine stretch wrap (also called machine stretch film) and help you choose the right option for your packaging line and palletizing operations.
Environment | Packaging Design | Packaging Materials | The Business of Packaging
As the tumultuous and dare I say downright disruptive year of 2020 winds to a close, the packaging industry is looking at some very interesting trends as we head towards the new year. While there are some hot-button trends that remain from 2020 as we head into the first quarter of 2021 (such as sustainability and environmentally minded packaging materials), there are some huge new packaging opportunities that have come out of the pandemic. For example, the video game industry is experiencing a meteoric expansion of growth as gamers have spent more time at home playing video games and many new gamers are just beginning to experiment with the joy of gaming to pass the time while in quarantine or semi-mandated stay at home orders. More gaming = more opportunities for video game packaging applications. Then, we have the ever-growing expansion of eCommerce purchasing. Purchasing online was already steadily rising prior to the arrival of this pandemic. But it has only grown exponentially more than expected as a byproduct of the virus. Food packaging (particularly frozen food packaging) has also seen a massive growth spurt. More consumers are buying larger quantities of groceries either in person or via online driven delivery services. It's a lot to keep up with. In this article, we will take a deep dive into the top packaging trends for 2021 so that you are set up to succeed in the new year.