Fulfillment | Packaging Materials | The Business of Packaging
If you have been tasked with buying shrink film for your company, chances are, you have noticed that prices for many films and plastic packaging supplies have been slowly creeping up since at least September of last year. You may have also noticed that any resin-based plastic packaging supplies are also increasing in price as time goes on. You are probably wondering, what is the cause of these price increases? When can we expect them to stop? Should I stock up on supplies now to save money in the long run? These are but a few of the questions we have been getting from our customers, and we expect to continue receiving such inquiries. To provide some knowledge and peace of mind, we have put this article together to help you better understand what is going on. It is Industrial Packaging's stance that being open and forthright with this information is necessary because it impacts our customers. We believe that we have a requirement to be upfront with any type of news like this in order to maintain the trust we've built with our customers. With the rise of global supply chain disruptions due to customer demand, the plastic resin market is preparing for multiple cost increases as we head into March. Additional price increases for various resin-based plastic packaging supplies are expected to occur over the next few months. This article will provide some insight into the events that have led to these materials' increased prices.
Fulfillment | Investment | The Business of Packaging
So, you are beginning the journey of seeking out a contract packaging company because you're considering outsourcing your supply chain needs. In this situation, it is normal to have a lot of questions about the process. But, for most people, the number one question is, how much does it cost? This is a very good question. However, most businesses are hoping to get a universal ballpark figure right off the bat. That's totally understandable - you want to have this information to figure out if this is something you can afford. You want to know if the cost justifies the investment. Many buyers go to the internet and punch in some variant of that question. They hope that the information will be front and center. After clicking through a host of articles on Google, many buyers get frustrated. Most of the articles and other content you'll find does not usually have this information. The reason for this is because the answer is extremely case sensitive. The cost for contract packaging is going to be very different from one company to the next. The reason for this is because your costs relate to your labor force, packaging machinery, packaging materials, warehousing space, logistics, and the other variables that change from one company to the next. The total cost for a contract packaging agreement for you, is not going to look anything like the one that is appropriate for your competitors. Unless of course, all the variables above are nearly identical for each company, of which, they rarely are. With all of that in mind, it is important to understand one thing. There is an answer to your question and it can be provided by a contract packaging company. But, they will need to analyze your unique requirements to produce a close approximation of the total cost. Industrial Packaging has done this kind of analytical research for countless companies. We can do this for your company as well if contract packaging ends up becoming the best option for your company. In this article, we will explain the elements that go into calculating an estimate for contract packaging. We will explore the different elements we need to analyze before we can answer the question, how much does it cost?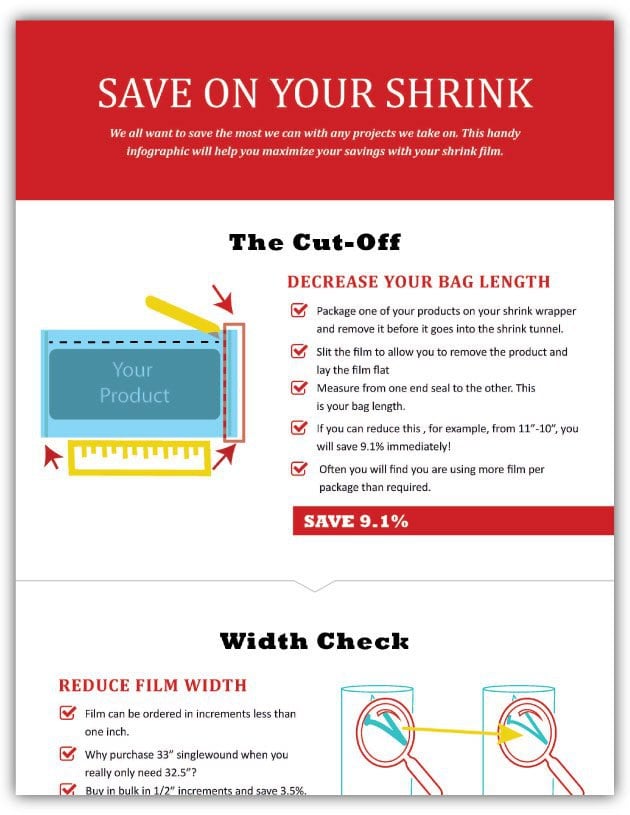 Shrink Film Cheat Sheet
We all want to save the most we can with any projects we take on. This handy infographic will help you maximize your savings with your shrink film. Get it for free when you subscribe to our blog.
Equipment | Investment | The Business of Packaging
When you buy packaging machinery, it can be tempting to try and buy the machinery with the lowest price tag. But, this kind of practice can often lead to spending more money. How is this possible? Four words. Total cost of ownership. The TCO (or total cost of ownership) is the full price you pay for a piece of machinery. This price includes all the associated costs. For example things like materials, parts, and labor all affect the total cost you'll pay. A more affordable machine that has unforeseen extra costs can be more expensive in the end. Having helped many clients buy packaging machinery, Industrial packaging is uniquely situated to assist you in buying the right machine for your products and packaging line. In this article, we will teach you how to calculate the total cost of ownership so that you can compare these costs directly - versus just the sticker pricing. This will prepare you to make the best buying decision that you can.
The year 2020 has been like no other. Who knew that our world would be turned upside due to COVID-19? It has been surreal, with nightly news reports consisting of tallies of deaths worldwide, hospitals overflowing with patients, and even temporary morgues constructed to help manage the crisis. A worldwide pandemic.. it was almost unimaginable; a black swan. A black swan is a term popularized by Nassim Nicholas Taleb, a renowned essayist. According to Taleb, "a black swan is an unpredictable event that is beyond what is normally expected of a situation and has potentially severe consequences." Nurses and doctors quickly more noticeably became our heroes. People were asked to stay at home. Schools were closed, grocery store shelves emptied, and people began to hoard paper towels, sanitizers, and even toilet paper. Essential workers were asked to step up. Many businesses started to suffer. Would they be able to meet their customers' demands, would their supply chain stay intact, and would they be able to keep their employees safe? Would they be able to navigate through this rare and unforeseen event gracefully? In this article, we will use a story of our own experience here at Industrial Packaging in dealing with a black swan event in our facility and provide you with actionable items that will allow you to do the same, should you find yourself in a similar position.
Food Packaging | Packaging Materials | The Business of Packaging
There have been many industries hit hard by the pandemic. "Non-essential" businesses of many kinds have had to shut down for weeks, sometimes months on end. And while various different types of businesses have taken a hit during 2020, the restaurant industry was hit particularly hard. Initially, many restaurants were completely shut down. Then various states began staged re-openings across the country. But restrictions and limitations were imposed on the already struggling restaurant industry as it attempted to regain some of the losses that they had accrued. Once back open, most eateries were limited to lower capacities based upon state laws. Even with re-opening opportunities, many dining institutions saw a dramatic decrease in attendance. And while this situation proved quite challenging for this section of the food industry, it was quite another story for others. For example, with many former patrons of restaurants choosing to stay home and cook rather than go out for a night on the town, many supermarkets experienced a massive boost to normal business. Necessities such as food and toiletries in particular flew off store shelves at a rapid pace. And while pre-made or serve-yourself items such as hot-food or salad bars were shut down, pre-packaged foods, particularly frozen foods, ultimately saw a huge boost in sales. This resulted in many supermarkets having to stock up more than usual in an effort to meet the demands of the supply chain. And the story was no different when the pandemic met HEB supermarkets. And while the HEB team was more than happy to work hard to meet the rising demand, they took notice of their fellow food industry professionals in the restaurant scene. And that is when HEB supermarkets stepped up to help out their fellow foodie friends and help them to make ends meet. In this article, we will explore this wonderful story about people helping people and how a kind gesture was able to help some restaurants to stay afloat while they battle COVID.
Environment | Packaging Design | Packaging Materials | The Business of Packaging
As the tumultuous and dare I say downright disruptive year of 2020 winds to a close, the packaging industry is looking at some very interesting trends as we head towards the new year. While there are some hot-button trends that remain from 2020 as we head into the first quarter of 2021 (such as sustainability and environmentally minded packaging materials), there are some huge new packaging opportunities that have come out of the pandemic. For example, the video game industry is experiencing a meteoric expansion of growth as gamers have spent more time at home playing video games and many new gamers are just beginning to experiment with the joy of gaming to pass the time while in quarantine or semi-mandated stay at home orders. More gaming = more opportunities for video game packaging applications. Then, we have the ever-growing expansion of eCommerce purchasing. Purchasing online was already steadily rising prior to the arrival of this pandemic. But it has only grown exponentially more than expected as a byproduct of the virus. Food packaging (particularly frozen food packaging) has also seen a massive growth spurt. More consumers are buying larger quantities of groceries either in person or via online driven delivery services. It's a lot to keep up with. In this article, we will take a deep dive into the top packaging trends for 2021 so that you are set up to succeed in the new year.