The year 2020 has been like no other. Who knew that our world would be turned upside due to COVID-19? It has been surreal, with nightly news reports consisting of tallies of deaths worldwide, hospitals overflowing with patients, and even temporary morgues constructed to help manage the crisis. A worldwide pandemic.. it was almost unimaginable; a black swan. A black swan is a term popularized by Nassim Nicholas Taleb, a renowned essayist. According to Taleb, "a black swan is an unpredictable event that is beyond what is normally expected of a situation and has potentially severe consequences." Nurses and doctors quickly more noticeably became our heroes. People were asked to stay at home. Schools were closed, grocery store shelves emptied, and people began to hoard paper towels, sanitizers, and even toilet paper. Essential workers were asked to step up. Many businesses started to suffer. Would they be able to meet their customers' demands, would their supply chain stay intact, and would they be able to keep their employees safe? Would they be able to navigate through this rare and unforeseen event gracefully? In this article, we will use a story of our own experience here at Industrial Packaging in dealing with a black swan event in our facility and provide you with actionable items that will allow you to do the same, should you find yourself in a similar position.
Food Packaging | Packaging Materials | The Business of Packaging
There have been many industries hit hard by the pandemic. "Non-essential" businesses of many kinds have had to shut down for weeks, sometimes months on end. And while various different types of businesses have taken a hit during 2020, the restaurant industry was hit particularly hard. Initially, many restaurants were completely shut down. Then various states began staged re-openings across the country. But restrictions and limitations were imposed on the already struggling restaurant industry as it attempted to regain some of the losses that they had accrued. Once back open, most eateries were limited to lower capacities based upon state laws. Even with re-opening opportunities, many dining institutions saw a dramatic decrease in attendance. And while this situation proved quite challenging for this section of the food industry, it was quite another story for others. For example, with many former patrons of restaurants choosing to stay home and cook rather than go out for a night on the town, many supermarkets experienced a massive boost to normal business. Necessities such as food and toiletries in particular flew off store shelves at a rapid pace. And while pre-made or serve-yourself items such as hot-food or salad bars were shut down, pre-packaged foods, particularly frozen foods, ultimately saw a huge boost in sales. This resulted in many supermarkets having to stock up more than usual in an effort to meet the demands of the supply chain. And the story was no different when the pandemic met HEB supermarkets. And while the HEB team was more than happy to work hard to meet the rising demand, they took notice of their fellow food industry professionals in the restaurant scene. And that is when HEB supermarkets stepped up to help out their fellow foodie friends and help them to make ends meet. In this article, we will explore this wonderful story about people helping people and how a kind gesture was able to help some restaurants to stay afloat while they battle COVID.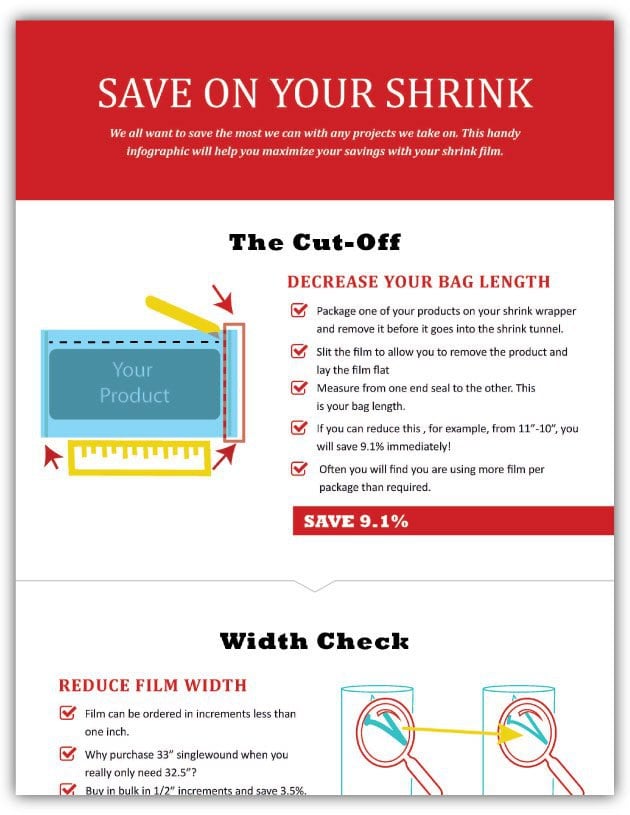 Shrink Film Cheat Sheet
We all want to save the most we can with any projects we take on. This handy infographic will help you maximize your savings with your shrink film. Get it for free when you subscribe to our blog.
Environment | Packaging Design | Packaging Materials | The Business of Packaging
As the tumultuous and dare I say downright disruptive year of 2020 winds to a close, the packaging industry is looking at some very interesting trends as we head towards the new year. While there are some hot-button trends that remain from 2020 as we head into the first quarter of 2021 (such as sustainability and environmentally minded packaging materials), there are some huge new packaging opportunities that have come out of the pandemic. For example, the video game industry is experiencing a meteoric expansion of growth as gamers have spent more time at home playing video games and many new gamers are just beginning to experiment with the joy of gaming to pass the time while in quarantine or semi-mandated stay at home orders. More gaming = more opportunities for video game packaging applications. Then, we have the ever-growing expansion of eCommerce purchasing. Purchasing online was already steadily rising prior to the arrival of this pandemic. But it has only grown exponentially more than expected as a byproduct of the virus. Food packaging (particularly frozen food packaging) has also seen a massive growth spurt. More consumers are buying larger quantities of groceries either in person or via online driven delivery services. It's a lot to keep up with. In this article, we will take a deep dive into the top packaging trends for 2021 so that you are set up to succeed in the new year.
Equipment | Fulfillment | The Business of Packaging
On the day of installing a pallet wrapper in your warehouse, a lot is going on. Old machinery needs to be shut down, decommissioned, and removed from your warehouse. At the same time, the new equipment must be delivered, set-up, and installed. Having helped thousands of companies purchase and install new pallet wrappers, Industrial Packaging is able to ensure that even the most complicated installations go smoothly and without error. In this article, we will break down everything you should expect and be prepared for when the day of installation of your new pallet wrapper arrives.
The Business of Packaging | Working At Industrial Packaging
We don't know anyone who doesn't want to grow in their personal and professional life. That is why we offer various ways for our employees to grow and prosper. Growing keeps us happy with ourselves, gives us confidence, and makes us proud of our achievements. Industrial Packaging believes in supporting our employees with their personal and professional growth goals. Here are the top 6 ways that we inspire our employee's personal and professional growth.
Investment | Packaging Materials | The Business of Packaging
Are you feeling a little stressed out with the buying process lately?, with the continued complications coming from the presence of COVID, the global supply chain is experiencing new problems it has not experienced before. And while COVID will eventually end, the effects upon the supply chain will almost certainly be replicated in the event of other pandemics as time goes on. There was a time that purchasing foreign films made sense from a cost-savings perspective as many foreign films are often cheaper (and at times of lower quality). But, with the complications brought upon the world via COVID, the availability, delivery times, lead times, and other related parts of the process are being disrupted by the virus. Are you currently waiting for an order of shrink film from a foreign country? Have you received it yet? Do you think it will arrive on time? Wondering if you should purchase American made films instead? Maybe you are trying to figure out which option will ultimately cost less? If you are a purchasing professional or buyer, the issues the world is facing with the global supply chain is probably something you are dealing with on a daily basis. Chances are, you are continually attempting to buy the best possible product for the lowest possible price. While buying foreign films was once an option for cutting costs, choosing to do so in the age of COVID may result in late deliveries, higher prices, and low availability. Industrial Packaging has been actively engaged in buying, selling, and running shrink film not only on our lines but also for our clients. We sell both domestic and foreign films, but usually end up recommending domestic films due to price, quality and lead times. However, we know there are times when using a foreign film might make sense for your business. Our storied history of supply chain experience allows us to provide you with unparalleled insight and information regarding best practices for buying shrink film. In this article, we will discuss buying domestic shrink film vs. foreign/imported shrink film. We will take a look at several key considerations when choosing between domestic and foreign shrink films. When you are finished, you will have a good understanding of which one is a better purchase right now.