Packaging Design | Packaging Materials | Packaging Psychology | The Business of Packaging
The future is here. Everyday, millions of people walk around with high powered tiny computers with glowing LCD screens in their pockets. We use these devices to catch a ride, buy food, prepay for movie tickets, find deals on everything under the sun and learn new things about our world. As this technology continues to evolve, we will see more and more packaging that we can interact with digitally. And while digital packaging is still a relatively new phenomenon, it will soon be prevalent everywhere. What is digital packaging exactly? Join me in the article below and we will explore this new exciting chapter in the history of the packaging industry.
Investment | The Business of Packaging
I started working at Industrial Packaging over 23 years ago, and it has always been such a great place to work! When my career began here, I just had my first child and wanted to work closer to home. I remember going to my first interview and thinking afterwards, "That had to be my worst interview that I have ever done". Somehow, I got called back for a second interview and soon after got the job. The workplace vibe was very comfortable, relaxing, and everyone was so friendly.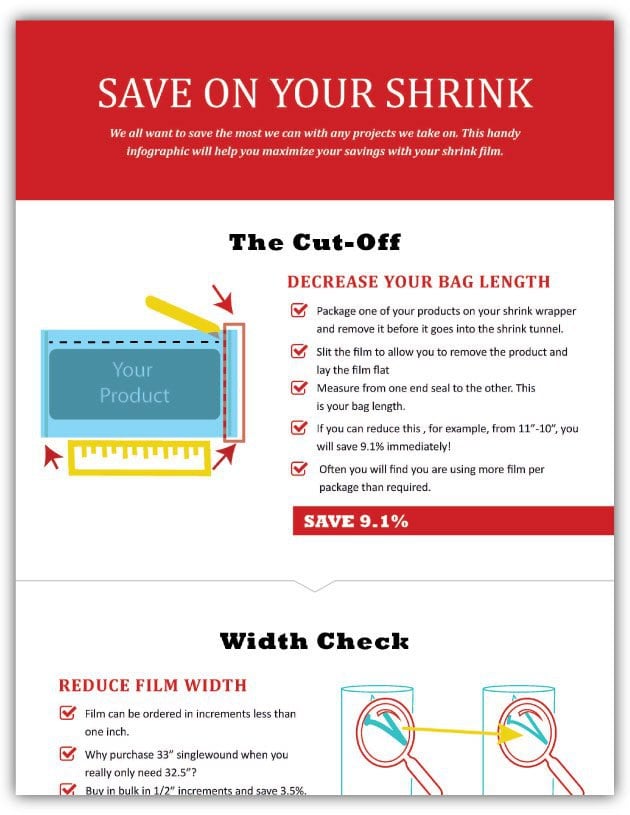 Shrink Film Cheat Sheet
We all want to save the most we can with any projects we take on. This handy infographic will help you maximize your savings with your shrink film. Get it for free when you subscribe to our blog.
Environment | Packaging Design | Shipping Protection | The Business of Packaging
Every year, the packaging industry produces some unique trends. Consumer buying habits change with time and in 2020 we expect to see some new things come to fruition. From sustainability and environmentally friendly packaging to "smart packaging" and beyond, the future is here. In the article below, we will take a look at the top 5 packaging trends for 2020 and muse about the dynamics of each.
Environment | Packaging Design | Packaging Materials | Packaging Psychology | The Business of Packaging
As we have discussed here in the past, shrink film is currently one of the most environmentally friendly packaging supplies in the world. And while many people seem to be turning away from plastics due to their environmental concerns, the science of the situation regarding plastic often does not align with peoples emotions towards the material. Despite the fact that plastics generally have the lowest carbon footprint of any packaging supply, companies around the globe are slowly opting to turn away from plastics to heavier materials like glass, metal and cardboard. However, all of these materials have significantly higher carbon footprints than plastic. In this article we will discuss traditional shrink films as well as their new bio-based versions and alternatives and why they are the better choice when considering sustainability and environmental impact.
Plant Performance | The Business of Packaging | Warehousing
When your business expands or is required to move its physical location from one geographical area to another, it is no little task. This is especially true when moving your packaging department. Managing the breakdown, transportation and install of packaging machinery can be a complicated task. Below we will review a set of best practices for moving your packaging line that will result in a smooth transition from one location to the next.
Environment | Packaging Materials | The Business of Packaging
There is perhaps no other word that invokes the concept of "cringe worthy" for the environmentally concerned citizen than "plastic". Plastics have become an epidemic to the sea, often collecting in literal islands of trash in our oceans, sometimes stretching far as the eye can see. When it comes to shrink film, these concerns are no different, but are they truly warranted? Below, we will take look at the environmental benefits of packaging plastics and explore their potential in recycling.