Environment | Packaging Design | Packaging Materials | The Business of Packaging
As the tumultuous and dare I say downright disruptive year of 2020 winds to a close, the packaging industry is looking at some very interesting trends as we head towards the new year. While there are some hot-button trends that remain from 2020 as we head into the first quarter of 2021 (such as sustainability and environmentally minded packaging materials), there are some huge new packaging opportunities that have come out of the pandemic. For example, the video game industry is experiencing a meteoric expansion of growth as gamers have spent more time at home playing video games and many new gamers are just beginning to experiment with the joy of gaming to pass the time while in quarantine or semi-mandated stay at home orders. More gaming = more opportunities for video game packaging applications. Then, we have the ever-growing expansion of eCommerce purchasing. Purchasing online was already steadily rising prior to the arrival of this pandemic. But it has only grown exponentially more than expected as a byproduct of the virus. Food packaging (particularly frozen food packaging) has also seen a massive growth spurt. More consumers are buying larger quantities of groceries either in person or via online driven delivery services. It's a lot to keep up with. In this article, we will take a deep dive into the top packaging trends for 2021 so that you are set up to succeed in the new year.
Equipment | Fulfillment | The Business of Packaging
On the day of installing a pallet wrapper in your warehouse, a lot is going on. Old machinery needs to be shut down, decommissioned, and removed from your warehouse. At the same time, the new equipment must be delivered, set-up, and installed. Having helped thousands of companies purchase and install new pallet wrappers, Industrial Packaging is able to ensure that even the most complicated installations go smoothly and without error. In this article, we will break down everything you should expect and be prepared for when the day of installation of your new pallet wrapper arrives.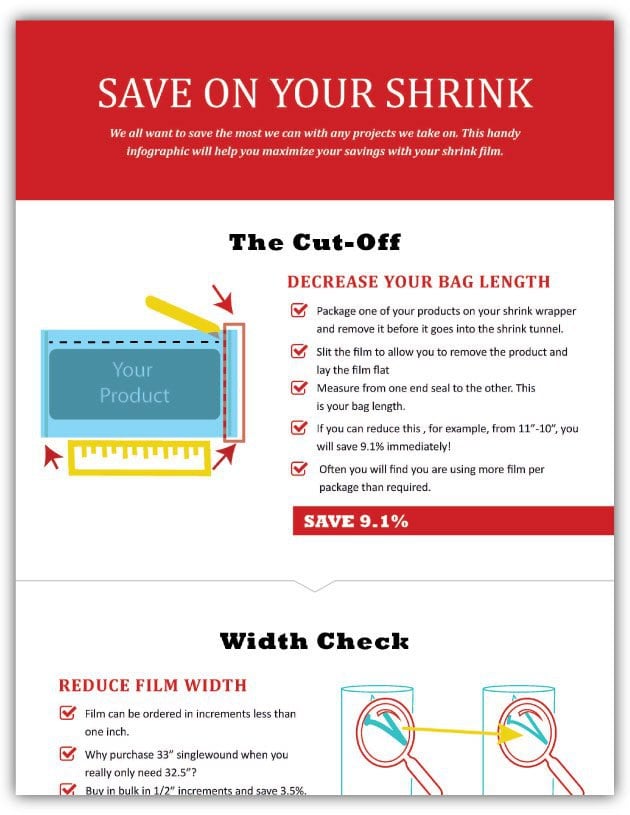 Shrink Film Cheat Sheet
We all want to save the most we can with any projects we take on. This handy infographic will help you maximize your savings with your shrink film. Get it for free when you subscribe to our blog.
The Business of Packaging | Working At Industrial Packaging
We don't know anyone who doesn't want to grow in their personal and professional life. That is why we offer various ways for our employees to grow and prosper. Growing keeps us happy with ourselves, gives us confidence, and makes us proud of our achievements. Industrial Packaging believes in supporting our employees with their personal and professional growth goals. Here are the top 6 ways that we inspire our employee's personal and professional growth.
Investment | Packaging Materials | The Business of Packaging
Are you feeling a little stressed out with the buying process lately?, with the continued complications coming from the presence of COVID, the global supply chain is experiencing new problems it has not experienced before. And while COVID will eventually end, the effects upon the supply chain will almost certainly be replicated in the event of other pandemics as time goes on. There was a time that purchasing foreign films made sense from a cost-savings perspective as many foreign films are often cheaper (and at times of lower quality). But, with the complications brought upon the world via COVID, the availability, delivery times, lead times, and other related parts of the process are being disrupted by the virus. Are you currently waiting for an order of shrink film from a foreign country? Have you received it yet? Do you think it will arrive on time? Wondering if you should purchase American made films instead? Maybe you are trying to figure out which option will ultimately cost less? If you are a purchasing professional or buyer, the issues the world is facing with the global supply chain is probably something you are dealing with on a daily basis. Chances are, you are continually attempting to buy the best possible product for the lowest possible price. While buying foreign films was once an option for cutting costs, choosing to do so in the age of COVID may result in late deliveries, higher prices, and low availability. Industrial Packaging has been actively engaged in buying, selling, and running shrink film not only on our lines but also for our clients. We sell both domestic and foreign films, but usually end up recommending domestic films due to price, quality and lead times. However, we know there are times when using a foreign film might make sense for your business. Our storied history of supply chain experience allows us to provide you with unparalleled insight and information regarding best practices for buying shrink film. In this article, we will discuss buying domestic shrink film vs. foreign/imported shrink film. We will take a look at several key considerations when choosing between domestic and foreign shrink films. When you are finished, you will have a good understanding of which one is a better purchase right now.
Packaging Design | Packaging Materials | The Business of Packaging
When launching a product as a new startup business, there is a lot to consider. Many steps must be taken to get your product designed, created, and ready to send to the market. You are most likely at the beginning stage of getting your products ready for packaging. Chances are, you have been doing research online, which is how you stumbled across this article. You probably feel some level of worry, stress or uncertainty about choosing packaging for your products as you have not done this before. Some of the questions you are asking your self probably resemble these: What material should I choose for my packaging? What equipment do I need for my packaging? How much will my packaging materials cost? How much will my packaging machinery cost? Most likely, you are looking for guidance on launching a new product and trying to understand the appropriate packaging protocols. Industrial Packaging has been helping companies package their products and get them to market in a timely fashion for over 65 years. In that time, we have become thought leaders on this subject. In this article, we will help you to understand what needs to be done when developing packaging for new products for your startup.
Fulfillment | Investment | The Business of Packaging
For many companies, 2020 has been a tough year, primarily due to the struggles that come along with COVID. After weeks or months of unexpected downtime, many companies are unsure about stocking up on supplies or upgrading machinery for their packaging lines. The uncertainty that has come with the phased re-opening of the economy and a blurry future in this new environment can cause a natural hesitation to spending. You have to be hyper-aware of spending when looking out for your company's best interest. You probably feel pressure to purchase just enough to keep running without making any significant investments. And while airing on the side of caution is a good idea in this current climate, the truth is, there is no better time to buy packaging machinery and material than now. Waiting may very well end up costing you a lot of time and money. After decades in the packaging industry and a keen eye to the mechanics of the global supply chain, Industrial Packaging can honestly say that now is the time to purchase your packaging machinery and materials. From our vantage point, we can clearly see the obstacles ahead. We are here to help you avoid stalling on buying decisions that could cost you a lot of time and money and result in serious frustration and headaches down the road. In this article, we will explain the top 4 reasons to buy your packaging materials and make your packaging machinery upgrades or purchases now, before you run into costly issues with the availability of these items.