Fulfillment | Supply Chain Services/ Contract Packaging | Warehousing
Are you tired of managing shipping and receiving for your company? Do you wish that you did not have to deal with product returns to unhappy customers? What would you be willing to do if you never had to package another product in your life? Does the thought of inventory control and labor force management keep you up at night? If this sounds like you, then chances are, you might benefit from a third-party logistics partner. But, what exactly is third-party logistics? Industrial Packaging has spent decades working in 3PL. Third-party logistics is like a second home for us. We know 3PL like the back of our hands, and we have provided these services to many businesses just like yours. In this article, we will introduce you to third-party logistics and define this term. We will also discuss other elements associated with 3PL in the context of contract packaging. With the information in this article, you will be able to decide if using a 3PL partner is a good idea for your business.
Packaging Design | Shipping Protection | Warehousing
Shipping protection is perhaps one of the most essential variables to consider when fulfilling orders for your customers. Just think how you feel when you order something, and the packaging is damaged. As the internet has made our world a digitally connected global village, you can now have customers anywhere on earth (and pretty soon, perhaps Mars as well). Packages that travel long distances often have journeys that are fraught with problems. Anything from mishandling at warehouses, being dropped on accident by delivery drivers, or moving through geographical areas with extreme heat. The list of potential items that can cause damage to your package can seem nearly endless. So, when it comes to ensuring an excellent unboxing experience for your clients, you need to make sure that their packages arrive in as close to mint condition as possible as it is imperative to building brand loyalty and repeat business. To achieve the proper protections against shipping damages, you need to make sure your packaging process aligns with the best standards. First, getting on board with Amazon's guidelines for SIOC and user-friendly packaging is a good start. Next, use protective packaging materials such as air pillows, cardboard, packaging peanuts, and a whole galaxy of other potential protective packaging material options. Now you are probably thinking, "man, this is more complicated than I was hoping". That may be true, but it's critical to the success of your business. While the global village is making packaging protection during shipping more complicated, Industrial Packaging has decades of experience in this sector. We are here to help you navigate these issues. In this article, you'll gain a better understanding of all of the elements that go into preparing your packages with the appropriate protective packaging materials and protocols. This will help your customers be happy with the condition of their packages, which leads to repeat business.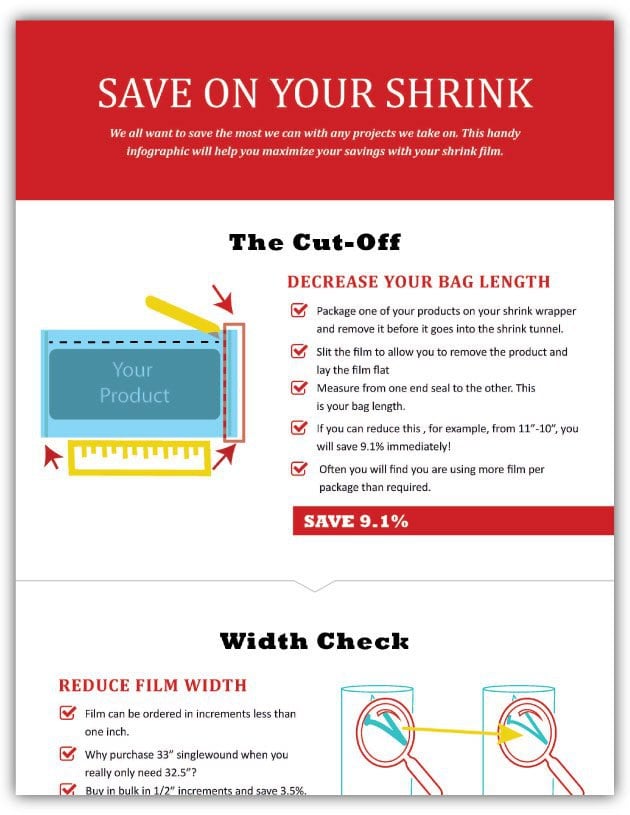 Shrink Film Cheat Sheet
We all want to save the most we can with any projects we take on. This handy infographic will help you maximize your savings with your shrink film. Get it for free when you subscribe to our blog.
Equipment | Plant Performance | Warehousing
The United States, and the world at large, continue the complicated battle against the invisible enemy that is COVID-19. One thing has become glaringly obvious. This is not a war that will be fought with traditional machinery and weapons. Doctors are rushing to develop a vaccine while political parties attempt to figure out the complicated puzzle of helping the public adapt to a very uncomfortable "new normal." Meanwhile, businesses and the corporate world are fighting their own battles against this virus. Today many companies are working together to figure out ways to make working conditions for their employees as close to "normal" as possible. Companies are implementing stringent protocols that are focused on the health, safety, and well-being of their employees. When it comes to large warehouses with packaging lines, this can be extremely complicated. Usually, at these facilities, there are hundreds of people working on large packaging lines working shoulder to shoulder. Our team at Industrial Packaging has gone to great lengths to create a unique approach to combating COVID while prioritizing the safety and health of our people and customers. With a strict set of protocols based on cutting edge information from the CDC, the WHO, and other experts, we have made it a point to focus on safety first. But many companies are struggling with their approach to this continuing pandemic. Some are struggling to find ways to prevent their employees from contracting the virus or stopping the spread. There is however a secret a weapon in the war against the virus, and it is one that was developed before COVID began rearing its ugly head. And when it comes to your warehouse and your packaging lines, that weapon is automation. Fully automated packaging lines have recently been implemented more frequently due to several benefits. These reasons have historically revolved around cost savings, key performance indicators, and the streamlining and optimization of production. However, today the biggest motivation for automating your packaging line is something else entirely. Putting a bold and extreme focus on protecting the health and safety of your people.
Food Packaging | Packaging Materials | Shipping Protection | Warehousing
You know that strapping can be used to bundle products together, reinforce cartons, and to secure items to pallets for shipment. These strapping materials come in a variety of options, but how do you know which is best for your application? Your options can be filtered down into three primary categories: polypropylene(PP), polyester(PET), and steel. Strapping materials are used primarily for bundling products together and securing pallet loads during transport and storage. When used for palletizing, it is often complemented with the additional security of stretch wrap. Being a market leader in supplying strapping materials to companies of all sizes, we've been able to help many brands overcome the challenges of securing your products from shipment to shelf. You might find yourself with a lot of questions when trying to find the best strapping material for you. Which type of strapping material is ideal for your application, and how does it function? What is the difference between virgin and recycled strapping? Find out how these materials work and which will be the best fit to optimize the security and unitizing of your products..
Fulfillment | Supply Chain Services/ Contract Packaging | The Business of Packaging | Warehousing
When choosing a vendor for your packaging materials and machinery, you have many options to choose from. From original manufacturers (OEMs) to online storefronts like U-LINE, or buying from a distributor who works with multiple manufacturers. How do you know that you are getting the ideal product and service when it comes down to purchasing? With the various options available to you, who will serve your business best? Cards on the table, Industrial Packaging has been a packaging distributor for decades. However, this doesn't mean we are going to aim for deception. Sometimes a distributor isn't the right fit for your business. While this article will discuss why you can trust a packaging distributor, our goal is to help you determine if a distributor is a good fit for your needs.
Equipment | Packaging Materials | Warehousing
When it comes to the cost associated with your packaging line, many dynamics hinge upon the size of your production. Depending on how many products you run a day, what (if any) machinery you are utilizing and the number of employees you have, costs vary greatly from one type of production to the next. In the article below, we will take a look at the differences between large and small productions and the costs associated with each.