Food Packaging | Packaging Materials | Shipping Protection | Warehousing
You know that strapping can be used to bundle products together, reinforce cartons, and to secure items to pallets for shipment. These strapping materials come in a variety of options, but how do you know which is best for your application? Your options can be filtered down into three primary categories: polypropylene(PP), polyester(PET), and steel. Strapping materials are used primarily for bundling products together and securing pallet loads during transport and storage. When used for palletizing, it is often complemented with the additional security of stretch wrap. Being a market leader in supplying strapping materials to companies of all sizes, we've been able to help many brands overcome the challenges of securing your products from shipment to shelf. You might find yourself with a lot of questions when trying to find the best strapping material for you. Which type of strapping material is ideal for your application, and how does it function? What is the difference between virgin and recycled strapping? Find out how these materials work and which will be the best fit to optimize the security and unitizing of your products..
Fulfillment | Supply Chain Services/ Contract Packaging | The Business of Packaging | Warehousing
When choosing a vendor for your packaging materials and machinery, you have many options to choose from. From original manufacturers (OEMs) to online storefronts like U-LINE, or buying from a distributor who works with multiple manufacturers. How do you know that you are getting the ideal product and service when it comes down to purchasing? With the various options available to you, who will serve your business best? Cards on the table, Industrial Packaging has been a packaging distributor for decades. However, this doesn't mean we are going to aim for deception. Sometimes a distributor isn't the right fit for your business. While this article will discuss why you can trust a packaging distributor, our goal is to help you determine if a distributor is a good fit for your needs.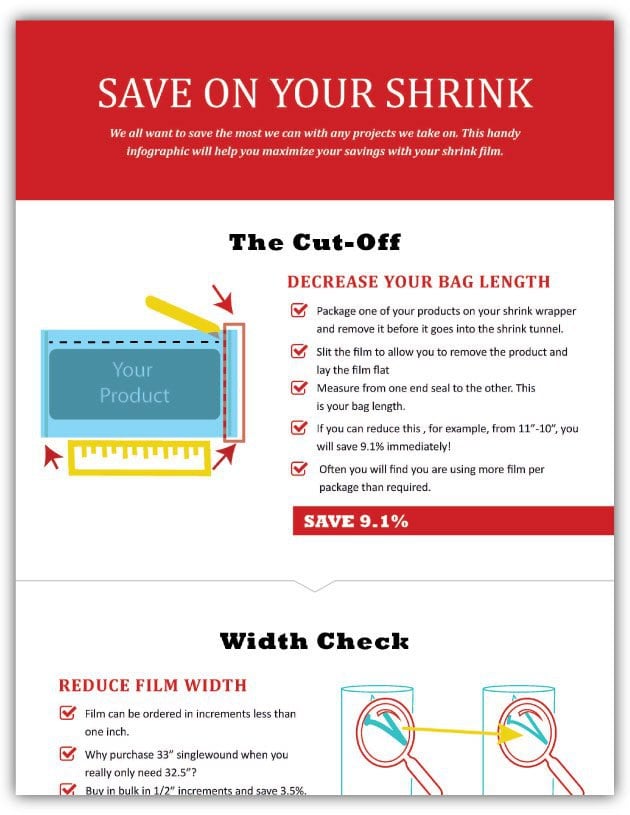 Shrink Film Cheat Sheet
We all want to save the most we can with any projects we take on. This handy infographic will help you maximize your savings with your shrink film. Get it for free when you subscribe to our blog.
Equipment | Packaging Materials | Warehousing
When it comes to the cost associated with your packaging line, many dynamics hinge upon the size of your production. Depending on how many products you run a day, what (if any) machinery you are utilizing and the number of employees you have, costs vary greatly from one type of production to the next. In the article below, we will take a look at the differences between large and small productions and the costs associated with each.
Environment | Equipment | Packaging Materials | Warehousing
When it comes shrink film, temperature restrictions in extreme conditions is an important dynamic to consider. From the temperature that you run your products through the heat tunnel, to atmospheric conditions for your transportation vehicles, temperature matters. In the article below we will explore the role of temperature in relation to shrink film and how it reacts to packaging machinery.
Plant Performance | The Business of Packaging | Warehousing
When your business expands or is required to move its physical location from one geographical area to another, it is no little task. This is especially true when moving your packaging department. Managing the breakdown, transportation and install of packaging machinery can be a complicated task. Below we will review a set of best practices for moving your packaging line that will result in a smooth transition from one location to the next.
Equipment | Fulfillment | Plant Performance | Warehousing
Stretch wrap is one of the most commonly used packaging materials across the globe. Hundreds of thousands of companies stretch wrap millions of pallets of product every day. While many companies rely on physical labor from human employees, shrink wrapping machines are a staple in high production packaging lines and even smaller companies who want the cost savings and related benefits of using a stretch wrapper. That being said, what are the benefits of using a stretch wrapper? Who is a good fit for a stretch wrapping machine? Which type of machine is best for your company? Follow me into the article below and we will stretch your knowledge to its maximum capacity.