Equipment | Packaging Materials | Warehousing
When it comes to the cost associated with your packaging line, many dynamics hinge upon the size of your production. Depending on how many products you run a day, what (if any) machinery you are utilizing and the number of employees you have, costs vary greatly from one type of production to the next. In the article below, we will take a look at the differences between large and small productions and the costs associated with each.
Environment | Equipment | Packaging Materials | Warehousing
When it comes shrink film, temperature restrictions in extreme conditions is an important dynamic to consider. From the temperature that you run your products through the heat tunnel, to atmospheric conditions for your transportation vehicles, temperature matters. In the article below we will explore the role of temperature in relation to shrink film and how it reacts to packaging machinery.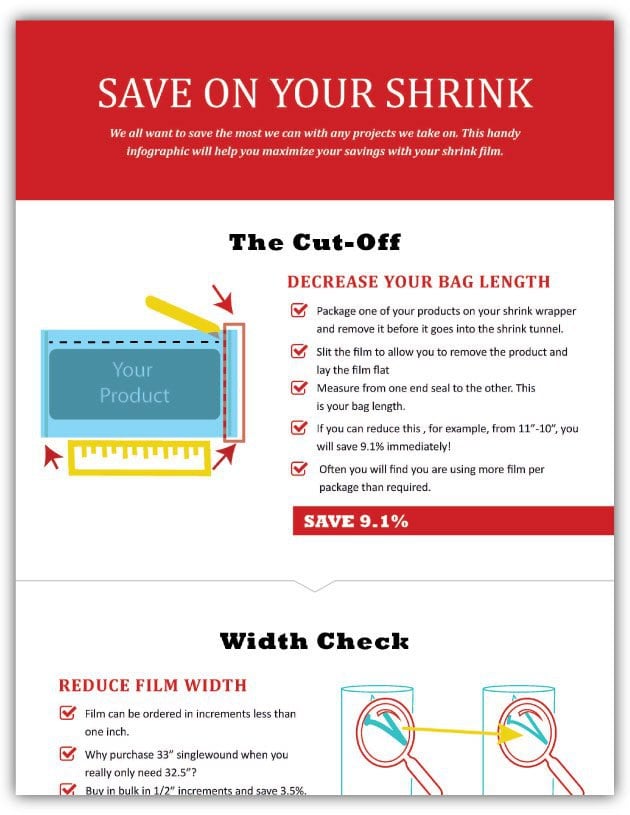 Shrink Film Cheat Sheet
We all want to save the most we can with any projects we take on. This handy infographic will help you maximize your savings with your shrink film. Get it for free when you subscribe to our blog.
Plant Performance | The Business of Packaging | Warehousing
When your business expands or is required to move its physical location from one geographical area to another, it is no little task. This is especially true when moving your packaging department. Managing the breakdown, transportation and install of packaging machinery can be a complicated task. Below we will review a set of best practices for moving your packaging line that will result in a smooth transition from one location to the next.
Equipment | Fulfillment | Plant Performance | Warehousing
Stretch wrap is one of the most commonly used packaging materials across the globe. Hundreds of thousands of companies stretch wrap millions of pallets of product every day. While many companies rely on physical labor from human employees, shrink wrapping machines are a staple in high production packaging lines and even smaller companies who want the cost savings and related benefits of using a stretch wrapper. That being said, what are the benefits of using a stretch wrapper? Who is a good fit for a stretch wrapping machine? Which type of machine is best for your company? Follow me into the article below and we will stretch your knowledge to its maximum capacity.
Equipment | Fulfillment | Investment | Plant Performance | Technical Service and Support | Warehousing
When building a new packaging line or updating a line that has been packaging products for decades, measuring KPIs (Key Performance Indicators) is an extremely important exercise. In the article below, we will take a look at the top 10 KPIs to track and discuss those which we deem most important for your packaging line.
Investment | Packaging Design | Packaging Materials | Shipping Protection | Warehousing
When choosing a material to package your products for shipping, there are many options. While corrugated boxes remain a popular choice, those in the know are forgoing this antiquated method for the less costly options of shrink and/or stretch films. With a significantly lower carbon footprint, these films also result in less of an environmental impact. So what does shrink and stretch film have to offer that corrugated boxes do not? What benefits do stretch and shrink wrap have to offer in regards to sustainability? I invite you to discover the answers to these questions and more, in the article below...