Fulfillment | Supply Chain Services/ Contract Packaging | Warehousing
Are you tired of managing shipping and receiving for your company? Do you wish that you did not have to deal with product returns to unhappy customers? What would you be willing to do if you never had to package another product in your life? Does the thought of inventory control and labor force management keep you up at night? If this sounds like you, then chances are, you might benefit from a third-party logistics partner. But, what exactly is third-party logistics? Industrial Packaging has spent decades working in 3PL. Third-party logistics is like a second home for us. We know 3PL like the back of our hands, and we have provided these services to many businesses just like yours. In this article, we will introduce you to third-party logistics and define this term. We will also discuss other elements associated with 3PL in the context of contract packaging. With the information in this article, you will be able to decide if using a 3PL partner is a good idea for your business.
When working with a contract packaging company, in order to make room for occasional human error or mechanical issues, you need to supply your contract packaging company with enough product to allow for some waste. When offering contract packaging services, it is common for a contract packaging company to have to move from a warehouse that is too small. This is done to sustain the current requirements of their customer base. In this case, a move to a new location is a must. This would be waste produced by machinery and material problems or operator errors. There has to be some extra product available so that when products fail at some point in your packaging line, your contract packaging company will be able to use that extra product to replace those items. In the case of product waste, there is often a large amount of products left over after the order has been fulfilled. Normally, these products end up in a landfill. This is a travesty, particularly for food production companies. In fact, 218 billion dollars worth of food products is sent to a landfill each year. Food waste happens at all stages of the food production process. Each stage of the distribution and supply chain ecosystem also produces waste at times. Many people in the United States of America are going to bed hungry on a regular basis. With so much excessive food waste, this is absolutely unacceptable. However, navigating the complex laws surrounding food safety is a challenge. Even more so with the inability to reuse food products after expiration. But, it does not have to be this way. There are some fairly simple ways to negate such massive amounts of food and product waste. If you are willing to work with your local contract packaging company, you can do it. There are ways to develop a closed-loop system. This can reduce or altogether stop this type of unnecessary waste. Industrial Packaging has been offering contract packaging services for many years. During that time we have developed waste reduction protocols. These protocols have allowed us to largely reduce the waste of various products for our clients. In this article, we will explore the way in which waste reduction may be achieved by working with your local contract packaging company.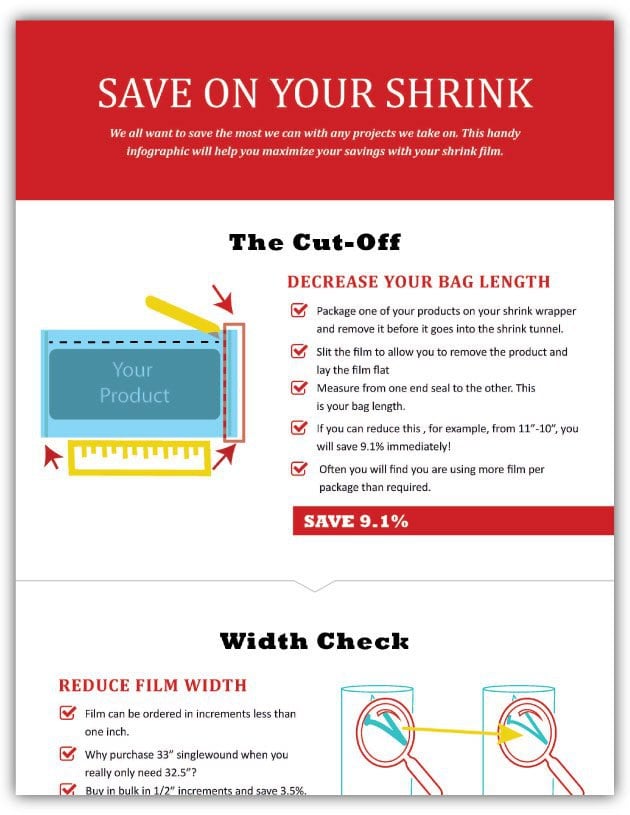 Shrink Film Cheat Sheet
We all want to save the most we can with any projects we take on. This handy infographic will help you maximize your savings with your shrink film. Get it for free when you subscribe to our blog.
Fulfillment | Supply Chain Services/ Contract Packaging
Over the past few weeks, you have been doing research about contract packaging. You have noticed other companies in your industry have outsourced their supply chain. They have done this with a contract packaging company. You find yourself wondering if contract packaging could benefit your own company. But, you are not clear on what the benefits of contract packaging are. Do they make sense for your business? Now, you find yourself here on the Industrial Packaging website. You are perusing blog posts and webpages about contract packaging. You see that we have been providing contract packaging services for many years. In some cases, to Fortune 500 companies. With the information found here, you will be able to decide if contract packaging is right for your business. And, while Industrial Packaging would love to gain your contract packaging business, we may or may not be the best vendor for you. Regardless, with the information available on our blog, we will be able to help you identify the right contract packaging vendor for your company, even if it is not us. In this article, we will review the top 5 benefits of contract packaging. This will help you identify if contract packaging is right for you or not.
Fulfillment | Packaging Materials | The Business of Packaging
If you have been tasked with buying shrink film for your company, chances are, you have noticed that prices for many films and plastic packaging supplies have been slowly creeping up since at least September of last year. You may have also noticed that any resin-based plastic packaging supplies are also increasing in price as time goes on. You are probably wondering, what is the cause of these price increases? When can we expect them to stop? Should I stock up on supplies now to save money in the long run? These are but a few of the questions we have been getting from our customers, and we expect to continue receiving such inquiries. To provide some knowledge and peace of mind, we have put this article together to help you better understand what is going on. It is Industrial Packaging's stance that being open and forthright with this information is necessary because it impacts our customers. We believe that we have a requirement to be upfront with any type of news like this in order to maintain the trust we've built with our customers. With the rise of global supply chain disruptions due to customer demand, the plastic resin market is preparing for multiple cost increases as we head into March. Additional price increases for various resin-based plastic packaging supplies are expected to occur over the next few months. This article will provide some insight into the events that have led to these materials' increased prices.
Fulfillment | Plant Performance | Technical Service and Support
You are probably wondering, if Industrial Packaging is simply managing the supply chain and packaging line elements of our client's business, can't we do that anywhere in the country? Well, yes. We could do that. But, for us at Industrial Packaging, we think that it is best for us to deliver an excellent experience for a small amount of people versus a mediocre experience for a much larger audience. Another thing that was glaringly obvious to us about our geographical region was that there is about thirty billion dollars worth of contract packaging business going on in our own backyard. That is one very good reason to stick to servicing this area of the United States. But, it is not the only reason why we have chosen to stick to the Northeast. Providing our world-class packaging supplies and service to this area just makes sense. In this article, we aim to explain why we have limited ourselves to this geographical area. By reading this article, you should have a good idea if you are a good fit for Industrial Packaging as a contract packaging client or not.
Fulfillment | Investment | The Business of Packaging
So, you are beginning the journey of seeking out a contract packaging company because you're considering outsourcing your supply chain needs. In this situation, it is normal to have a lot of questions about the process. But, for most people, the number one question is, how much does it cost? This is a very good question. However, most businesses are hoping to get a universal ballpark figure right off the bat. That's totally understandable - you want to have this information to figure out if this is something you can afford. You want to know if the cost justifies the investment. Many buyers go to the internet and punch in some variant of that question. They hope that the information will be front and center. After clicking through a host of articles on Google, many buyers get frustrated. Most of the articles and other content you'll find does not usually have this information. The reason for this is because the answer is extremely case sensitive. The cost for contract packaging is going to be very different from one company to the next. The reason for this is because your costs relate to your labor force, packaging machinery, packaging materials, warehousing space, logistics, and the other variables that change from one company to the next. The total cost for a contract packaging agreement for you, is not going to look anything like the one that is appropriate for your competitors. Unless of course, all the variables above are nearly identical for each company, of which, they rarely are. With all of that in mind, it is important to understand one thing. There is an answer to your question and it can be provided by a contract packaging company. But, they will need to analyze your unique requirements to produce a close approximation of the total cost. Industrial Packaging has done this kind of analytical research for countless companies. We can do this for your company as well if contract packaging ends up becoming the best option for your company. In this article, we will explain the elements that go into calculating an estimate for contract packaging. We will explore the different elements we need to analyze before we can answer the question, how much does it cost?