Equipment | Fulfillment | The Business of Packaging
On the day of installing a pallet wrapper in your warehouse, a lot is going on. Old machinery needs to be shut down, decommissioned, and removed from your warehouse. At the same time, the new equipment must be delivered, set-up, and installed. Having helped thousands of companies purchase and install new pallet wrappers, Industrial Packaging is able to ensure that even the most complicated installations go smoothly and without error. In this article, we will break down everything you should expect and be prepared for when the day of installation of your new pallet wrapper arrives.
Fulfillment | Investment | The Business of Packaging
For many companies, 2020 has been a tough year, primarily due to the struggles that come along with COVID. After weeks or months of unexpected downtime, many companies are unsure about stocking up on supplies or upgrading machinery for their packaging lines. The uncertainty that has come with the phased re-opening of the economy and a blurry future in this new environment can cause a natural hesitation to spending. You have to be hyper-aware of spending when looking out for your company's best interest. You probably feel pressure to purchase just enough to keep running without making any significant investments. And while airing on the side of caution is a good idea in this current climate, the truth is, there is no better time to buy packaging machinery and material than now. Waiting may very well end up costing you a lot of time and money. After decades in the packaging industry and a keen eye to the mechanics of the global supply chain, Industrial Packaging can honestly say that now is the time to purchase your packaging machinery and materials. From our vantage point, we can clearly see the obstacles ahead. We are here to help you avoid stalling on buying decisions that could cost you a lot of time and money and result in serious frustration and headaches down the road. In this article, we will explain the top 4 reasons to buy your packaging materials and make your packaging machinery upgrades or purchases now, before you run into costly issues with the availability of these items.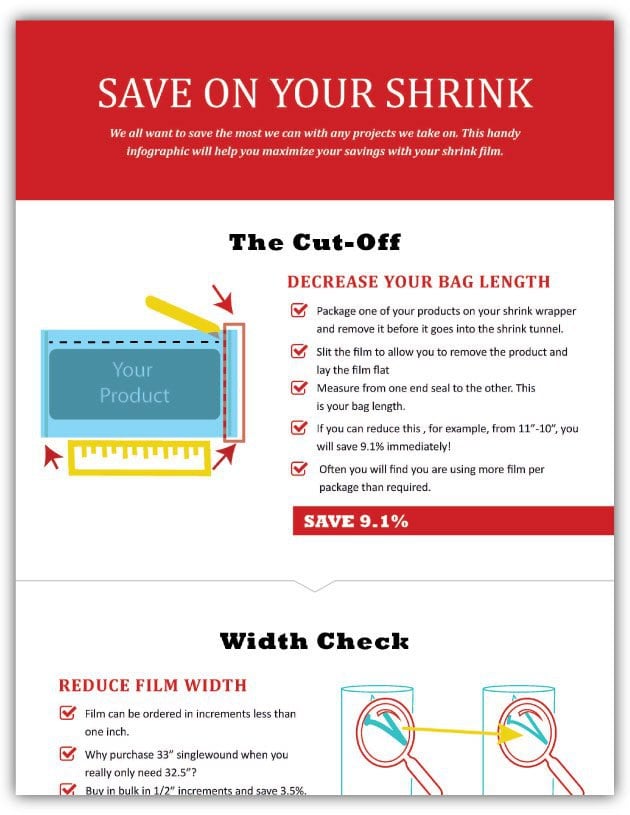 Shrink Film Cheat Sheet
We all want to save the most we can with any projects we take on. This handy infographic will help you maximize your savings with your shrink film. Get it for free when you subscribe to our blog.
Fulfillment | Plant Performance | Supply Chain Services/ Contract Packaging
One question that we are often asked by managers from other companies is, "How do I know when it's time to look for help or outsource some of my supply chain"? Sometimes these questions are from a start-up company that has been operating out of their basement. Other times the question comes from a large company that is toying with the idea of a large expansion. As a specialist in supply chain dynamics, Industrial Packaging is uniquely positioned to help you understand when and why you should work with a third party to run your supply chain. Even if you do not choose us as your third-party supply chain vendor, we can help you to understand the protocols for this process. In this article, we will give you advice on how to approach this project.
Fulfillment | Supply Chain Services/ Contract Packaging | The Business of Packaging | Warehousing
When choosing a vendor for your packaging materials and machinery, you have many options to choose from. From original manufacturers (OEMs) to online storefronts like U-LINE, or buying from a distributor who works with multiple manufacturers. How do you know that you are getting the ideal product and service when it comes down to purchasing? With the various options available to you, who will serve your business best? Cards on the table, Industrial Packaging has been a packaging distributor for decades. However, this doesn't mean we are going to aim for deception. Sometimes a distributor isn't the right fit for your business. While this article will discuss why you can trust a packaging distributor, our goal is to help you determine if a distributor is a good fit for your needs.
Fulfillment | Packaging Materials | Shipping Protection
In the wide world of packaging, SIOC, consumer-friendly, and Amazon transparency are all different elements of a general paradigm shift in packaging processes. They focus on cost, environmental impact, ease, and simplification of the entire packaging process. But, what are the differences between each of these elements? At Industrial Packaging, we have been working within the ecosystems of these packaging elements for decade upon decade and take the processes of each very seriously. In this article, we will explore the differences between SIOC, consumer-friendly, and Amazon transparency packaging protocols. With this information, you will be able to better understand your options and be more well-equipped to make a decision when it comes time to implementing these protocols for your shipping and handling processes.
Environment | Fulfillment | Packaging Materials | Plant Performance
Perhaps now, more than ever, it is an excellent idea to buy American made shrink film. With the current disruption of the supply chain in China and the lower quality films coming from some European countries, now is the time to buy high quality American made shrink film. It is important to buy high quality shrink film to ensure your line runs efficiently, quickly and without downtime due to issues with lower quality films. Buying shrink film from foreign countries while the supply chain is seeing such disruption can result in weeks of delays in receiving your order. Here at Industrial Packaging, we have been selling shrink film for almost 70 years. During that time we have developed decades of expertise on shrink film formulations and applications. In today's article, we will discuss the top 5 reasons to buy American made shrink film.