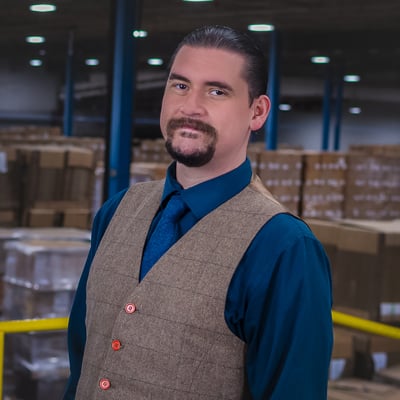 Are You A Large Company? We Are Your Copacker!
The Business of Packaging | Supply Chain Services/ Contract Packaging | Plant Performance | Fulfillment | Warehousing
Are you a large company (500+ employees, $100,000,000 in annual revenue), a publicly-traded business, or a fortune 500 looking for a contract packaging company? If so, WE are YOUR copacker! If you are a large company, you have a lot to think about.
If I had to guess, your number one priority is your brand(s). You want to stay focused on new product development, building your customer base, engaging your audience, and staying one step ahead of your competitors.
You are focused on generating massive revenue, cutting costs, and improving all of your product lines. While you may or may not be doing your packaging in-house, one thing is clear.
You are looking to either find a new copacker or outsource your packaging for the first time. And, you want to make sure that you choose the best copacker in the country.
So, we are absolutely honored to have your presence on our website today. But, you are probably wondering, why should you trust Industrial Packaging to be your copacker?
Outsourcing your internationally known brand is a big deal. You don't want to partner with just anyone. You have incredibly high standards, and you only want the best.
And more important than that, you want to choose the safest copacker in the industry—someone you can trust to keep your people, products, and brands safe throughout the supply chain.
Furthermore, you want a copacker that is already helping their large company clients to navigate current and future global supply chain disruptions.
Well, you have come to the right place. This article will explain why other large companies trust Industrial Packaging with their contract packaging needs.
And, we will explain why you can trust us as well!
A Copacker Trusted By Large Companies
Industrial Packaging prides itself on the fact that we service thousands of Amazing American companies and brands throughout the supply chain.
And some of those customers are, like you, large companies. But why do other large companies trust Industrial Packaging to outsource their contract packaging needs?
And more importantly, why should you? In the section below, we will review the reasons that large companies and brands trust Industrial Packaging as their copacker and why you may want to do the same.
A Long History As A Trusted Large Company Serving Copacker
One of the reasons that so many large companies have chosen us as their contract packaging partner is because of our experience.
With almost 70 years in the packaging industry, we have multiple generations of experience with all things packaging. And we have been serving large companies with our contract packaging services for 30 years now.
We have been selling, installing, running, maintaining, and repairing packaging machinery for generations. And, we work hard to source only the finest packaging materials on the market.
Over our 30 years in contract packaging, we have carved out a niche within an extraordinarily dynamic and complicated industry that demands excellence for survival.
But, we are not simply surviving; we are flourishing. This is partly due to the fortune 500 clients we have, some of whom we have been doing business with for over twenty-five years.
Over these decades, we have honed our craft and dedicated ourselves to being one of the best copackers in the industry.
But, our years of experience and proven track record of success are just one reason why large companies like you have chosen Industrial Packaging as their copacker.
A Safe Copacker
Safety is at the very heart of our business. And this is not a common claim in the industry. While we sell packaging machinery, packaging materials, and contract packaging services, those things are not our primary focus.
Our primary focus is protecting people, products, and brands throughout the supply chain. From ensuring the safest possible work environment and products to providing the highest level of cleanliness at all work stations, keeping our clients, employees, and products safe is the most critical aspect of our business.
In fact, we were the world's first packaging company to be certified pandemic prepared by AIB international. Additionally, we are both SQF and Kosher certified.
We have implemented countless processes and protocols to ensure that we are one of the safest copackers on the planet.
So if you are looking for a safe and clean contract packaging partner, we may very well be the copacker for you!
A Copacker With Excellent Customer Service
One of the things that really separates us from our competitors is our customer service. When serving our clients, we get it right the first time or make it right if it's not.
We provide various avenues to our customer service department, including direct phone lines connected to actual human beings, live chat, email, and video conferencing capabilities.
We work to meet you via the communication mediums you prefer and reply to all business inquiries as fast as possible.
We regularly communicate vital information about our products, including availability, price increases or decreases, special offers, rebates, and other pertinent information that other vendors may fail to mention or choose not to bring up.
Our sales reps have multiple decades of experience with the highest quality brands of packaging materials, packaging machinery, and packaging services.
And, if we do not have the right solution for you, we will help you to find another packaging company that can meet your unique needs.
---
Looking to outsource your packaging?
---
A Copacker Who Can Provide Fast Speed To Market
In today's fast past world, speed to market is one of the most essential dynamics of running a successful brand. With our specialized infrastructure, we will ensure that your products get to market in the time frame that you desire.
We run multiple shifts with some of the best laborers in the industry, automated packaging machinery, and automated robotics.
Our highly trained teams are provided with ongoing training and resources to ensure a fast, safe, and quality experience for our client's speed to market needs.
If you want to get your products to market in the shortest time possible, we can help you to achieve those goals.
A Copacker Offering Multiple Contract Packaging Services
Whether you are looking to outsource your primary packaging, secondary packaging, third-party logistics, point of purchase display builds and implementation, or other contract packing services, we can meet these needs in a safe, fast, and quality manner.
Regardless of the products you are looking to package and get to market, we have the experience and know-how to get your products to retail institutions, warehouses, and other physical locations in which you need your products to be.
Suppose you are looking to outsource contract packaging services for electronics, hardware, baked goods, snack foods, beverages, industrial components, or other consumer goods. In that case, we have a wide variety of services to help you meet all your packaging needs.
A Copacker With In-House Certified Packaging Technicians
Some copackers do not have in-house technicians for their packaging machinery installation, maintenance, repair, and emergency service.
But here at Industrial Packaging, we have our own in-house packaging machinery, materials, and technical experts. With in-house technicians, we can quickly respond to technical, machinery, or materials issues as soon as they happen.
Our lead tech has certifications in API machines including all sealers and bundlers, PMMI Training certificates in: industrial electricity 1 and 2, intro to mechanical components 1 and 2, and PLCs 1 and 2.
Additionally he is certified for Allen Bradley SLC 500 programming, Lantech levels 1 and 2 and "L" series wrappers, Kallfass Universa 500 servo equipment, Universa 400, and Compact 650S super bundlers.
This allows us to ensure the lowest amount of downtime possible. So, if a problem occurs, we can immediately remedy the situation.
Our in-house team of packaging technicians are certified packaging experts who can keep your products running longer and faster than many other copackers.
Thanks to our in-house packaging machinery and technical experts, we can navigate unexpected downtime and negate serious issues caused by black swan events.
A Copacker With Space
In order to run a successful and smooth-running contract packaging company, you need access to physical space. With our 170,000 square foot semi-automated warehouse, we have room to spare!
However, it's not just about having ample space but also the knowledge and wisdom in managing it. We continually optimize, improve, and expand upon our available space with our supply chain team.
This allows us to take on new business and better serve the contract packaging clients we already have. We are constantly analyzing our warehouse and making adjustments to ensure that we have the space needed to help our clients and provide the space required for new customers.
After three decades in the contract packaging industry, we have learned how to properly manage the space we currently have and the new spaces we will continue to acquire.
When you partner with Industrial Packaging for a contract packaging project, you can rest assured that we will have all the required space to execute as close to perfection as possible.
A Copacker Who Successfully Serves Large Companies
If you outsource with Industrial Packaging today, you won't be our first large client. And that is good news for you! With over 25 years of experience in serving other large company clients, your co-packing project will not be our first rodeo.
Over the last 30 years, we have learned the delicate nuances of adequately serving large companies. We understand the needs of a company of your size and, through our decades of experience, are ready to meet and exceed your expectations.
Who Are The Other Top Copackers In Northeastern USA?
While we pride ourselves on what we believe to be superior contract packaging services, we are not the only game in town.
If you are interested in comparing us to the other top five contract packaging companies in Northeastern USA, click the link above. We will provide you with information about the other companies we feel are on par with our quality of services. And we give credit to where it is due.
If you are interested in learning more about what we can do for your business, contact one of our packaging specialists today.
They will be able to help you identify if Industrial Packaging is the right copacker for you. And, if we are not, we can help you contact the vendor who is!
About Nathan Dube
As the Digital Marketing Specialist at Industrial Packaging, I am honored to create content for such a phenomenal company and work with one of the greatest teams in the Packaging Industry. Whether creating a video, writing blog posts or generating other pieces of content and multimedia, I am always excited to help educate and inspire our prospects and clients to reach their highest potential in regards to their packaging processes and needs.