Environment | Packaging Materials
Earth-Friendly! Compostable! Biodegradable! Sustainable! All of these are surely buzz words you have seen a million times before. For instance, there has been a lot of pressure from consumers to replace plastic straws with paper ones. Then you have the public call to corporations to drop single-use plastics. These modern words of power have invaded the collective unconscious. This is true for most consumers the world over. This is all for a good reason. This sentiment stems from the perspective of a love affair with planet earth. Due to various reasons, many types of "earth-friendly" packaging are, in fact, not. For example, contamination in the single-stream recycling process. Then, there is the required protocols for biodegradable options. Do you buy biodegradable shrink films? If you don't compost them, you reduce all the earth-friendly elements of the material. Industrial Packaging has over 60 years in the packaging business. We know what works and what does not for sustainable packaging supplies. In this article, we will explore the requirements for composting biodegradable shrink films. Will your consumers implement these protocols? If so, they may very well make sense for your business. If not, you may make less of an impact on the environment with traditional packaging films.
Environment | Packaging Design | Packaging Materials
Are you a seasoned veteran in packaging or a start-up getting ready to package your products? Either way, finding the appropriate packaging for your products, is essential. Today, there are thousands of packaging materials to choose from. You have rigid packaging, flexible packaging, and specialized options in between. There are countless packaging supplies to consider. You will likely have more than a few reasons for looking into using shrink film (also known as shrink wrap). There are many reasons why you would want to choose shrink wrap. Shrink wrap (which is different from stretch film) is commonly chosen over other materials. Industrial Packaging has sold hundreds of thousands of rolls of film. We've coached thousands of happy customers on how to select the right type of film. It may seem like a simple process to buy rolls of shrink wrap. But, there is a lot to consider before choosing shrink wrap as your packaging material. This article will help you understand why you would want to package your products in shrink film. First, we'll dive into three primary considerations. These are things you need to be thinking about when it comes to using shrink wrap. Then, we'll talk about the pros and cons and where it's best to buy this material.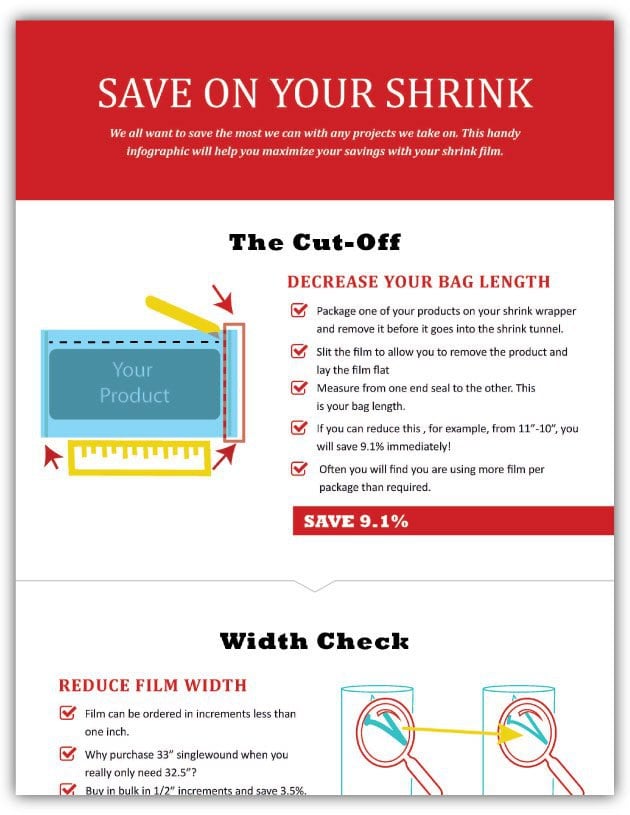 Shrink Film Cheat Sheet
We all want to save the most we can with any projects we take on. This handy infographic will help you maximize your savings with your shrink film. Get it for free when you subscribe to our blog.
Environment | Packaging Design | Packaging Materials
Various trends in the realm of packaging are expected to be hot-button topics in the new year. One of these topics is sustainable, recyclable, and environmentally friendly packaging materials. There has been a growing demand from consumers worldwide for companies to seriously consider the shift from single-use plastics to what many consider to be more environmentally friendly materials. But, as many consumers are slowly finding out, what is actually "environmentally friendly" and what is not can often be confused. This is the result of various forms of green-washing and carefully crafted corporate marketing materials. So, how do you know this article itself is not in fact a green-washing attempt? Well, for one thing, we are going to show you how compostable packaging materials can be properly implemented. We will show you how they can be earth-friendly alternatives while also providing other sustainable packaging options for those you who are unable compost properly. In the end, you can decide for yourself. One of these future potential packaging materials is compostable items such as biodegradable shrink films, biodegradable flexible pouches, and various other types of bio-plastic materials, which are often made at least in part, from plants. This article will help you identify when compostable packaging materials may make sense for you and those situations in which traditional packaging materials are the more environmentally-friendly choice.
Environment | Packaging Materials
When it comes to packaging materials, plastic is so common. It is found in practically every packaging application you could possibly imagine. There are literally billions of tons of plastic in our world today. There are even millions of pounds of new plastic being produced every year! And while some companies such as Coca-Cola have stood their ground in defense of using plastic, many companies are being told by their customers that plastic needs to be phased out to make way for more environmentally friendly options. You are probably here because you are researching plastic packaging alternatives. Maybe you are the owner of a new start-up, or perhaps you have been in business for decades and are trying to meet the environmental demands of your consumer base. Regardless of what factors set your search in motion, you know that you need to find potential replacements for plastic packaging. With over 60 years in the packaging industry, Industrial Packaging has seen thousands of different types of materials come and go. We've helped countless businesses optimize their packaging design when making the transition to environmentally friendly alternative packaging materials. In this article, we will take a look at a few different varieties of sustainable, recyclable, and environmentally friendly plastic packaging alternatives that are sure to draw the attention of your customers and prospects alike!
Environment | Packaging Design | Packaging Materials | The Business of Packaging
As the tumultuous and dare I say downright disruptive year of 2020 winds to a close, the packaging industry is looking at some very interesting trends as we head towards the new year. While there are some hot-button trends that remain from 2020 as we head into the first quarter of 2021 (such as sustainability and environmentally minded packaging materials), there are some huge new packaging opportunities that have come out of the pandemic. For example, the video game industry is experiencing a meteoric expansion of growth as gamers have spent more time at home playing video games and many new gamers are just beginning to experiment with the joy of gaming to pass the time while in quarantine or semi-mandated stay at home orders. More gaming = more opportunities for video game packaging applications. Then, we have the ever-growing expansion of eCommerce purchasing. Purchasing online was already steadily rising prior to the arrival of this pandemic. But it has only grown exponentially more than expected as a byproduct of the virus. Food packaging (particularly frozen food packaging) has also seen a massive growth spurt. More consumers are buying larger quantities of groceries either in person or via online driven delivery services. It's a lot to keep up with. In this article, we will take a deep dive into the top packaging trends for 2021 so that you are set up to succeed in the new year.
Environment | Packaging Materials
Up until 2020, many supermarkets and other corporate entities were making it a point to phase out single-use plastics such as bags, cups, and straws. After the arrival of the corona virus, however, many of these institutions backpedaled on these decisions. They once again opted for single-use plastics as they had been proven to be safer options in the battle against COVID. Eventually, this pandemic will be over. And when that day comes, you can be sure that the environmental movement will be going full swing once again. We will likely see consumers once again demanding earth-friendly plastic alternatives to help protect the environment. Lately, we at Industrial Packaging have been getting questions about the various types of shrink films and their more environmentally friendly alternatives. Most recently, we received a rather interesting question from a prospect: Regarding shrink film, which is best for me? Recyclable OR Biodegradable? The honest answer to this question is, it depends! We will answer this questions based upon actual applications. This is case sensitive for each customer based upon their budget, their monthly volume of film used, and a few other different variables. In this article, we explore this question in-depth and help you understand which type of shrink film mentioned above is right for your unique packaging needs and business requirements.