Environment | Equipment | Investment | Packaging Design | Packaging Materials | Packaging Psychology
You may be familiar with shrink film, but are you familiar with printed shrink film? While shrink is a great material to package your products with, adding print directly to your packaging film takes things to the next level! What are the differences between printed and non-printed shrink film? What are the pros, cons and applications that printed shrink film can best be used for? Is it a good fit for your packaging line and your products? Let's figure this out together.
Environment | Packaging Materials | The Business of Packaging
As concerns about plastic and its negative effects on the environment meet a fever pitch, companies all over the world are looking for sustainable and earth-friendly alternatives. As the great pacific garbage patch continues to grow, now more than ever, interest in bio-polymers and products made from recycled plastics are on the rise. But, are they really viable options yet? In the article below, we will look at the technology behind recycled shrink films while asking the tough questions about their viability as a packaging material in 2019 and beyond.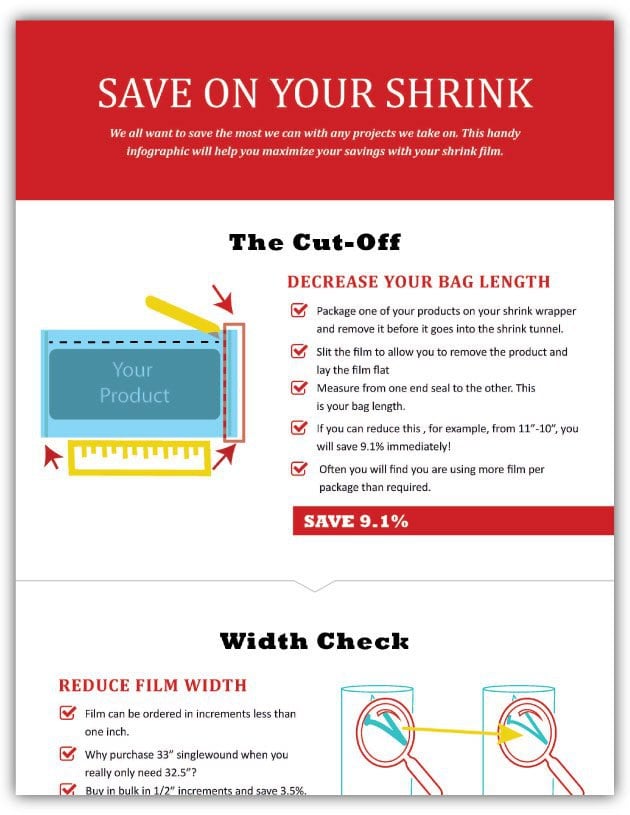 Shrink Film Cheat Sheet
We all want to save the most we can with any projects we take on. This handy infographic will help you maximize your savings with your shrink film. Get it for free when you subscribe to our blog.
Environment | Food Packaging | Packaging Design | Packaging Materials | Packaging Psychology | The Business of Packaging
Luxury packaging is a specialized market within the packaging industry. While it is only a small part compared to the industry as a whole, its environmental impact is heavy. The luxury packaging market has proven to be a highly profitable niche market within the world of packaging, however, at what cost to our planet earth? What exactly is luxury packaging, and who is the target demographic for it?
Environment | Food Packaging | Investment | Packaging Design | Packaging Materials | Packaging Psychology | The Business of Packaging
When it comes to choosing the right packaging material for your product, you can't go wrong by paying close attention to the details. After all, packaging may just be one of the biggest factors in making your product a success. The right packaging not only attracts consumers, it will keep your product safe in transportation and keep it fresh. This reinforces the quality of the brand and item when customers know they can count on a fresh item from when it hits the shelf to when it's in their hand.
Environment | Packaging Materials
Sustainability is no longer the future for packaging. It's officially the present state and the foreseeable future in package design and corporate responsibility. Sustainable packaging is not only a better option for the environment, but a great investment; especially for brands that are actively pursuing a positive image in the eyes of the consumer. The main impediment to its speed to growth in the packaging market has been the higher cost that comes along with it, but that's changing. Deciding how to design for sustainability may seem difficult and costly, but it is a worthwhile endeavor that will not only become mandatory in the next decade, but also provide major benefits to brands that adopt it in some form, sooner rather than later.
Environment | Packaging Design | Packaging Materials
Back in February, the packaging world collectively turned its head towards the announcement of LOOP, a revolutionary and potentially disruptive paradigm shift in the way major brands provide high-quality packaging while simultaneously putting recycling and waste reduction front and center. What is LOOP exactly? Loop is essentially a new approach to the by-gone days of the milkman's business model. From LOOP's website: "Loop is a circular shopping platform that transforms the packaging of your everyday essentials from single-use disposable to durable, feature-packed designs. Not so long ago, the milkman delivered reusable bottles and later picked them up to be refilled. Loop is the milkman reimagined - honoring our past from a modern perspective." In place of the milkman, you will find your local UPS delivery driver dropping off products from various companies (including but not limited to Procter & Gamble, Unilever, Nestlé, PepsiCo, Mars Petcare, etc.) and then returning to pick up your used packaging and sending it back to LOOP where it will be cleaned, refilled and resold once again.