Environment | Packaging Design | Packaging Materials
Back in February, the packaging world collectively turned its head towards the announcement of LOOP, a revolutionary and potentially disruptive paradigm shift in the way major brands provide high-quality packaging while simultaneously putting recycling and waste reduction front and center. What is LOOP exactly? Loop is essentially a new approach to the by-gone days of the milkman's business model. From LOOP's website: "Loop is a circular shopping platform that transforms the packaging of your everyday essentials from single-use disposable to durable, feature-packed designs. Not so long ago, the milkman delivered reusable bottles and later picked them up to be refilled. Loop is the milkman reimagined - honoring our past from a modern perspective." In place of the milkman, you will find your local UPS delivery driver dropping off products from various companies (including but not limited to Procter & Gamble, Unilever, Nestlé, PepsiCo, Mars Petcare, etc.) and then returning to pick up your used packaging and sending it back to LOOP where it will be cleaned, refilled and resold once again.
Environment | Equipment | Investment | Packaging Design | Packaging Materials | Packaging Psychology | Plant Performance | The Business of Packaging
Given the entire purpose of packaging, the idea of "zero waste" may seem counter-intuitive. How can you package anything without inevitably causing some leftover waste? Turns out, zero waste packaging is being hotly discussed in the manufacturing space, with many companies committing to reducing or eliminating waste — and many consumers actively seeking these options. To break it down, zero waste packaging takes things one step further than sustainable packaging. If this is new to you, read on to learn all about this trend, what it involves, and how it could affect your operations.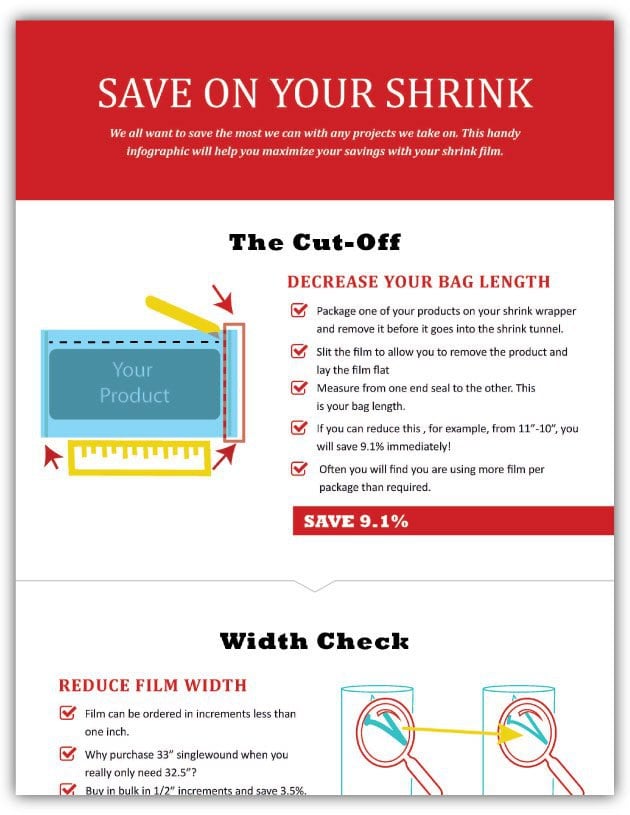 Shrink Film Cheat Sheet
We all want to save the most we can with any projects we take on. This handy infographic will help you maximize your savings with your shrink film. Get it for free when you subscribe to our blog.
Environment | Equipment | Food Packaging | Packaging Materials | Plant Performance | Shipping Protection | Technical Service and Support | The Business of Packaging
Minimizing excess stretch film usage is important for reducing waste, saving money, and keeping your operation as efficient as possible. While stretch film is an invaluable product, the less you use while properly securing your loads, the better for your bottom line. Load containment is one of the most important factors in this process. The term refers to the different forces that work in unison to hold your pallets together. Proper load containment secures your product so it can travel and arrive intact. Here's everything you need to know about making load containment your secret weapon:
Environment | Packaging Materials | Packaging Psychology
Here's a startling fact: Americans throw away 25% more trash between Thanksgiving and New Year's than any other time of year, accumulating an extra 25 million tons of garbage. Just think about the damage that amount of waste can do to our environment. At Industrial Packaging, we continuously strive to educate folks about simple ways to be more conscious of (and committed to) sustainability. That's why we're sharing these fun, innovative and useful ways to reuse the packaging you have leftover from the holidays, as well as some creative ideas for companies that package products for consumers.
Environment | Food Packaging | Packaging Design | Packaging Materials | The Business of Packaging
There's no escaping the images and videos depicting plastic bottles and waste floating along nature's waterways and oceans, nor the devastating predictions about pollution's increasing impact on the demise of our environment. As inhabitants of this great planet, we play a monumental role in effecting positive environmental change. We have a responsibility to ourselves (and humanity at large) to adopt effective ways of reducing waste and caring for Mother Earth. So, too, do the companies and large corporations developing, manufacturing, packaging and transporting the goods and materials that leave an ecological footprint.
Air Pillows | Environment | Equipment | Food Packaging | Investment | Packaging Design | Packaging Materials | Packaging Psychology | Shipping Protection | The Business of Packaging
The flexible packaging movement is proving to be a highly fluid one, and the new year is poised to bring about a distinct, industry-wide transformation. Flexible packaging trends seem to be bending toward the consumer in 2019, with a major focus on the areas of sustainability, convenience and e-commerce. As brands remain hyper-focused on consumer preferences, packaging technology and standards are moving in the same direction. Discover what changes are in store for the new year, and find out how these shifts can impact your own brand.