Environment | Packaging Materials
Up until 2020, many supermarkets and other corporate entities were making it a point to phase out single-use plastics such as bags, cups, and straws. After the arrival of the corona virus, however, many of these institutions backpedaled on these decisions. They once again opted for single-use plastics as they had been proven to be safer options in the battle against COVID. Eventually, this pandemic will be over. And when that day comes, you can be sure that the environmental movement will be going full swing once again. We will likely see consumers once again demanding earth-friendly plastic alternatives to help protect the environment. Lately, we at Industrial Packaging have been getting questions about the various types of shrink films and their more environmentally friendly alternatives. Most recently, we received a rather interesting question from a prospect: Regarding shrink film, which is best for me? Recyclable OR Biodegradable? The honest answer to this question is, it depends! We will answer this questions based upon actual applications. This is case sensitive for each customer based upon their budget, their monthly volume of film used, and a few other different variables. In this article, we explore this question in-depth and help you understand which type of shrink film mentioned above is right for your unique packaging needs and business requirements.
Environment | Food Packaging | Packaging Materials
My guess is that you probably run some type of food packaging business. You have diligently been doing research on the various types of packaging that is appropriate for your food to be packaged in. Regardless of what you're packaging, clearly, you're here because you are either considering flexible pouches or paperboard boxes. OR, maybe you're trying to choose between the two. Industrial Packaging has been selling packaging supplies for decades. We have sold both boxes and pouches for the applications for which they are appropriate. You know that you can package your food products in either container. Both would be a viable option that would appropriately contain your items. But, you are hoping to dig deeper down and find out the subtle differences that make one or the other the BEST choice for your specific needs. Well, luckily for you, in this article, we are going to explain the differences as well as the pros and cons of each of these containers and help you to make the right choice for your packaging line!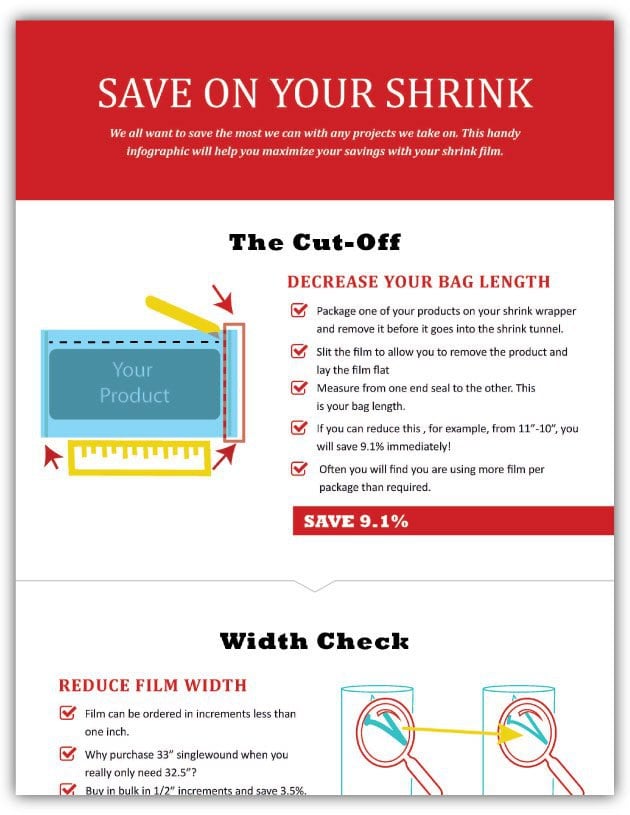 Shrink Film Cheat Sheet
We all want to save the most we can with any projects we take on. This handy infographic will help you maximize your savings with your shrink film. Get it for free when you subscribe to our blog.
Environment | Investment | Packaging Design | Packaging Materials
When it comes to choosing packaging for your products, you have a lot of options. So many that it might be overwhelming to find the perfect packaging. Two broad packaging categories that you will find are flexible packaging and rigid packaging. But, what exactly are the differences between these types of packaging materials? Some of the main differences include environmental impact, sustainability, cost, and other various items of consideration. At Industrial Packaging, we pride ourselves on being an educator in the flexible packaging supplies that we offer. However, we want to be clear that for some products rigid packaging is a better choice. There are also plenty of applications where flexible packaging is the superior choice of the two. In this article, we will compare the pros and cons of flexible and rigid packaging and help you to understand which is a better choice for your specific packaging needs.
Environment | Packaging Design | Packaging Psychology
In our modern world, people are buying products from online retailers more and more every day. This is a trend that is going to skyrocket with each passing day. This means that people aren't interacting with your company, a salesperson, or your brand like they used to. Today, the unboxing of a product is often the first experience a consumer will have with your company, brand, and products. If you fail to make an excellent first impression when someone opens your product, you run the risk of losing the customer's future business. Industrial Packaging has been helping companies properly package their products for multiple decades. During that time, we have watched the evolution of the unboxing experience and we know the importance of this process. In the article below, we will discuss the top 5 ways to ensure an excellent unboxing experience that will "wow" your customers and help them to fall in love with your brand.
Environment | Packaging Materials
Think back before the arrival of COVID19. Many people were reducing their use of plastic products. Plastic shopping bags, single-use containers, and packaging were all being slowly fazed out. Shortly after the arrival of the pandemic, however, things changed—the EPA relaxed environmental protections. And then, some states banned reusable bags. In their place, the resurgent single-use plastics. This move was a complete 180 in plastic consumption trends to that point. Since the pandemic, we've seen a big comeback of single-use plastics. The packaging industry was no different. There was an initial boost of interest in bio-based shrink films before the arrival of the pandemic. But, after COVID arrived, many companies switched back to traditional plastic films. You might be thinking that plastics are all bad. But, you might be surprised to learn about the real pros and cons of plastic shrink film. But, which type of film is right for you? Bio-based film or plastic film? With over six decades in the packaging industry, Industrial Packaging has learned a lot about shrink films. During that time, we have found that sometimes, traditional plastics are actually the better choice. And, sometimes, bio-films would make more sense for specific applications. This article will take a look at the pros and cons of biodegradable films and plastic films. As a result, you'll have a better understanding of each product. And, you will be able to make an informed decision about the proper film for your needs.
Environment | Packaging Design | Packaging Materials
You may be familiar with stand up pouches, but truth be told, they are only one of several different types of flexible pouches. Other examples you might not be as familiar with include gusseted pouches (side gusset and bottom gusset), three side seal pouches, pillow pouches, and so on. Here at Industrial Packaging, we have been selling flexible packaging pouches for many years. We're often asked about what each type has to offer and why to choose one kind of pouch over another. In this article, we will explore the different types of flexible pouches and help you find the right solution for your needs.