Environment | Investment | Packaging Design | Packaging Materials
When it comes to choosing packaging for your products, you have a lot of options. So many that it might be overwhelming to find the perfect packaging. Two broad packaging categories that you will find are flexible packaging and rigid packaging. But, what exactly are the differences between these types of packaging materials? Some of the main differences include environmental impact, sustainability, cost, and other various items of consideration. At Industrial Packaging, we pride ourselves on being an educator in the flexible packaging supplies that we offer. However, we want to be clear that for some products rigid packaging is a better choice. There are also plenty of applications where flexible packaging is the superior choice of the two. In this article, we will compare the pros and cons of flexible and rigid packaging and help you to understand which is a better choice for your specific packaging needs.
Environment | Packaging Design | Packaging Psychology
In our modern world, people are buying products from online retailers more and more every day. This is a trend that is going to skyrocket with each passing day. This means that people aren't interacting with your company, a salesperson, or your brand like they used to. Today, the unboxing of a product is often the first experience a consumer will have with your company, brand, and products. If you fail to make an excellent first impression when someone opens your product, you run the risk of losing the customer's future business. Industrial Packaging has been helping companies properly package their products for multiple decades. During that time, we have watched the evolution of the unboxing experience and we know the importance of this process. In the article below, we will discuss the top 5 ways to ensure an excellent unboxing experience that will "wow" your customers and help them to fall in love with your brand.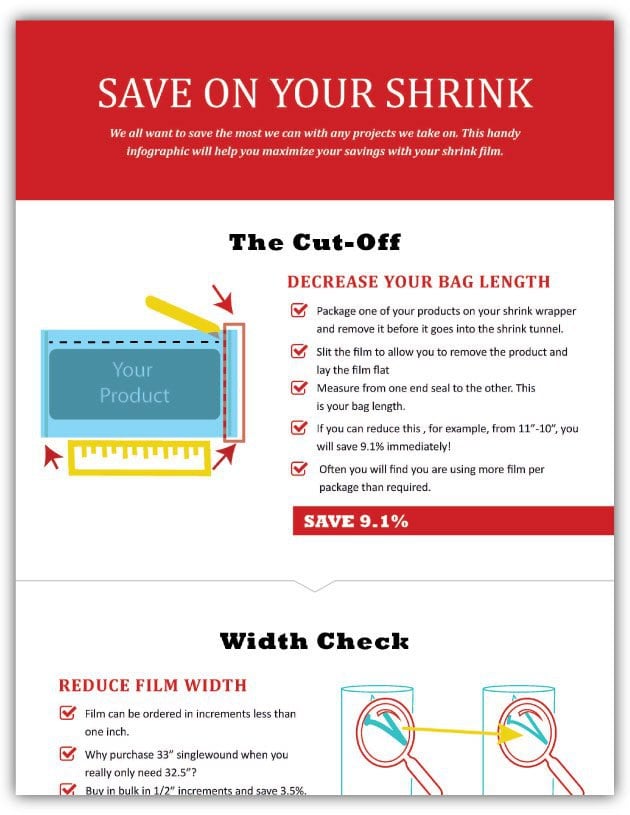 Shrink Film Cheat Sheet
We all want to save the most we can with any projects we take on. This handy infographic will help you maximize your savings with your shrink film. Get it for free when you subscribe to our blog.
Environment | Packaging Materials
Before the arrival of COVID19, a large focus was on reducing plastic products like shopping bags, single-use containers, and packaging films. Recently however, the EPA has further relaxed environmental protections. In some states, reusable bags and containers have been banned in place of single-use plastic. This is a much different approach than previous environmental trends, which signals a big comeback of single use plastics. In this article, we will take a look at the pros and cons of biodegradable shrink films and plastic shrink films. As a result, you'll have a better understanding of each product and be able to make an informed decision about the best packaging product for your needs.
Environment | Packaging Design | Packaging Materials
You may be familiar with stand up pouches, but truth be told, they are only one of several different types of flexible pouches. Other examples you might not be as familiar with include gusseted pouches (side gusset and bottom gusset), three side seal pouches, pillow pouches, and so on. Here at Industrial Packaging, we have been selling flexible packaging pouches for many years. We're often asked about what each type has to offer and why to choose one kind of pouch over another. In this article, we will explore the different types of flexible pouches and help you find the right solution for your needs.
Environment | Packaging Design | Packaging Materials
Blister packaging is a unique type of packaging that evokes the idea of a blister. If you have ever had one, you can see the resemblance. It is a flat surface with a bubble protruding from the flat area. Inside the bubble is where the product is contained. Blister packaging (AKA: blister packs) are a type of carded packaging. Similar in style to skin packs, blister packs are commonly used for packaging a variety of products including, but not limited to fishing lures, tools, and pharmaceuticals. People often ask us, "what are blister packs made out of"? In this article, we will explore the materials that make up blister packaging, some of the benefits of blister packs, as well as common uses and problems.
Environment | Packaging Design | The Business of Packaging
When it comes to packaging materials, the shocking truth is that plastics are STILL your most environmentally-friendly choice. Three independent studies, including one from the UK government, confirm this scientific truth. And while flexible packaging materials are your best earth-friendly choice, for the time being, the future holds many surprises and innovations.