Fulfillment | Supply Chain Services/ Contract Packaging
Perhaps you have found yourself in the position of having to find a solution for packaging your products. You have been doing research about setting up a packaging line. In addition to that, you are studying the many different types of packaging machinery and materials. You are also trying to calculate the cost of the labor required to do your packaging in-house. Maybe you are frustrated with the potential cost of all of these items. And to compound these issues, there is the thought of warehousing to consider. Can you fit all the required pieces of your packaging line and supply chain needs at your current location? If not, will your company be able to justify the purchase of a warehouse? And, even if you can, will the warehouse be large enough to fit all the machinery, laborers, and packaging materials in that space? Or, do your space requirements exceed that which you can afford? When mulling over all of these items, it becomes quite clear what a big responsibility and cost running a packaging line and managing your supply chain can be. If only there was some way to outsource all of this stuff! I mean, wouldn't it be great if you had a partner who could take all of this responsibility off of your plate and help you to finance the cost? Well, that is where a contract packaging company (also known as a co-packer) comes in! Handing your supply chain needs over to a contract packaging company takes much of the work off your plate. This allows you to focus on what your company does best, making your products and consistently optimizing them. With a co-packer like Industrial Packaging on your team, you end up with a partner for your business. One who can handle all aspects of your supply chain. By handing over your supply chain infrastructure to a contract packaging company, you ensure that your packaging line is being run properly. In this article, we will discuss what a contact packaging company is. We will also discuss the responsibilities that such a company can take off your plate.
Food Packaging | Supply Chain Services/ Contract Packaging
Industrial Packaging Is The First Packaging Company In The World To Be Pandemic Prepared Certified By AIB International! In addition to the above's most exciting news, we are also the first company in the United States to achieve this certification! When the COVID pandemic hit the USA, we, like many companies, were not ready for the brave new world that had begun to rear its head. With that being said, we wasted no time in the process of adapting to the challenges before us. Our supply chain team, headed by then General Manager and our current Vice President Jarrod DiZazzo, worked quickly to implement the recommended guidelines brought forth by the CDC and the WHO. From the implementation of thermometers and thermal imaging technology to advanced social distancing and sanitization practices, the Industrial Packaging team worked tirelessly to meet the demands of a most unexpected global emergency. With protection being the forefront in our mission of "Protecting People, Products, and Brands throughout the Supply Chain", we had to act quickly while also being extremely careful to ensure that the safety of our customers and employees was at the heart of our efforts. That is why we are extremely excited to announce this huge achievement!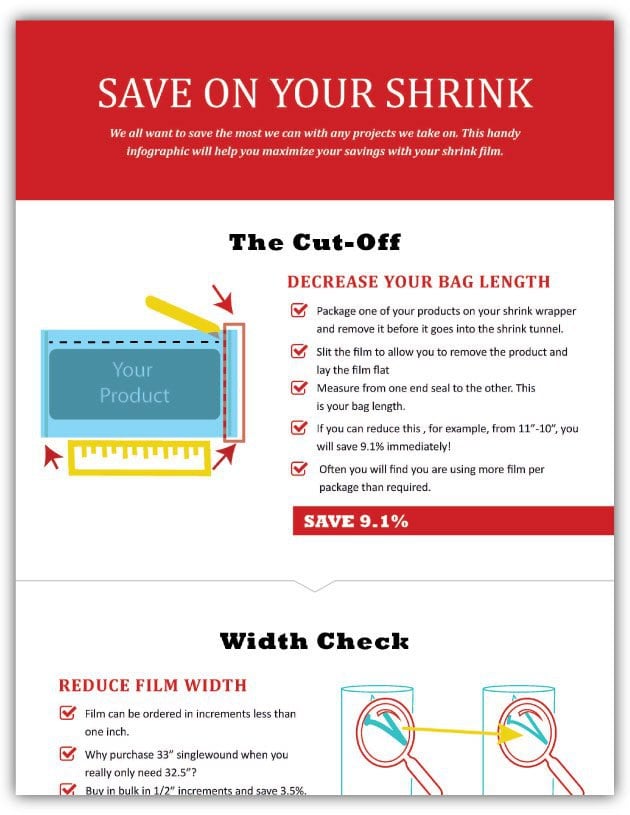 Shrink Film Cheat Sheet
We all want to save the most we can with any projects we take on. This handy infographic will help you maximize your savings with your shrink film. Get it for free when you subscribe to our blog.
Fulfillment | Plant Performance | Supply Chain Services/ Contract Packaging
One question that we are often asked by managers from other companies is, "How do I know when it's time to look for help or outsource some of my supply chain"? Sometimes these questions are from a start-up company that has been operating out of their basement. Other times the question comes from a large company that is toying with the idea of a large expansion. As a specialist in supply chain dynamics, Industrial Packaging is uniquely positioned to help you understand when and why you should work with a third party to run your supply chain. Even if you do not choose us as your third-party supply chain vendor, we can help you to understand the protocols for this process. In this article, we will give you advice on how to approach this project.
Fulfillment | Supply Chain Services/ Contract Packaging | The Business of Packaging | Warehousing
When choosing a vendor for your packaging materials and machinery, you have many options to choose from. From original manufacturers (OEMs) to online storefronts like U-LINE, or buying from a distributor who works with multiple manufacturers. How do you know that you are getting the ideal product and service when it comes down to purchasing? With the various options available to you, who will serve your business best? Cards on the table, Industrial Packaging has been a packaging distributor for decades. However, this doesn't mean we are going to aim for deception. Sometimes a distributor isn't the right fit for your business. While this article will discuss why you can trust a packaging distributor, our goal is to help you determine if a distributor is a good fit for your needs.
Equipment | Food Packaging | Fulfillment | Investment | Packaging Design | Packaging Materials | Plant Performance | Supply Chain Services/ Contract Packaging | The Business of Packaging | Warehousing
You've probably heard the term Internet of Things (IoT), but what does this ubiquitous industry buzzword refer to, exactly? The IoT is the interconnectedness of everyday objects and machinery to the internet through computerization (microchips, sensors, etc.), enabling inanimate items to exchange data and communicate with other connected objects. Industry insiders are predicting that the IoT could change manufacturing as we know it by tracking and measuring every previously unquantified element of operations. Read on for everything you need to know about the IoT and packaging, including what's trending now, how companies are innovating, and a predictive look forward.
Environment | Food Packaging | Investment | Packaging Design | Packaging Materials | Packaging Psychology | Plant Performance | Shipping Protection | Supply Chain Services/ Contract Packaging | The Business of Packaging
There is a trend in packaging that is playing a growing role in the way that consumer packaged goods (CPG) companies operate. This fast rising trend is the shift towards consumer convenience. The packaging trends towards convenience for CPG companies are a key component to consumer satisfaction. In this article, we talk about how you can use this information to ensure your packaging is cost effective while delivering what the consumer wants.