Supply Chain Services/ Contract Packaging
Top shelf contract packaging companies and the Northeastern USA go together like peanut butter and jelly! There are many co-packers in this neck of the woods. It almost seems like contract packaging companies are as common as Dunkin Donuts! There are so many options to choose from! So, how do you know which contract packaging company is the right one for your business? Who is the number one contract packaging company in the Northeastern USA? I bet you would assume that we would loudly declare, Industrial Packaging! I mean, sure, we think we are pretty great. We would love to get your contract packaging business. But, we may or may not be the best choice for your company's supply chain management needs. Each contract packaging company has strengths and weaknesses. Some are super great at packaging food. Others are better suited for packaging medical supplies. Each contract packaging company has its own specialties and niche market capabilities. We are passionate about educating our customers and prospects about contract packaging. As a result, we have identified the best contract packaging companies in the Northeast, so you don't have to! Here are the top 5 best contract packaging companies in the Northeastern USA based upon their capabilities. This is an ordered list with number 1 being the best.
Supply Chain Services/ Contract Packaging
You are finally at the point where you want to outsource your packaging. Now, you are evaluating vendors. The last thing that you would want to do is put yourself in a position where you cannot get your products out on time. If you chose a vendor who did not think about everything that needed to happen when they took your business, you might find yourself in this position. As a contract packaging company (AKA: a co-packer) grows larger, new warehouses and additional locations may be required to meet growing demands. After a period of growth, they may have to move into a new location to meet their client's needs. You will want to know that your co-packer can meet your requirements. They need to do this regardless of the move. They must still be able to meet the demand of your packaging requirements. At Industrial Packaging, we have had to move recently for the very reasons mentioned above. During this time, we had to implement new protocols. These new protocols ensured that we could still meet the contract packaging demands of our clients. We had to do this while we transitioned to a larger warehouse and a new corporate office. This article will explore the required questions you need to ask your contract packaging vendor. That way, you can be sure that they can manage your supply chain while moving their business. Regardless of whether you choose us as a contact packaging company or not, you will want to make sure that your vendor can still meet your demands while they move their business.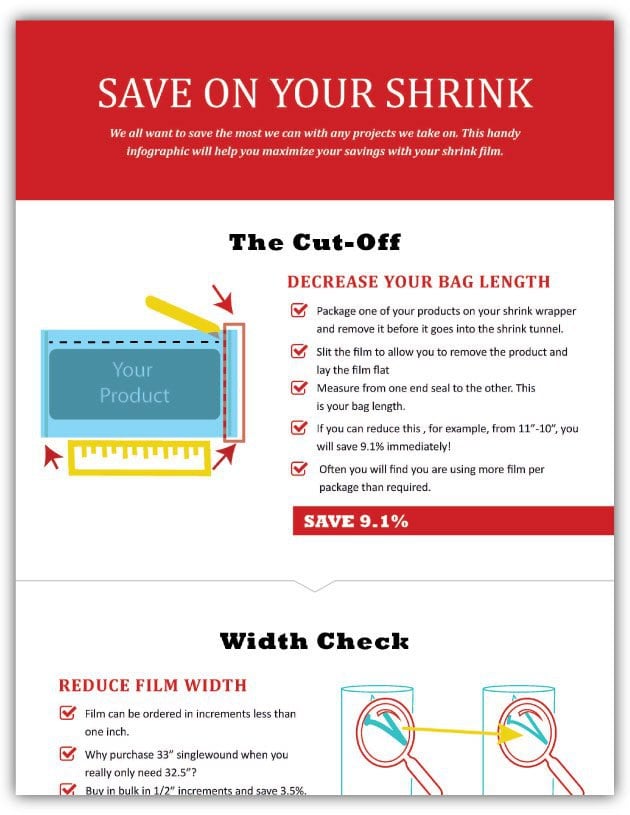 Shrink Film Cheat Sheet
We all want to save the most we can with any projects we take on. This handy infographic will help you maximize your savings with your shrink film. Get it for free when you subscribe to our blog.
Fulfillment | Supply Chain Services/ Contract Packaging
Over the past few weeks, you have been doing research about contract packaging. You have noticed other companies in your industry have outsourced their supply chain. They have done this with a contract packaging company. You find yourself wondering if contract packaging could benefit your own company. But, you are not clear on what the benefits of contract packaging are. Do they make sense for your business? Now, you find yourself here on the Industrial Packaging website. You are perusing blog posts and webpages about contract packaging. You see that we have been providing contract packaging services for many years. In some cases, to Fortune 500 companies. With the information found here, you will be able to decide if contract packaging is right for your business. And, while Industrial Packaging would love to gain your contract packaging business, we may or may not be the best vendor for you. Regardless, with the information available on our blog, we will be able to help you identify the right contract packaging vendor for your company, even if it is not us. In this article, we will review the top 5 benefits of contract packaging. This will help you identify if contract packaging is right for you or not.
Fulfillment | Supply Chain Services/ Contract Packaging
Perhaps you have found yourself in the position of having to find a solution for packaging your products. You have been doing research about setting up a packaging line. In addition to that, you are studying the many different types of packaging machinery and materials. You are also trying to calculate the cost of the labor required to do your packaging in-house. Maybe you are frustrated with the potential cost of all of these items. And to compound these issues, there is the thought of warehousing to consider. Can you fit all the required pieces of your packaging line and supply chain needs at your current location? If not, will your company be able to justify the purchase of a warehouse? And, even if you can, will the warehouse be large enough to fit all the machinery, laborers, and packaging materials in that space? Or, do your space requirements exceed that which you can afford? When mulling over all of these items, it becomes quite clear what a big responsibility and cost running a packaging line and managing your supply chain can be. If only there was some way to outsource all of this stuff! I mean, wouldn't it be great if you had a partner who could take all of this responsibility off of your plate and help you to finance the cost? Well, that is where a contract packaging company (also known as a co-packer) comes in! Handing your supply chain needs over to a contract packaging company takes much of the work off your plate. This allows you to focus on what your company does best, making your products and consistently optimizing them. With a co-packer like Industrial Packaging on your team, you end up with a partner for your business. One who can handle all aspects of your supply chain. By handing over your supply chain infrastructure to a contract packaging company, you ensure that your packaging line is being run properly. In this article, we will discuss what a contact packaging company is. We will also discuss the responsibilities that such a company can take off your plate.
Food Packaging | Supply Chain Services/ Contract Packaging
Industrial Packaging Is The First Packaging Company In The World To Be Pandemic Prepared Certified By AIB International! In addition to the above's most exciting news, we are also the first company in the United States to achieve this certification! When the COVID pandemic hit the USA, we, like many companies, were not ready for the brave new world that had begun to rear its head. With that being said, we wasted no time in the process of adapting to the challenges before us. Our supply chain team, headed by then General Manager and our current Vice President Jarrod DiZazzo, worked quickly to implement the recommended guidelines brought forth by the CDC and the WHO. From the implementation of thermometers and thermal imaging technology to advanced social distancing and sanitization practices, the Industrial Packaging team worked tirelessly to meet the demands of a most unexpected global emergency. With protection being the forefront in our mission of "Protecting People, Products, and Brands throughout the Supply Chain", we had to act quickly while also being extremely careful to ensure that the safety of our customers and employees was at the heart of our efforts. That is why we are extremely excited to announce this huge achievement!
Fulfillment | Plant Performance | Supply Chain Services/ Contract Packaging
One question that we are often asked by managers from other companies is, "How do I know when it's time to look for help or outsource some of my supply chain"? Sometimes these questions are from a start-up company that has been operating out of their basement. Other times the question comes from a large company that is toying with the idea of a large expansion. As a specialist in supply chain dynamics, Industrial Packaging is uniquely positioned to help you understand when and why you should work with a third party to run your supply chain. Even if you do not choose us as your third-party supply chain vendor, we can help you to understand the protocols for this process. In this article, we will give you advice on how to approach this project.