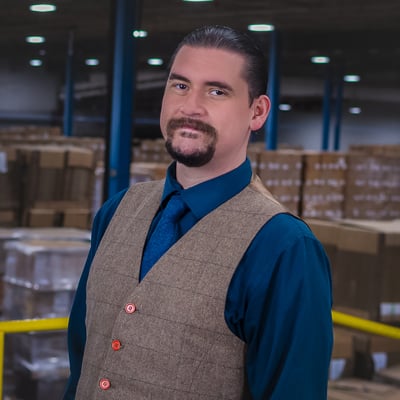 Importance Of Lead Times For Packaging Machinery And Materials
Equipment | Packaging Materials | The Business of Packaging | Fulfillment

I am sure you are sick of hearing about supply chain problems, but they significantly affect lead times for packaging machinery and materials.
Suppose you are thinking about making a large packaging machinery or materials purchase but do not plan on receiving them for several months. In that case, you will still want to consider buying now rather than later.
While that may seem "salesy" at first glance, the truth is, it is sound advice in these difficult times. Due to severe supply chain problems, a packaging materials or machinery order you need in six months may need to be placed today to receive it on time.
Waiting to purchase your packaging machinery or materials close to the date when you need them to arrive in your warehouse may result in severe problems and unwanted headaches.
In order to ensure that your equipment and materials arrive on time, it is essential to make sure that you order far enough in advance so that your items arrive when you need them.
But why are lead times so long today? Why is it necessary to order your packaging machinery and materials so far in advance?
This article will review the evermore important factor of lead times for purchasing packaging machinery and materials and explain why lead times are significantly longer today.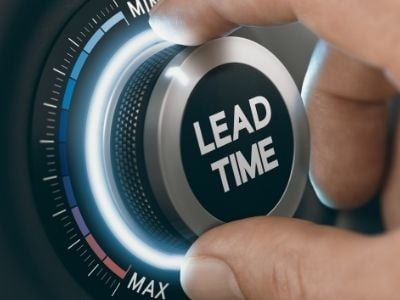 What Are Lead Times For Packaging Machinery And Materials?
Lead times are the amount of time it takes for packaging machinery or materials to arrive at your location after placing the order for said product with your vendor of choice.
Why Are Lead Times For Packaging Machinery And Materials Important?
Lead times for packaging machinery and materials are essential because failing to consider them may lead you to not getting your machinery and materials in the time you require.
It is not uncommon today for a buyer to reach out to us and inquire about making an order. Often, the lead times for the packaging product they are looking to purchase can be anywhere from seven weeks to seven months.
In these situations, we will notify the buyer of these lead times, and, oftentimes, they choose not to make a purchase based on those lead times.
Instead, they wait until a few weeks or less from when they need to acquire the packaging machinery or materials they need. When we inform them that they will not be able to get the products they are trying to purchase for much longer than the time frame they require, they often seem surprised, even asking why?
We will, of course, reiterate the fact that we had mentioned the extensive lead times for the products that they had asked about weeks before. We will explain that we tried to let them know that in order to get them what they wanted when they wanted it, they would have had to purchase at the time of the original conversation.
While at this point, the buyer does seem to have a visceral understanding of the situation, they will often lament the stress, headaches, and frustration of being in their current situation.
At this point, we will do our best to expedite the process, but due to ongoing supply chain issues, this is often impossible.
Therefore, It should go without saying that you do not want to find yourself in the buyer's position mentioned above. It is essential to understand that in today's climate, you will often need to make a purchase weeks or even months in advance of when you need the product to arrive for it to arrive on time.
Failure to make purchases in this way in light of the current lead times for various packaging machinery and materials may result in extremely unpleasant repercussions.
---
Need help buying packaging machinery?
---
What Are The Current Lead Times For Packaging Machinery And Materials?
While we are certain you would prefer a straightforward answer to this question, the answer is "it depends." Every type of packaging machinery and material will have its own unique lead times in today's climate.
Some packaging materials and machinery may have a lead time of only two to four weeks. However, some packaging machinery and materials will have lead times in excess of six months.
The lead time for the packaging machinery or material that you are looking to purchase will be case-sensitive and based on the product that you are looking to order.
What Elements Affect Packaging Machinery And Materials Lead Times?
Today, many different things can affect the lead times for the packaging machinery and materials you want to buy.
Many of these items are byproducts of global supply chain disruptions, black swan events, health crises, and other events such as war and raw materials shortages. These problems are causing an increase in both lead times and the price of packaging materials.
Below, we will review the main elements that can affect the lead times for your packaging machinery and materials orders today.
Things that can impact lead times for your packaging products include:
Force Majeure - Force majeure is a clause that is added to many packaging materials and machinery manufacturer's contracts with packaging distributors. The clause liberates both the manufacturer and the distributor from regular obligations or liability when black swan events occur. When force majeure is enacted, manufacturers focus primarily on serving their current customers and choose not to take on orders from new clients until the event is over.


Resin Shortages -

Plastic resin is the substance that is used to create all forms of plastic packaging. Resin is a petroleum byproduct. The oil industry's state largely dictates resin's production and cost. Disruptions in petroleum production (such as the war in Ukraine) will often decrease the availability of plastic resins. When this happens, plastic packaging vendors may be unable to source certain packaging materials for extended periods.




China's Forced Quarantine -

China is in the midst of a surge in COVID. The country has a strict "zero COVID" policy. To combat the outbreak, the government is physically forcing people out of their homes and jobs and moving them hundreds of miles away to a makeshift COVID camp where suspected COVID patients are being forced to live in tiny metal rooms for two weeks while it is determined if they have COVID or not. These forced quarantines are removing employees from thousands of companies, causing further delays in lead times for various products, including packaging.



Container Shortage -

An ongoing container shortage is happening as a byproduct of COVID shutdowns. Container ships around the globe are sitting unloaded for weeks, sometimes months on end. This leads to ports being congested with dozens of container ships, many of which are not sailing. Because of this, the number of available containers is getting very low. This leads to further increases in lead times for products that rely on these containers for shipping.




Extended Lead Times for Electronics and Steel -

Like plastic resins, lead times for electronics (semiconductors in particular) and steel have increased dramatically due to availability issues from the COVID pandemic and the months of resulting back-orders.




Labor Shortages -

During the great resignation, millions of people were quitting their jobs and choosing to live on unemployment and government bailout checks rather than returning to work. While there has been some increase in laborers returning to the workforce since then, many companies are still struggling to find quality laborers to fulfill their client's orders.




Trucking Issues -

In both the USA and Canada, mass trucker protests shut down supply chain routes for days on end. Additionally, many truckers refuse to return to work due to the low quality of jobs available and the harsh lifestyle required to be a trucker. Last year alone, there was a deficit of 80,000 truckers in the USA. These shortages are leading to longer lead times for many products.




Increased Demand -

Despite the lower availability of many products, including packaging supplies, demand has only risen. This has resulted in months of back orders, many of which come with extended lead times.




How Can You Find Out The Lead Times For Your Packaging Machinery And Materials?
By now, you are probably wondering how you can identify the lead times for the packaging machinery and materials that you need to source in order to keep your business running.
There are several different ways in which you can go about this. You could go to your current packaging machinery and materials vendor's websites and use the search bar to search for terms like "lead times," "packaging machinery lead time," "packaging materials lead time," and other variations of these keywords based upon what you are looking for.
Then again, you could call the 800 number for your packaging vendor and speak with a customer service representative. You could ask them what the lead times are for the specific packaging machinery or materials you are looking for, and they can find that information for you.
But, the easiest way to find out the lead times for the packaging machinery and materials you need to keep your business running would be to speak with a packaging expert.
They will be able to get you the exact lead times for the packaging machinery and materials that you are looking for. And, if for some reason they cannot, they will be able to put you in touch with the people who can.
Are You Looking For Packaging Machinery Or Materials?
After reading this article, you should understand the importance of lead times and why you want to consider purchasing the packaging machinery and materials you need sooner than later to avoid potentially seriously unwanted headaches.
If you are currently in need of a specific type of packaging machinery or material for your business and are looking to get lead times for these items, please consider reaching out to one of our packaging specialists.
They will be able to provide you with the lead times for the packaging equipment or supplies you are seeking and information on lead times for those items.
About Nathan Dube
As the Digital Marketing Specialist at Industrial Packaging, I am honored to create content for such a phenomenal company and work with one of the greatest teams in the Packaging Industry. Whether creating a video, writing blog posts or generating other pieces of content and multimedia, I am always excited to help educate and inspire our prospects and clients to reach their highest potential in regards to their packaging processes and needs.