Equipment | Plant Performance | Shipping Protection
Are you purchasing machinery or materials for your packaging line? Feeling a bit of pressure to cut costs or save as much money as possible while also keeping a smooth running line? Chances are, you've always been focused on reducing costs whenever possible. But in today's world, with so many businesses coming out of long periods of downtime, cutting costs is a top concern for practically everyone. There's extra pressure from upper management to figure out how to save your company money. You probably ask yourself on a daily basis, How can I cut costs today? We know that the responsibilities of purchasing personnel today are stressful. Here at Industrial Packaging, we've worked with purchasing departments for decades to optimize their packaging lines and save money. That is why, in this article, we are going to give you a few helpful cost-saving tips. Specifically, if you're running a Lantech stretch wrapper, we are going to help you save between 20-50% on stretch wrapping film costs! Want to see proof of this in action? Review this case study we created based on our own experience!
Food Packaging | Packaging Materials | Shipping Protection | Warehousing
You know that strapping can be used to bundle products together, reinforce cartons, and to secure items to pallets for shipment. These strapping materials come in a variety of options, but how do you know which is best for your application? Your options can be filtered down into three primary categories: polypropylene(PP), polyester(PET), and steel. Strapping materials are used primarily for bundling products together and securing pallet loads during transport and storage. When used for palletizing, it is often complemented with the additional security of stretch wrap. Being a market leader in supplying strapping materials to companies of all sizes, we've been able to help many brands overcome the challenges of securing your products from shipment to shelf. You might find yourself with a lot of questions when trying to find the best strapping material for you. Which type of strapping material is ideal for your application, and how does it function? What is the difference between virgin and recycled strapping? Find out how these materials work and which will be the best fit to optimize the security and unitizing of your products..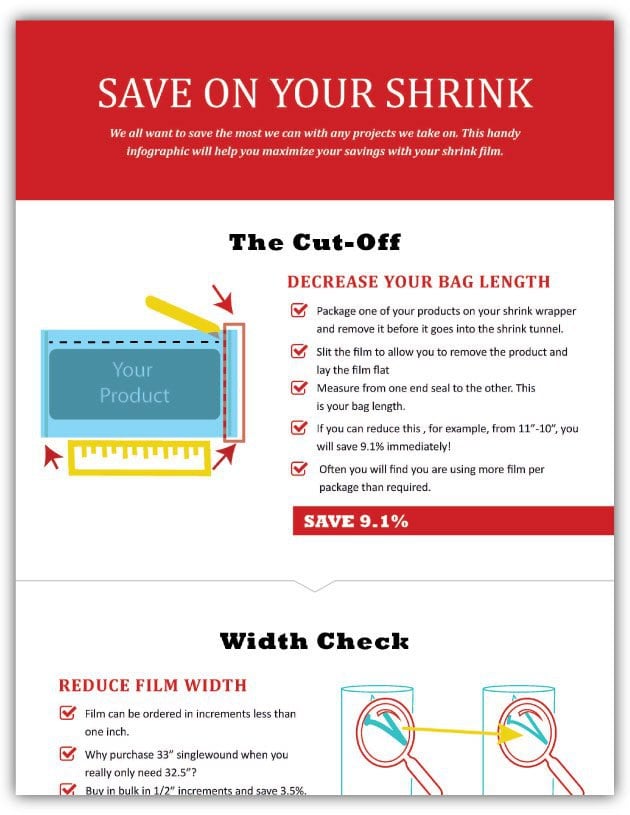 Shrink Film Cheat Sheet
We all want to save the most we can with any projects we take on. This handy infographic will help you maximize your savings with your shrink film. Get it for free when you subscribe to our blog.
Food Packaging | Packaging Materials | Shipping Protection
So, you are looking for a type of film, but you are confused about which type you actually need. While it is not uncommon to confuse stretch film with shrink film, they are not the same material. Stretch film and shrink film are made for very different applications and using one in the wrong application could lead to serious problems. After such a long time in the packaging industry, Industrial Packaging often gets questions about shrink film and stretch film. One of the more common questions about these materials that we receive is: "What is the difference between shrink film and stretch film?" One of these films can be used in a heat tunnel to package products. Doing that with the other could result in a fire. It is important to know the differences between these two materials when trying to source one or the other. In this article, we will explore the differences between both types of film and explain the appropriate applications for each.
Fulfillment | Packaging Materials | Shipping Protection
In the wide world of packaging, SIOC, consumer-friendly, and Amazon transparency are all different elements of a general paradigm shift in packaging processes. They focus on cost, environmental impact, ease, and simplification of the entire packaging process. But, what are the differences between each of these elements? At Industrial Packaging, we have been working within the ecosystems of these packaging elements for decade upon decade and take the processes of each very seriously. In this article, we will explore the differences between SIOC, consumer-friendly, and Amazon transparency packaging protocols. With this information, you will be able to better understand your options and be more well-equipped to make a decision when it comes time to implementing these protocols for your shipping and handling processes.
Air Pillows | Environment | Packaging Design | Packaging Materials | Packaging Psychology | Shipping Protection
At Industrial Packaging we have been offering protective packaging supplies for close to 70 years. Now, while you have probably heard the term "protective packaging" before, you may be wondering, what exactly is it? In the article below, we will define and explore protective packaging materials and the various applications of which are most common for this type of packaging supply.
Environment | Fulfillment | Packaging Design | Packaging Materials | Packaging Psychology | Shipping Protection
Packaging for e-commerce is nothing new. However, there are some significant changes coming down the line for e-com packaging materials, protocols and related dynamics. As we head into 2020, any and all companies doing e-com business must be aware of the demands of the consumer. But what changes are ahead for e-com packaging? How is the circular economy effecting e-com packaging materials and processes? What are consumers expecting from the unboxing experience? How are environmental concerns shaping the realm of e-com packaging? In the article below we will take a look at the top 3 concerns of e-com packaging in 2020 and how this dynamic is changing as we move into the new year.