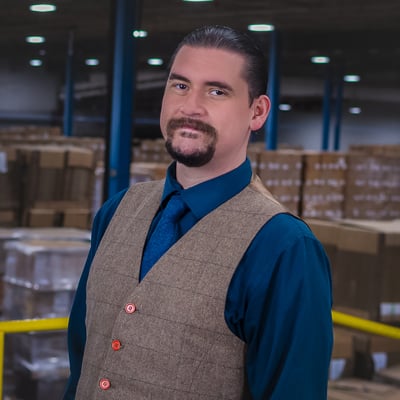 How Downgauging Stretch Film Can Save You Money
Were you thinking of downgauging stretch film for cost savings? I did the same when I was in high school.
When I was seventeen, I worked in a warehouse for a local trucking company that one of my best friend's fathers owned.
And, oddly enough...
I used to think about how the company could save money via cutting stretch wrap costs by downgauging their film.
Although, I never mentioned it. I was just a teenager, and I figured they would not be interested in the feedback.
Still, the memories are as fresh as they were back then.
I will never forget waking up at 2:00 AM to be at work at 4:00 AM. The Drive in the winter was cold and harsh. But, that same cool air was a blessing during the summer months.
Knowing I had anywhere from eight to sixteen-hour shifts unloading trucks, I would down two energy drinks before arriving to work.
One of the daily responsibilities was to wrap the stacked pallets of packages with hand stretch wrap. In the winter, we would warm our work gloves in the microwave before going into the ice-cold, concrete-floored building and getting to work.
I will never forget the slightly dizzying process of wrapping a pallet. We would load a roll of hand stretch wrap onto a stretch wrap dispenser.
Next, we would pull a bit of the film from the roll and tuck it under the corner of a stacked pallet. Then we would run circles around the pallet, pulling the stretch film tight as we ran the wrap up to the top and then back down to the bottom.
Looking back on it, I wish I had spoken up about downgauging. I saw my friend's father for the first time in years a few days ago. With all the supply chain and trucking industry complexities, they decided to sell their business.
I can't save their company any money now. But, perhaps I can help you to save money for yours. Today, I will explain how downgauging your stretch film could save you a little or a lot of cash.
Cash as cold and hard as those sub-zero winter mornings, dancing around pallets of boxes in the warehouse.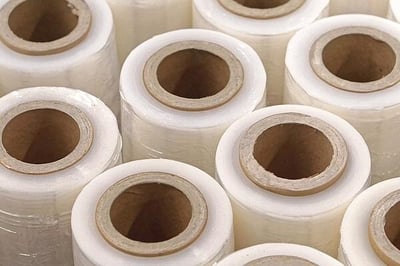 What Is Downgauging Stretch Film?
The thickness of a roll of stretch film is commonly known as its gauge. Gauge, or mil thickness, is indicated by a number. In the past, the idea was that the higher the number, the stronger the film.
But thanks to advances in stretch film manufacturing technology, you can now buy thinner films that work just as well as traditional higher gauge films. And, these thinner films will cost you less money.
Many businesses who wrap their loads with stretch film choose to use higher gauge films because they think that it is necessary.
But, in today's market, you can decrease the gauge (downgauge) of the film you are using to a lower gauge and still wrap your loads with the proper load containment.
This simple action can save your business money on stretch wrapping.
In fact, it can save your business a ton of money (on average, we are talking a savings of 15 – 30%) on each and every wrapped load.
These cost savings are achieved by using a lower film gauge than what you are currently using.
By lowering the amount of stretch wrap that you use to wrap your pallets, you are also making your business more sustainable by the reduction of your carbon footprint.

So downgauging your stretch film saves not only money but also the environment!
---
How much money can you SAVE with an automated stretch wrapper?
---
How To Downgauge Your Stretch Film
Downgauging your stretch film is a relatively simple process. All you need to do is identify if your loads can be properly wrapped with a lower film gauge.
But, how do you know if a lower gauge of film will work for wrapping your loads?
The easiest way to do this is to speak with a packaging professional about your current stretch wrap gauge and ask them if you could switch to a lower gauge of film and still adequately contain your products.
Your packaging expert will help you to identify if this makes sense for your business.
On the other hand, you could request a couple of sample rolls of film and experiment with them to identify if a lower film gauge would work for your needs.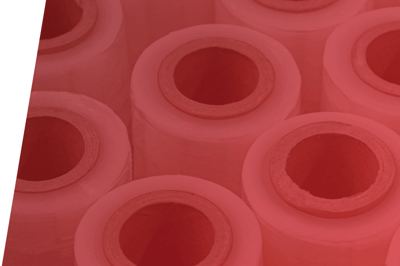 Benefits Of Downgauging Your Stretch Film
Saving money is one significant benefit of downgauging your stretch film. But, that is not the only benefit of this process. Below, you can see the other benefits of downgauging your stretch wrap.
Reduction in material usage is better for the environment
Superior Performance
Lower Carbon Footprint

More loads wrapped with less film
Weight Reduction
Who Can Help You To Downgauge Your Stretch Film?
Now that you understand the benefits of downgauging your stretch wrap, you probably wonder, is downgauging right for you?
If you want to find out if downgauging your stretch wrap is the right choice for your product palletizing and containment needs, you will want to consider talking with a packaging specialist.
They will be able to help you figure out if downgauging is right for you and which lower gauge of film is appropriate for packaging your products.
About Nathan Dube
As the Digital Marketing Specialist at Industrial Packaging, I am honored to create content for such a phenomenal company and work with one of the greatest teams in the Packaging Industry. Whether creating a video, writing blog posts or generating other pieces of content and multimedia, I am always excited to help educate and inspire our prospects and clients to reach their highest potential in regards to their packaging processes and needs.