Are you shrink wrapping products? Then, chances are, you currently have or will be purchasing a shrink wrap sealer. Shrink wrappers play a part prior to a heat tunnel on your packaging. They are a required element for properly shrink wrapping your products. Unless of course, you are wrapping a smaller number of products. If that is true, then you are likely using a heat gun instead (OK) or a hairdryer (please don't). In that case, this article will only be of use to you if you plan to expand production and upgrade to using a heat tunnel. Suppose you happen to be in the first situation and are, in fact, in need of a sealer of some type or another. Then you're in the right place. Industrial Packaging has helped countless clients purchase, install, and optimize their sealers. And, we can help you choose the right sealer. This article will review the most common types of sealers. And, we will explore their related materials, applications, and uses. By the end of this article, you should have a solid understanding of the different types of sealers. Then, you will be one step closer to choosing the right machine.
Are you thinking about purchasing a cheaper piece of packaging machinery from overseas in an attempt to save a few thousand dollars over buying domestically? Here is a bit of advice. Don't do it unless you have to. While it may seem like a good idea at first, it will most likely end up costing you way more in the long run. While foreign made packaging machinery may cost less at the initial purchase of the machinery itself, there are often times unforeseen additional costs that come along with the total cost of ownership associated with buying equipment from overseas. From quality issues to the ability to source quality manuals in a language that you understand, there are some risks involved when trying to save money by purchasing machinery made overseas. Repair services and preventative maintenance options can be slim and often costly for what ultimately started as a way to save money. Items such as parts availability, electrical requirements, and material options can all impact the cost of the machinery and the ease of procurement. Now, this is not to say that buying packaging machinery from overseas is a bad idea. Instead, it is a process that can often be complicated and includes potentially unwanted headaches. Regardless of where you buy your machinery from, these helpful tips and tricks will help you make the right choice regarding buying packaging machinery. Here at Industrial Packaging, we've been selling machinery from various geographical locations for decades. In this respect, we can help you navigate the challenges of purchasing packaging machinery from sites outside of the USA. In this article, we will give you some useful information that will help you to figure out if buying packaging machinery from another country makes sense for you or not.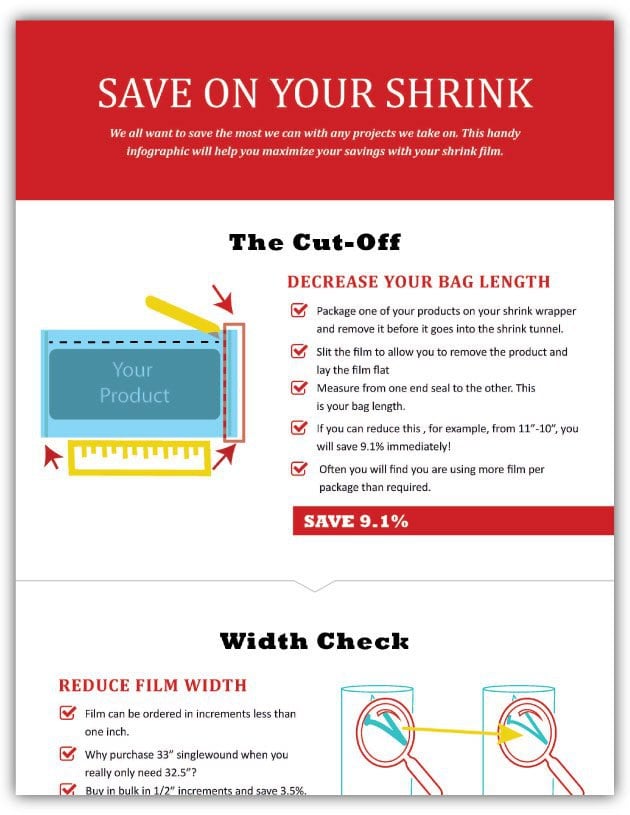 Shrink Film Cheat Sheet
We all want to save the most we can with any projects we take on. This handy infographic will help you maximize your savings with your shrink film. Get it for free when you subscribe to our blog.
So you have decided to buy some packaging machinery. You have done your homework and sent out an RFP to at least three vendors. You have reviewed each of the proposals, met with a representative from each vendor, and negotiated with them. You're finally at the point where you have chosen a vendor to buy from. You have the exact make and models that you want and have the additional options for each piece of machinery chosen. You are ready to cut a check or finance the equipment. So, you are now prepared to take the plunge and buy the machinery, plan your installation days, and move forward with the closing of the sale, right? Wrong. While you've done a monumental amount of work to get to this point and applied your due diligence, there is one thing that you are lacking. What exactly is this one item you have failed to consider as you stand on the precipice of this significant purchase for your company? Questions. Questions, that when answered correctly, could very well save you thousands of dollars and, in some cases, perhaps more. Industrial Packaging has been helping countless clients for decades in the process of not only buying the right packaging machinery and materials for their needs today, but also those needs of the future. A future that all too often comes with unexpected events, complex product changes, black swan events, and a host of other often unforeseen changes and challenges. This article will help you identify a list of questions that are often not even considered until it is too late. With this information added to your research, you will be fully and thoroughly prepared to make the correct buying decision. One of which will ensure your ability to evolve with the changes that the future will almost certainly bring.
Equipment | Food Packaging | Investment | Packaging Design
Many food producers are looking for ways to package their food products for various applications such as frozen food, grab-n-go, and pre-made meals. The demand for these types of packaging had been growing steadily for a while. However, with the arrival of COVID19, the market has only skyrocketed. This is because many supermarkets, restaurants, country stores, and other producers and sellers of food products are offering more and more pre-packaged foods. If you have been to the supermarket recently, chances are you have seen a few changes to staples of the shopping experience. For example, most serve-yourself salad bars are no longer "serve yourself". In their place, you will find pre-packaged salads in plastic containers. More and more single items of produce are being shrink-wrapped to prevent the virus from touching the food inside. Many food sellers are now shifting to selling pre-made meals that are then frozen or packaged in film-covered trays. People like you are turning to the idea of purchasing food packaging machinery and packaging their food items themselves, rather than outsourcing the process to contract packaging companies who will do the work for them. This allows you to fully control the process, machinery, materials and every other aspect of the food packaging process. It also allows you to personally ensure the safety of the food items you are selling to your clients. But how much does a food packaging machine cost? What are the different kinds of food packaging machines available? Which one should you buy? Does it make sense for your business? If you are like many other companies, you have a ton of questions. With decades in the food packaging industry, we have been able to help large food manufacturing companies package their food items. As such, we are able to help you choose the right equipment for your food packaging needs and answer any questions that you may have. We're here to help you understand just how much of an investment you'd need to make to start packaging your own food. This article will detail the price, functionality, proper applications, and other valuable information to help you decide if a food packaging machine is right for you.
Equipment | Investment | Packaging Design | Packaging Materials
As the days slowly creep towards October, the humid air of summer begins to fall into the shaded paths of memory that only an Indian summer can remedy. Mornings and nightfall share the brisk cold air that calls to the trees as they start to ignite with the colors of fall. Bright oranges, reds, and yellows begin to peek out from the edges of hardwoods, and you can often catch the scent of a campfire on the air throughout the day. Once again, pumpkin spice reigns supreme on the lips of many a passerby, and apples suddenly seem to be present in more than a few dessert offerings. Indeed, autumn has arrived, and if you are like me, you savor every sweet second of cold air, tree lines ablaze with fiery color, and the toasted notes of campfire smoke enticing the senses to reminisce. Now, if you work in the firewood industry, my guess is you are equally, if not even more excited than I am. During this time of year, many people begin to purchase firewood. Some do this for the occasional campfire aesthetic, while many place their cord-wood orders in preparation for a long winter. When bundling firewood for the former application, there are several ways to go about this process. When it comes to bundling firewood, you generally have three options. Stretch film, shrink film or strapping. Each of these are viable and appropriate ways to package firewood for consumers. Industrial Packaging has been bundling products with stretch film, shrink film and strapping materials for ages. We have learned a thing or two about bundling firewood during our many years in the packaging industry. This article will explore these firewood packaging processes and materials and help you decide which type of material and machinery is right for your firewood packaging business.
If you are entering the market for a shrink tunnel, you will find yourself with a big variety of different types of machinery. Some machines work with steam. Others use hot air. Every kind of shrink tunnel is designed to work for specific applications. Using the wrong shrink tunnel for the incorrect application can lead to various unwanted problems such as waste, downtime, costly repairs, and potentially, injury. When shopping for a shrink tunnel, you're going to have many questions about the equipment. At the end of the day, you just need to know which type of shrink tunnel is right for your products. Luckily for you, it is a fairly easy process to identify the best machine for your needs after you have done a little homework! Industrial Packaging has been working with shrink tunnels for generations. During that time, we have become experts on the various makes and models of shrink tunnels, what makes them tick, how to keep them running smoothly and how to repair them with ease when they eventually break down. With the information in this article, you will be able to choose the right machinery for your shrink tunnel applications and product packaging needs.