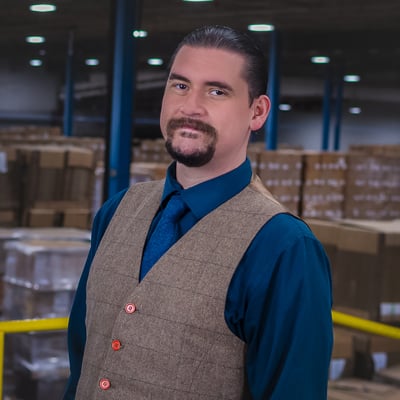 How Much Does A Stretch Wrapper Cost?
Stretch wrappers (AKA pallet wrappers) are extremely common packaging machines found throughout millions of companies.
They are used to properly package pallets of products for shipping around the globe.
Through the proper load containment and the utilization of the correct type of stretch wrap, a good stretch wrapper can maximize the speed of your packaging line, save you money, improve the safety of your packaging and streamline the process of speed to market for your products.
But how much does a stretch wrapper cost? In the article below, we will look at two different models made for different applications and answer this question in easily digestible terms.
What Dynamics Effect The Total Cost Of A Stretch Wrapper?
Some additional elements that will effect the total cost of your machine include but are not limited to; the type of machine you buy, the volume and type of film you are running, the optional add-ons you want included, using the proper load containment, the physical footprint of your machine, preventative maintenance and the electrical supply required to run the machinery.
For anyone in a B2B setting, chances are, you understand that the price of a major investment such as a machine like a stretch wrapper is not simply quoted.
Depending on which (if any) optional items you want included with your machine, putting a strong ballpark number to paper is not always easy to do in advance of a meeting with your sales rep.
But, that is exactly what we are going to do here in this article...
That being said, given the myriad of the brands, makes and models of stretch wrappers currently available in addition to the varied optional items for each machine, we are going to focus on two machines from one brand.
We will list the differences in operation, materials, max capacity, pallets per day, and the other dynamics of each machine.
We will provide a price for each offering. We are choosing to feature two machines from Lantech as they are the market leader of stretch wrappers. The prices below are for base machines with no additional add-ons.
---
Want To Know How Much An Automated Stretch Wrapper Can Save Your Business?
---
Lantech G Series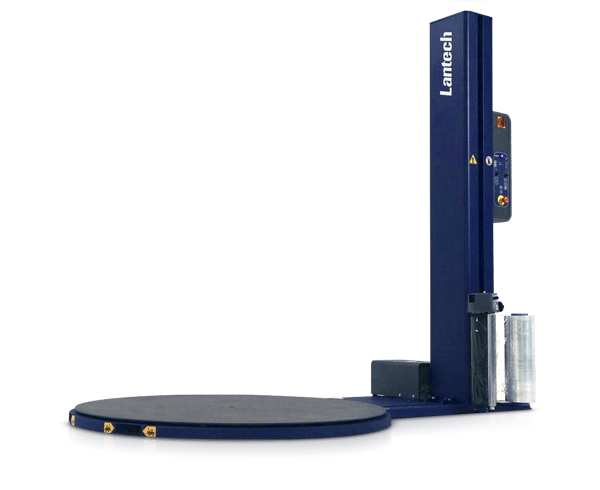 The Lantech G Series is a professional entry-level semi-automated stretch wrapper designed for businesses that are ready to upgrade from manual labor and stretch wrap dispensers to a stretch wrapping machine.
Featuring user-friendly controls, ergonomic wrapping capabilities, and superior load containment, this stretch wrapper is perfect for companies looking to wrap up to 20 pallets per hour at a price that won't break the bank.
Base Machine Cost (Includes NO additional options): $5,985
Specifications
Peak Production Speed: Application Specific
Turntable Speed (Variable): 10 RPM Max
Turntable Drive: .75HP TEFC (AC)
Turntable, Smooth Top: 65" Diameter
Maximum Load/Diagonal/Dimensions: 72" (recommended)
Maximum Load Height: 90"
Maximum Load Weight: 3500 lbs.
Film Delivery System: Brake Roller
Tension Control: 3 to 30 lbs.
Film Capacity: 10" Roll Diameter
Standard Film Width: 20" Roll Width
Photo-eye Load Sensing: Standard
Machine Weight: 850 lbs.
Electrical Requirements: 120VAC, 20A Standard
Wrap Cycle Pause: Standard
One Way Wrap: Standard
Warranty: 3-year, Unlimited Cycles
Weights and Size
Approx. Shipping Weight 1,100

lbs

H (109" L x 67" W x 99" H)
Lantech Q-300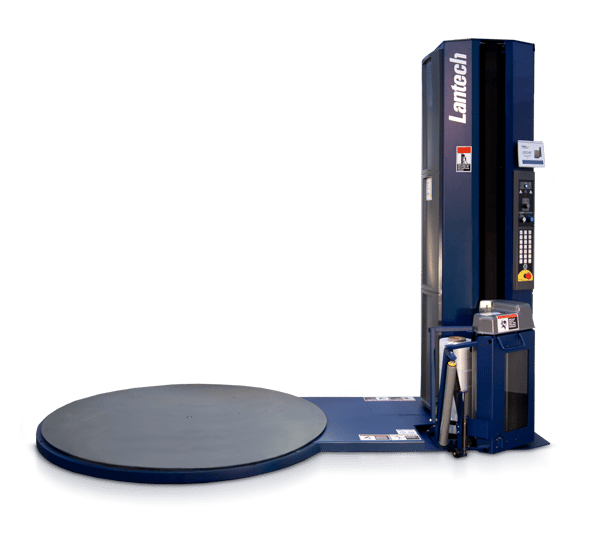 The Lantech Q-300 is a robust machine boasting 25-35 loads per hour. Featuring all the functionality of the G series but with a higher selection of impressive add-ons, it is an excellent machine made to handle higher volumes.
The Q-300 offers higher speed and load weight capacity, greater versatility, and an extended warranty.
A notable difference between this model and the G series is that the Q-300 comes standard with 200% pre-stretch. It should also be noted that there is an option for higher percentage pre-stretch available for this machine.
Base Machine Cost (Includes NO additional options): $10,395
Specifications
Peak Production Speed

Up to 25-35 loads/hr

Load Size Diagonal (Recommended)

1829 mm (72")

Maximum Load Wrap Height

2032 mm (80")

Maximum Load Weight

1814 kg (4000 lbs)
Load Handling
Turntable Speed (Variable)

12 RPM

Turntable Size

1651 mm (65") diameter

Turntable Drive

3/4 HP TEFC
Performance Features
XT Cut and Clamp 5.0®

Not available

Auto Film Cut-Off™

Optional

Pallet Grip®

Optional

Photo-Eye

Intelli-Sensor

Standard Film Width

500 mm (20")

EZ Thread Film Delivery

Standard

Standard Pre-Stretch

200%

Wrap Force

Variable (Electric)

Film Capacity

250 mm (10") Roll Diameter

Film Delivery System

Power Roller-Stretch

EZ Weigh Integrated Scale

Optional

NEMA 12 Enclosure

Optional
Weights and Size
Approx. Shipping Weight

658 kg (1450 lbs)

Size 3023 mm L
1702 mm W
2337 mm
H (119" L x 67" W x 92" H)
Service Requirements
Pneumatic

Not Applicable

Dedicated Electric Service Req. US

120 VAC, 20 AMP

Dedicated Electric Service Req. EU

1L-220V-16AMP-50Hz
Warranty
Warranty Duration

5 Year. Unlimited cycles. All components covered.





Available Options

Extended Wrap Height

Increase the wrap heights of your loads. Replace the 203 cm (80") mast with a 279 cm (110") mast.

220 V - 50/60 Hertz 15 AMP

Adds a transformer to the machine.

Cold Environment

Operate in temperatures below -1 C to -18 C (+31 F to 0 F).

Corrosive Environment

Operate in corrosive environment. It is for machines with exposure to agents such as salt and fertilizer.

Freezer Environment

Operate in temperatures of -29 C (-20 F).

"Non Powered" Conveyor

The maximum load weight is 1814 kg (4000 lb). The maximum load dimensions are 1524 mm L x 1321 mm W (60" x 52"). Note: This is for machines with the "Load on Turntable" option only. Note: You can add 1 or 2 sections of conveyor.

"Non Powered" Turntable Conveyor

The maximum load weight is 1814 kg (4000 lb). The maximum load dimensions are 1702 mm L x 1321 mm W x 1905 mm H (67" x 52" x 75"). The pass height is 178 mm (7").

Auto Film Cut-off™

Automatically cuts the film at the end of the wrap cycle. This decreases labor on each load by approximately 30 seconds.

Pallet Grip®

Makes a "cable" of film that locks the load to the pallet. The film cable decreases the risk of damage during shipment.

NEMA 12 Enclosure

Keeps moisture, dust, and dirt from electrical components.

Ramp

Put the load on the turntable with a forklift or a pallet jack.

EZ Weigh™ Integrated Scale

Weigh and wrap loads in one step with a scale built into the turntable.

Forklift Stop

Helps the operator align the load on the turntable.

Pit Mount

It lets the operator put the load on the turntable at floor level. This is available for 1651 mm (65") and 1829 mm (72") turntables. Note: The customer must install this option.

Oversized Turntable

Increase the length and width of your loads. A turntable with a 1829 mm (72") or 2438 mm (96") diameter is available. Note: The 2438 mm (96") turntable has a maximum of 8 rpm.

Turntable Washdown

Use water at "city pressure" to clean the turntable. Make sure that the water can drain from the area.

Dual Turntable

Add a second turntable to increase efficiency. The operator can start the wrap cycle on the first turntable and put a load on the second turntable.

Netting Film Delivery System (FDS)

Applies stretchable and non-stretchable netting. This is for loads that have a requirement for ventilation. Note: This FDS cannot use the standard stretch films.

Power Roller Stretch Plus - Film Delivery System (FDS)

Senses and adjusts the wrap force to the changes in the tension on the film. It is for a turntable speed more than 12 rpm, for very light or fragile loads, or for exact control of the wrap force.
Food For Thought

For the savvy buyer, there is a major difference in these two machines, which is the percentage of stretch. The G series has 60% while the standard on the Q-300 is 200%.
That's a difference of taking 10" of film and stretching it to 16" or 30". This will have a significant impact on your cost of load per pallet.
So, while buying the more affordable machine will save you money up front, the total cost of ownership will be significantly less for the Q-300 and will save you thousands of dollars over the years.
This is an important consideration when budgeting for the cost of purchasing a stretch wrapper. If you cannot afford to purchase a more expensive machine outright, leasing the equipment may be an option for you.
It would do you well to consider looking at different purchasing options with your chosen vendor when meeting to discuss the purchase of a stretch wrapper.
About Nathan Dube
As the Digital Marketing Specialist at Industrial Packaging, I am honored to create content for such a phenomenal company and work with one of the greatest teams in the Packaging Industry. Whether creating a video, writing blog posts or generating other pieces of content and multimedia, I am always excited to help educate and inspire our prospects and clients to reach their highest potential in regards to their packaging processes and needs.