Equipment | Technical Service and Support
If you have recently purchased any new packaging machinery, then you are or will be in the process of implementing a training program to ensure that your equipment operators are properly trained on your new machinery. My guess is, you probably think about the necessity of this training for packaging machinery from one perspective: Safety. And while that is certainly one of the most important KPI's to track and consider when training your equipment operators, it is most certainly not the only important element of these training protocols. While there are many reasons that you will want to procure quality training for packaging machinery, two important items are often overlooked: sustainability and overall success rates. A lack of training or the implementation of poor training can lead not only to serious safety concerns but also wasted time, money, materials, and parts. And, even if you do not suffer from these effects stemming from improper training, it is likely that the impact will result in slower production times, material and machinery issues, and other costly mistakes. All of which could have been avoided with the proper training in place. Industrial Packaging has provided countless hours of quality training to thousands of companies and by extension, thousands of packaging machinery operators. As such, we can provide you with a deeper understanding of the true value within quality training protocols and applications. In this article, we will be discussing the importance of high-quality training in relation to sustainability and a well-optimized, efficient, and quality packaging line.
Are you shrink wrapping products? Then, chances are, you currently have or will be purchasing a shrink wrap sealer. Shrink wrappers play a part prior to a heat tunnel on your packaging. They are a required element for properly shrink wrapping your products. Unless of course, you are wrapping a smaller number of products. If that is true, then you are likely using a heat gun instead (OK) or a hairdryer (please don't). In that case, this article will only be of use to you if you plan to expand production and upgrade to using a heat tunnel. Suppose you happen to be in the first situation and are, in fact, in need of a sealer of some type or another. Then you're in the right place. Industrial Packaging has helped countless clients purchase, install, and optimize their sealers. And, we can help you choose the right sealer. This article will review the most common types of sealers. And, we will explore their related materials, applications, and uses. By the end of this article, you should have a solid understanding of the different types of sealers. Then, you will be one step closer to choosing the right machine.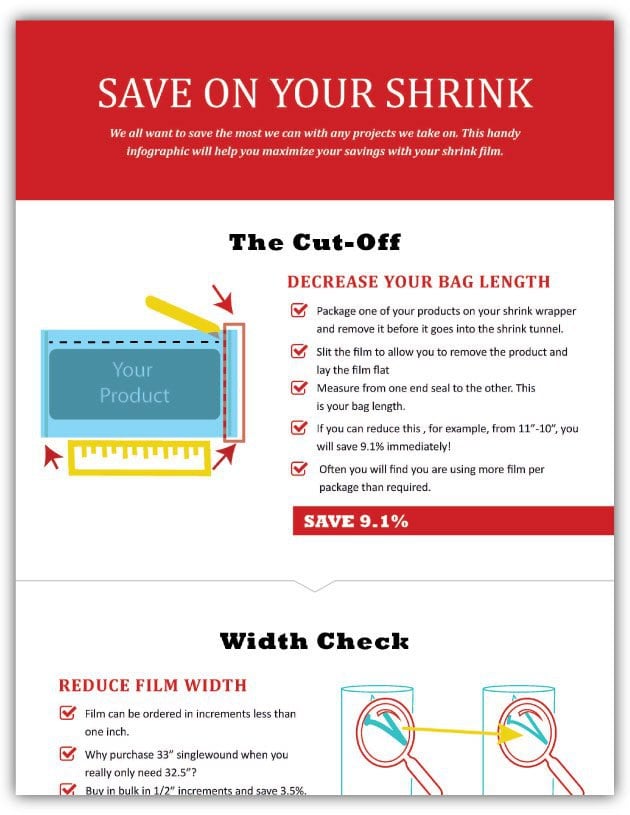 Shrink Film Cheat Sheet
We all want to save the most we can with any projects we take on. This handy infographic will help you maximize your savings with your shrink film. Get it for free when you subscribe to our blog.
Equipment | Packaging Materials
We get calls all the time from people who tell us they can't get their product to come out the way they want it to on their packaging machinery. We hear and understand the frustration when your final product does not look anything like what you thought it would look like. That being said, I'm happy to help anyone who is having a problem, it's what I do, and I enjoy solving problems. And so, I often find myself consulting customers and trying to help them with their packaging machinery and materials problems. But, then I realized that sometimes when people do online research, they might not fully understand how different machines and materials will react to their products. When I hear someone say: "I purchased a machine from here", another machine from there, and my materials from yet another supplier", my mind starts spinning with all kinds of questions and concerns. For example, we provide technical service for many of our clients. One day, we got a call about a machine purchased overseas that the customer could not get started. The machine did not have a manual, so we had to send away for it. When it came in, our tech started going through all the steps only to find out one of the boards was bad. The time spent on calls and waiting for parts to come from overseas was so frustrating for the customer. Not only that, but the expense to have us come out several times to make repairs on a machine that was purchased online was very costly. While the machine they bought online was less expensive than one bought in the states, it was now costing them almost as much. When ordering online, there is more thought that needs to be given to what your expectations are which include, your desired outcome and the capabilities of each aspect of your process when everything is in place. Having worked at Industrial Packaging and by extension, within the packaging industry for over twenty years, I have come to realize that many consumers often make mistakes when buying machinery and materials on-line and then trying to make adjustments themselves. In this article, I will break down some common issues and help you to better understand how to execute the packaging design you have inside your head. You will be able to translate that idea into a reality with the information presented below.
Are you thinking about purchasing a cheaper piece of packaging machinery from overseas in an attempt to save a few thousand dollars over buying domestically? Here is a bit of advice. Don't do it unless you have to. While it may seem like a good idea at first, it will most likely end up costing you way more in the long run. While foreign made packaging machinery may cost less at the initial purchase of the machinery itself, there are often times unforeseen additional costs that come along with the total cost of ownership associated with buying equipment from overseas. From quality issues to the ability to source quality manuals in a language that you understand, there are some risks involved when trying to save money by purchasing machinery made overseas. Repair services and preventative maintenance options can be slim and often costly for what ultimately started as a way to save money. Items such as parts availability, electrical requirements, and material options can all impact the cost of the machinery and the ease of procurement. Now, this is not to say that buying packaging machinery from overseas is a bad idea. Instead, it is a process that can often be complicated and includes potentially unwanted headaches. Regardless of where you buy your machinery from, these helpful tips and tricks will help you make the right choice regarding buying packaging machinery. Here at Industrial Packaging, we've been selling machinery from various geographical locations for decades. In this respect, we can help you navigate the challenges of purchasing packaging machinery from sites outside of the USA. In this article, we will give you some useful information that will help you to figure out if buying packaging machinery from another country makes sense for you or not.
So, you upgraded from a manual L-Sealer to a side seal machine. You're excited that you can now start keeping up with every order that's coming in for your new product. But, before you start packaging your products with your new equipment, you have to make sure that you set up the machinery properly first. There are multiple steps that must be followed in order to set up your machinery correctly so that it runs the way you want it to. By following each step in this guide, you will be able to optimize your new sealer in a way that will ensure that it runs smoothly, efficiently and correctly. Having helped thousands of clients set up their sealers in the past, Industrial Packaging is able to help guide you through the process of setting up your new equipment and optimizing it for the best packaging possible. In this article, we'll walk you through a step-by-step process for setting up a new sealer. We will also offer additional steps and tips to ensure that your machine runs well from the moment you turn it on.
If you like it, you should of put a ring stretch wrapper on it. Is that how the song goes? No? Well, all things considered, perhaps a ring stretch wrapper would make a better gift. At least, to your packaging line employees anyway. When it comes to wrapping items such as sheet goods (like plywood), roll goods (like carpet), windows, doors, furniture, and motors (among other things), a ring stretch wrapper is the envy of any packaging line. Ring stretch wrappers, also known as ring wrappers or LAN wrappers, are unique animals for the packaging applications for specialized or even oddly shaped items. In fact, if I had to guess, I am willing to bet that you probably found this article by google searching for a tool that would be good for packaging one or more of the items listed above. Or maybe something similar to those items. Maybe you are researching ring stretch wrappers because you are already considering buying one. Maybe you are just learning about ring stretch wrappers after looking online for the best packaging machinery for your products. Either way, you will most likely have a lot of questions about these machines before you go buying one (or at least, you should). Having helped thousands of people buy the right stretch wrapper for their needs, the team here at Industrial Packaging is uniquely positioned to help guide you through understanding these machines. In the article below, you'll discover information about ring stretch wrappers as well as their common uses and applications.