Equipment | Packaging Materials
So, you have been tasked with purchasing shrink film for your company's packaging needs. You went to Google, searched for shrink film and you found two common types of this material. Single-wound shrink film and centerfold shrink film. Now what? Which type of shrink film is right for your products? Is one or the other more appropriate for your packaging line? If so, how do you identify which type of shrink film is right for you? Sure, you could just order a roll of each and test them on your products. Or, you could roll the dice on one or the other and hope it works out. But, wouldn't you rather choose the correct shrink film for your products? Then you will have to understand the differences between these packaging materials. Industrial Packaging has been selling shrink films for decades while providing our customers with quality information to make proper buying decisions. When it comes to your shrink film needs, you will be able to find the resources you need to source your films here. In this article, we will help you to figure out if single-wound or centerfold shrink film is right for you.
Fulfillment | Supply Chain Services/ Contract Packaging
Perhaps you have found yourself in the position of having to find a solution for packaging your products. You have been doing research about setting up a packaging line. In addition to that, you are studying the many different types of packaging machinery and materials. You are also trying to calculate the cost of the labor required to do your packaging in-house. Maybe you are frustrated with the potential cost of all of these items. And to compound these issues, there is the thought of warehousing to consider. Can you fit all the required pieces of your packaging line and supply chain needs at your current location? If not, will your company be able to justify the purchase of a warehouse? And, even if you can, will the warehouse be large enough to fit all the machinery, laborers, and packaging materials in that space? Or, do your space requirements exceed that which you can afford? When mulling over all of these items, it becomes quite clear what a big responsibility and cost running a packaging line and managing your supply chain can be. If only there was some way to outsource all of this stuff! I mean, wouldn't it be great if you had a partner who could take all of this responsibility off of your plate and help you to finance the cost? Well, that is where a contract packaging company (also known as a co-packer) comes in! Handing your supply chain needs over to a contract packaging company takes much of the work off your plate. This allows you to focus on what your company does best, making your products and consistently optimizing them. With a co-packer like Industrial Packaging on your team, you end up with a partner for your business. One who can handle all aspects of your supply chain. By handing over your supply chain infrastructure to a contract packaging company, you ensure that your packaging line is being run properly. In this article, we will discuss what a contact packaging company is. We will also discuss the responsibilities that such a company can take off your plate.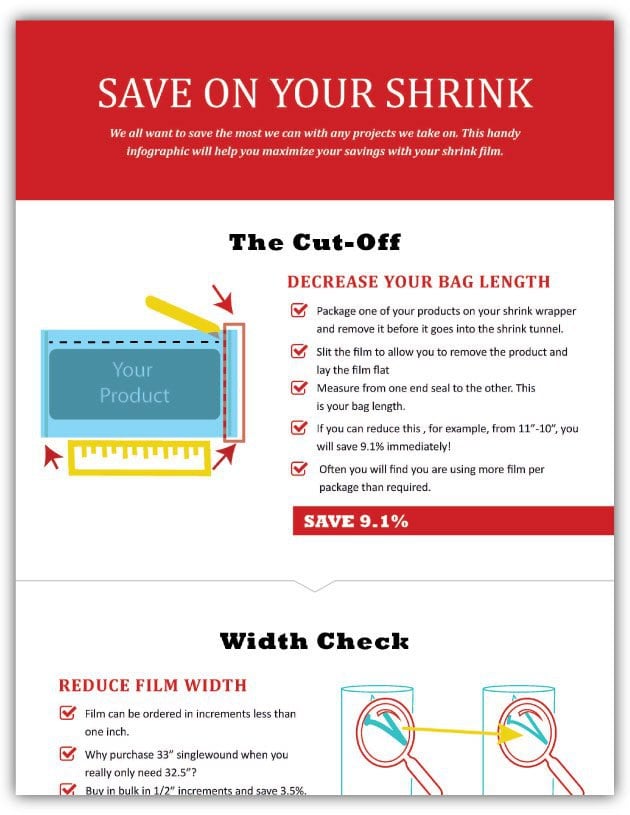 Shrink Film Cheat Sheet
We all want to save the most we can with any projects we take on. This handy infographic will help you maximize your savings with your shrink film. Get it for free when you subscribe to our blog.
Equipment | Packaging Materials
So, you are sitting at your desk. The final quotes from the potential vendors you have sent an RFP to are staring you in the face. One of them has the best price. One of them has superior service options. And yet another option has benefits the other two do not. You are expected to make a decision within the next few days. You have everything you need to proceed with a purchase. But, you are nervous. It's not because you are lacking any information that you need. You know in your heart which brand makes the most sense based on the quotes before you. The only problem is, you have not seen these machines run your product. You really don't know how your product will fare with any of this equipment. Sure, the video demonstrations all looked great. One of them even featured a product similar to yours. However, you still have not seen this process in action for your own products. And so, you wonder. Should you get a test run from these vendors? Do they even offer that as an option? I get it. I'd be stressed too. That being said, just relax. There is good news! Industrial Packaging can test your products on the type of machinery that you are buying. After that, you will know if your products are a good fit for this type of packaging or not. While we can't speak for the other vendors you are considering, we can promise you that Industrial Packaging can get your products tested on the type of machinery that you are buying. After that, you will know if your products are a good fit for this type of packaging machinery or not. In this article, we will discuss how to go about getting a test run of your products.
Equipment | Investment | Technical Service and Support
So, you are thinking of buying some new shrink packaging machinery? And, you are doing all the required research beforehand. Perhaps you have actually been to this blog before. Or, maybe you have read about spare parts kits elsewhere, and your journey has brought you here as a result. These kits are an additional item when purchasing a machine that many buyers do not consider. In many cases, buyers might not even know that such a kit is an option. However, forgoing this additional option can be costly. Are you buying a new shrink wrap packaging machine? If you do not buy a kit, you are setting yourself up for a host of serious problems. Most notably, short or extended periods of unexpected downtime. Downtime equates to lost dollars, time, and productivity. Downtime is the bane of any company attempting to be efficient, optimized, and zoned into success. Any instance of downtime is the most unwelcome guest for any company. Especially companies trying to run a world-class packaging line. Industrial Packaging has been offering these kits as an option for our shrink wrap machine buyers over the years. We always suggest buying at least one kit for all our packaging machinery clients. This article will explore why you should buy one or more kits for your shrink wrap systems. We will explain why they are a requirement for packaging machinery purchases. For instance, say your machine goes down. And, you have no parts on hand. How long will you have to wait to get the replacement parts? In this case, a spare parts kit increases the likelihood that you will not have severe downtime. The spare parts that a vendor has determined necessary should be on hand. This is due to the frequency at which parts need to be replaced. It should be noted, no major or severe downtime is going to be alleviated by a kit. That is of course unless it contains the parts that need to be replaced. Ask your vendor which parts they feel should be included in the kit.
Environment | Packaging Design | Packaging Materials
Are you a seasoned veteran in packaging or a start-up getting ready to package your products? Either way, finding the appropriate packaging for your products, is essential. Today, there are thousands of packaging materials to choose from. You have rigid packaging, flexible packaging, and specialized options in between. There are countless packaging supplies to consider. You will likely have more than a few reasons for looking into using shrink film (also known as shrink wrap). There are many reasons why you would want to choose shrink wrap. Shrink wrap (which is different from stretch film) is commonly chosen over other materials. Industrial Packaging has sold hundreds of thousands of rolls of film. We've coached thousands of happy customers on how to select the right type of film. It may seem like a simple process to buy rolls of shrink wrap. But, there is a lot to consider before choosing shrink wrap as your packaging material. This article will help you understand why you would want to package your products in shrink film. First, we'll dive into three primary considerations. These are things you need to be thinking about when it comes to using shrink wrap. Then, we'll talk about the pros and cons and where it's best to buy this material.
Equipment | Investment | The Business of Packaging
When you buy packaging machinery, it can be tempting to try and buy the machinery with the lowest price tag. But, this kind of practice can often lead to spending more money. How is this possible? Four words. Total cost of ownership. The TCO (or total cost of ownership) is the full price you pay for a piece of machinery. This price includes all the associated costs. For example things like materials, parts, and labor all affect the total cost you'll pay. A more affordable machine that has unforeseen extra costs can be more expensive in the end. Having helped many clients buy packaging machinery, Industrial packaging is uniquely situated to assist you in buying the right machine for your products and packaging line. In this article, we will teach you how to calculate the total cost of ownership so that you can compare these costs directly - versus just the sticker pricing. This will prepare you to make the best buying decision that you can.