When thinking about purchasing a new piece of packaging equipment, it is important to start with safety first. Packaging machinery is heavy duty professional equipment. As such, ensuring that your employees are well trained on the machinery starts with a solid understanding of how to run the equipment safely. But when it comes to safety in regards to packaging machinery, where do you start?
Environment | Food Packaging | Investment | Packaging Design | Packaging Materials | Packaging Psychology | The Business of Packaging
When it comes to choosing the right packaging material for your product, you can't go wrong by paying close attention to the details. After all, packaging may just be one of the biggest factors in making your product a success. The right packaging not only attracts consumers, it will keep your product safe in transportation and keep it fresh. This reinforces the quality of the brand and item when customers know they can count on a fresh item from when it hits the shelf to when it's in their hand.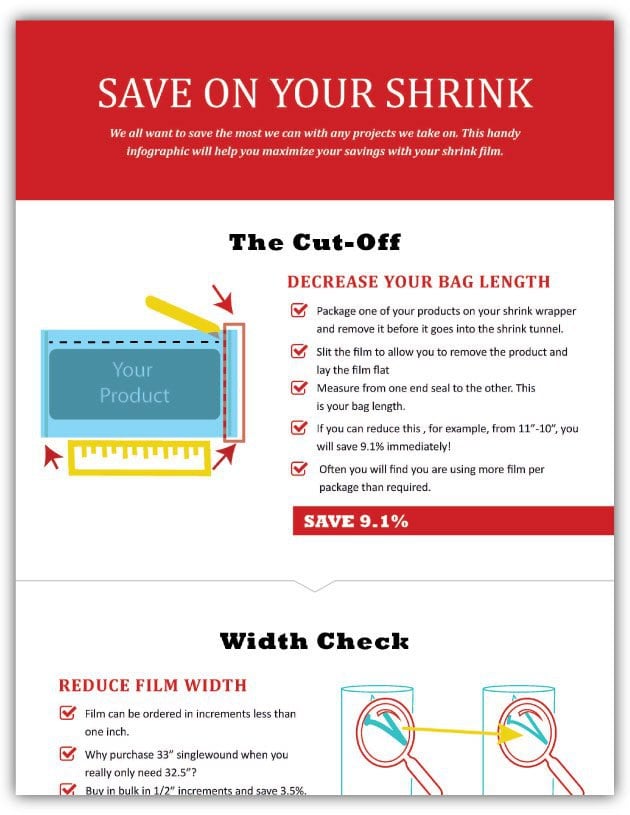 Shrink Film Cheat Sheet
We all want to save the most we can with any projects we take on. This handy infographic will help you maximize your savings with your shrink film. Get it for free when you subscribe to our blog.
Equipment | Investment | Packaging Psychology | The Business of Packaging
When you are planning on buying new machinery for your packaging line, there are several questions you should ask yourself. Where should you consider buying from? Is buying from a distributor or the manufacturer of the machinery a better choice? What are the differences between the two options? Which is the right choice for your business? Read on to find out!
Environment | Packaging Materials
Sustainability is no longer the future for packaging. It's officially the present state and the foreseeable future in package design and corporate responsibility. Sustainable packaging is not only a better option for the environment, but a great investment; especially for brands that are actively pursuing a positive image in the eyes of the consumer. The main impediment to its speed to growth in the packaging market has been the higher cost that comes along with it, but that's changing. Deciding how to design for sustainability may seem difficult and costly, but it is a worthwhile endeavor that will not only become mandatory in the next decade, but also provide major benefits to brands that adopt it in some form, sooner rather than later.
Air Pillows | Packaging Design | Packaging Materials | Packaging Psychology | Shipping Protection | The Business of Packaging
In the age of Amazon, we are seeing more packages being delivered than ever before. With a few clicks of the mouse or a few taps on your phone you can get pretty much anything you want delivered to your door. However, an unfortunate byproduct of these modern times and innovations is package theft. There is an ever growing epidemic of packages being stolen from people's doorsteps as packages are often left unattended. How can we stop this trend? Read on to learn how one engineer from NASA took justice into his own hands.
Equipment | Food Packaging | Packaging Materials | Plant Performance | Technical Service and Support | The Business of Packaging
Shrink wrapping is an easy process that only requires two things: the right kind of plastic wrap and heat. With just a roll of shrink wrap and a heating source, you can waterproof, weatherproof and tamper proof just about anything you have. Since there is no restriction on size to shrink wrap items, you have a way to protect even your bulkiest of items. But even this great packaging solution has a few potential hiccups.