Environment | Packaging Design | Packaging Materials | Packaging Psychology | The Business of Packaging
As we have discussed here in the past, shrink film is currently one of the most environmentally friendly packaging supplies in the world. And while many people seem to be turning away from plastics due to their environmental concerns, the science of the situation regarding plastic often does not align with peoples emotions towards the material. Despite the fact that plastics generally have the lowest carbon footprint of any packaging supply, companies around the globe are slowly opting to turn away from plastics to heavier materials like glass, metal and cardboard. However, all of these materials have significantly higher carbon footprints than plastic. In this article we will discuss traditional shrink films as well as their new bio-based versions and alternatives and why they are the better choice when considering sustainability and environmental impact.
Environment | Equipment | Packaging Materials | Warehousing
When it comes shrink film, temperature restrictions in extreme conditions is an important dynamic to consider. From the temperature that you run your products through the heat tunnel, to atmospheric conditions for your transportation vehicles, temperature matters. In the article below we will explore the role of temperature in relation to shrink film and how it reacts to packaging machinery.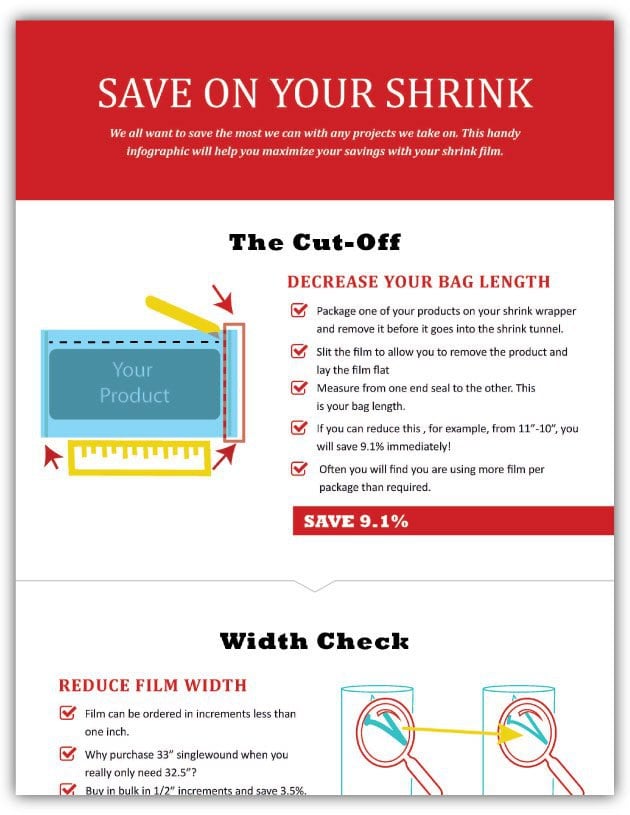 Shrink Film Cheat Sheet
We all want to save the most we can with any projects we take on. This handy infographic will help you maximize your savings with your shrink film. Get it for free when you subscribe to our blog.
Environment | Packaging Design | Packaging Materials | Packaging Psychology
Printed shrink film is fast becoming a popular marketing material. With eye-catching full color graphics, strength, tight shrink and use in packaging applications negating the need for labels, it is becoming a common material on packaging lines across the globe. While there are various benefits to this particular substrate, there is another often less known type of printed shrink available today. Light gauge printed shrink film with thickness as low as 30 gauge has all the benefits of printed shrink, but with a lower gauge and price tag. Why choose printed shrink film? In the article below we will delve into this fantastic material and its many benefits.
Plant Performance | The Business of Packaging | Warehousing
When your business expands or is required to move its physical location from one geographical area to another, it is no little task. This is especially true when moving your packaging department. Managing the breakdown, transportation and install of packaging machinery can be a complicated task. Below we will review a set of best practices for moving your packaging line that will result in a smooth transition from one location to the next.
Environment | Packaging Materials | The Business of Packaging
There is perhaps no other word that invokes the concept of "cringe worthy" for the environmentally concerned citizen than "plastic". Plastics have become an epidemic to the sea, often collecting in literal islands of trash in our oceans, sometimes stretching far as the eye can see. When it comes to shrink film, these concerns are no different, but are they truly warranted? Below, we will take look at the environmental benefits of packaging plastics and explore their potential in recycling.
Environment | Food Packaging | Packaging Design | Packaging Materials | Shipping Protection | The Business of Packaging
Flexible film is essential for any company that needs to package consumer and institutional products, especially for industrial applications. Exceptional flexibility is key to protect, market, and distribute a vast array of products without damage. From ensuring food safety and extending shelf life, to providing even heating, barrier protection, ease of use, resealability, and superb printability, the packaging industry continues to advance with flexible packaging offerings at an unprecedented rate.