Are you looking for information on gas flushing? Interested in how it works and if it is right for your food packaging applications? Perhaps you are a long-established food packaging organization or a restaurant startup looking to enter food distribution through supermarkets. Either way, you have come to the right place. Gas flushing is a process used in a type of food packaging called modified atmosphere packaging. It is used to alter the inside of a special type of pouch that is used to package certain types of foods. When it comes to preserving food, modified atmosphere packaging has become rather popular as a food packaging process. The use of modified atmosphere packaging helps to keep food fresher and more aesthetically pleasing for extended periods. If you found your way here, you're probably researching gas flushing for pouches. You're planning on packaging some type of food product in a pouch and are curious if gas flushing pouches might be right for your products. You're not sure if the investment required for gas flushing makes sense for you. Industrial Packaging has been helping clients in the food industry for many years. We have helped hundreds of companies understand the process, machinery, and materials involved in applications of modified atmosphere packaging such as gas flushing pouches. In this article, we will give you a rundown of everything you need to know about gas flushing. You'll learn how gas flushing for pouches works, what is required to do it, and what types of food are most commonly packaged in gas flushed pouches. By the end of this article, you'll be able to determine if gas flushing is the right call for your packaging line.
Stretch film is the most common packaging material on earth. Used by millions of businesses the world over, it is used to palletize products for shipping everywhere. Whether you use manual labor or a fully automatic stretch wrapper, chances are, you go through a lot of stretch wrap yourself. As you read this, you are probably on a quest to find the best stretch film for your packaging line and have been researching your different options. Having done your due diligence, you have found your way here to the Industrial Packaging blog. Luckily for you, this may be the last post you will need to read today in order to pick the best stretch film for your needs. We have been selling and running stretch film and the related machinery for decades. Industrial Packaging is a packaging distributor offering the very best materials and equipment for stretch wrapping. We have many years of expertise working with companies to find the best packaging materials for their operation and optimizing packaging lines. In this article, we will be exploring the top 7 best types of stretch film. You'll get some background information about each brand and the manufacturer who produces these high quality stretch films. The order that these film brands are presented is not meant to suggest best to worst. Rather, this is simply a list of the top brands currently available.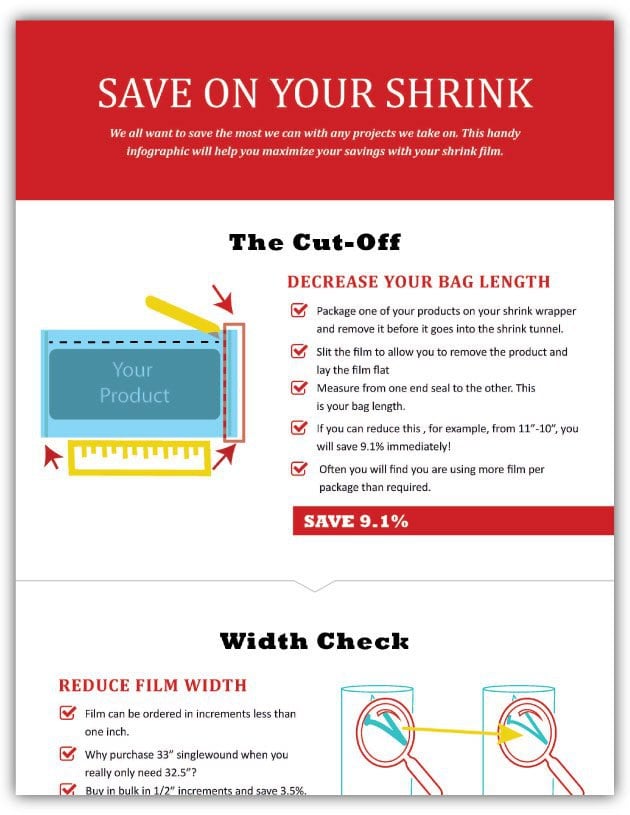 Shrink Film Cheat Sheet
We all want to save the most we can with any projects we take on. This handy infographic will help you maximize your savings with your shrink film. Get it for free when you subscribe to our blog.
Food Packaging | Packaging Design | Packaging Materials
As the food packaging industry continues to heat up, many brands are starting to look to ovenable films as packaging solutions. Ovenable films are films that can be used as top seals or bagging for food products. These materials can be placed directly into an oven. The entire package can be cooked to heat the food without removing the food products from the packaging. Chances are you have been shopping around for ovenable food packaging or at least trying to get more information about the different types of ovenable films. Perhaps you are experiencing pain points in relation to using the wrong type of film or packaging for your products and you want to be sure to choose the right material for ovenable foods. When trying to find the right ovenable films, there are a few things you will want to consider: films, heat limitations, cost, and compatibility with your existing packaging machinery. Industrial Packaging has been selling packaging films for many years. We have been at the forefront of knowledge on ovenable films since they first showed up on the market. In this article, we will be exploring the different types of ovenable films currently available and providing you with information about each. By the end of this guide, you will be able to choose the appropriate ovenable film for your food packaging applications.
Fulfillment | Investment | The Business of Packaging
For many companies, 2020 has been a tough year, primarily due to the struggles that come along with COVID. After weeks or months of unexpected downtime, many companies are unsure about stocking up on supplies or upgrading machinery for their packaging lines. The uncertainty that has come with the phased re-opening of the economy and a blurry future in this new environment can cause a natural hesitation to spending. You have to be hyper-aware of spending when looking out for your company's best interest. You probably feel pressure to purchase just enough to keep running without making any significant investments. And while airing on the side of caution is a good idea in this current climate, the truth is, there is no better time to buy packaging machinery and material than now. Waiting may very well end up costing you a lot of time and money. After decades in the packaging industry and a keen eye to the mechanics of the global supply chain, Industrial Packaging can honestly say that now is the time to purchase your packaging machinery and materials. From our vantage point, we can clearly see the obstacles ahead. We are here to help you avoid stalling on buying decisions that could cost you a lot of time and money and result in serious frustration and headaches down the road. In this article, we will explain the top 4 reasons to buy your packaging materials and make your packaging machinery upgrades or purchases now, before you run into costly issues with the availability of these items.
So, you need to package your food items and you are considering freezing your products. You are aware of the fact that there are multiple types of frozen food packaging, but, you recently heard about IQF or "individually quick frozen" packaging. You want to know what it is, how it works and if it is right for your food packaging applications. Well, fortunately for you, Industrial Packaging has been working with frozen food packaging applications for many years, and, we have all the information about IQF you would possibly want! In the wide world of food packaging, there are many options for preserving foods for extended periods. Everything from traditional and age-old processes such as canning, jarring, and pickling, to salting fish and meats. The preservation of food for storage over extended periods is a classic example of human ingenuity. In the modern world, freezing is perhaps the most popular way to preserve food. When it comes to veggies, not only does freezing preserve the nutritional value of the food, but the flavor is often enhanced by the process (IE: peas and sweet corn). Frozen food gives consumers the ability to keep their chosen goodies for very long periods. When we talk about the cutting edge of technology in frozen food applications, there is perhaps no other greater version of the process than IQF. For those of you who do not know the definition of IQF or "individually quick frozen" here is the meaning to bring you up to speed. IQF is a food freezing tactic that prevents big ice crystals from forming inside of vegetable cells. With IQF, it should be noted that every single piece of produce (literally every pea, corn kernel, etc) is individually frozen to perfection. With IQF, there are no food particles. The result is a final product that is not frozen solid into a brick of ice. Now, there are many different ways to freeze vegetables. Some of these include but are not limited to plate freezing, blast cooling, tunnel freezing, fluid-bed freezing, cryogenics, and dehydro-freezing. As for which method is right for you, well, that depends on the quality you want from your freezing method, depending on factors such as financial limitations and storage dynamics, IQF may or may not be a good choice for your products. This article will take a look at the applications and uses for IQF and help you to decide if it is, in fact, the right form of food freezing for your food packaging needs.
Packaging Design | Shipping Protection | Warehousing
Shipping protection is perhaps one of the most essential variables to consider when fulfilling orders for your customers. Just think how you feel when you order something, and the packaging is damaged. As the internet has made our world a digitally connected global village, you can now have customers anywhere on earth (and pretty soon, perhaps Mars as well). Packages that travel long distances often have journeys that are fraught with problems. Anything from mishandling at warehouses, being dropped on accident by delivery drivers, or moving through geographical areas with extreme heat. The list of potential items that can cause damage to your package can seem nearly endless. So, when it comes to ensuring an excellent unboxing experience for your clients, you need to make sure that their packages arrive in as close to mint condition as possible as it is imperative to building brand loyalty and repeat business. To achieve the proper protections against shipping damages, you need to make sure your packaging process aligns with the best standards. First, getting on board with Amazon's guidelines for SIOC and user-friendly packaging is a good start. Next, use protective packaging materials such as air pillows, cardboard, packaging peanuts, and a whole galaxy of other potential protective packaging material options. Now you are probably thinking, "man, this is more complicated than I was hoping". That may be true, but it's critical to the success of your business. While the global village is making packaging protection during shipping more complicated, Industrial Packaging has decades of experience in this sector. We are here to help you navigate these issues. In this article, you'll gain a better understanding of all of the elements that go into preparing your packages with the appropriate protective packaging materials and protocols. This will help your customers be happy with the condition of their packages, which leads to repeat business.