Packaging Design | Packaging Materials
Let me guess, your products are oblong, elongated, or simply "long," right? And you've probably struggled to find the right type of packaging film for your products. How did I know that? Are you reading this blog post? Then it would seem you have been looking for a packaging material that is good for these types of items. Perhaps you had been considering using shrink film for your products. But, after doing some research, you started seeing terms like "shrink film tubing," "poly tubing," or "heat seal tubing." Don't be afraid! We are not tracking your every move on the internet. We happen to know that the types of products you are looking to package are most often packaged with shrink film tubing. And, chances are, that is why you are here. While there are some similarities between shrink film and shrink film tubing, they are not the same. Based on you landing on this article, you're probably thinking you need shrink film tubing. Shrink film tubing may be clear or colored plastic. Some shrink film tubing is available with perforations. Perforated shrink film tubing makes it easier to remove. Over the years, Industrial Packaging has sold countless rolls of shrink film tubing. During that time, we have identified the proper applications for this packaging material. In this article, we will explore shrink film tubing. We will also discuss the common applications and uses for this material. With this info, you will be able to identify if shrink film tubing is right for your products.
Supply Chain Services/ Contract Packaging
You are trying to figure out if a contract packaging agreement makes sense for your business. But from what you can tell there are a ton of different types of services, which is likely causing some confusion. You know your company may or may not need all the services provided. You also know that not all contract packaging companies offer the same services. Right now, what you need is to get a better understanding of each type of contract packaging service. You want to do this so you can choose a contract packaging company that offers the services you need. Industrial Packaging has been providing contract packaging services for several decades now. During that time, we have been able to help many companies. Companies, just like yours. We help them to find the right contract packaging services for their business. In this article, we will take a look at the different types of contract packaging services. We will help you to identify the specific services that are right for you.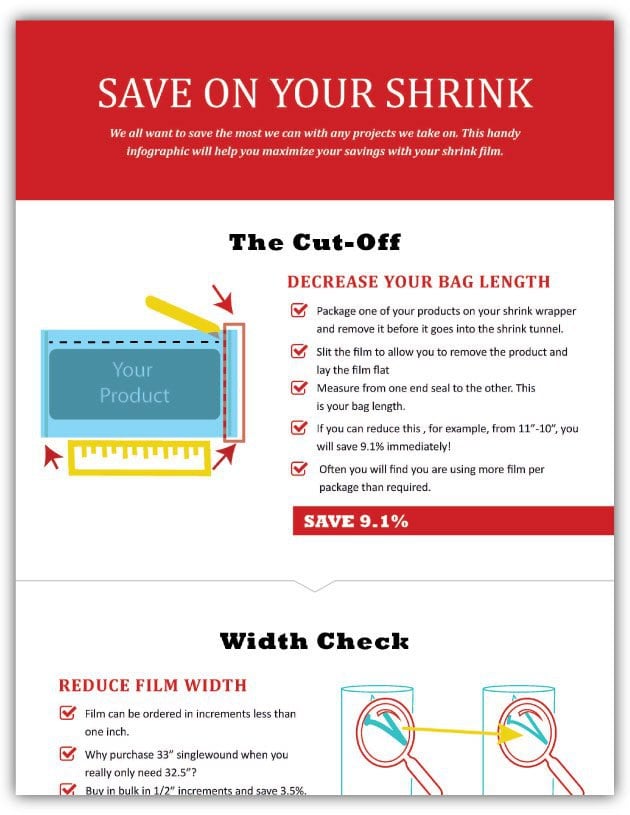 Shrink Film Cheat Sheet
We all want to save the most we can with any projects we take on. This handy infographic will help you maximize your savings with your shrink film. Get it for free when you subscribe to our blog.
Packaging Design | Supply Chain Services/ Contract Packaging
The CBD market now includes an impressive catalog, from edibles, butter, and balms to full-spectrum CBD oil. As the industry continues its meteoric climb, manufacturers have rushed to market their products. Packaging and labeling are two items that are often overlooked when looking to capture a wider fan base. In an effort to break into the market quickly, product marketing strategists focused on promising exciting effects at the expense of accuracy. This resulted in the Federal Trade Commission (FTC) and the Food and Drug Administration (FDA) getting involved. This article will provide examples of labeling mistakes you want to avoid in the hemp industry. It will also provide some guidelines for the proper labeling of your CBD products.
Environment | Packaging Materials
Earth-Friendly! Compostable! Biodegradable! Sustainable! All of these are surely buzz words you have seen a million times before. For instance, there has been a lot of pressure from consumers to replace plastic straws with paper ones. Then you have the public call to corporations to drop single-use plastics. These modern words of power have invaded the collective unconscious. This is true for most consumers the world over. This is all for a good reason. This sentiment stems from the perspective of a love affair with planet earth. Due to various reasons, many types of "earth-friendly" packaging are, in fact, not. For example, contamination in the single-stream recycling process. Then, there is the required protocols for biodegradable options. Do you buy biodegradable shrink films? If you don't compost them, you reduce all the earth-friendly elements of the material. Industrial Packaging has over 60 years in the packaging business. We know what works and what does not for sustainable packaging supplies. In this article, we will explore the requirements for composting biodegradable shrink films. Will your consumers implement these protocols? If so, they may very well make sense for your business. If not, you may make less of an impact on the environment with traditional packaging films.
Packaging Design | Packaging Materials
When it comes to packaging in 2021 and beyond, one item of continual interest for many consumers is easy-open applications. What is commonly known as "wrap-rage" is a phenomenon that we have seen growing over the past several years. Wrap-rage is the experience of having negative emotions and a sense of frustration towards the packaging of a product. This experience has become more common for consumers of various types of products. I myself have experienced wrap-rage on numerous occasions, particularly with some types of blister packs. I can still remember the slew of angry cuss-words drifting through my mind as I used various types of cutting tools to wrangle the product from inside the package. When it comes to shrink film, wrap-rage is an issue as well. Some of Industrial Packaging's customers have been asking us a question. That question is, "are there easy-open options for shrink film"? The short answer to this question is "yes, there are easy-open options for shrink film." In the article below, we will explore the shrink film options for easy open applications.
When it comes to your supply chain and packaging line, you have two options to choose from. Doing all your packaging in-house or outsourcing to a contract packaging company. Both of these options have their pros and cons. If I had to guess, I'd bet you are currently managing a supply chain in-house. You are weighing your options to outsource this side of your business with the hopes of saving time and money. Or, you could be a start-up trying to identify which route to take. At Industrial Packaging we've helped many clients that find themselves asking this exact question. On one hand, we can provide everything you need to run an in-house packaging line. This includes packaging machinery, packaging materials, preventative maintenance programs, automation, and a host of other items required to do in-house packaging. On the flip side of this equation, we can outsource all these elements of your business via contract packaging. We do this with a turnkey solution that will take all the responsibilities off your plate. Let us be clear - we're not saying we're the right packaging company for you. But because of our experience, we can help you to understand in-house and contract packaging so that you can choose the right option for your business. In this article, we will compare in-house packaging to contract packaging. We will help you to identify which type of packaging operation is best for your business.