The Challenge
We are a small business of 5 people, and we were hand sealing our energy bars using a small continuous band sealer and preformed poly bags. The sealer was not that great, the seals were inconsistent, and we could run about ten a minute. The packaging cost us about 10 cents per unit.
It seemed like the only next step available to us from this tiny band sealer was a used full-sized flow wrapper that was more affordable but would come without support. We don't have a technician on staff, so that seemed risky. A new full-sized sealer was too large for us and much too expensive.
How We Helped
The team at Industrial Packaging, Tom Carroll, and Steve McQueen, were able to find the ideal flow wrapper for our needs.
The 350-TC flow wrapper was the perfect solution for us. It was a smaller footprint, an affordable price, and came with a company that stands behind it with available phone support and a regional local service technician.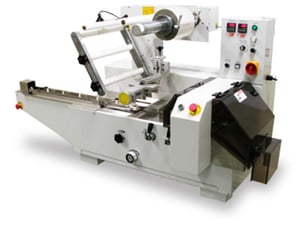 The Results
Since installation, our packaging costs have gone down to about a penny per unit, and we can run about 40 units per minute. Of course, we have the option to run even more, but 40 is all we need for now.
Tom and Steve from Industrial have been super helpful in every phase of ownership. They have gone above and beyond in helping us dial the machine in for our specific uses.