4 Product Packaging Strategies To Attract Consumers
Are you looking for effective product packaging strategies to snag consumers' attention? Well, so is everyone else these days.
When it comes to gaining consumers' attention in retail settings, breaking through all the noise and bringing a customer's attention to your products is hard.
With an excessive variety of items to choose from, consumers often feel overwhelmed by all the options they have when perusing store shelves at their local retail establishments.
But that is where great packaging can intervene on your behalf and help consumers to choose a product.
And if that packaging is applied appropriately, the product they choose may very well be the ones that you are selling.
But how can you use packaging to grab customers' attention? Which packaging strategies should you use when attempting to get consumers' eyes on your products?
In this article, we will review four effective product packaging strategies that will allow you to capture the attention and wallets of today's consumers.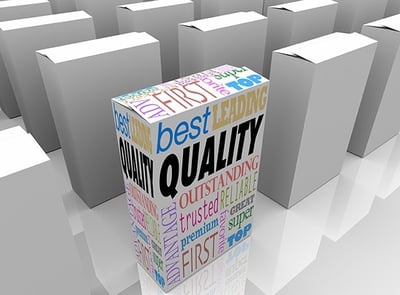 Product Packaging Strategies For Today's Market
"Packaging can be a theater; it can create a story" - Steve Jobs.
Whatever you sell needs to be of good quality and fairly priced. But what really catches the eye of consumers in the first place is how that product is presented.
Most consumers will spend a few seconds deciding what brand to choose for a particular product. And this is your opportunity to grab their interest.
To make the presentation and the packaging eye-catching, there are many techniques and factors that you can incorporate into the style and design of your packaging.
4 Product Packaging Strategies To Attract Consumers
It's no secret that gaining customers' attention in today's market is difficult. The world has become over-saturated with an insane amount of brands and products to choose from.
The technicolor cornucopia of brands that inundate consumers when entering a local retail establishment is superseded only by the variety of products available on the shelves.
So how do you snap shoppers out of the trance induced by the noise of modern marketing? Below, we will review four tried and true product packaging strategies from the best custom boxes.
These strategies will help you to increase the probability of consumers reaching for your products rather than your competitors. These strategies include:
Creative and attractive product packaging design
Maintaining brand identity with product packaging
Proper product packaging function and utility
Product packaging for brand differentiation
Strategy 1: Creative And Attractive Product Packaging
Most consumers will spend a couple of seconds looking at the presentations of product packaging. Then they will decide which one they would like to purchase.
A creative aesthetic and systematically designed product packaging will catch their eye more than a product created with packaging intended as an afterthought.
After all, your product packaging should always be considered an extremely important extension of your marketing department.
Suppose you want to get the customer's business. In that case, you should make them fall for your product with a great packaging design geared towards their aesthetic.
You can create colorful and visually pleasing product packaging such as custom boxes or stand-up pouches.
Apart from many other factors in creativity, the color and shape of the containers used for your product packaging are a major element of the overall presentation of your product.
But it would help if you never went overboard with uniqueness and creativity to the extent that your product is hard to identify among the myriad of options available to consumers today.
Your product packaging should be creative enough to attract consumers and convey your product's meaning, use, and purpose.
---
Looking for product packaging supplies? We can help!
---
Strategy 2: Maintaining Brand Identity With Product Packaging
Consumers are often overwhelmed by confronting the vast variety of products from different brands on store shelves today.
This can make it difficult for the consumer to make a choice. However, brand identity is what the consumer feels secure and excited about.
Many buyers purchase products they know and trust. This is called brand loyalty, and it is a very potent marketing tactic that can pay off with big dividends.
Product presentation is a way brands speak to their customers, including conveying things such as their values, work ethic, and identity.
So, while you make your product packaging, keep in mind to always have containers that reflect your brand identity. That way, the consumer will feel a sense of loyalty and support and will choose you over a thousand other products most of the time.
You can also make new and unique packaging by keeping the older style somehow incorporated into your product packaging design. This will make it easy for customers to recognize your product among all others.
For example, suppose you like Worcestershire sauce. In that case, you are likely more than a little familiar with Lea & Perrins Worcestershire sauce.
The bottles are wrapped in a branded paper wrapper and secured with a golden string near the top of the bottle.
These paper wrappers were originally used in the eighteen and early nineteen hundreds to prevent breakage during the long trip across the ocean.
And while these stylish paper wrappers are no longer required for that practical application, consumers have come to love the iconic packaging from an aesthetic and stylistic perspective.
As such, the company continues to package some of their bottles of sauce in these paper wrappers to this day as they have proven to differentiate their brand from competitors.
The classy and unmistakable packaging of Lea & Perrins Worcestershire sauce makes it easy for customers to find the sauce on store shelves.
Strategy 3: Proper Product Packaging Function And Utility

While you should absolutely put a lot of focus on the uniqueness and creativity in the design of your product packaging, you should also never forget the function of your containers.
As the packaging's design is essential to catch the consumer's attention, it is also crucial to ensure the proper utility and functionality of your product packaging.
Most consumers will always opt for easy-to-use packaging as much or more than they would for the product with the aesthetic they prefer.
Packaging containers' shape and structure will often determine consumers' in-store decisions. Properly produced packaging with good functionality and ease of use will often lead to more sales of your products.
While making and designing your packaging, the designers need to keep in mind the simplicity and functionality of these containers as much as they focus on the other features of the product's packaging.
Strategy 4: Product Packaging For Brand Differentiation
With a variety of brand options on the shelves for similar products, consumers will often go for the one that stands out in all aspects.
And the first thing that would create an impact is the packaging. For your packaging and product to stand out, you may consider many aspects that make your product unique, affordable, user-friendly, and creative from other similar products on the shelf.
You can always play with colors and patterns to make your packaging stand out, not forgetting the fact that your packaging delivers a strong message about your brand.
This is what would make your packaging unique and different from others as well.
If your packaging offers features suitable for the buyer, like their preferred shapes, structure, and utility, then that would also make your product stand out and attract more customers who resonate with those elements of your packaging.
For your product to stand out, keep in mind all the factors that your buyers want in your product and the packaging.
Are You Looking For Product Packaging?
After reading this article, you should have some fantastic ideas for product packaging brewing in your brain from the packaging tactics outlined above.
But, you are probably wondering, where can you buy the product packaging supplies that you need to bring your ideas to life?
If that is the case, you will want to speak with one of our in-house packaging experts. They will be able to help you choose the best product packaging supplies for your needs.
About Sophia Laura
Sophia has been working as an SEO content writer at The Best Custom Boxes since 2020. She has offered her expertise to help websites and content creators with different sorts of content; academics included. She is currently residing in the USA and has expertise in SEO writing, academic writing, blog writing, article writing, ghost writing and many other areas of creative writing