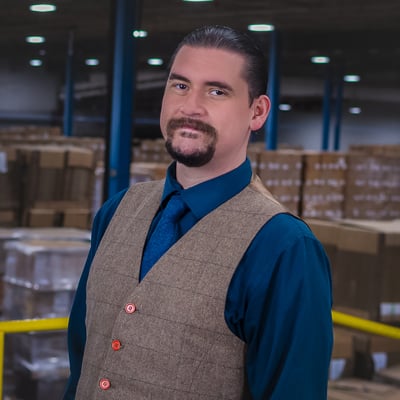 Food Packaging: Plastic Clamshells VS Styrofoam Containers
When it comes to packaging hot or cold food, you have probably seen hundreds of different types of options. As you comb through the maze of different containers for food packaging, the wide variety of options can be mind-numbing.
Two of the most popular options for packaging both hot and cold "grab-n-go" prepared foods are plastic clamshells and styrofoam containers.
When you find yourself looking at these items, they may seem similar at first glance. You may think to yourself; maybe I will choose one or the other based on gut instinct.
The problem with that thinking is that each of these containers has specific applications that they are well suited for and others that are not. Choosing the wrong type of container for the incorrect application can result in possible contamination and damage to the vessel.
Having sold hundreds of thousands of flexible food packaging items, we here at Industrial Packaging have a deep understanding of each container's pros and cons.
While we sell plastic clamshells and do not sell styrofoam, we want to be transparent about both types of containers so that you can choose the one that is best for you.
We work with companies like yours daily to make sure they're choosing the right food packaging product.
In this article, we will compare plastic clamshells to styrofoam containers and discuss the pros and cons of each. You'll understand which of these is best for your food products and be able to make a purchasing decision without hesitation.
All About Plastic Clamshells
Out of the various kinds of carded packaging supplies, plastic clamshells are one the easiest to use. Clamshells resemble the famous sea creatures that are often deep-fried and served with tartar sauce.
They feature two "shells" sealed on one side while the other has two small clasps that allow them to be easily opened and closed.
While clamshells are usually made from several types of materials, they are most commonly made from plastics like polystyrene, polyvinyl chloride, or polyester. These plastics may either be made by thermoforming or injection molding to form different shapes and sizes.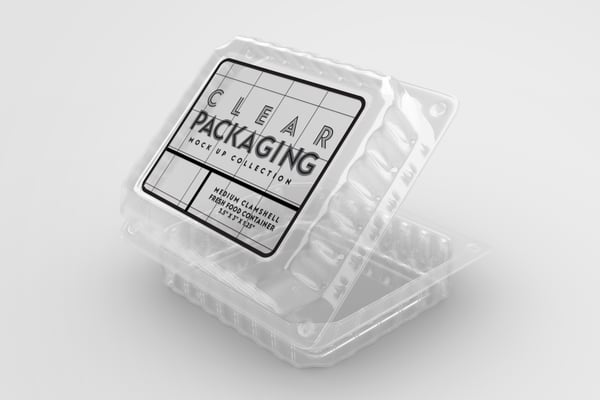 Have you ever picked up lunch from a food truck that came to serve food at your office? Have you ever been to a supermarket deli or hot bar? If so, chances are you've seen clamshells before.
Products typically packaged in plastic clamshells may include salad, sandwiches, fruits, cakes, small, and hot prepared foods (baked beans, spare ribs, chicken wings). Hot meals are often packaged in plastic clamshells because they require plastics that are not heat sensitive.
Plastic clamshell containers are also a great choice when it comes to the environment. Most of the time, they are made out of a single type of plastic. This makes them easy to recycle.
Despite the issues with modern-day "single-stream recycling "such as food contamination and improper materials mixed with actual recyclables, clamshells often make it through the recycling process.
*Single-stream recycling is a prevalent modern form of recycling where all paper, plastic, metal, and other recyclables are thrown into a single container and picked up by a collection truck, rather than being sorted by municipalities into separate bins before being processed.
However, this hinges on consumers properly washing them out and drying them before putting them in the recycling bin. Failure to do so will result in the items being sent to a landfill.
Pros Of Plastic Clamshells

Easy to open and close
Made from easy to recycle materials
Easy to buy
Low to no wrap rage*
"Wrap rage is a negative emotional state, usually resulting in a sense of anger and annoyance over packaging that is very hard to remove. Wrap rage-inducing packaging products may be hazardous to consumers' health concerning the possibility of injuries caused while trying to remove the packaging."
Cons Of Plastic Clamshells

They often do not tightly contain products
Not the right choice for some food applications (raw meat, liquids)
---
Need Help Designing Your Packaging?
---
All About Styrofoam Food Containers
Styrofoam food containers are a hugely popular form of packaging commonly used in the food industry. Have you ever ordered take out from a local pizza place?
Have you ever ordered a salad, chicken wings, jalapeno poppers, or other appetizers there? Chances are, you have seen your food delivered in a styrofoam food container.
Salad and chicken wing bars at supermarkets are familiar places where you may encounter styrofoam food containers for food packaging. Like clamshells, they are also famous for "grab-n-go" areas in supermarkets, country stores, food trucks, and catered events.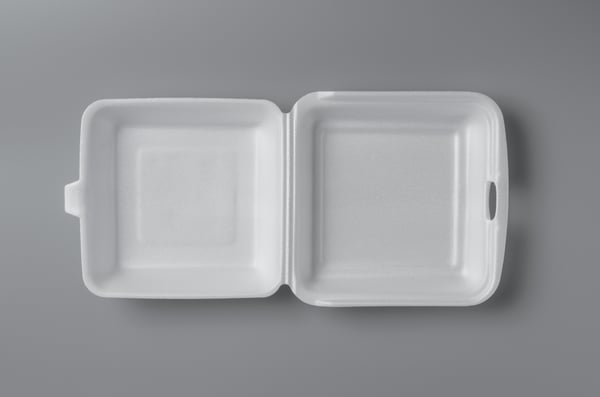 While they have been trendy for a long time, they are quickly being replaced by plastic clamshells and other alternatives because they are made out of styrofoam (also known as polystyrene).
Polystyrene is widely available to the public and is used to make food trays, cups, to-go food containers, and various other types of packaging supplies.
Polystyrene foam is created by using chemicals such as benzene and ethylene and fusing them to polymers, which are then combined with hydrocarbon gasses. This causes these chemicals and gases to bind, resulting in what people commonly call styrofoam.
These chemical compounds (ethylene and benzene) are both toxic and are known carcinogens. While getting cancer can come from various reasons, being exposed to carcinogenic toxins like benzene and ethylene is dangerous. This is especially true when one is exposed to high concentrations of these chemicals.
Most of these styrofoam containers, which we often use to carry food products, can leech these chemicals into our bodies.
This is especially true when hot foods are cooked at high temperatures and immediately placed in styrofoam containers, resulting in the foam leeching or melting. In this case, high levels of these chemicals can be unknowingly ingested, greatly enhancing the probability of adverse health issues.
All that being said, styrofoam does not pose a significant health threat for packaging cool/cold foods and are a viable alternative to plastic clamshells for those applications.
Unfortunately, styrofoam is almost entirely non-recyclable. While some containers have the recycle symbol printed on them, virtually all single-stream recycling programs do not recycle it.
The majority of municipalities cannot recycle the material and throwing it into a recycling bin likely result in it eventually ending up in a landfill.
Pros Of Styrofoam Containers

Easy to open and close
Easy to buy
Low to no wrap rage
Cons Of Styrofoam Containers
Made from toxic chemicals
Not a good choice for some food applications (hot foods, hot liquids)
Virtually impossible to recycle
Which Type Of Container Is Right For You?
You may be wondering which of these two containers makes the most sense for your particular needs when it comes to food packaging? To honestly answer that question, you will have to answer a few questions yourself.
Are you packaging cold foods? If yes, styrofoam containers would be a good choice.
Are environmental and sustainability concerns important to your customers? If yes, you will want to choose plastic clamshells.
Do you want to be able to conceal the product within? If yes, you will want to choose styrofoam containers.
Are you trying to save money? If yes, plastic clamshells are the better choice as they are usually cheaper than styrofoam alternatives.
Do you want to be able to put graphics on the container? This can be done for both clamshells and styrofoam containers.
Are you packaging hot foods? You will want to use heat resistant plastic clamshells.
Consider writing down your answers to each of these questions and reviewing them with your team. Given time, the information collected from these questions should help you identify which type of container is right for you.
If after reviewing your answers, you are still on the fence about which type of container is best suited for your food packaging needs, we invite you to contact one of our packaging experts.
They will be able to help you choose the right type of container for your food products and guide you to the appropriate vendor, even it that vendor is not us. Industrial Packaging is here to help you make the right decision for your unique packaging requirements.
About Nathan Dube
As the Digital Marketing Specialist at Industrial Packaging, I am honored to create content for such a phenomenal company and work with one of the greatest teams in the Packaging Industry. Whether creating a video, writing blog posts or generating other pieces of content and multimedia, I am always excited to help educate and inspire our prospects and clients to reach their highest potential in regards to their packaging processes and needs.