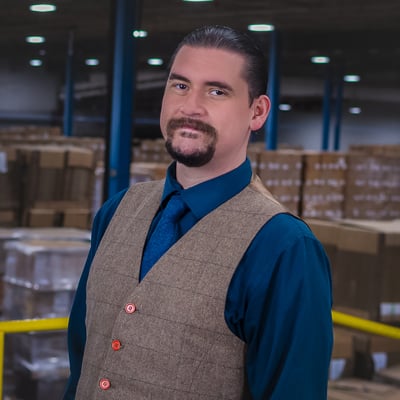 Packaging Machinery: Why Preventative Maintenance Is More Important Than Ever!
Companies like yours are starting to re-open, and production will soon begin on packaging lines around the country. After months of unexpected downtime due to COVID19, many businesses are eager to jump-start their packaging lines and get back to business as usual.

One thing to keep in mind is that preventative maintenance and repair for packaging machinery is more important now than ever.

If packaging machinery is not properly cared for after being shut down for months, immediate problems may arise.

At Industrial Packaging, we have worked on many packaging machinery lines and different types of packaging machinery. We can help you ensure that when your line goes live, you won't have to deal with more unexpected downtime.

In this article, we will discuss the great importance of having access to quality packaging machinery repair and maintenance services and why it can be a "make or break" issue today.
Why Preventative Maintenance And Repair for Packaging Machinery Matters Today
As companies across the country begin to come back to life, many warehouses have been lying dormant without people in the building. As the industrial human spirit returns to these places, packaging machines that have not been working are about to ignite with life after many months of being unused.
When packaging machines sit for long periods of time, they require moderate to serious maintenance and repair because, quite simply, these machines were made to run consistently.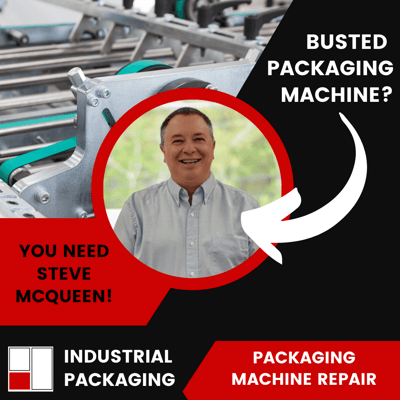 When sitting unused for a long time, various issues can arise. Preventative maintenance is a crucial component in dealing with these factors BEFORE they become a problem for your business.
Ignore proper inspection and preventative maintenance prior to turning the power back on, and you could end up with unwanted downtime. After being shut down for months, can you really afford even one more day? One more hour?
With a full inspection of your packaging line and the implementation of necessary service and repairs, you can be assured that you'll stay online when you do come back online.
---
Need Help With Preventative Maintenance ?
---
Common Problems With Starting Packaging Machinery After A Long Downtime
Here is a list of items that you will want to pay close attention to and commit to working on before you start your packaging lines up again.
Machinery
Look closely at your air compressors

Be sure to drain any water

When dealing with any type of equipment with an air regulator, be sure that fittings are not leaking and are set at the appropriate PSI required.

Inspect your air-dryer to ensure it is not at its end of life.

Double-check all safety settings for all your machinery and be sure they are functioning correctly.

Inspect your electrical supply to ensure it is working correctly.

Check on all hot-melt systems.

Clean the glue pot as well as the lines. The glue can build up and may affect how the system performs and can effect warm-up time as well.

Make sure suction cups are not cracked or dried.

Implement preventative maintenance ASAP before your business re-starts and continues to run as usual. This will help you to avoid more unwanted downtime.





Shrink Equipment




High heat rated greases are required for heat tunnels.

Replace any worn-out seal pads.

If your machines have chains that have been shut down for several months, be sure that they are well lubricated.
Stretch Wrappers
Make sure that your pre-stretch-rollers are clean. If they are not clean, you could experience slippage, which can negatively affect your yield as well as the load containment. If your pre-stretch-rollers are gummy, the film may wrap around the rollers and result in extra downtime. Gummy pre-stretch-rollers can be remedied with utility knives; however, doing this could potentially deface the roller, resulting in more downtime and additional repair costs.

Remove your turntable and clean it before starting up again.
Fork Trucks

Charge the battery and make sure your charging stations are in quality condition

Fill any empty propane tanks.

Always check the air pressure in your tires.
Vacuum-Sealing or Pick and Place Machinery

Inspect the suction cups for cracks. Over time, they can dry out, especially after long periods of downtime.

Inspect all air-lines, get rid of any clogs or water inside the lines.
Tapers

Clean your tape knives and be sure they are not gummy.

Inspect all belts to ensure that they are in great shape with no cracking or tearing present.



Printers

Clean inkjet and other printers that have been down for extended periods of time.

Purge any ink that was sitting idle or replace them all together to avoid clogging.




Inventory
Purchase your packaging films

(shrink film, stretch wrap, etc.) as soon as possible. There is currently a buildup of packaging materials at various film manufacturer's warehouses that will deplete rapidly after businesses start opening up again.

Check lead times for potential delays.

Find out transportation schedules; lead times may vary.

Heat-sensitive materials must

be stored at ground level to prevent damage during the warmer months.

Check expiration dates

on all packaging materials.




Other Considerations
If you are in food production, address any pest control issues as soon as possible.

Check the availability of cleaning supplies and PPE items.

Stock up on all required packaging supplies.

If your company has implemented a no-visitor policy, make sure that you post signs around your facility.

Implement social distancing guidelines and new cleaning policies.
Where To Get Preventative Maintenance And Repair For Packaging Machinery?
When it comes to choosing a packaging machinery repair and service company, you will want to take a few things into consideration. Regardless of your company's physical location, you will want to be sure that your chosen vendor is either local or can travel quickly to your location.
Keep in mind that using a service company from farther away from your location will almost always cost more. Depending on the quality of your local providers, using a company further away with better technicians may be well worth the investment.
As for the types of institutions you can expect to contract or pay retail for preventative maintenance and repair services, you have a few different options.
Packaging Distributors
Industrial Packaging is a packaging distributor. Companies like ours are popular options for preventative maintenance and repair services for packaging machinery.
As packaging distributors are brand agnostic and usually selling multiple different brands of machinery, they are a great choice for packaging lines that have machinery from more than one manufacturer.
Technicians from packaging distributors are almost always trained on multiple brands of machinery. This is different from technicians who work for a manufacturer, as they are often limited to servicing the brand they sell.
Manufacturers
Another option for preventative maintenance and repair services for packaging machinery is using a manufacturer (OEM). Manufacturers often have service technicians who are highly trained on the equipment they produce and sell.
In many cases, a manufacturer will have the best technicians for their specific brand because they often work exclusively on that brand of equipment for years.
With many manufacturers being large businesses, they will also often have an extensive collection of technicians available for their customers. This means availability is not usually an issue.
Some small companies may not have the same availability. In this situation, you'll want to make sure you have options because when unexpected downtime occurs, you need to have a tech as quickly as possible.
Packaging Integrators
Packaging integrators are specialized companies that help their clients design, build, optimize, and run top-of-the-line packaging lines. They often work with both OEMs and distributors to help their clients achieve their packaging goals.
Packaging integrators may have their own packaging machinery preventative maintenance, and repair technicians, OR, they will provide third parties through their partner companies' network.
While many offer great and reliable packaging machinery repair services, they may cost more if they use a third-party OEM, distributor, or another 3rd party partner to fulfill your service needs.
Using a packaging integrator for service may make sense for your business if you are already using one for your packaging line, or, if they are partners with other vendors you currently do business with.
Choosing A Packaging Machinery Service And Repair Vendor
If you are not sure where to start to choose the right packaging machinery repair and preventative maintenance provider for your company, consider reaching out to one of our packaging experts.
They will be able to answer any questions you may have and help you choose the correct type of vendor, even if that means we are not the best option for your business.
While Industrial Packaging would love to get your business, we may or may not be the best choice for your specific needs.
When choosing a vendor for repair and preventative maintenance, it would be wise to compare a few different companies and compare cost, location, service times, availability of technicians, and any other items of concern that are important to your packaging line's success.
Want To Speak With A Packaging Machinery Service And Repair Expert?
About Nathan Dube
As the Digital Marketing Specialist at Industrial Packaging, I am honored to create content for such a phenomenal company and work with one of the greatest teams in the Packaging Industry. Whether creating a video, writing blog posts or generating other pieces of content and multimedia, I am always excited to help educate and inspire our prospects and clients to reach their highest potential in regards to their packaging processes and needs.