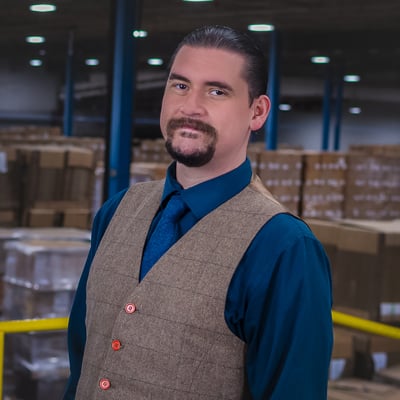 Poly Bags VS Roll Bags: Which Is Right For You?
In the wide world of flexible packaging, it is easy to get confused about some products. This is especially true when the products look, feel, and act similarly.
I was right where you are when I first started learning about roll bags and poly bags. And while they have some undeniable similarities, they are two very different types of flexible packaging.
But, what are the differences between poly bags and roll bags?
After a few decades in the packaging industry, Industrial Packaging has consulted countless clients on flexible packaging supplies. Along the way, we have helped many businesses choose the appropriate bagging for their products.
In this article, we will explore poly bags and roll bags. During that exploration, we will take a look at the differences between these two types of bagging. After reading this article, you will know which type of flexible bagging is right for you.
What Is A Poly Bag?
Polybags are transparent or clear bags that are made from polyethylene plastic. These bags are most commonly used for packaging goods and shipping products.
On average, polybags range in thickness from 1-6 mils. But, there are also specialty and custom thicknesses available upon request. Additionally, there are some custom bags made from special plastic formulations for niche or unique packaging requirements.

The popularity of polybags has exploded in the past several years. This is due to their thin body shape, smooth surface, reflectivity, and excellent flexibility.
Another reason these bags have become so popular is that they are much less expensive than cardboard boxes and have therefore been adopted by many eCommerce companies. The buy-from-home phenomenon only boosted this trend during the COVID pandemic.
What Are Some Common Applications For Polybags?
Polybags are commonly utilized for packaging products such as shirts, pants, trade publications, mailers, bedding, textiles, and other types of popular consumer goods.
---
Need Help Designing Your Packaging?
---
What Is A Roll Bag?
Generally speaking, a roll bag is a see-through or colored bag. Roll bags are made from different types of plastic formulations. The formulation used is dependent upon the application the bag is used for.
As the name would suggest, roll bags come wrapped onto a roll. Every bag on the roll features an opening on one side of the bag. This is where the product is inserted. The other side of the bag is perforated. The perforation allows for easy removal from the roll.
To help you visualize how roll bags work, think about the last time you bought fresh produce at the supermarket. Those plastic bags that you use to package loose fruit and veggies stationed throughout the produce department feature a similar look, feel, and application to that of a roll bag.
What Are The Common Applications For Roll Bags?
Roll bags are most commonly used for eCommerce fulfillment, mailers, and medical products. That being said, pretty much any consumer goods that can fit can be packaged in a roll bag.
What Is The Difference Between Poly Bags And Roll Bags?
When figuring out which type of bag is right for your products, you need to understand some of the key differences between these two types of flexible packaging bags.
One of the main differences between poly bags and roll bags is the plastic formulations. While poly bags are made exclusively from polyethylene plastic, roll bags can be made from various types of plastics.
This is important to you as a consumer because your products may or may not be able to be packaged in polyethylene. This information allows you to choose the appropriate bag for your products.
And, while some polybags come on a roll, they are also available as singles.
One of the significant differences between poly bags and roll bags is the max sizes available. From an industry standards standpoint, roll bags are available up to 25 inches wide and 72 inches long. Poly bags are available up to 98 inches wide and up to 288 inches long. With that being said, custom sizing is available upon request.

Which Is Right For You? Poly Bags Or Roll Bags?
To figure out which type of flexible bagging is right for you and your products, you are going to have to answer a few questions. With the answers to these questions in hand, you will decide if poly bags or roll bags are suitable for your products.
Do your products require a plastic formulation other than polyethylene? - If you answered yes, then you will want to use roll bags.


Do you need to package a product larger than 25 x 72 inches? - If you answered yes, then you will want to use poly bags.


Do you want to avoid using plastic packaging? - If you said yes, neither of these types of packaging is appropriate for you.


Are you looking to reduce the cost of rigid packaging like cardboard boxes? - Polybags would be the best option for you.
Where Can You Purchase Polybags And Roll Bags?
Now that you know the differences between these types of flexible bagging, you should be able to choose the one that is appropriate for your packaging needs. But, where should you buy your flexible bagging supplies?
You can purchase poly bags and roll bags from various vendors. These include online retailers, eCommerce vendors, packaging distributors, packaging manufacturers, and big box stores like Home Depot.
If you are not sure where to begin your buying process and would like some help, consider reaching out to one of our packaging experts. They will be able to help you choose the right type of flexible bagging for your needs. And, they can assist you with your purchase whether you choose to buy from us or not.
About Nathan Dube
As the Digital Marketing Specialist at Industrial Packaging, I am honored to create content for such a phenomenal company and work with one of the greatest teams in the Packaging Industry. Whether creating a video, writing blog posts or generating other pieces of content and multimedia, I am always excited to help educate and inspire our prospects and clients to reach their highest potential in regards to their packaging processes and needs.