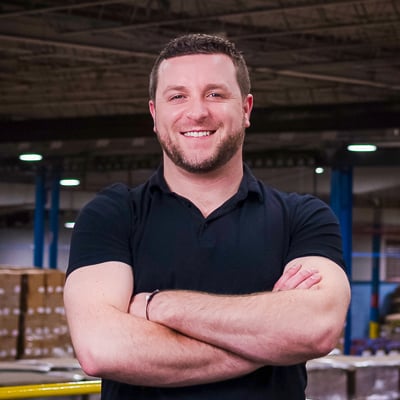 Throwback Thursday: Shrink Film
Equipment | Packaging Materials | Environment | The Business of Packaging
Gauge Reduction, Centerfolded Film Upcharges, and Heat-Sealing: Then & Now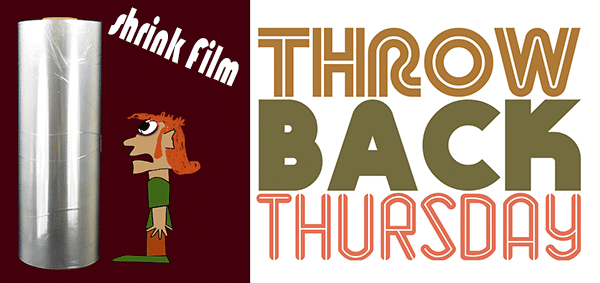 We have many years in the packaging industry under our belts and every now and then it's fun to reminisce about the days gone by. I've gathered up some highlights with our CEO, Matt, showing how far we have come over the past 50 years with shrink packaging. Check them out below:


Gauge reduction
In the '60s everyone was using 75 and 100 gauge films for packaging their retail products. In the '80s, only the braves ones reduced film gauge down to 60. Then in 2000, 45 gauge was introduced, and now we are extruding even thinner films with even better strength, durability, and cost savings !
Centerfolded Film
In the '60s there was a 10% up-charge for centerfolded films because it required an extra step in manufacturing (simply folding it in half). Given that a customer would need to buy 48" single wound film, when they really needed 24" center folded, and given that a 48" roll weighs over 100 pounds, we provided our customers with mechanical center folders. These were free standing units that were placed adjacent to the sealing machine. This would allow our customer to literally fold the film themselves before it came into the sealer, bypassing that 10% charge altogether!
Heat-sealing: Then and Now
In the early days, shrink films were sealed using a round nichrome wire that was impulse-heated. When the seal-head came down, it would push a button, sending current through the wire. When heated, the wire would expand, then droop.
To remedy the drooping wire, a spring loaded "compensator" was created. As the heated wire expanded, the compensator would move to absorb the expansion. Initially a timer was used to control how long the wire was heated. As residual heat stayed in the wire, less heat needed to be introduced, which the timer did not recognize. The wire temperature would increase, often getting too hot. This would cause the film to burn, create weak seals, charring, and buildup on the wire and the seal pads. This would often be cleaned up using a wire brush or a screwdriver, obviously causing damage to the sealer!
The next improvement was a compensator with a thumb-screw adjustment to stop the flow of power to the wire once the wire had reached a certain expansion point which represented the attainment of sufficient heat. Even with a properly set compensator, an impulse system, which provided peaks and valleys of temperature, still provided many sealing problems, as listed above.
Treating the symptoms :
The first remedy was Teflon sheeting over the seal bars, and that ended in disaster! The variable heat of the sealing wire caused burn through of the sheeting. Rotating the sheeting to avoid burn through was cumbersome, if not impossible. It was ineffective and an operation night mare.
Finally, solid seal bars came around, a

llowing films to seal properly without buildup or burning. Solid seal bars, which have a constant heat, allow us to select and maintain the proper temperature for the specific film being used.
We have come a long way since the 60's, and there are more innovations in the industry that will continue to re-shape our packaging for a better, more sustainable, (and safer!) future. Do you have any good stories from your industry history? We would love to hear them, share them in the comments below!
If you are working with packaging equipment that is not meeting the standards you require, start a conversation with our Packaging Equipment team today!
Copyright: embroiderypatterns / 123RF Stock Photo
About David Roberge
I am grateful for my 9 years as part of the outstanding Industrial Packaging team. I was able to hang out with some of the most knowledgeable folks in the packaging industry. I feel even luckier that I was able to share that knowledge with you. I love learning, hiking, and growing people and teams both personally and professionally, and helping companies grow better.