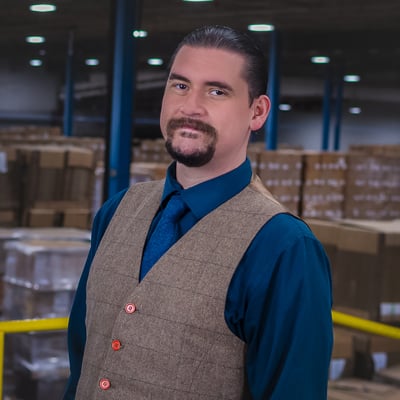 Shrink Film VS Heat Seal Tubing: What Is The Difference?
Have you recently purchased a roll of shrink film to package your products? Maybe you're finding that using shrink film is not resulting in a good final product?
Chances are you, you did some research online, found an article about using shrink film, and gave it a whirl. Now you're back to searching online to find a remedy to this situation.
Maybe you thought that shrink film was the right material for your products, but it's not. What you actually needed was heat seal tubing. But don't feel bad! Heat seal tubing and shrink film are often confused for one another.
Then again, perhaps you purchased heat seal tubing, and you have found yourself in the opposite conundrum. Again, it is an honest mistake, and it happens more often than you may think.
Many people mistakenly assume heat seal tubing and shrink film are the same things. They are often made from the same or similar plastic formulations. But, they are designed for different packaging applications.
Industrial Packaging is no stranger to shrink film or heat seal tubing. We have been working with both materials for many years. In this article, we will help you to understand the differences between heat seal tubing and shrink film.
What Is Shrink Film?
Shrink film is a packaging material made from soft plastic formulations. Usually, you will find shrink film made from polyolefin, polyethylene, or polyvinyl chloride. Beyond that, there are also specialty films made from other plastic formulations.
Shrink film is used in conjunction with shrink packaging equipment. This includes machinery such as heat tunnels and sealers. Conveyors are also used in shrink packaging applications.
With shrink film packaging applications, your product is wrapped in a bag made of shrink film and the ends of the bag are sealed on a sealer. The products are then moved via a conveyor belt into a shrink tunnel. The items are heated inside of the tunnel. Finally, the shrink film shrinks uniformly around the product.
The product exits the tunnel via a conveyor on the other side of the tunnel. Next, it moves through your packaging line until it reaches whatever equipment you have for boxing and shipping.
What Are The Best Applications For Shrink Film?
Shrink film is used to package items such as consumer goods. For example, things like DVDs, CDs, video games, electronics, game boards, food, and a host of other types of products. You can also purchase perforated shrink film or heat-sensitive shrink film. These are made for specialized product packaging applications.
What Is Heat Seal Tubing?
Heat seal tubing (also known as poly tubing) is a plastic tubing substrate. It is most commonly made from polyethylene, although, other formulations are available. Just ask your packaging vendor if you are interested in formulations other than polyethylene.
Heat seal tubing is a tube-shaped packaging film. It is used for the storage, shipping, and protection of products. Like shrink film, it protects products from outside contaminants such as dirt, dust, and moisture. Because tubing is generally thicker than shrink film, it has some puncture resistance.
What Are The Best Applications For Heat Seal Tubing?
Packaging applications for heat seal tubing include the packaging of elongated and odd-shaped items. The tubing can be cut to custom lengths. The products being packaged are then placed inside of the tubing and sealed with a sealer. The tubing is then shrunk around the product in a heat tunnel.
Heat seal tubing is used for various packaging applications. It can be used to package curtain rods, flag polls, rolls of gift wrapping, and other long or oddly-shaped consumer goods. There are also printable forms of heat seal tubing. These can be printed with eye-catching graphics for branding and marketing applications.
---
Need Help Choosing The Right Shrink Film?
---
What Is The Difference Between Shrink Film And Heat Seal Tubing?
The main difference between shrink film and heat seal tubing is the applications they are used for. The plastic formulations are generally the same. However, as previously mentioned, tubing is usually thicker than shrink film, and it has some puncture resistance. So, if you are packaging elongated items, heat seal tubing would be the better choice between these two materials.
Which Is Right For You, Shrink Film or Heat Seal Tubing?
To figure out which of these two materials is right for you, you need to answer a few questions.
Is your product long or oddly shaped? If you answered yes, you will want to go with heat seal tubing as your packaging material of choice. Items of comparison for size: gift wrap, curtain rods, fishing poles.
Are you packaging small consumer products? If you said yes, you will want to consider shrink film for your packaging applications. Items of comparison for size: CDs, books, tea boxes.
Does your product need to emit scent? Scented products like candles and soaps would benefit from choosing perforated shrink film.
Where Can You Find More Information About Shrink Film And Heat Seal Tubing?
Would you like to learn more about shrink film and heat seal tubing? If you would like to dive deeper into the world of shrink film and tubing, then you may want to click the link below. The complete guide to shrink film is your one-stop resource for shrink film. Everything you could ever want to know about the material is inside of this free guide!
About Nathan Dube
As the Digital Marketing Specialist at Industrial Packaging, I am honored to create content for such a phenomenal company and work with one of the greatest teams in the Packaging Industry. Whether creating a video, writing blog posts or generating other pieces of content and multimedia, I am always excited to help educate and inspire our prospects and clients to reach their highest potential in regards to their packaging processes and needs.