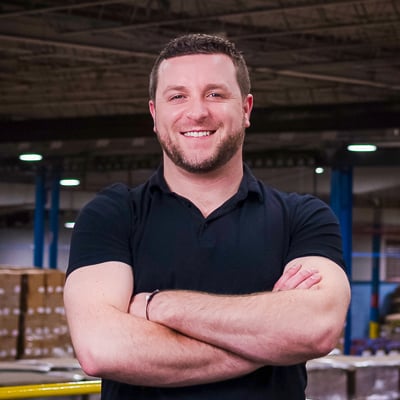 How Much Does A Strapping Machine Cost?
Are you looking for pricing information on a strapping machine? Not sure where to start or which brand to buy? Maybe you have been tasked to purchase one of these machines but don't know a lot about them other than your responsibility to source one for your company.
We have sold quite a few Strappers over the years here at Industrial Packaging. We pride ourselves on helping people understand the cost of packaging machinery and finding the right machine for their needs.
Generally speaking, strapping machinery costs can range from as low as $500 for handheld equipment to well over $24,000 for fully-automated machines. Exact pricing depends on the manufacturer and the type of machinery, and this range can differ from brand to brand.
This article will provide information about the cost of strappers and what factors impact their cost. We will help you better understand what you'll pay for the type of machine that is right for you.
Why Would I Need A Strapper Or Strapping Tools?
Strapping machinery and tools are designed to secure boxes and pallets for shipment. In many cases, strapping is used in tandem with stretch wrap for pallets to secure products during transit. There are several types of strappers that range from fully manual, handheld tools to completely automated, labor-free strapping equipment.
In between these two extremes, there are various different makes and models of strappers. Each one is designed for specific uses based on industry or volume. They range in price based on their speed, daily volume of packages strapped, quality of internal components and parts, and various other contributing factors.
What Affects The Cost Of A Strapper?
There are a few significant factors that can impact the cost of a strapping machine or tool. Different brands that may offer almost identical products will have varying prices. Brand aside, the following are key factors to consider when selecting a strapper:

Volume Of Boxes Being Strapped

Think about how often you will be strapping your products. Do you have volumes that justify a machine, or are your volumes low enough to strap manually or with automated hand tools?
If you are strapping under 50 pallets or boxes per day, a manual or automated handheld strapper would be sufficient. Consider how many straps you will be using per unit as well. Keeping your employees safe from injury with repetitive tasks is an essential to consider when selecting a strapping tool.
In this same respect, you can consider automation as a labor savings. An automated strapper can reduce the number of workers required to secure products with strapping, which can help to justify higher-priced machines.
Space
The amount of space you have available will impact your ability to purchase fully automated machinery. Machinery can range from small tabletop models to massive, vehicle-sized machines. The size of many machines can be customized, which will also impact the initial cost. Additional options and customization to your machinery will increase the cost of the equipment.

Strapping Material
The cost of running your strapper will also be affected by the type of strapping material that you choose to run on your machinery. Each type of material is designed for different purposes.
These materials can range in cost based on elements like length, gauge, and material type, be it polypropylene, polyester, or in rarer cases, steel.
The longer the roll, and the thicker the gauge, the more expensive the strapping is. Steel strapping is more expensive than plastic and other materials.
Industry/Product Type
Specific industries may require specialized strappers to aid in the longevity and maintenance of the machine. Fish and meat markets, frozen food, or medical industries will often require fully stainless steel machines for cleanliness and to aid in rust and corrosion. These types of alterations will impact the cost of the machine you are most interested in. The more components that are made out of stronger materials like metal, the more expensive the machine will be.

Categories Of Strappers
When it comes down to it, we can bucket the strapper types and cost into five categories. These are handheld strapping machines, semiautomatic, automatic, fully-automated strappers, and specialized strapping equipment.
Specialized strappers are used on lines explicitly designed for corrugated boxes, palletizing, and containing rolls of insulation. On average, these types will have starting prices over $50,000 and are best discussed with a specialist to determine needs for proper quoting.
Let's go over what each of the four basic levels of strapping machines can do and what impacts their costs.
---
Need Help Choosing The Right Packaging Machinery?
---
How Much Does A Strapping Machinery Cost?
Handheld Strapper - Base Pricing Starts At $300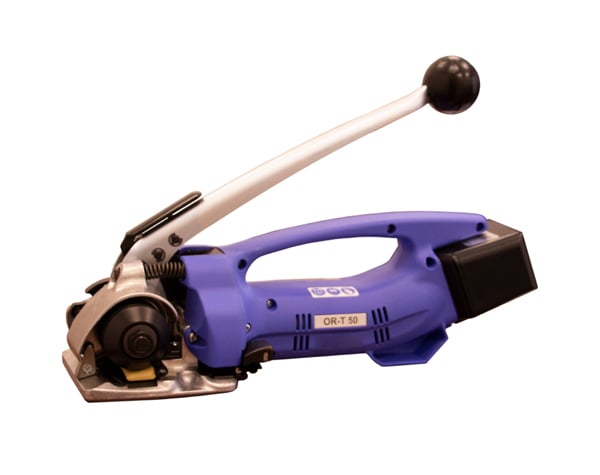 A regular handheld strapper tool starts at a price of around $300

.

Generally used for securing pallets with plastic or polypropylene strapping (not compatible with polyester strapping).


A worker will manually wrap the strap around the pallet and put both ends of the strap into the tool. They will then add the seal and manually pull to tension, then use the tool to tighten.

It is entirely up to the operator on how tight they make the strap.

On average, a handheld can handle up to

20 pallets per day.

These are commonly used for cardboard baling for recycling purposes.

Stores like Home Depot® use handheld strappers for this purpose.

You can expect to complete one strap in four minutes with a handheld strapper.
An electric handheld strapper averages around $2,500
Electric handheld strappers can handle around

75-100 pallets per day

.

These types of handhelds make strapping easier and require less manual labor.

Every strap maintains the same tension and sealing as they are pre-programmed for the job.

Electric handhelds are not a good fit for delicate items. For example, a stack of light cartons with circuit boards in them on a pallet can be easily damaged if strapping is too tight.

Electric handheld strappers are designed to put on a beefy strap and are made to secure items tightly.
Semi Automatic Strapper - Base Pricing Starts At $2,500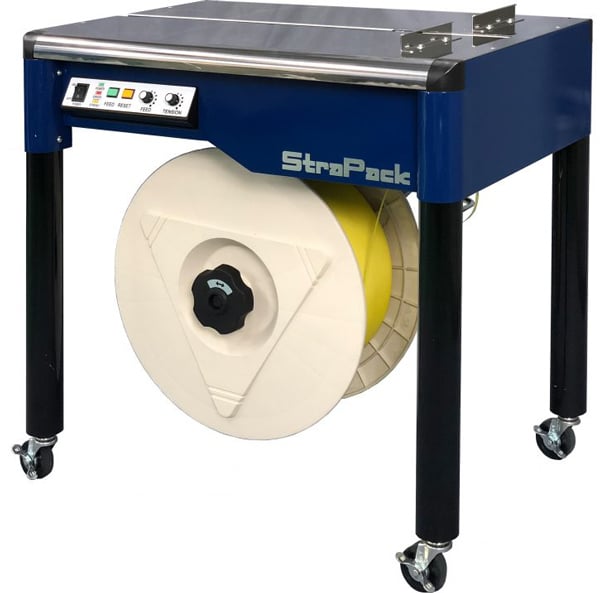 Often, businesses that buy base-model semiautomatic machines want a disposable machine. They are portable and fast, with the ability to handle up to 11 straps per minute.
Boxes are a primary use for this type of machine.

If you are strapping a minimum of 50 boxes per day, this type of machine is easily justifiable.

The average life expectancy on a base semi automatic strapper is around two years.

These are inexpensive machines, and performing maintenance on them would cost more than the machine itself.

The only thing a semi automatic strapper doesn't do is feed the strap around the box.

The strapper feeds strapping out, and then an operator will manually put it around the box. The machine then tensions and secures the box for you.

These are durable machines but are only resistant to water, not waterproof.

The top is stainless steel, which helps in reducing degradation.

Great for meatpacking plants due to water and ice.

Great for direct mail applications.

This is a table height machine that looks similar to a desk and is generally around 30" long by 24" wide.

Semi automatic machines are customizable, which will impact the cost of the machine. Some options that often come into play:

They can be set on their side for a side-seal. This is great for wet applications, like fish markets.

Prices on side-seal semi automatic strappers can range up to and over $7,000

.

Adding a ¾ Arch will impact cost upwards of $20,000 or more.


A ¾ arch fits the strapping around the top of the package and can take the strap up and above a large carton, so you simply reach down to pull it around the package.

This type of arch comes out towards the packer for ease of use.

If boxes are 55" tall or taller, you can't use a semiautomatic without an arch.
Automatic Strapper - Base Pricing Starts at $6,500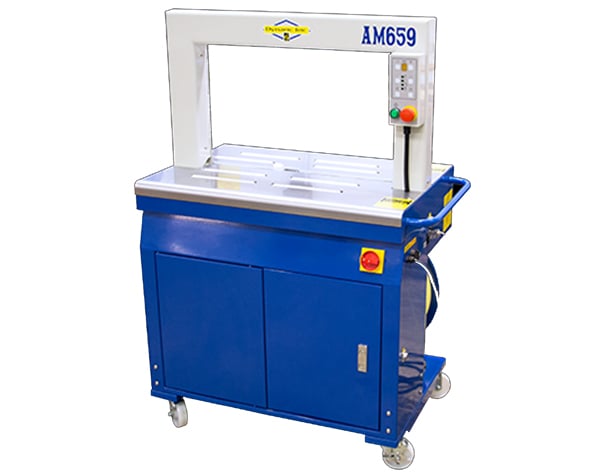 An automatic strapper is one of the most versatile machines of all discussed in this article. An automatic strapper has a full arch that goes all the way around the product. An operator places the package into the strapper, and the rest is automatic.
Only one operator is required.

The package goes under the arch, and the operator pushes a button or steps on a foot pedal. This will throw a strap around the box. From there, the machine tightens, seals, and re-feeds the strap automatically.

If you are packaging over 100 products per day, an automatic strapper is easily justifiable.

Automatic strappers can handle up to

50 straps per minute

.

These machines can handle can vary from standard duty to heavy-duty.

Examples of use cases can be seen in anything from mail trays, bundles of magazines, to tall and skinny packages that you can handle carrying safely.

A heavy-duty case would be seen in awning manufacturers. Their products are about 15 to 25 feet long and 18"x18" wide. A single package can weigh 300 lbs.

The awning manufacturer boxes and builds their product on the strapper. As the box goes through the machine, strapping goes around it consistently every 18", with corner boards for reinforcement. A heavy product like this needs high tension, and will often have 8-10 straps on one box.

All automatic machines are height adjustable.

Automatic strappers are well worth maintaining. These are machines you want to keep for ten or more years. They are made solidly to live and possibly outlive this time-frame with proper regular maintenance.

There are push-button automatic strapper models that can be turned sideways.

In this case, you push your box against the machine's side, and it will automatically strap for you.

A best use case for a side-seal automatic strapper would be for frozen foods, meat packers, or fish markets as any ice or debris falls on the floor rather than the machine. This will reduce wear and tear and significantly reduce unexpected downtime due to a need for repair.

A side-seal automatic strapper can bring costs over $10,000 at the least expensive end

.

If you are looking at justifying the cost of an automatic strapper, you will mainly be looking to save costs on labor due to volume. Automatic strappers will do the work of manual labor faster, more consistently, and better. With only one operator required, you can justify the cost of this machine with throughput and reduced labor force.
Fully-Automated Strapper - Base Pricing Starts at $16,000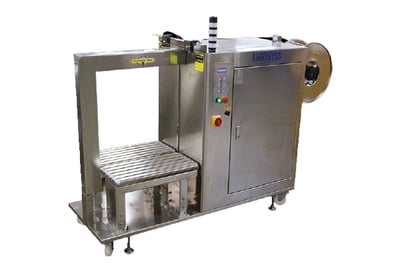 Now we are heading into the big leagues of strapping machinery. A significant factor impacting the costs of a fully-automated strappers is the multitude of customizable options available. They can also range in price upwards of $50,000+. These are brilliant machines and require no labor force to operate. It could be dangerous to have operators working on these machines while in operation.
A basic fully-automated strapper has conveyor belts on top. It automatically starts and stops at proportionate distances and fully straps products with no manual labor.

To justify a fully-automated strapper, you need high volumes. An example case would be strapping

1,000 bundles of print per shift

.

A low-end fully-automated strapper can handle upwards of

35,000 packages per week with two straps per item

.

Similar to the semiautomatic strappers, you can add multiple straps on very long packages.

An excellent example of use like this would be for flooring manufacturers. In one case, a fully-automated strapper moves the long box automatically into two strappers simultaneously. Both strappers fire simultaneously, strapping five times. The machines then push the finished product out of the machine automatically.

A fully-automated strapper can do any type of strapping operation as long as the products being strapped are always the same for each run. The products must be delivered to strapper the same way every time. This often means feeding the products via a conveyor.

For consistency and safety, you have to be feeding the machine with a conveyor.

There are optional accessories available that will impact the cost of specialized applications that include:

Side compression: This automatically will squeeze products on its sides. An example use for this would be stacks of magazines. The compression will straighten the stack up before strapping.

Top compression: This compression automatically squeezes the products from the top. An example use for this would be for soft products, like clothing, for example, to squeeze the air out of the packaged items before strapping. This can aid in less packaging and allow more products to fit into boxes for shipment.

Programming changes can impact the cost.

An example here would be adding a delay for adding a strap, keeping the package in place while another arrives to strap with it. strap

Automatic backup system: When one strapping line goes on, another one automatically turns on.

Fully-Automated machines can also be customized as a side-seal.

Due to all the factors that come into play with customized fully-automated machinery, each machine and production must be surveyed and quoted with authorized representatives to best suit your application.
How To Choose A Strapper

These options only represent four levels of machinery in the pricing range mentioned earlier. But they should give you an excellent idea about the functionality of the machines at different price points.
We encourage you to reach out to a Packaging Solutions Specialist to determine your best strapping solution. They can help identify the ideal machine for your application, commitment-free.
Whether you choose to speak to another vendor or us, it is essential to understand that having a packaging professional on your side is extremely important to choose the right strapper. This is especially true when there are many makes and models available, with sometimes minor differences between price points.
Regardless of who you choose as a vendor, you want to choose a packaging company with access to multiple brands of strappers for the best model selection that suits your needs.
About David Roberge
I am grateful for my 9 years as part of the outstanding Industrial Packaging team. I was able to hang out with some of the most knowledgeable folks in the packaging industry. I feel even luckier that I was able to share that knowledge with you. I love learning, hiking, and growing people and teams both personally and professionally, and helping companies grow better.