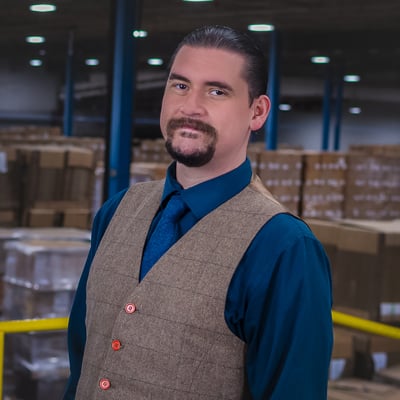 Bagging Machinery Pricing: Understanding Bagger Cost
You must be excited! After months of researching different packaging materials and the related machinery, you have decided to bag your products with bagging machinery.
You are looking forward to getting a new bagger installed and are ready to move forward with a purchase. But you are having trouble finding the pricing information for bagging machinery.
You don't want to speak with a sales professional until you know which type of bagging machinery you want and how much it will cost. Fortunately, we are going to give you the information that you are seeking!
Industrial Packaging is a multi-generational packaging machinery distributor. We have been helping companies choose the right bagging machinery for a very long time.
This article will provide you with pricing for bagging machinery. After reading this article, you will have everything you need to purchase the right bagger for your packaging needs.
How Much Does Bagging Machinery Cost?
Generally speaking, bagging machinery (also known as a bagger) has multiple price points based upon the class of machinery being purchased. Our pricing breaks these into three categories: Manual Bagging Machinery, Mid-Line Roll-Bagging Machinery, and Fully Automatic Baggers With Counting Systems.
With the large variety of additional options and add-ons for the different types of baggers, your total cost may not be as specific as you would expect.
Exact pricing is dependent upon the make, model, add-ons, and any customized builds. Available options/add-ons are marked with the + (plus sign).
With that being said, we have provided concise pricing below for each category's base machinery. With the information below, you will be able to get a solid ballpark figure of the price range your required bagging machinery will be in.
---
Want to know what the return on investment will be for your packaging machinery purchase?
---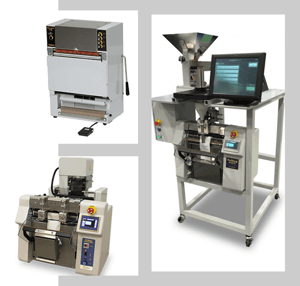 1. Manual Bagging Machinery
Manual Baggers cost $10,000 to $40,000+.
This type of bagging machinery is the most "manual." But, in reality, this machine is actually a semi-automatic device. The bag is filled and manually sealed via an electronic foot switch.
Included features for base models:
Exact bag length controls

Quick bag repositioning controls for both forward and backward directions

Easy access for front roll mounting and threading
Adjustable seal and dwell controls give you perfectly timed, high quality sealing capabilities
Electric foot switch provides a fast and highly efficient operator experience

Compact and portable design

Maximum Bag Size: 12″ x 12″
Available options and add-ons:
+ Adjustable Prep Table and Funnel

+ Long Bag Length up to 36"
2. Mid-Line Roll-Bagging Machinery
Mid-Line Roll-Bagging Machinery ranges from $15,000 to $45,000+.
There is a wide variety of roll-baggers—these range from tabletop models to polybag mailers. There are many different options to choose from when shopping for mid-line roll-bagging machines.
Included features for base models:
Foot switch can be operated by hand or in auto-cycle mode
Adjustable height articulation for load shelf that supports bagging during packaging (13″ max bag length)
Seal flattener minimizes wrinkling in the seal area by stretching the bagging prior to sealing
Minimal footprint due to compact design

Bagging thickness up to 4 mil
Stores up to 50 jobs for easy setup
Available options and add-ons:
+ Air Expeller — This is a plate with a foam pad. This add-on presses against the bagging prior to sealing. This device removes excess air.
+ Easy-Touch Start Sensor with magnetic mount eliminates the need to push buttons or use the foot switch
+ Label Printer Applicator- automatically prints and applies labels
+ 305 dpi Print head Upgrade for high-resolution prints
+ 220 Volt Wiring
3. Fully Automatic Baggers With Counting Systems
Fully Automatic Baggers With Counting Systems cost $20,000+
These machines are fully automatic bulk counting and bagging machines that combine high speed and superb accuracy for packaging various types of small products.
Included features for base models:
Beautiful touchscreen interface with crystal clear prompts and alarms
Three-dimensional imaging for 99.9% accuracy on parts as small as 0.25″–1″ in size
Double track feeding for superior product separation prior to counting
Highly articulate funnel ensures product slips directly in the bag every time

Bag supports stabilize the bag during loading and removal from packaging area at the end of a cycle
Bag sensors ensure that every single bag is open prior to filling the product
Up to sixty bags per minute
Bagging Thickness up to 5 mil
Available options and add-ons:
+ Thermal Transfer Printer that prints information directly onto the bag
+ Product overfill reject system
+ Air Expeller — This is a plate with a foam pad. This add-on presses against the bagging prior to sealing. This device removes excess air.

+ Bagging Spreader (Seal Flattener)
+ Nice Label Pro Label Software
+ Additional add-ons and custom options are also available to meet your specific packaging applications.
Where Can You Purchase Bagging Machinery?
You should have everything you need to purchase the appropriate bagging machinery and add-ons with the information above.
However, you are probably wondering, where can you buy a bagger? When it comes to purchasing bagging machinery, you have a couple of different options.
In some cases, you can buy directly from the manufacturer. But, manufacturers only sell one brand of bagging machinery, their own. And, their machinery may not be the best fit for your unique bagging requirements.
Plus, some manufacturers will not sell directly to the consumer. In this case, you will have to buy your machinery elsewhere.
On the other hand, you can buy bagging machinery from a packaging distributor. Distributors offer multiple brands of equipment and can help you choose the correct brand for your specific needs. But, distributors are often more expensive as they are essentially a middle-man in the purchasing process.
It should be noted; however, distributors often offer additional services and assistance that some packaging manufacturers do not. By paying a bit more upfront, you will likely save money in the long term.
While we may or may not be the right vendor for you, it would be foolish not to mention that Industrial Packaging is a packaging distributor who can help you choose the right bagging machinery and materials.
Suppose you are looking for a trusted vendor who has been in the packaging industry for over 65 years. A vendor with a proven track record of customer satisfaction and an overall google reviews rating of 4.5 out of 5. In that case, we may be the right packaging machinery vendor for you.
If you would like assistance in choosing the right bagger, you will want to consider speaking to one of our in-house packaging experts. They will be able to help you select the proper bagging machinery, even if you do not ultimately buy it from us.
About Nathan Dube
As the Digital Marketing Specialist at Industrial Packaging, I am honored to create content for such a phenomenal company and work with one of the greatest teams in the Packaging Industry. Whether creating a video, writing blog posts or generating other pieces of content and multimedia, I am always excited to help educate and inspire our prospects and clients to reach their highest potential in regards to their packaging processes and needs.