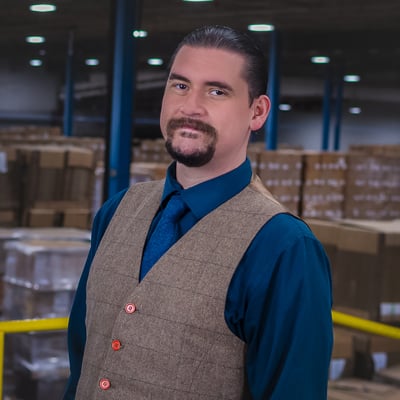 Industrial Packaging Is Pandemic Prepared Certified: AIB International
Industrial Packaging Is The First Packaging Company In The World To Be Pandemic Prepared Certified By AIB International!
In addition to the above's most exciting news, we are also the first company in the United States to achieve this certification!
When the COVID pandemic hit the USA, we, like many companies, were not ready for the brave new world that had begun to rear its head. With that being said, we wasted no time in the process of adapting to the challenges before us.
Our supply chain team, headed by then General Manager and our current Vice President Jarrod DiZazzo, worked quickly to implement the recommended guidelines brought forth by the CDC and the WHO.
From the implementation of thermometers and thermal imaging technology to advanced social distancing and sanitization practices, the Industrial Packaging team worked tirelessly to meet the demands of a most unexpected global emergency.
With protection being the forefront in our mission of "Protecting People, Products, and Brands throughout the Supply Chain", we had to act quickly while also being extremely careful to ensure that the safety of our customers and employees was at the heart of our efforts.
That is why we are extremely excited to announce this huge achievement!
As the Supply Chain Services segment at Industrial Packaging focuses on primary and secondary food packaging, it is critical that we maintain the highest standards in quality. Quality goes beyond just the packaging of foods, but means that we are always protecting people, products, and brands throughout the supply chain.
AIB is a valuable partner who is always challenging our systems, and conducing 3rd party audits to validate our system and processes. The Pandemic Prepared Certification through AIB is another way we can leverage their industry knowledge, while validating our best in class facility, people, and processes.
Who Is AIB International?
AIB International, formerly the American Institute for Baking began in 1919 as a technological and information transfer center for bakers and other food processing organizations and businesses. Their motto is simple, "put science to work for the baker." This same mission is central to AIB's continued dedication to providing cutting edge safety certification services and programs for the global baking industry at large.
AIB's Mission
It is AIB's prerogative to enhance the food supply chain's safety protocols by improving the integrity of food production. By equipping food producers with the knowledge required to support high-quality food delivery, AIB represents the highest epoch of food safety standards currently available in the world today.
The People Of AIB
The people who staff AIB international include various thought-leaders in the fields of baking production, nutrition, food safety, and hygiene. The organization is headquartered in Manhattan, Kansas, with multiple locations worldwide.
They are positioned as a global partner to all food producers who seek nothing less than absolute greatness in the quest for the ultimate food safety certification standards. They offer world-class training services and various product solutions for producers of food who continually seek excellence regarding food safety.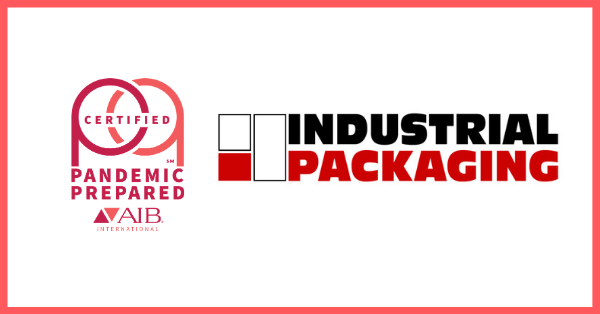 Who Is Industrial Packaging?
We are the Northeast's premier packaging experts offering supply chain services and distribution of professional grade shrink packaging machinery and flexible packaging materials.


With over six decades in the packaging industry, as a distributor, we offer a brand agnostic approach to providing our clients with superior supply chain services while simultaneously offering a diverse knowledge base regarding all things packaging for the world at large.
---
Need Help Implementing Safe Food Packaging?
---
What Is Pandemic Prepared Certification?
Pandemic Prepared certification is AIB International's response to the black swan event collectively known as COVID-19. Seeing that many food production companies were not prepared to face such an unexpected foe, the pandemic prepared certification seeks to provide a guiding light for all food producers looking to protect their products, customers, and employees.
From AIB International:

Launched in July, 2020, the Pandemic Prepared Certification was developed because the food and beverage supply chain were ill-prepared for a global pandemic and the associated disruption it created in nearly every aspect of business operation world-wide. Industrial Packaging successfully demonstrated proficiency in five distinct areas to become certified to the standard:

Pandemic Crisis Management;
Supply Chain Management;
Intermittent Operations Planning Management;
Health Crisis Mitigation Measures and Management; and,
Pre-Requisite Program Review.


While the Pandemic Prepared Certification requires an investment, active risk management protocols and continuous refinement to remain Certified, Industrial Packaging is now recognized as bringing the highest standards of integrity to the global food and beverage supply chain.

By successfully passing the audit, Industrial Packaging is also now able to use the AIB International Pandemic Prepared Certification mark. This mark of assurance demonstrates that they have successfully completed the certification, resulting in increased trust with key stakeholders in the "best in class" crisis management planning and protocols they have in place.
How To Become Pandemic Prepared Certified
If you are a food packaging company and are looking to become certified in pandemic preparedness, you will consider working with AIB International to achieve this status.
Doing so will ensure that you are ahead of the pack and well beyond the food safety protocols of your competitors and show to the world that your clients and employees' safety comes first.
If you would like to learn more about becoming pandemic prepared, you may want to reach out to one of our packaging professionals. In addition to providing additional information about the process, we can give you feedback on how we achieved this momentous certification and how you can go about doing the same.
About Nathan Dube
As the Digital Marketing Specialist at Industrial Packaging, I am honored to create content for such a phenomenal company and work with one of the greatest teams in the Packaging Industry. Whether creating a video, writing blog posts or generating other pieces of content and multimedia, I am always excited to help educate and inspire our prospects and clients to reach their highest potential in regards to their packaging processes and needs.