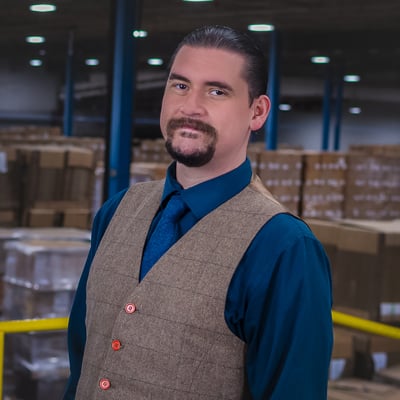 Pros And Cons Of Buying Packaging Materials And Machinery From The Same Company
Equipment | Packaging Materials | Technical Service and Support | Plant Performance
In 2020, there are countless vendors from which you can order packaging machinery. Likewise, there are thousands of options for purchasing materials. When buying materials and machinery, you may ask yourself; why not buy both from the same company? What are the pros and cons of doing this?
Here at Industrial Packaging we have been selling packaging machinery and materials for many years. During that time we have learned a lot about the benefits of buying materials and machinery from the same vendor. We value our customers and only want them buying the materials and machinery that's best suited for them. And in some situations that means our customers don't buy everything from us, and that's OK.
In this article, we will review the pros and cons of buying your packaging machinery and materials from the same company.
Pros Of Buying Packaging Materials And Machinery From The Same Company
Simplicity
When buying packaging machinery and materials for you packaging line, it may be tempting to find the lowest price for both. You may want to source each from multiple different companies in an effort to save money. However, if you have a problem with one or more materials and one or more pieces of machinery, dealing with multiple vendors can become uncomfortable quickly.
Should two or more issues arise simultaneously and there are problems with two or more separate companies, resolving the issues may result in an excess of time spent on dealing with multiple customer service representatives.
Furthermore, when you have separate issues to resolve and each one is being handled by a different entity, the headaches involved with the timing of resolution for each can be a major pain. This is especially true if one problem is directly linked to the other and the resolution of both depend on each other.
Suddenly the cost savings by sourcing from multiple vendors is looking like wasted time which can translate to wasted money...
By sourcing all of your materials and machinery from a single company, you will save a lot of time on purchasing, service calls, emergency calls, material orders, machine orders, preventative maintenance and so on. The entire process of each part is greatly simplified when choosing to use one vendor over multiple.
Should you decide to purchase your packaging materials and machinery from the same place, it would be wise to research at least 3-5 companies and meet with a rep from each. When meeting with potential vendors, ask for a value proposition and work to identify which company has the best options for your business.
Less Paperwork
Considering we are now living through 2020, the proper term may be "less paper-work" or "less digital documents". Either way, when you buy your packaging materials and machinery from the same company, you will have significantly less paperwork or data to deal with.
Using the same company for both materials and machinery means that all associated items are coming from a single source. This information should be easily traceable whereas doing business with 1, 2, 3 or more companies means you will have a paper or data trail from each. All of which will need to be archived and sorted accordingly.
By utilizing one company for packaging materials and machinery, you will effectively reduce the soft costs associated with purchasing, ordering, customer service correspondence and tracking paper or data trails. This means less time doing trivial office duties and focusing on more important work. It also cuts down on time and resources spent on interactions with multiple vendors, sales reps, customer service centers and etc.
---
Need Help Choosing The Right Packaging Machinery?
---
Customer Service
It can be complicated enough to source ONE vendor with a quality customer service department let alone multiple different companies. Having to speak to multiple different customer service centers with multiple different contacts in each one can be a serious brain drain. And that is assuming that all of them offer good customer service.
If you have to deal with multiple different customer service departments and the staff is not pleasant to work with, is that a headache you really want? If you can't even speak to a human being because their service is completely automated, are you going to want to continue the run-around for every call?
By choosing to source all of your materials and machinery from one company, you can rest assured knowing that you will only have to work through one customer service department. They can handle all of your needs: service calls, material orders, machinery orders, emergency calls, etc. This is all handled by one entity and you have a direct line to a real human being who can quickly and confidently take care of your needs with ease and pleasure.
A Single Source For All Items
Being able to source your packaging materials and machinery from one place makes the entire process of managing these items much easier than if you were to source them from several different organizations.
Need shrink film? Call your vendor. Need a new stretch wrapper? Call your vendor. Have an emergency on your packaging line? Call your vendor...
No running around trying to solve issues with various different companies each with their own different ways of handling customer service. Everything is taken care of with one phone number or one email. No pulling your hair out because you're on the phone for 30 minutes with an automated call center. No freaking out because you still have to contact at least two other companies, wondering when and if your issues will be taken care of or resolved.
A single source for all your packaging needs equates to peace of mind. It does not matter what the problem is whether it be a bad roll of shrink film, a broken air compressor, a malfunctioning heat tunnel, whatever...
When using one company for all your packaging needs, you are able to streamline the process of placing an order or service call and are able to do it in a fraction of the time that it takes to work with multiple vendors.
One Account Rep For Everything
One of the biggest benefits of buying your packaging materials and machinery from one company is that all of your materials, machinery, parts, etc. are connected to a single representative. Buying all your machinery and the materials that run on those machines from one company means that you will have a single point of contact to handle every aspect of your packaging line.
What is great about this is that over time, you will develop a relationship with your vendor and your assigned representative. As time goes by, your rep will get to know your packaging line like the back of their hand. This often results in the identification of problems before they occur (especially when using a preventative maintenance plan).
This allows your representative to have a deep understanding of your products, machinery, materials, operators, and processes associated with your unique packaging ecosystem. Having a long term relationship like this often produces a faster turn-around time, and a greater understanding of your unique packaging needs. You'll also have one professional who is dedicated to the success of every aspect of your packaging department.
So when a problem arises such as a machinery failure or a defective roll of film, you can trust that the problem will be rectified quickly and professionally by your own dedicated rep. Over time, a good rep will help you to continually meet your key performance indicators, optimize your machinery and processes and continually streamline and improve every dynamic of your packaging line.
You simply cannot achieve this kind of symbiotic relationship when you are sourcing materials and machinery from multiple different vendors, each of which have a completely different perspective and relationship to your business.
One Source For Service
Having direct and quick access to a certified service professional is a priceless and very important element of a well-run packaging line. When sourcing a service technician to work on your packaging machinery, it makes a lot of sense to have one dedicated source for this type of service.
Using multiple different service technicians can quickly lead to complications in repair and service work. A constantly changing service provider causes a lack of understanding of your packaging line in the long run.
A dedicated, certified packaging machinery technician who works year after year on your packaging line will have a strong cumulative effect. That equates to less downtime, fewer machinery issues, fast turnaround and a deep understanding of your packaging line.
As time goes on, your service technicians will be able to take preemptive strikes against mechanical failure, material issues, repairs and the other related elements of common packaging problems. By using one company for your materials, machinery, service and repair needs, you will have a smoothly running packaging line that continually improves as your vendor relationship evolves over time.
RECAP: Pros Of Using One Company For Packaging Materials And Machinery
Simplicity
Less paperwork
Customer service
Single source for all items
One account rep for everything
One source for service
Cons Of Using One Company For Packaging Materials And Machinery
Cost
One of the downfalls of limiting yourself to a single vendor for packaging material and machinery is that chances are, you're not getting the best price for every item you order. Even if you buy from a distributor with multiple brand offerings, there still may be better deals on the materials and machinery you use for your packaging department elsewhere.
If you don't mind having to deal with multiple vendors, contacts and customer service representatives, then shopping around and sourcing the best price for your materials and machinery may actually be a good fit for you.
From the various e-com stores to brick and mortar packaging companies, there are thousands of potential sources to buy from. If you are willing and able to invest the extra time it takes to source materials and machinery from multiple different vendors, it may be a good idea. Working with multiple vendors could very well save you a good deal of money.
Geography
Depending on your physical location, you may not have the choice to buy from a local company and will be required to purchase from online retailers or companies that are not physically close to your location. In this situation, depending on the variables of your packaging line, you may have no choice but to purchase from multiple vendors.
Brand Limitations
If you are running two or more different brands of machinery and materials, you may not be able to source everything from one vendor. This is especially true if you plan on buying direct from an OEM who only and exclusively sells their own brand of machinery and materials.
Even if your are running one brand of machinery exclusively, if you are not located near one of their service areas, you may have to rely on a third party to service your machinery.
Not all technicians are certified for every brand, make and model of equipment. Because of this, you may have to source service and repair work from two or more companies.
Complications With Exiting Partnership
Finally, we come to an item that could be a large speed bump in productivity. If you become dissatisfied with your current vendor and after multiple chances to rectify issues they have failed, you may have to stop doing business with them and move on.
If you are using only one company to source all of your packaging materials and machinery, this could present a potentially big problem. Depending on the time frame and other dynamics of the ending of this relationship, things could get complicated.
After moving on from your current vendor, you will need to find a new source for your packaging materials and machinery. If you have no other vendors that you currently work with, you will have to scramble to set up new connections with a new company or multiple vendors.
This can be a stressful situation to find yourself in depending on the unique makeup of your packaging line. In this respect, having a relationship with multiple vendors will significantly simplify this problem. You can simply rely on one of your other vendors if you choose to stop doing business with another.
RECAP: Cons Of Using One Company For Packaging Materials And Machinery
Cost
Geography
Brand limitations
Complications with exiting partnership
What To Do Next
Once you have decided between choosing one or multiple vendors, you will want to reach out to a representative from your chosen vendor(s). Ask them for a value proposition and a list of reasons you should choose them as your supplier.
Once you have identified and chosen which vendor(s) you will work with, ask for an analysis of your packaging line to identify areas in which you could improve. Be sure to ask them to analyze your current KPIs, machinery and materials. Inquire about their preventative maintenance and service plans and request both retail and contract pricing.
Once you have implemented your new vendor(s) supplies and services on your packaging line, be sure to set up regular inspections of your line. This will help to identify on-going opportunities for further the optimization your materials, machinery and protocols.
About Nathan Dube
As the Digital Marketing Specialist at Industrial Packaging, I am honored to create content for such a phenomenal company and work with one of the greatest teams in the Packaging Industry. Whether creating a video, writing blog posts or generating other pieces of content and multimedia, I am always excited to help educate and inspire our prospects and clients to reach their highest potential in regards to their packaging processes and needs.