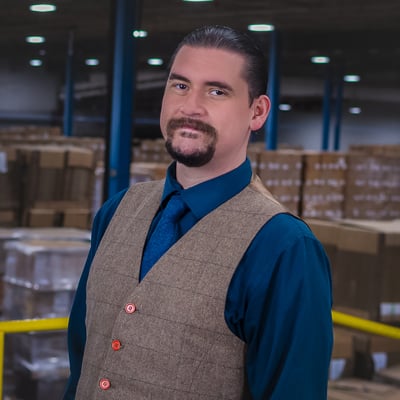 What Applications Is Surlyn Film Good For? Understanding It's Uses
In the wide world of carded packaging, surlyn film is a bit of a rock star. Surlyn film is used primarily in skin packaging applications, which means the film forms around the product and onto a carded substrate such as cardboard or paperboard during the packaging process.

It is also used in shrink applications that don't require a backing board. Surlyn seals in products for freshness and eliminates product movement within, often used with trays rather than a backing board for fresh foods, like fish.

Here at Industrial Packaging, we have been selling surlyn and skin packaging products for decades. During this time, we learned the best practices for its use in several types of applications.

So, what is surlyn film, and how is it used? See where it is an excellent fit for different types of products, from food to car parts, and where it isn't the ideal packaging option. And learn about how to source it for your next packaging project.
Surlyn Film: The Heart Of Skin Packaging
As discussed, skin packaging is a type of carded packaging. Skin packs are commonly used for packaging foods, tools, small components, and other items that require high visibility on store shelves and retail displays.
Skin packaging is created by placing heated surlyn film on top of an item placed on a secondary material called a backer. Backers are usually made from materials such as paperboard, cardboard, or plastic.
Once the film is placed over the product resting upon the backer, a high powered vacuum creates a tight enclosure. When finished, the item inside the skin pack is covered with a surlyn film. It's almost like a custom-tailored plastic glove made for the product within.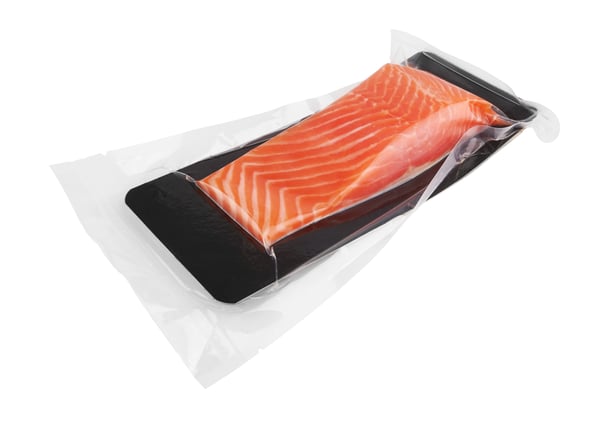 Skin packs are composed of three main components: surlyn film, heat-activated coated backer, and a vacuum seal. After the skin pack is sealed to the backer with the product inside, it can be custom-cut via a die-cutter machine. Doing this helps to create a uniform package by cutting off the excess material around the edges of the finished good.
---
Need Help Finding The Right Shrink Film?
---
Benefits Of Surlyn Film:
There are quite a few benefits to using surlyn films for your packaging applications. While it's excellent at product protection, it also provides a few other advantages that make it the ideal choice for many of our customers.
Provides lock-down product protection

Provides full product visibility

Contours to the shape of the product

Secures loose products to the board

Prevents kitted parts from becoming loose inside the packaging

Perfect for hanging hook displays

Reduces the need for protective packaging fillers

Economical packaging option

Crystal-clear film for product visibility

Forms cleanly around your product for an overall nice-looking final product

High strength and abrasion resistance

Exceptional puncture and tear resistance

Excellent oil and grease barrier

Processes with great efficiency

Long shelf life
Applications For Surlyn Film
The applications for surlyn films are wide and varied. There are many different types of products that can be packaged in a skin pack. Some of the items commonly packaged inside of a skin pack and sealed with surlyn film include but are not limited to:
Salmon

Beef

Poultry

Vegetables

Pre-made meals

Modular Office Components

Drain Kits

Car Parts

Table Components

Tools

Hammers

Drill Bits

Saw Blades

Screw Drivers

Alan Wrench

Super Glue

Etc.

Wind Shields

Circuit Boards

Tupperware

Electric Motors

Medical Components
While this list could potentially go on for hundreds of pages, you get the idea. There is a wide array of products that can you can package with surlyn film and skin packs.
If you are looking for a film that will secure and provide visibility of your products within the carded or trayed package, surlyn is going to be an excellent option for you.
What Applications Is Surlyn Film NOT A Good Fit?
As you can see, the various uses for surlyn concerning skin packs and trayed applications are virtually endless. However, some items are not a good fit for packaging in surlyn film.
Liquids: When it comes to liquids such as olive oil, milk, soda, beer, and the like, skin packs are simply not an option. The way this film works simply doesn't allow for a liquid to be packaged with it. Think of one of these liquids being heated during a sealing process and the film shrinking around it. Let alone trying to fill it, not ideal! If you are looking for flexible packaging for your liquids, pouch packaging is a great option.
Sharp objects: Fishing lures and knives are excellent examples of items that are not appropriate for skin packs. The hooks and blades are sharp and will puncture the film. These sharp objects cause dangerous situations for consumers when inspecting the product, and anyone coming into contact along its journey from production to its final destination. In some sharp object situations, like saw blades, we are able to package in a film gauge that is thick enough to eliminate puncture resistance and danger.
Sharp objects are commonly packaged in blister packs. While blister packs are quite similar in appearance to skin packs, the plastic is not vacuum-formed to the shape of the item within. Rather, blister packs have a thicker, more durable pre-formed plastic that secures the items without allowing them to puncture through.
How To Source Surlyn Film
Many vendors throughout the world offer carded packaging supplies such as surlyn film.
When looking for a packaging materials vendor to source surlyn or any other packaging material, it is essential to do some homework. We suggest looking into a few potential suppliers. Ask them why they would be a good fit to work with your business.
You will want to source your surlyn film from a company with excellent customer service and a non-automated customer service line. You should also seek a collection of positive reviews on social networks and websites such as Facebook, Google, Yelp, etc.
Once you've done some homework on vendors, compare pricing for the materials that you plan on purchasing. Consider the value that you will gain from each, regardless of price. Sometimes, a lower price can also mean less dedicated service and potential issues with proper packaging. A quality packaging materials vendor should have an extensive list of reasons for choosing them over a competitor. Often times, you will find that the best choice in a materials vendor may not have the lowest prices because they have superior products, customer service, technical service, response time, etc.
You will also want to consider choosing a vendor who offers the brands, makes and models of packaging machinery that you run. Buying your materials and machinery from the same vendor can greatly simplify your process for ordering, purchasing, repair calls, service calls, emergency needs, returns and etc.
Being able to source your packaging materials and machinery needs from one company will offer a streamlined system for your packaging line and the related dynamics of service, supply, and repair.
If you are looking for reliable service, packaging product sourcing, and your business has a sizable volume of products, Industrial Packaging is a great choice. Not only for your surlyn films, but the machinery and other materials that go along with it.
About Nathan Dube
As the Digital Marketing Specialist at Industrial Packaging, I am honored to create content for such a phenomenal company and work with one of the greatest teams in the Packaging Industry. Whether creating a video, writing blog posts or generating other pieces of content and multimedia, I am always excited to help educate and inspire our prospects and clients to reach their highest potential in regards to their packaging processes and needs.