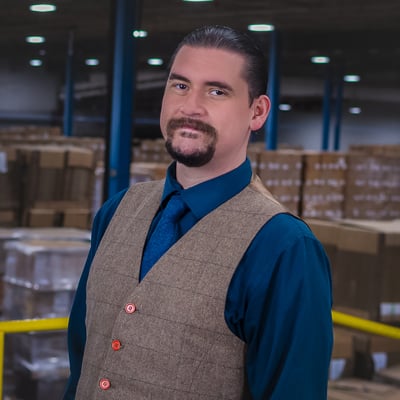 The TOP 10 BEST Brands Of Shrink Film
Over the years, we have sold hundreds of thousands of rolls of shrink film here at Industrial Packaging. We have a great understanding of this material and have guided countless customers in finding the right shrink film for their needs. In the article below, we will identify the top 10 BEST brands of shrink film currently available. The films are ranked 1-10 with number one being the best.
1. Exlfilm
Intertape Polymer Group Inc. is a recognized world leader in the development, manufacture, and sale of a variety of paper and film based products. These include pressure-sensitive and water-activated tapes, polyethylene, and specialized polyolefin films, protective packaging, engineered coated products and packaging machinery. Their products are great for industrial and retail use.
Headquartered in Montreal, Quebec and Sarasota, Florida, IPG employs approximately 3,700 employees with operations in 31 locations, including 22 manufacturing facilities in North America, four in Asia and one in Europe.
IPG began producing polyolefin shrink film in 1993. Over the past 25 years, they have been shrink wrapping products throughout the world with films produced at their manufacturing sites in the US and Portugal. They produce films such as their ExlfilmPlus® and Exlfilm® which are among the leading lines of premium shrink film in the packaging industry. IPG's Research and Development teams continue to bring new and improved products to market. Their experienced team of technical sales professionals can provide solutions to reduce packaging costs, improve package appearance, and increase output.
Exlfilm is one of the clearest films on the market. IPG has added significantly to their capabilities for extruding and converting films. The support and customer service staff for IPG's Exlfilm and their other products is one of the best in the industry.
2. Cryovac

SealedAir focuses on global mega-trends such as population growth, urbanization, food, water, and energy scarcity, labor and skills shortages, and climate change in an effort to help companies to approach their business strategies in new ways.
For SealedAir, meeting growing resource challenges and demands are more than just producing sustainable solutions. From their deep experience, nimble applications, and creative ingenuity, they work to provide practical answers that constantly re-imagine the possibilities of their products for the world at large.
SealedAir produces various forms of ultra-high quality shrink films such as Cryovac that are well known all over the world. Known for producing unique and super-premium shrink film varieties, they are considered one of the best shrink film manufacturers today.
SealedAir is the North American market leader in regards to the volume of shrink film sold per year. The company also has the largest market share of the North American market. They are always on the cutting edge of shrink film technology and continue to push boundaries in the evolution of their products. Additionally, they own Shanklin, a packaging machinery manufacturer.
3. Syfan
Syfan's plants in Israel and the USA supply high-quality polyolefin shrink films worldwide, for even the most demanding food and display applications. They offer products with a unique cross-linking technology which enables them to produce a wide variety of high-performance shrink films.
Syfan emphasis that their materials must be safe, recyclable, and eco-friendly. They believe that packed products should last longer, be more attractive, and more secure. They are known for continually working to improve the shrink packaging process so that it is faster, more efficient, and uses less energy.
SYFAN has expanded its product line to include specialty shrink films for food applications. The focus of their efforts is to preserve food freshness while improving packaging performance and cost-efficiency. Syfan produces shrink films that result in safe, hygienic packaging that protects and enhances the look of fresh and frozen foods. They also work closely with preservation scientists to offer innovative antibacterial films that extend shelf life.
Recently, Syfan has significantly expanded their production capabilities with a full range of products from films with anti-fog and soft strength capabilities. They are well known for having a large inventory of all their products available at any given time.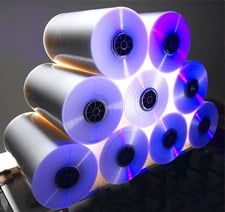 4. Clysar
Established in 1963, Clysar is wholly owned by Cove Point Portfolio Holdings. Clysar manufactures high-performance polyolefin shrink films for a wide variety of packaging applications. Today, their product line includes a complete portfolio of distinctly different and innovative films. Clysar has worldwide operations with over 300 employees at manufacturing facilities located in Clinton, Iowa.
Cove Point Portfolio Holdings has significant longevity in the shrink film industry with a large market presence. They have aligned them selves with many independent distributors who have great support for both materials and machinery.
5. Reynolon
Reynolon® Films are an industry leader in PVC shrink films used for over-wrapping retail products. Reynolon products are found in various applications from print and publishing applications to meat and packaged food. Reynolon brand shrink films are produced by Pactiv.
---
Need Help Choosing The Right Brand Of Shrink Film?
---
Pactiv focuses on continuous innovation and is considered as the world's largest manufacturer and distributor of food packaging and food service products. The company is world-renowned for supplying packers, processors, supermarkets, restaurants, institutions and food service outlets across North America.
Founded in 1965 as Packaging Corporation of America, they have focused on producing and distributing the highest quality food service packaging products. Their product lines today include custom and stock foam, plastic, aluminum, pressed-paperboard, PE coated board, and molded-fiber packaging. Pactiv supplies major food service retailers and distributors in North America, including:
McDonald's
Wendy's
Burger King
WalMart
Kroger
Tim Horton's
Pactiv is one of the largest domestic manufacturers of PVC film in North America and is know for their portfolio of preferential and specialty film products.
6. Bollore
Founded in 1822, the Bolloré Group is among the 500 largest companies in the world.
Historically based in Brittany, the Plastic Films Division specializes in the production of ultra-thin packaging shrink film and dielectric film for capacitors. Situated in Ergué Gabéric, a small town close to Quimper, the Pen Carn production site is a modern state of the art production facility.
A high level of technical know-how combined with the application of the latest generation high-tech resins have made Bolloré become a global leader on the market of technical and multilayer films. Bollore offers two excellent formulations of shrink film which are made in France and converted domestically in the United States.
7. Vanguard
Vanguard Shrink Films is a North American distributor for High-Performance shrink packaging films. They are one of the world's leading manufacturers of high clarity, thin gauge polyolefin shrink films. The company is located in Lenexa, Kansas. They pride themselves on fast shipping from coast to coast in the United States of America.
8. P.V. Ran
Founded in 1986 by a joint venture between Kibbutz Na'aran and an experienced Italian producer, P.V.Ran started as a manufacturer of high-quality PVC films that can be used for various purposes. Today, P.V.RAN has joined the DARNEL group, which is a worldwide group of Packaging manufacturers and sales organizations based in North and South America, Europe and the Middle East.
Spread over a huge surface area of 15,000 square meters, 9,000 of which are covered, the factory is the face of the company's consistent performance.
Through its capacity to arrive at excellent standards, P.V.RAN has become a leading manufacturer of PVC films in the packaging industry. P.V.RAN has a wide range of packaging films to offer for various applications.
9. Dynaclear
DynaClear BOPP film (biaxially oriented polypropylene) has become one of the most popular, high growth films in the world market. Produced by Pro Pack Inc., DynaClear BOPP from ISO 9000 certified manufacturers offers a wide range of film variations from around the world, targeting the packaging, pressure-sensitive tape, label, stationery, metalizing and decorative markets. Available thickness: From 12 to 50 microns. Pro Pack Inc.'s Dynaclear is imported from China and is one the most competitively priced shrink films currently available.
10. Flxtite
Folene Packaging is the owner of the well–known, and highly respected, Flxtite brand of polyolefin shrink films. The full line of irradiated (cross-linked) and non-irradiated, multilayer, biaxially oriented polyolefin shrink films, are available in both centerfolded and singlewound constructions and in a very broad range of sizes, and in all the popular gauges. In addition, Folene also offers additional unique capabilities.

Folene has the capacity to provide up to 6 color process-printed polyolefin shrink films, which are currently widely used in Europe by some of the world's premier food packagers and marketers.

Folene has also developed and introduced its Ecolene brand of biodegradable shrink film. The revolutionary technology renders the polyolefin film biodegradable, while still maintaining its desired natural characteristics, such as high clarity, good seal and shrink properties.
Choosing The Right Shrink Film For Your Needs
While you may be tempted to simply choose the #1 best shrink film off this list, shrink film applications are very case sensitive. One of the other 2-10 options may actually be a better fit for your packaging line. If you are not sure which of the films above is right for you, we suggest reaching out to at least 3 or 4 vendors and comparing options from each prior to making a decision.
If possible, it also makes sense to buy your packaging materials from a local vendor. If not, be sure to choose a packaging supply company with a quality, non-automated, customer service center. You will want to be sure to source your shrink film from a vendor who can respond quickly and professionally for orders, re-orders, returns and etc.
Your chosen vendor should be able to recommend the right film for you. Regardless of who you choose to buy from, chances are, you will get a recommendation for one of the brands above.
About Nathan Dube
As the Digital Marketing Specialist at Industrial Packaging, I am honored to create content for such a phenomenal company and work with one of the greatest teams in the Packaging Industry. Whether creating a video, writing blog posts or generating other pieces of content and multimedia, I am always excited to help educate and inspire our prospects and clients to reach their highest potential in regards to their packaging processes and needs.