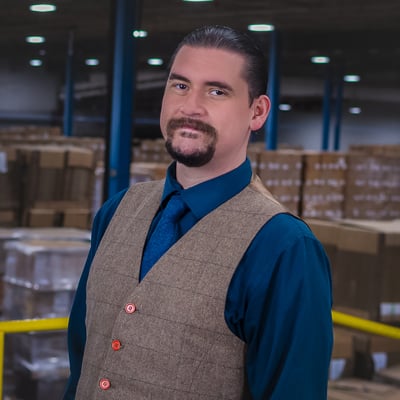 The 7 Most Common Questions About Shrink Film
Packaging Materials | The Business of Packaging | Food Packaging | Packaging Psychology
When it comes to shrink film, we get a lot of questions from prospects, clients and curious production managers. While there is a sea of questions flowing from the world to our doorstep, we get several of them over and over and over and... well, you get the point! In this article we are going to answer the seven most common questions about shrink film.
How Many Types Of Shrink Film Do You Sell?
We sell 3 basic families of shrink films. Polyolefin (POF), polyethylene (PE), and polyvinyl chloride (PVC). Within these families, there are different formulations to create the best possible solution for your packaging requirements.
What Applications Work Best For Each Type Of Shrink Film?
PVC works well for lightweight products, general purpose and applications that require a preferential film. For example, if you have a product that is skinny and long, it will give you a nice finished product. Some PVC is food grade and FDA approved.
Polyethylene is good for bundling products like bottled water, vegetables, and industrial products. It is great at holding things together. Unlike Polyolefin, it shrinks as it is cooled rather than shrinking when it is heated.
Polyolefin is great for general products. It is an excellent choice for multipacks, toys and games. It is also good for lightweight products or very tall products if you utilize a low energy formulation. All polyolefin films are food grade and FDA approved.
How Many Feet Are On A Roll Of Shrink Film?
The amount of film on a roll of shrink is dependent upon the gauge of film you are using. All films are wound to the same outer diameter. Single wound films are longer in length while center-folded films have half the footage but the same amount of film because it is folded to make it easier to use on most equipment.
---
Need Help Calculating The Width Of Your Shrink Film?
---
Can I Wrap Food Products In Shrink Film?
The short answer is yes, but to clarify, our film is made for the food processing market. Our films have both USDA and Kosher certifications. USDA is for intimate food contact. All of our polyolefin films are freezer appropriate and we even have some films that include anti-fog capabilities which pulls the moisture away so it doesn't fog the film and you can see the product. This is ideally used for vegetables or other products with a high moisture content.
While there are some formulations of PVC that can be used for food packaging, we generally recommend using polyolefin shrink films for this particular application as all of the polyolefin products we offer are food grade and FDA approved for the packaging of food items.
What Temperature Is Best For Shrinking Shrink Film Through A Heat Tunnel?
Ideally, you want to use the lowest heat with the greatest amount of airflow possible. This will also depend on your equipment and speeds in addition to other variables associated with your machinery and materials. When planning on packaging items with shrink through a heat tunnel, your packaging materials vendor should be able to procure the appropriate testing to see if the products you are packaging should be packaged in a heat tunnel or not.
How Do I Know What Size Shrink Film To Use?
This question is hard to answer because it is very product and equipment dependent. We offer a shrink film width calculator online that can help answer this with more clarity for your particular packaging needs. Additionally, you could request an analysis from your packaging materials and machinery vendor and ask them for advice on which type of film you should be running, what gauge you should be utilizing and what if any changes you could make to increase productivity, reduce cost and run a more efficient packaging line.
Will My Product Get Damaged While Going Through A Heat Tunnel?
Even though the temperature in the tunnel is hot, the tunnel uses air flow to shrink the film. The product itself doesn't see the same temperature that shows on the gauge outside the tunnel, which prevents damage. If your product is very temperature sensitive, we use temperature tapes to identify exactly what your product sees for temperature so you know whether or not it is appropriate to use shrink film.
Conclusion
And these ladies and gentlemen, are the 7 most common questions regarding shrink film. If you are still in need of additional information or would like clarification on the dynamics of the proper shrink film choices for your packaging line, feel free to reach out to us for more information.
As always, we suggest reaching out to several vendors to get unbiased feedback on each of these questions above. It would be a good idea to record the answers that each potential vendor provides and weigh your options in regards to how each vendor responds to your requests and consider the differences between buying from a OEM versus a distributor.
Finally, we would ask you to consider implementing a preventative maintenance program on your packaging line. This will give you regular opportunities to make adjustments to your shrink film machinery and materials based upon expert advice from the cutting edge of technological advancements within our industry, and of course, reduce unplanned downtime!
About Nathan Dube
As the Digital Marketing Specialist at Industrial Packaging, I am honored to create content for such a phenomenal company and work with one of the greatest teams in the Packaging Industry. Whether creating a video, writing blog posts or generating other pieces of content and multimedia, I am always excited to help educate and inspire our prospects and clients to reach their highest potential in regards to their packaging processes and needs.