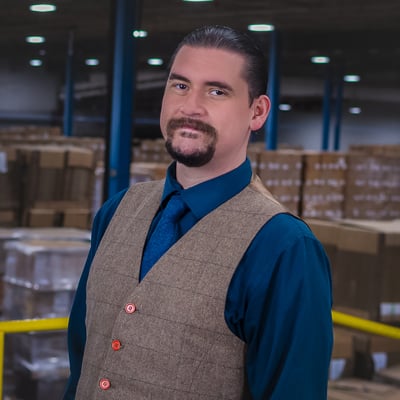 The Top 6 Flexible Packaging Companies In New England
As a well established flexible packaging distributor, Industrial Packaging prides itself on our rich history and decades of expertise. When you are looking for a packaging company to partner with, you want to understand all of your options. While we'd love to be your top choice, we are not the only game in town. In this article, we will be taking a look at the top 6 flexible packaging companies in New England, not including Industrial Packaging.
The order of this list does not indicate "best to worst", but rather it is alphabetically highlighting other great flexible packaging companies in New England.
Bunzl
Bunzl plc is a focused and successful international distribution group providing customized solutions to B2B customers. They support businesses all over the world with a variety of products that are essential for their customers in the successful operation of their businesses.
Bunzl plc was incorporated in 1940 and listed on the London Stock Exchange in 1957, but its origins date back to 1854 when Moritz Bunzl opened a small haberdashery business in Bratislava, now the capital of Slovakia.
Their business has changed and grown considerably over the years to become what is now a well known and recognized international distribution Group.
Lindenmeyr Munroe
Lindenmeyr Munroe demonstrates a robust and lasting legacy of it's family ownership and commitment to the distribution packaging business in North America. They have ongoing investments in their core business of commercial printing papers while diversifying into growth areas such as wide format and packaging.
In business since 1859, they have decades of experience and expertise in each and all of their product offerings. From paper and wide format solutions to packaging, they are well known throughout the world for a dedication to excellence.
McLeod & Dewey
For over 30 years, McLeod & Dewey has worked with major manufacturers in the food processing, beverage, retail, and logistics industries. Their goal is to provide their customers with the lowest cost per load while increasing the overall integrity of their products during transit.
McLeod & Dewey is a unique supplier in the packaging industry. They are focused on the stretch film segment and known as one of the most knowledgeable suppliers in the packaging industry.
---
Need Help Choosing The Right Packaging Machinery?
---
Pacific PKG
Founded in 1952, Pacific Packaging Products Inc. provides expert business solutions to increase it's customers' competitive edge and profitability. They specialize in packaging design, packaging manufacturing and converting. They also offer packaging equipment and automation. Pacific's unparalleled USA coast-to-coast and Caribbean infrastructure delivers lean, supply chain management services.
Whether it is industrial packaging, equipment using the latest technology, or safety products, Pacific has a history of proven service, innovation, and focus on quality business solutions.
Shrink Packaging Systems
In 1970 Shrink Packaging System's owners Jim Gieber and Frank James understood how their engineering expertise would be a valuable asset to the packaging industry.
By combining their film and machine knowledge, customer's interests were more efficiently served by providing greater productivity. This synergy would lead to a continuous stream of enhanced processes, patents, and new technology, leading to the growth of the flexible films industry.
Packaging Is Their Primary Business
As a distributor, SPS represents some of the best manufacturers in the packaging industry for both equipment and supplies. They provide customers with the latest in packaging technology and advances.
Veritiv
Veritiv Corporation (NYSE: VRTV) is more than a leading North American business-to-business distributor of packaging, cleaning, and print and publishing products. They are also a provider of comprehensive packaging, print, and facility solutions—including logistics and supply chain management services.
Serving customers in a wide range of industries, Veritiv has approximately 150 operating distribution centers throughout the U.S., Canada, and Mexico. They employ approximately 8,000 team members that help shape the success of their customers.
Established in 2014, following the merger of International Paper Company's xpedx business and Unisource Worldwide, Veritiv is a Fortune 500® company that has earned $8.7B in net sales.
Recognizing Greatness In The Packaging Industry
We here at Industrial Packaging have a rich history within our industry, and we strive for excellence in everything we do. Part of that search for excellence is recognizing greatness in other companies in our industry and giving credit where it is due.
We may be a good fit for your business if you are looking for a packaging expert with decades of experience in packaging materials, packaging machinery, and supplies. We are also a good fit for any client who wants access to multiple different brand offerings and are looking for the perfect solution for their packaging needs.
If quality, lead times, customer service, preventative maintenance, and ease of doing business are essential to your business, we may be the right flexible packaging company for you.
About Nathan Dube
As the Digital Marketing Specialist at Industrial Packaging, I am honored to create content for such a phenomenal company and work with one of the greatest teams in the Packaging Industry. Whether creating a video, writing blog posts or generating other pieces of content and multimedia, I am always excited to help educate and inspire our prospects and clients to reach their highest potential in regards to their packaging processes and needs.