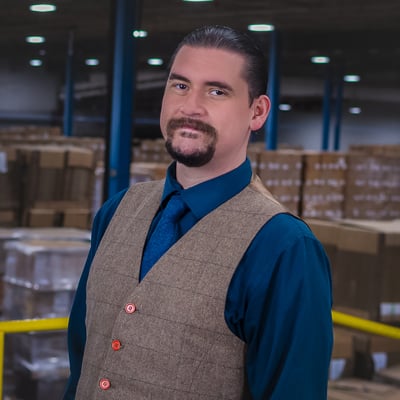 Packaging Machinery & Materials: Benefits Of Buying Now
For many companies, 2020 has been a tough year, primarily due to the struggles that come along with COVID. After weeks or months of unexpected downtime, many companies are unsure about stocking up on supplies or upgrading machinery for their packaging lines.
The uncertainty that has come with the phased re-opening of the economy and a blurry future in this new environment can cause a natural hesitation to spending. You have to be hyper-aware of spending when looking out for your company's best interest.
You probably feel pressure to purchase just enough to keep running without making any significant investments.
And while airing on the side of caution is a good idea in this current climate, the truth is, there is no better time to buy packaging machinery and material than now. Waiting may very well end up costing you a lot of time and money.
After decades in the packaging industry and a keen eye to the mechanics of the global supply chain, Industrial Packaging can honestly say that now is the time to purchase your packaging machinery and materials.
From our vantage point, we can clearly see the obstacles ahead. We are here to help you avoid stalling on buying decisions that could cost you a lot of time and money and result in serious frustration and headaches down the road.
In this article, we will explain the top 4 reasons to buy your packaging materials and make your packaging machinery upgrades or purchases now, before you run into costly issues with the availability of these items.
Down Time Allows For Negotiation On Prices
At this time, you can leverage the equipment manufacturer's down period to negotiate a better price. With sales volumes dropping and orders not flowing in as they have in the past, manufacturers are more open to a reduced price to secure the order now.
Consider reaching out to your rep from your chosen vendor. Ask them about any potential orders you are considering making and gauge the possibility of negotiating a better price. When it comes to packaging materials, see if you can get a discount for ordering a larger quantity.
If you've been considering buying a new piece of packaging machinery or perhaps upgrading an older model, see if there are any specials, rebates or financing opportunities. These could help you to save a chunk of change if you were to move forward with a PO.
Based on the current economic climate, there may be wiggle room to score a better price in exchange for making a purchase now. Waiting until later might just end up costing you much more.
The Cost Of Money Is Low
As the fed continues to drop interest rates, it is a great time to secure debt to make purchases as the cost of the money is very low.
"The value of money is determined by the demand for it, just like the value of goods and services. When the demand for treasury is high, the value of the U.S. dollar rises. The third way is through foreign exchange reserves. That is the amount of dollars held by foreign governments."
With this information in mind, it makes sense for you to seriously consider buying your packaging materials and packaging machinery now, while these particular financial dynamics are in play.
When it comes to buying or upgrading packaging machinery, you may also want to consider looking at alternatives to buying out right, such as leasing or other financing alternatives.
It makes sense to consider these options right now, as many vendors are offering alternatives to buying out right in an effort to drive business.
There may be opportunities for you to get a lower price on machinery in light of special offers, rebates and other incentives born from the current economic climate and the challenges that many sellers are facing.
---
Need Help Buying Packaging Machinery?
---
Automation Offers New Opportunities For Success
Some employees will not return to the workforce. Many laborers can make as much they did while working or more, while staying on unemployment. So, there is no guarantee they will return to work as you come back online. There is also the possibility that they find work elsewhere during this time.
If you automate now when those employees don't return, the impact will be minimal, and you can re-purpose those employees that do return and assign them to items that cannot be automated.
Automating your packaging line ensures a fast and smooth running packaging operation that practically runs 24/7 with little to no downtime. That means that you will be cutting costs while producing more products of better quality and getting them to market faster. At the end of the day, that means a more profitable packaging line.
Between the implementation of fully automatic packaging machinery and collaborative robots, you could quickly produce the best packaging line in your industry and get a leg up over your competitors' production and quality capabilities.
If you are currently on the verge of updating an old and outdated packaging line, you will want to seriously consider purchasing automatic machinery and working with your vendor to automate your packaging line.
Lead Times For Equipment Will Increase Over Time
With equipment manufacturers having slowdowns as well, you will see lead times increase. If you are looking to get a piece of equipment in place by year's end, or even early 2021, you need to submit your PO now to ensure that you receive it when you need it.
Depending on the make, model, brand, and most importantly, country of origin, waiting too long to make a purchase could potentially result in significant wait times for delivery and installation. This would result in extended downtime at a moment when you need your machines most.
Taking The Next Step
If you decide that now is the time to buy, you will want to reach out to a local packaging expert to place your orders for your materials, machinery, and other packaging requirements. If you already have a vendor for these items, chances are, they are your best bet to fill these orders.
If you do not already have a packaging materials and machinery vendor, you will want to speak with a packaging expert about your options.
Feel free to speak with one of our in house packaging specialists. They will help you choose the right products and vendor, even if that is not ultimately us.
About Nathan Dube
As the Digital Marketing Specialist at Industrial Packaging, I am honored to create content for such a phenomenal company and work with one of the greatest teams in the Packaging Industry. Whether creating a video, writing blog posts or generating other pieces of content and multimedia, I am always excited to help educate and inspire our prospects and clients to reach their highest potential in regards to their packaging processes and needs.