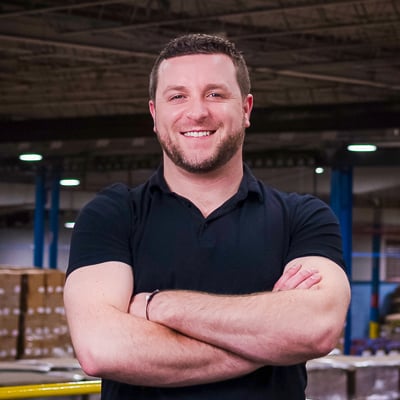 6 Innovative Ways to Reuse Packaging from the Holidays
Here's a startling fact: Americans throw away 25% more trash between Thanksgiving and New Year's than any other time of year, accumulating an extra 25 million tons of garbage. Just think about the damage that amount of waste can do to our environment. At Industrial Packaging, we continuously strive to educate folks about simple ways to be more conscious of (and committed to) sustainability. That's why we're sharing these fun, innovative and useful ways to reuse the packaging you have leftover from the holidays, as well as some creative ideas for companies that package products for consumers.
---
Get Your Free Packaging Design Cheat Sheet
Uncover 5 actionable tips to start optimizing your packaging for efficiency.
---
1. Use Repurposed Materials to Wrap Gifts
Wrapping paper is typically a single-use material that's discarded immediately after opening, which contributes to the problem of excessive waste. To both cut down on the wastefulness of using traditional wrapping paper and save yourself some money, consider wrapping your gifts in newspaper sheets or torn-out magazine pages. You can even reuse decorative tins, boxes and bags.
If every American family wrapped just three presents in reused materials, it would save enough paper to cover 45,000 football fields. That's a major step in the direction of sustainability, and one that's easy for you and your family to implement. Of course, if you do need to purchase new wrapping paper instead of repurposing what's already on hand, be sure to opt for selections that were produced from recycled paper.
2. Upcycle the Wrapping Paper You Receive
Even though you may take the extra time to be an environmentally conscious gift giver, not everyone who gives you a present will do the same. And while you can't control how others choose to wrap their gifts, there are steps you can take to upcycle the gift wrap you receive. For starters, here are a few thoughtful ideas:
Unwrap your gifts carefully so as to avoid rips and tears, and save the materials for reuse at the holidays next year.
Shred small or torn pieces of gift wrap to make multi-colored confetti that can be utilized for packing and sending other gifts and items throughout the year.


Cut the used wrapping paper into strips or shapes to design a paper chain or bunting banner for next year's decorations.


Turn leftover paper into envelopes for next year's holiday cards.


Reuse wrapping materials to cover any books that need extra protection.
3. Turn Gift Boxes into "Green" Options
Obviously, gift boxes can be saved and used for future gift-giving needs, and this is a great way to reduce wastefulness. But if you find that you're saddled with an abundance of boxes that far exceed your need for regifting purposes, there are some other particularly savvy ways to leverage these packaging materials:
Consider using leftover jewelry boxes to easily address some of your (dis)organization issues:
Store hair ties, bobby pins, Q-tips and the like in cabinets, drawers or bathrooms.


House paper clips, pushpins, sticky notes and business cards in your desk or office space.


Collect twist ties, rubber bands, toothpicks, etc., in easily accessible kitchen areas.
Leverage shoe or shirt boxes to:
Organize undergarments, socks, ties and similar items in dresser drawers.


Stack and store DVDs and video games in your family room or entertainment center.


Store envelopes, letterhead, printer paper and other office supplies.


Tidy up your playroom and organize small toy parts and pieces, crayons, paper, etc.
4. Get Crafty with Sent Holiday Cards
2.65 billion holiday cards are sold in the the U.S. each year (enough to fill a football field 10 stories high). When the holidays are over, what are doing with the ones you've received?
It can be fun and frugal to turn them into gift tags. Simply cut out the snowman, Santa or other holiday image from the front of the card and layer it onto a piece of leftover wrapping paper or craft paper. Punch a hole in the corner, and thread some repurposed ribbon through it to attach to a gift next year.
If you're extra creative or looking for an interesting craft for the kids, reuse holiday cards to make handmade ornaments or decorations for the tree. These are much better alternatives to simply tossing your cards in the trash at the end of the season.
5. Capitalize on Product Packaging for Playtime
If you have kids (or know someone who does), spend some time transforming your packaging boxes into something fun to play with. All you need is a little glue, leftover wrapping paper, crayons or markers, and your imagination.
Appliance boxes make great spaceships, school buses, trains and forts. Turn a medium-sized box into a dollhouse or play kitchen appliance. Make a car wash or auto shop for toy cars out of electronics boxes. You can even build a pet bed out of packaging boxes by adding blankets and pillows.
6. Reuse Shipping and Shopping Materials
You're bound to collect an assortment of paper and plastic bags as you complete your holiday shopping at the mall and other stores. Because these carriers are often durable, they can be reused multiple times before losing their integrity. Once they become unsuitable for storing and transporting items, reapply them as packing materials when sending gifts or shipping items throughout the year. Additionally, be sure to save any shipping resources you accumulate, like biodegradable packing puffs, styrofoam, bubble wrap, etc., so you don't have to purchase and waste additional materials for your own packaging and mailing needs.
Attention: CPG Companies
For those of you who are responsible for packaging consumer products, dedicate the time and effort to encouraging recycling and reuse of your packaging materials. This can be accomplished by including an insert that outlines reusability ideas, or simply printing directions and recommendations on the actual packaging. Think about incorporating these additions next time you redesign or reorder materials, and don't forget to publicize your ideas via blog posts and/or social media.
Whether you're making the effort to reduce, reuse and recycle at home or within your company, every step toward sustainability is a movement in the right direction. As an individual, think before you throw away your holiday gift wrap and packaging materials. As a company, do your part to respect the environment, and encourage your consumers to do the same.

Interested in learning how to optimize your packaging design process? Check out our free packaging efficiency cheat sheet.
About David Roberge
I am grateful for my 9 years as part of the outstanding Industrial Packaging team. I was able to hang out with some of the most knowledgeable folks in the packaging industry. I feel even luckier that I was able to share that knowledge with you. I love learning, hiking, and growing people and teams both personally and professionally, and helping companies grow better.